If I told my daughter we were having 5 nights of pasta for dinner, she would be the happiest kid on the planet! So before you ask, no we are not eating pasta for dinner every single night this week. BUT – I've been craving pasta lately, so I decided to create a meal plan to give you 5 very different, but easy and delicious pasta dinners for your busy week! I wanted some variety, some versatility…so I'm bringing you pasta recipes that are all over the map! All can be made gluten free, some are vegetarian and some are vegan! I'm catering to all this week! So, let's see what kind of pasta dinners I'm bringing to your table this week….
So there we go guys! A ridiculously versatile week of pasta dishes! They are all simply amazing and I guarantee you are going to love them all! Happy Eats!
5 Easy Dinners
Looking for some salads to go along with your pasta, check out these favorites!
The Recipes
Recipe and photo credit goes to: HomeMade Zagot
 Speck and Mushroom Pappardelle
Recipe and photo credit goes to: Inside the Rustic Kitchen
 Artichoke & Olive Balsamic Pasta
Recipe and photo credit goes to: My Life Cookbook
 One Pot Pasta Bake with Sausage and Wine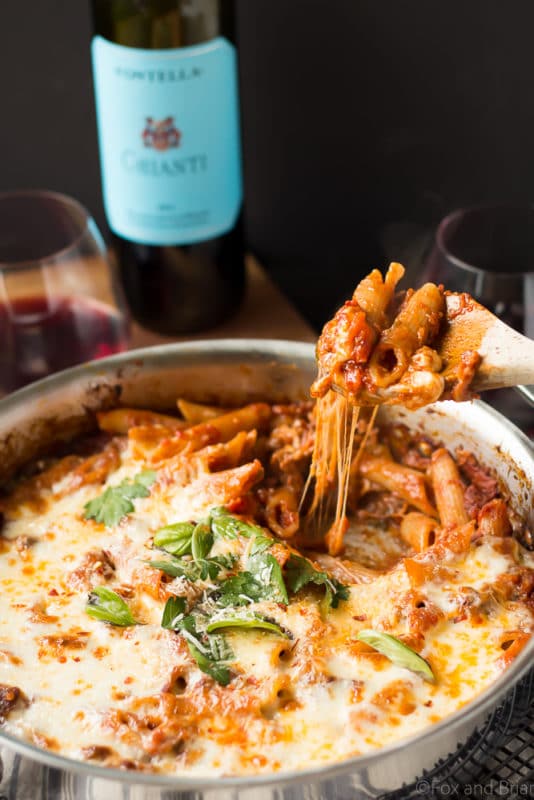 Recipe and photo credit goes to: Fox and Briar
Recipe and photo credit goes to Recipes Worth Repeating