This Banana Bread with Streusel-Nut Topping is moist and delicious and has lots of banana flavor!  The streusel topping puts the flavor over the top! And…it's gluten free!

Not too long ago, I went away with my girlfriends for a "mommy's weekend out" and we stayed at a beautiful resort here in Scottsdale, AZ. We had a fantastic time and I'm so glad I had the opportunity to spend time with my friends. But I would be lying if I didn't tell you I was excited to come home to see my family. And to cook. Yes – after a relaxing weekend I wanted to come home and cook.I know…that's kinda weird but I wanted to make dinner for my family and just have some family time.
When I walked in my house from my relaxing weekend , I saw 5 overripe bananas sitting on my counter. I started thinking…when was the last time I made banana bread? It was last Thanksgiving. That's was almost a year ago! Well, I couldn't let those bananas go to waste!!! So I decided I would make us a loaf of gluten free banana bread. While I was relaxed, I was still tired…but I was determined to make a loaf.
For those of you who bake gluten free, you know it's very hard to bake and be successful when it comes to gluten free bread/pastries. The gluten in wheat has so much elasticity and it really helps hold things together when you bake. When you use a gluten free flour for baking, it's a struggle to get the bread to be fluffy and hold well together. But, I'm here to tell you I've mastered gluten free banana bread. MASTERED! I have 2 secrets…
1. It's the brand of gluten free flour I use.
2. It's the pan I use to bake my bread.
Let me tell you a little bit more about my secrets. Like I just mentioned, the first secret is the brand of gluten free flour I use. Bob's Red Mill Gluten Free flour, is the best flour I've used when making Gluten Free breads. You can typically buy this at your local grocery store in the health food section or you can buy this at Sprouts or Trader Joes. I tend to buy mine on Amazon here because of the free shipping. (I love Amazon Prime!)
My second secret is using my Demarle Silicone Loaf Mold. I rarely use another brand other than Demarle when baking loaves, muffins, cakes, etc. Flexipans are so fantastic because your bread comes out of the pan perfectly…with no crumbles. Below is a picture of the banana bread mixture and what it looks like in the flexipan. The Flexipan is made of silicone and glass and it's very flexible. Notice that it's sitting on a pizza pan with holes. That's super important…the heat from the oven must have a way to get through the flexipan so it can evenly cook the bread. You can buy a holed pizza pan here.
After you cook the banana bread for about an hour, you'll let is cool for about 2-5 minutes, turn it over and the loaf comes out perfectly! That's right…no crumbles! You can't do that with your traditional loaf pans!
It's the most amazing product. Take a look again! When I made this leaf of Banana Bread with Streusel-Nut Topping, I literally took it out of the flexipan, tuned it over onto my cutting board and it came out perfectly! This is exactly what it looks like when it comes out of the pan.
Ya'll, this banana bread is so moist and full of flavor. I mean, the moisture if almost unreal. You don't typically find moisture in gluten free breads, but you will in my recipe because of my 2 secrets.
If you are getting ready for the Fall season like I am (it's literally right around the corner) you'll love this recipe because this recipe calls for nutmeg and cinnamon. This is that perfect "upcoming Fall season" recipe everyone will love. Go ahead and get into the holiday spirit by making a batch of this banana bread and eating a piece in the morning with your coffee for breakfast. YUM!
Not only is it delish, but this is a really easy and low maintenance recipe. I made this the same time I made our family dinner. For those of you who are not gluten free, I put the conversion for regular flour in the notes section of the recipe card.
Yep, no problem. You're welcome!
But I'm telling you…I've mastered this recipe for Gluten Free Banana Bread with Streusel-Nut Topping. No one ever knows that my banana bread is gluten free. It tastes just like grandma's homemade baked banana bread…only better!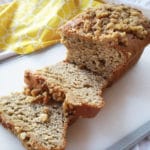 Banana Bread with Streusel-Nut Topping
This Banana Bread with Streusel-Nut Topping is moist and delicious and has lots of banana flavor! The streusel topping puts the flavor over the top! And...it's gluten free!
Course:
Bread, Breakfast, Dessert, snacks
Ingredients
Banana Bread Ingredients – Gluten Free Version
Streusel-Nut Topping Ingredients - Gluten Free Version
Instructions
Directions for Gluten Free Streusel-Nut Topping
In a small bowl, combine 1/4 cup packed brown sugar, 3 Tablespoons of gluten free flour and the chopped walnuts.

Ensure your butter is at room temperature and add to a small bowl.

Using your hand mixer, slowly mix the ingredients together until you have a mixture that resembles course crumbs. Set aside.
Directions for Gluten Free Banana Bread
Preheat oven to 350. In a large mixing bowl, take the flour, Xanthan Gum, baking powder, baking soda, cinnamon, nutmeg and salt and mix well with a whisk.

In a separate large bowl, combine the eggs, bananas, sugar and butter. With an electric hand mixer, mix on low until the ingredients have been mixed together. Don't over mix!

Add the liquid mixture to the center of your flour mixture and mix well with a spatula. Fold in the walnuts.

At this point, the consistency of the mixture will be more on the liquid side and not so much on the dough side. This is the expected consistency. Pour your mixture into the loaf mold or loaf pan.

Take your bowl of Streusel Nut Topping and sprinkle it over the batter. Cook for 60 minutes.

When the bread is done cooking, if you are using a flexi mold wait about 2-5 minutes and turn your mold over onto a cutting board. As you can see, the loaf comes right out with no crumbles.

If you are using a traditional loaf pan, wait until the bread is completely cooled before turning over.

Slice the loaf and enjoy with a little butter spread on each slice and a cup of hot coffee!
Recipe Notes
If you want to make a traditional version of this Banana Bread recipe, use the following ingredients below. Follow the same directions in the recipes card. The Streusel-Nut Topping is optional!
Ingredients - Banana Bread (Non-Gluten Free Version)
2 cups all-purpose flour
11/2 teaspoon baking powder
1/2 teaspoon baking soda
1/2 teaspoon ground cinnamon
1/4 teaspoon ground nutmeg
1/4 teaspoon salt
2 beaten eggs
5 medium mashed bananas
1 cup sugar
1/2 cup melted butter
Ingredients - Streusel-Nut Topping (Non-Gluten Free Version)
1/4 cup packed brown sugar
3 Tablespoons Gluten Free Flour  (substitute all purpose flour if you are not Gluten Free)
2 Tablespoons softened butter
1/3 cups cup chopped walnuts
Nutrition Facts
Banana Bread with Streusel-Nut Topping
Amount Per Serving
Calories 381
* Percent Daily Values are based on a 2000 calorie diet.
Pin this Banana Bread with Streusel-Nut Topping  to your favorite Baking PINTEREST board!!
Note: You will find affiliate links on this page. The price you pay as a consumer does not change, but I may make a small commission based on your purchase! Thank you for supporting Recipes Worth Repeating!