Sail the high seas on the happiest vessel on earth! Disney Cruises are NOT just for kids! Check out what I learned, what you should know and why EVERYONE should take a Disney Cruise!
Best vacation EVER!
Well...I should say "to date". I am a travel blogger so I'm sure some of my upcoming travels will be AMAZING...but to date our Disney Cruise was absolutely fantastic! There are so many reasons why but I'll list the most important:
The logistics of the preparations are SIMPLE. Disney has this down to a SCIENCE!
We surprised our kids with the trip when we got to our port destination. They had NO idea and I caught their reaction on video! Check it out below.
SO MUCH TO DO! For

ALL

ages! I'll outline it below because there are things you absolutely need to know.
Relaxation...no stress at all. As a matter of fact, one of the Disney Cruise staff had to remind me I was on vacation and to stop trying to put my towel away.
FOOD FOOD FOOD! And drinks...I'll elaborate below.
Let's dive in because this is the coolest story!
The Plan
First and foremost, Disney, nor any other company is sponsoring this post. This is 100% me...my opinions and my experiences. No outside influence whatsoever. Ok, so here's what me and Mr. Mason did. We typically plan our vacations and travels at least 2 years out so we have an idea of where we want to go, what we want to do and how much money the trip is going to cost. Anticipating a future trip keeps me motivated so I love to plan in advance.
My philosophy is if I'm going on vacation, I'm GOING on vacation. Vacation is a time to 100% let go of normal life. One thing for sure is I do NOT work out on vacation (and that's a big statement for me because I work out 4-5 days a week), I eat what I want when I want and however much I want.
I indulge.
I enjoy.
I make memories.
Can anybody relate to what I'm saying here?
We decided it would be fun to NOT tell the kiddos we were going on a Disney Cruise. They've always been intrigued by the idea...but I LOVE making memories and surprising my kiddos with experiences...so here's what we did and how it went down. We told the kids we were taking our fall break in San Diego and that we were just going to stay at a hotel and relax. Yes, I stretched the truth...but for this type of surprise I couldn't help it!
The Journey
Our Disney Cruise ported out of San Diego, CA and since we live in Arizona, it's only a 5-6 hour drive...depending on how many stops we take. We loaded everything up and left the house at about 4:30 am. Arizona is known for beautiful sunsets and sunrises and I was able to experience an amazing sunrise about 3 hours into our drive. What a great start to a much needed vacation!
The kids still had no clue what our vacation really entailed. They were passed out in the back seat of the SUV snoozing away. When they woke up, we were almost in San Diego. The kids started asking all the "are we almost there yet" questions...and of course I could hardly contain myself. I wanted to tell them so bad! But I had to hold out just a little bit longer...
Here's how it went down. We drove up to the port and that's when they saw the Disney Wonder Cruise ship. My daughter immediately said, "Oh my goodness!! A Disney Cruise!! I want to go one day!" My son said, "Nope, I will never ever go on a ship in the ocean!" Being totally honest with you...I got a little nervous. Is he going to freak out in a bad way when we reveal our surprise?
The Reveal
My plan was to drive up and park on the side of the road right beside the ocean port, get out of the car and then do the surprise reveal. But it was SO crowded and there was nowhere to park. Mr. Mason drove around for what seemed like FOREVER (ok, it was only 30 minutes) trying to find a parking spot and nothing was available. I was so anxious to just tell them already! I told him to just go to the airport and park. So he did. We pulled into the parking spot and the kids were like...why are we at the airport? And that's when I did the reveal.
We had been planning this trip and reveal for a year so you know the plan was to catch their reaction on video. And here it is. It's PRICELESS!
Oh...and there is an added bonus that I cut off the video! Their really close friends from school were going to be on the SAME cruise as us! Total luck on our part! We didn't plan it this way! They were THRILLED!
Disney Cruise Ships
Disney Cruise Line currently operates four ships: Disney Magic, Disney Wonder, Disney Dream, and Disney Fantasy. Our family cruised on the Disney Wonder. Apparently - there are 3 new ships making their entrance in 2021, 2022 and 2023.
Our cruise was scheduled for 5 nights. The plan was to port from San Diego, head to Ensenada Mexico and have a day of excursions then head to Cabo San Lucas for another day of excursions. But mother nature had different plans. Hurricane Rosa decided to make her debut entrance during our cruise.
Great.
Was our cruise going to get canceled?
Nope - Disney Cruise decided to cancel the excursion in Ensenada and just sail around the hurricane and have an additional day at sea. Thank God for work arounds!
What You Need To Know
I could write for DAYS about every detail of our trip but I'm not going to because there are some things you need to know before going on a Disney Cruise. Even though I planned this trip a year in advance, I didn't "plan" it very well. I didn't research like I should have. We missed out on some cool things because I didn't prepare like I should have.
BAD MOM MOMENT.
But that's ok. We learn from our mistakes and you can learn from my mistakes so here we go...
How To Prepare For A Disney Cruise
Passports
I didn't screw up here, thank goodness! Get those passports ready for you and your kiddos! If your cruise if going out of the country from where you ported from, you'll need your passport. Take a look at Disney's Passports, Visas and Citizenship Documents criteria here. They do a really great job of laying out what is expected documentation wise. If you or your children don't have passports, get them well in advance because it takes a good 6 weeks to get your passport if you don't expedite the process. If you do expedite, it takes about 3 weeks.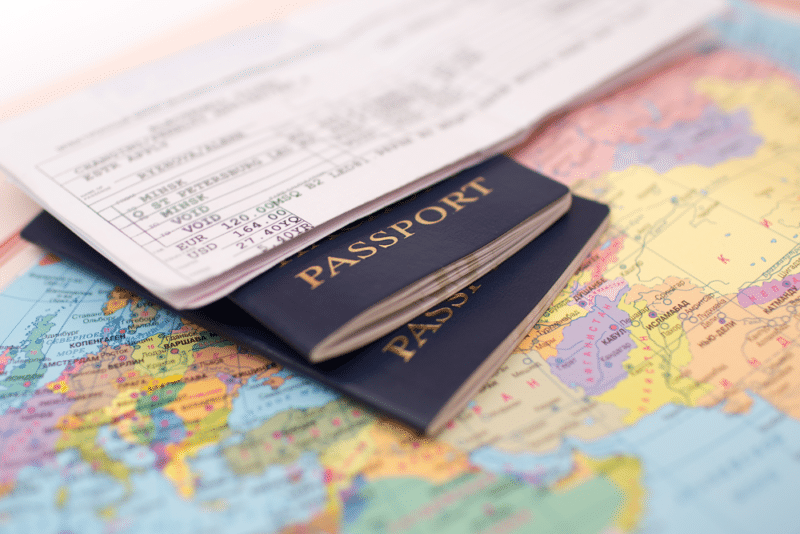 Find A Facebook Group
Let's start with Facebook groups.
Really?
Yes...there are Facebook Groups for the Disney Cruise? Apparently there are Facebook groups for everything! And I found out about these 4 days before we left. Yeah...late to the game.
Ughh.
So here's what you do...go to Facebook and do a search for "Disney Cruise" or "Disney Cruise Mexico" or "Disney Cruise <enter your date here>. Different Disney Cruise groups are going to show up.
These groups are created by people who are going on the Disney Cruise. It's a way for people to collaborate and keep up with things happening before your trip, a place to ask questions, a place to get updates and so much more. Here's an example of why these groups can be so beneficial. I found out about our day at Ensenada being cancelled in my Facebook group 2 days before Disney sent me an email advising of the cancel. No idea how that happened but I was grateful because it allowed me to plan differently for that day! Here's some other really good examples of why you should join a Facebook Group.
Example 1 - This post was super helpful because we were 2 hours early before we were supposed to actually board, but they opened it up for open boarding...meaning anyone could board at anytime! Thank you Facebook group person who posted this for saving me 2 hours of sitting in the waiting area!
Example 2 - This totally did not apply to me but I can appreciate this question!
Joining a Facebook Group is SUPER helpful in planning so find one! Very valuable information!
Plan Your Excursions In Advance
You are not required to do an excursion when the ship ports, but a lot of people do. When the date opens to book your excursion, jump on the opportunity because they book fast. I waited a week to schedule our excursions. I tried to scheduled swimming with the dolphins, but it was booked by the time I got online. Mom Fail Again.

But the excursion we ended up doing was OH MY GOODNESS - absolutely amazing! I'll talk about it in more detail below but the point here is don't make the same mistake I made! If you want to venture out and do an excursion, research it and book it in advance! If not, it's totally fine to stay on the ship!
Decorating Your Stateroom Door
Apparently this is a "thing". Yeah - had NO idea. But it's absolutely adorable and almost EVERY SINGLE DOOR was decorated. Except ours. The kids were like, "Mom - why didn't you decorate our door?!?" Ummm...because I didn't know about it! Because I found out about the Facebook Groups 4 days before we left and barely had time to read any of the posts!
Bad mom fail....AGAIN!
BUT - Bam saved the day! Bam was our stateroom host and he overheard mine and the kids conversation about the door decoration. We left our room and headed to the pool and when we came back, Bam had decorated our door! It was just a couple of simple Disney magnets, but it made us feel so special!
Bottom line...plan to decorate your door. It sounds cheesy but it's super fun to see what people come up with and it helps make your trip a little more special...a little more personalized. Even Mr. Mason slowed his pace to check out all the doors when we walked down the halls.
Reveals
If your trip is going to be a surprise for the littles, Disney has some cool ways to let your kids know they are going on a cruise. Now, I didn't find out about these options until 2 hours before we ported. I would not change a THING about our reveal, but it's good to know you have options. Remember I mentioned earlier that our friends were on the same cruise ship and we had no idea until the husbands had a conversation at soccer practice 1 week from port date. We were all like...what?!? No way! We had both been planning this for a year and had no idea we were all going on the same cruise!
About 2 hours before we were in San Diego, I texted my friend to see how they were going to tell their kids. She said Mickey is scheduled to call our cell phone at 10:00am.
Wait...what?!?
Again...had no idea this was an option. Apparently, Disney has this thing called Character Calls where there are pre-recorded phone calls from select Disney characters wishing you well on your sailing. And they are complimentary. Super cool. Looking for more reveal ideas? Check out some forums, like this one. Get some fun ideas. Make those memories!!
What To Expect When On The Ship
Be Our Guest
You're going to be greeted like royalty. The grand entrance is special. We went during Halloween so our ship was all decked out with Halloween everywhere! As we got ready to enter the ship, there were 8 Disney staff in suits and ties greeting us and announcing our entrance onto the ship. "Welcome The Mason Family!"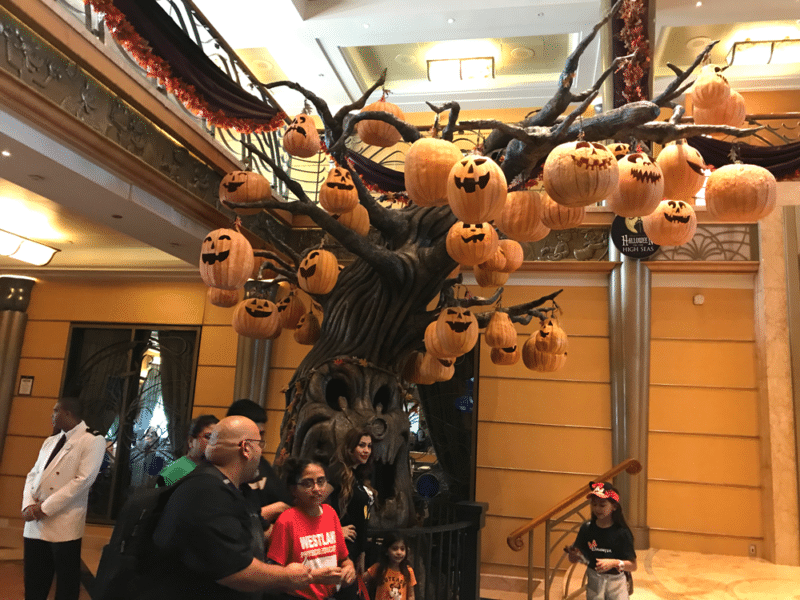 All these guests were there to clap as we entered the grand hallway. I literally felt like royalty!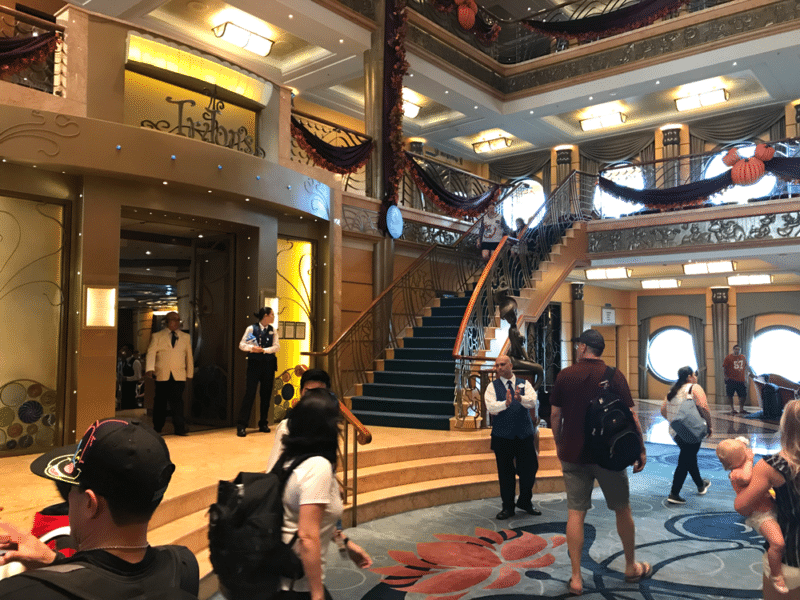 Pools
There were 3 pools on the boat...well, 4 really. We found a secret pool (I'll talk about that in a minute). Our littles loved the kid pool and this amazing slide!
I loved the adult pool. Disney does a REALLY good job of ensuring the adult pool area only contains adults. It's a quiet area with a pool and 2 hot tubs. The perfect place to order a cocktail and read a book!
The middle pool was amazing! It had a big movie screen and 2 hot tubs in the area. I would go watch a movie on the upper deck everyday in this area! Kids would hang out in the pool or along the side of the boat and just enjoy!
And then there was this "Secret" pool at the front of the ship. I never saw anyone in this pool but I'm 99% sure this was the area and the pool for the crew to enjoy. That's cool!
Activities On The Ship
My son and his buddies lived on this basketball court! Whoever incorporated this into the architectural design - thank you! This was by far one of my son's most favorite things about the cruise!
Games
Games galore...oh my goodness! We're talking:
Bingo
Disney Trivia
Board Games (CLUE, Monopoly, etc - all Disney Themed)
Halloween Games
When's the last time you sat down with your family and played a board game? Yeah - make time for this. It's FUN, especially on a cruise ship!
We played so many rounds of family Bingo! They have the old school paper forms and the new electronic boards! The kids had a blast! And the hosts of these organized games were so amazing!
Activities and Entertainment
Guys - we're talking parties every night, multiple theatres, a movie theatre with popcorn, karaoke, piano bars, magic shows, full blown theatrical productions, cooking classes, tastings, character meets and SO MUCH MORE! There is literally something for everyone! All ages! I'll highlight on some we did below.
Party Nights
Every single night there was some type of deck party or celebration. This is Pirate Night here below. We went trick or treating around the entire ship and then met here in the middle ballroom to party! The kids had a blast...and so did the adults!
Magic Shows
The magic shows were REALLY GOOD! To be honest...I don't know who enjoyed this show more?!? The adults or the kids! Disney brings in such amazing talent! The magicians stayed around after the show to do a meet and greet!
Tastings
Calling all adults! Disney does a phenomenal job with all the different varieties of tastings! Here's some of the ones that were offered on our ship:
Martini
Wine
Tequila
Beer
Champagne
Bourbon
Mixology Class
Whisky
I chose to do a martini tasting.Yes, there is a cost but it's worth it. I know a lot about spirits and origins of certain alcohol, but my knowledge on martinis and how the martini came about and the different types of martini was little to none. So I did a martini tasting and it was SO informational! I got to taste 5 totally different but totally amazing different martinis! I thoroughly enjoyed the tasting and I learned A LOT!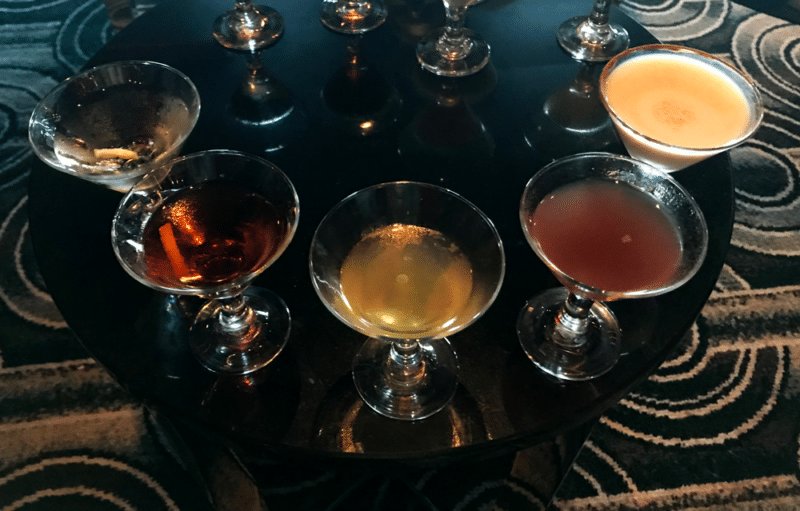 Service
Pampered. I was 100% pampered on our Disney Cruise. The service was amazing, personable and catered to our families needs. Let me tell you what I'm talking about...
Stateroom
We were assigned a stateroom host and he was the sole person responsible for our room. Perhaps this is the standard, but he catered to our family in such great detail! For example, he organized for us! He would wraps my flat iron and curling iron cords perfectly everyday. He would also take our charging cords for our electronics and wraps them perfectly and place them all in a row.
He would switch the kids sheets out with fun Disney movie themes. This one below was for my son.
This one below was for my daughter. Again - perhaps it's standard, but it made us feel so special!
Each night, we would walk into a new animal towels featured on our bed!
I loved the Pirate Night themed towel! So fun! Disney really made the Stateroom experience great!
Laundry Service
I bring this up because I never intended on using their laundry service, but I had a glass of red wine in my hand when my son spun around unexpectedly and ran into me. I don't think he knew I was behind him. That being said, that glass of red wine spilled all over my favorite cream colored dressy tank top. I immediately went back to the stateroom and Bam saw me and said, "Let's get that to the laundry service ASAP." I put the top in the laundry service bag and handed it to Bam. The next day, he delivered me my perfectly spot free top! And it only cost me like $3.00! The laundry costs were way less than I expected so if you have a need to do some laundry on the Disney Cruise - their services take really good care of your needs!
Dining Experience
My absolute favorite part....you guessed it...FOOD! Shocked, right?
Each night we were assigned to a different restaurant on the ship. We had the same serving staff each night which was fabulous because they really got to know what you liked, didn't like and personal needs. My daughter is allergic to shellfish, so our head server went out of his way every night to bring that aspect up so we would feel at ease about her food allergy and that the kitchen had it under control.
The menus were themed every night according to the restaurant. The food was really good and I got so many inspirations for the food blog on this trip! Like this one below. This is the Charlotte La Bouff's Bucatini Pasta. This was made with Pancetta, Oyster Mushrooms, Eggplant, Spinach, Peas, Basil and shaved Parmigiano-Reggiano cheese. So delish y'all! I am totally going to be making this one for the food blog soon!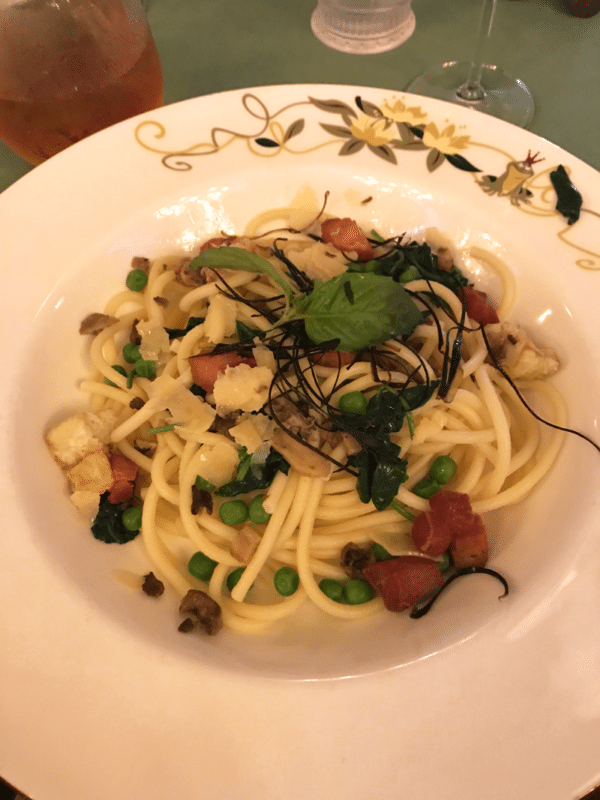 This is a Sauteed Gulf Shrimp and Grits made with Andouille Sausage, Grilled Green Onions and a Smoked Barbecue Sauce. Such an amazing appetizer!!
Then, we have the simplest dishes that mean the most. A simple Ice Cream Sundae that makes even the biggest kid super happy!
For breakfast, you have the option of eating at the buffet or one of the restaurants. We mostly ate at the buffet called Cabanas, but on the morning of our excursion, we decided to eat at the restaurant for breakfast. We were greeted with the cutest folded napkins!
And such an amazing breakfast! Y'all - I was so happy with the food, presentation and service! When we got home after the cruise, my son was like," Where is Juan?! I need him to cut my steak!!" We were so spoiled on this trip!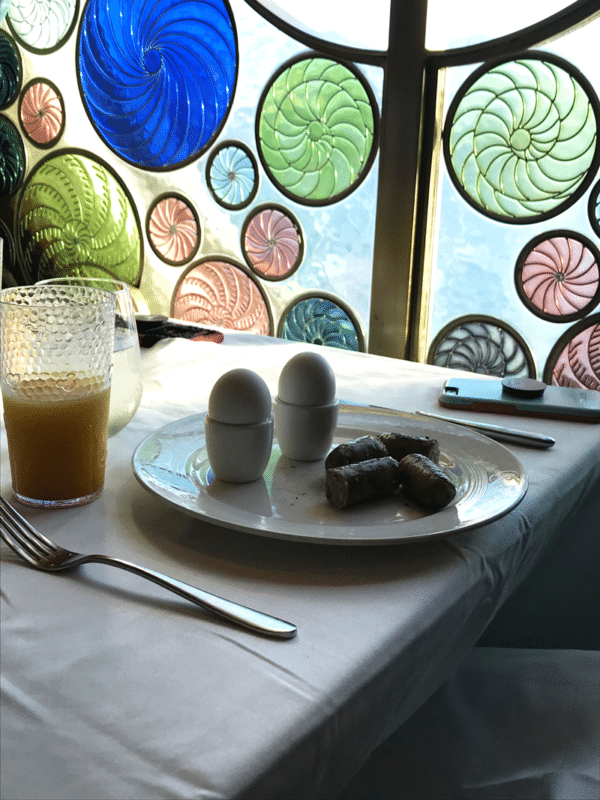 Wine
Disney has different drink packages. As you know...I'm a wine lover so I ordered a glass of wine the first night of the cruise. Our server told us about their wine packages which basically meant you could order a package which includes the Classic or the Premium Package. You can buy 3,4,5 or 7 bottles within the package for the duration of the trip and it would follow you wherever you go whenever you want. Example - if I was going to watch a theatrical play and I wanted a glass of wine, all I had to do is tell a staff member and they would go get me a glass of wine from my bottle set! Amazing!
The different packages have different levels of wine categories and you could choose whatever types of wine you wanted. Here are the prices for the Disney Cruise Classic Wine Package:
3 Bottle Classic Wine Package $95.00
4 Bottle Classic Wine Package $124.00
5 Bottle Classic Wine Package $149.00
7 Bottle Classic Wine Package $199.00
Here are the prices for the Disney Cruise Premium Wine Package:
3 Bottle Premium Wine Package $145.00
4 Bottle Premium Wine Package $192.00
5 Bottle Premium Wine Package $234.00
7 Bottle Premium Wine Package $309.00
I chose the Premium Wine Package and I did 4 bottles of wine. There is an automatic 15% surcharge added to the package you choose. My personal opinion on this...it's totally 100% worth it. I thought the prices were reasonable and I loved the choices of wine. But I also was willing to pay for ease and convenience...so it really boils down to your preference. I found a really great article that breaks down the wine packages. Go check it out here: Disney Cruise Wine Package - Is It Worth It?
Excursions
Let's wrap this post up with some information on excursions. Due to the hurricane, we were only able to do 1 excursion and that was in Cabo San Lucas. I've always wanted to go to Cabo so I was super excited about this excursion! Since we were not able to swim with the dolphins, we decided to go snorkeling. The kids had never done it so we wanted them to try the experience.
We started out with a 1 hour boat ride past the Arch of Cabo San Lucas. You know what I'm talking about...these beautiful rocks.
Along the way, we saw the most beautiful homes and vacation resorts being built along the shore. It was absolutely beautiful and very relaxing. After the boat ride, we arrived at our snorkeling destination. It was absolutely breathtaking. This is my heaven on earth...my type of ultimate relax. Absolutely LOVE the ocean.
So we got our snorkeling gear on and ventured into the ocean.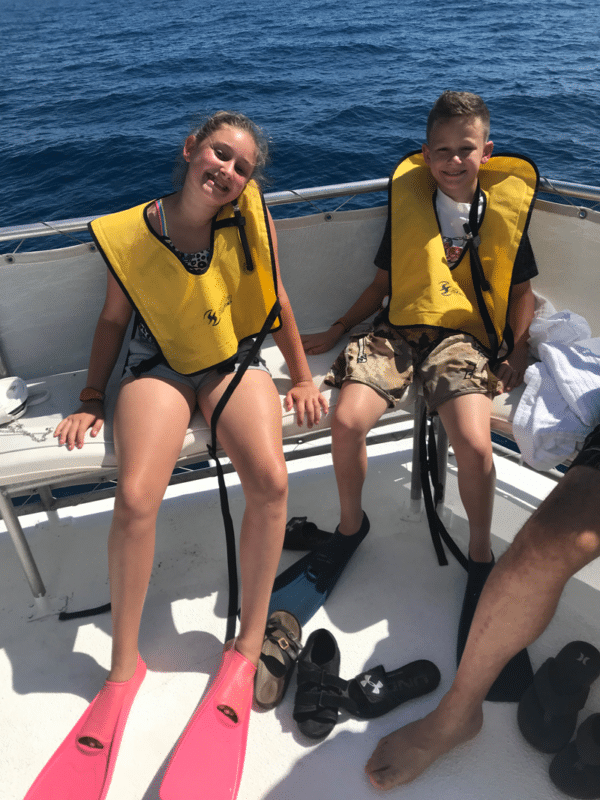 And the kids hated it. Absolutely were scared to death. They were so scared of a shark sighting. They watch way too much Shark Week. But me on the other hand...I had a blast! I mean, look at that water! It was so warm and just so refreshing! I saw some beautiful sea life was able to just relax in the ocean and swim. I was one of the last people to get out of the water because I was in my place...love the ocean!
When we got back in the boat and started to sail away, I saw 2 people kayaking. I'm so going to do that next time! How fun and beautiful will that be!
Back on dry land, we headed to a hole in the wall restaurant that was outside to have some authentic Mexican food. Super yummy!
Final Thoughts
I could literally write for days about our Disney Cruise. All 4 of us had a blast and we're STILL talking about it 3 weeks after we got home. The kids are already talking about the next Disney Cruise trip! They can't decide if they want to go to the Caribbean or to Europe! There are a lot of thing I learned on this cruise. Let's take a final look at my recommendations for those of you looking into a Disney Cruise.
Tips And Suggestions
Water - You can take your own case(s) of bottled water on your Disney Cruise and I HIGHLY suggest it. They do sell cases of water on the Disney Cruise, but it's cheaper if you bring your own.
Decorate Your Door - Even if you aren't crafty, decorate your door! You can buy some fun Disney Magnets on Amazon. Your kids will thank you!
Pins Swap/Lanyard - If you ever go to Disneyland or Disney World and swap pins on your lanyard, you can do the same thing on the Disney Cruise Ship...so bring that lanyard and those pins! Also - the lanyard is perfect for holding your key card!
Autograph Book - For those little mouseketeers...bring their signature books for character signings!
Download The Disney App On Your Cell - This is CRUCIAL! Disney has an onboard app that only works while on the cruise ship. There is an internal chat feature in the app. This was amazing for us to keep up with the kids and it helped me find where everyone was when I went and did my own thing!
Dramamine - Pack the dramamine just in case someone gets seasick!
Sunblock, Sun Lotion and Aloe - You are going to be in the sun so get your sunblock and tanning lotion ready! And just in case you get sun burnt, bring some aloe or after sun lotion!
Be Prepared To Tip - There is a built in % for your servers and host room so be prepared for that. Also be prepared for EXCEPTIONAL service and with that...you may want to tip above and beyond that %.
Powerstrip - Think about taking a powerstrip for charging all your electronics.
RELAX - Last but not least, my biggest tip and suggestion is to RELAX! Enjoy the cruise! It's absolutely amazing!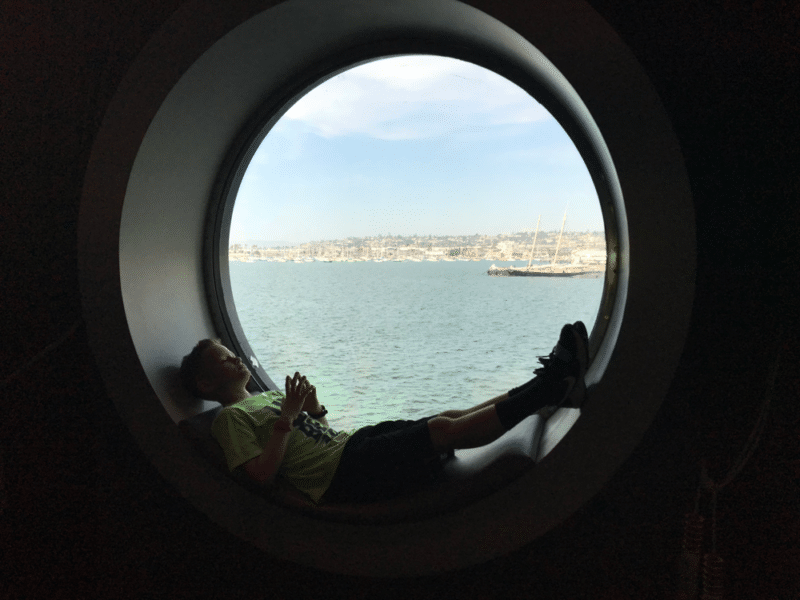 Did you love this post? Was the information helpful?! I sure hope so! Have you taken a Disney Cruise? If so, leave me a comment and let me know your experiences! I can't wait to hear from you and your travels!! You can also sign up for my newsletter and FOLLOW ME on FACEBOOK, TWITTER, INSTAGRAM and PINTEREST to see more delicious food I'm creating!
NOTE: You will find affiliate links on this page.