If you're looking for the perfect thing to buy for that traveler on your Christmas list, then you're going to love these gift ideas! This holiday gift guide for the traveler will give you ideas for those travelers on your list that they can take around the world that will come in handy when traveling internationally!
Hello, everyone! It's that time of year again…gift giving season! I'm back with another helpful international travel post. So, in my first post I talked about the 10 things you should do to prep for international travel. This one is going to focus on a gift guide for the traveler in your life and what to buy! These amazing products have made all the difference for me when I travel and I know they'll work for your word travelers too! These are not sponsored, just my experience with things that have worked out well for me. Enjoy!
Luggage
Shopping for luggage can get a little tricky so here are some things to consider when buying a suitcase, of any kind. This is the suitcase I have. I got it at Macy's and guess what? It's on sale right now!! This would make for the perfect gift for that traveler in your life! If this one doesn't work for you, Macy's has some great sales on luggage around this time of year so now is the time to get clicking!
If you're still not convinced that investing in a hard-sided suitcase is worth it for travel purposes, check out this article by an actual airline baggage employee! It'll change your perspective; trust me!
Obnoxious Luggage Tag
These tags look like they would generate more than a few conversations when you travel. My main point here is to use anything that will easily identify your bag from someone else's. The conversation and chuckles are a bonus. Check out this article to get even more luggage tag tips! This would be a great gift as a stocking stuffer!
Water Resistant Trench Coat with Removable Hood
Depending on the climate you're heading to when you're traveling, having the right coat is going to be very useful. I must admit, it took me a while to find what the "right one" was for me, but after lugging around heavy coats along with luggage and umbrellas, I decided it was time.
I ended up getting this lighter weight coat and…yep, it's on sale right now too! It's very versatile and allows for layering underneath should it get colder.
Windproof & Compact Umbrellas for Rain & UV Protection
I went through about four umbrellas before I found this one and it is by far the best I've used. It fit into my travel purse, was easy to open and close and did a great job of keeping me dry. The key is to find one that not only protects from the rain, but also doesn't buckle under more intense wind. While I haven't used it for UV protection, living in Arizona, it's nice to know it's an option!
Outlets
I found these outlets to be really helpful for my trips traveling to the UK for things like charging my laptop. This one was really useful for being able to charge my iPhone and Kindle at the same time without using multiple outlets. These make for great stocking stuffer gifts!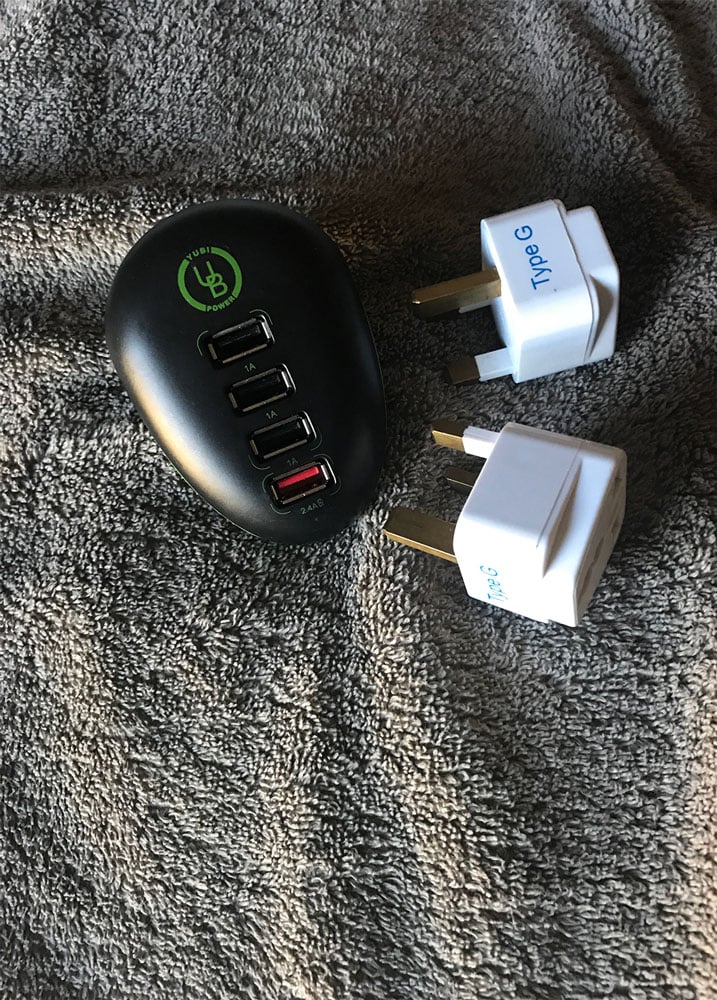 If you know which country someone will be traveling to, these are really great, inexpensive gift to give! And, likely one they have either not thought of or aren't sure where to get.
Portable Charger
I use this portable charger constantly while traveling. The charger worked very well for keeping my phone at the ready for picture taking while sightseeing. It fit into my purse and it kept its own charge for a long time as well. Actually, this one works as a gift for everyone, traveling or not! This is a great, practical gift that no one ever thinks they'll need, but are SO happy they have!
Compression Socks
Ok, laugh all you want…these really work! I always wear compression socks on longer plane rides. It's a long journey with limited ability to get up and walk around. Wearing these socks keeps my legs from swelling and cramping. It might seem like a strange gift to give, but I had one flight where I forgot to wear them and I really noticed a difference. Stocking stuffer gift idea right here!!!
Water Bottle with Built in Filter
The tap water in many countries is perfectly acceptable to drink without filtering, but when on the airplane, on trains and site seeing, this water bottle was my best friend! Throw in some extra filter refills so your friends and family members don't have worry about remembering those and you've given them the gifts of peace of mind AND saving money! Think about all of that money saved not buying bottled water every day!
This is certainly not a totally comprehensive list of suggestions, but these are the things I'd say are on "repeat". They've been with me on every trip since the first one. I know it can be somewhat difficult to decide what might actually be a "good" gift for someone who travels a lot so I hope this gift guide gives you some ideas for those people on your list!
Until next time, here's to continuous travel and adventure! Happy Holidays and Happy Travels!
Pin this Gift Guide for the Traveler to your favorite TRAVEL or GIFT board on PINTEREST!
NOTE: You will find affiliate links on this page. The price you pay as a consumer does not change, but I may make a small commission based on your purchase! Thank you for supporting Recipes Worth Repeating!