Everyone looks for easy dinners when it comes to meal planning and guess what? I've got 5 nights of easy dinners for your busy week and they are all either made in one pan or on the grill! Talk about convenient! Let's take a look at the gameplan for this week:
One-Pan Chicken Thighs with Cilantro-Lime Black Bean Rice served with a Mexican Salad with Lime Dressing – everything about this main dish is simple because it's cooked in one pot. It takes 30 minutes to cook and the dish is so flavorful! Let's talk about this salad a minute…it's FRESH! This salad is crisp and super healthy! You'll love the lime dressing!
Sheet Pan Flank Steak Fajitas – This recipe is so convenient because you cook everything together in the same sheet pan! Plan ahead for this one because the flank steak needs to marinate for at least 30 minutes, but the longer you marinate it the better it tastes!
Asparagus Shrimp Pasta Dinner – You're going to fire up your grill for this dish and grill the shrimp and vegetables. Cook your pasta noodles (I use gluten free noodles), mix the sauce and add the veggies and shrimp and dinner is served!
Blackberry Balsamic Grilled Chicken Salad with Crispy Fried Goat Cheese – This is one gorgeous salad that I guarantee you will love!  Plan ahead on this one and marinate your chicken for at least 30 minutes. From there, throw it on the grill. For the fried goat cheese, I used gluten free panko and flour. The dressing is creamy and has a sweetness that pairs so well with all the fresh fruit and vegetables in this salad.
Italian Marinade Steak and Vegetable Kabobs –  Marinated steak with grilled vegetables on skewers! I'm so glad spring has arrived! Serve these scrumptious kabobs over your favorite rice!
Enjoy this week's meal plan and happy eats!
5 Easy Dinners
The Recipes
One-Pan Chicken Thighs with Cilantro-Lime Black Bean Rice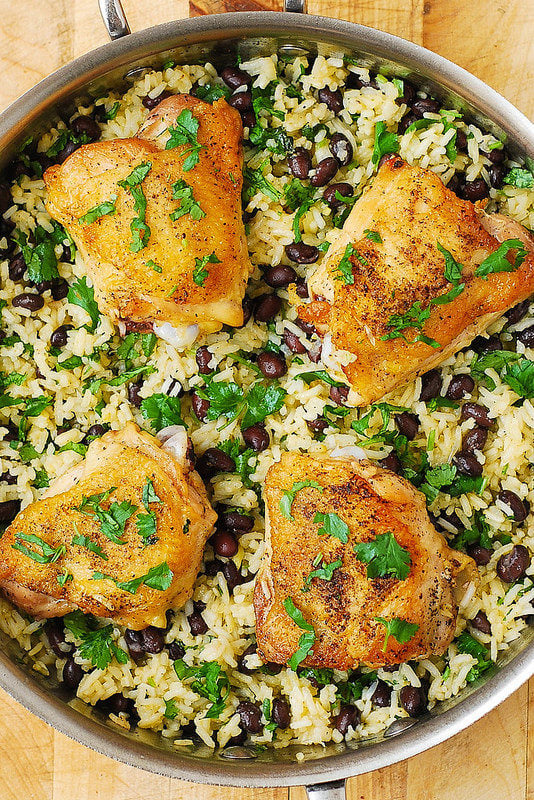 Recipe and Photo Credit goes to Julia's Album
Mexican Salad with Lime Dressing
Recipe and Photo Credit goes to Natashas Kitchen
Recipe and Photo Credit goes to Eazy Peazy Mealz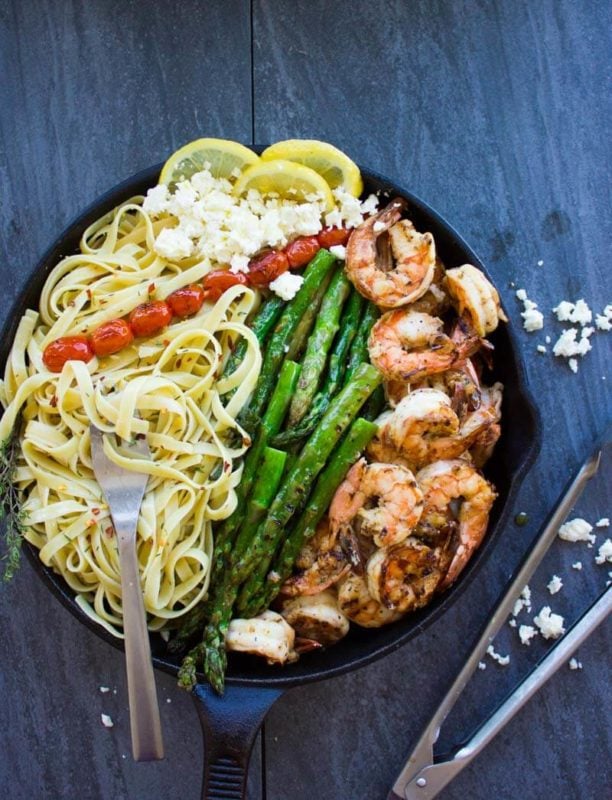 Recipe and photo credit goes to Two Purple Figs
Blackberry Balsamic Grilled Chicken Salad with Crispy Fried Goat Cheese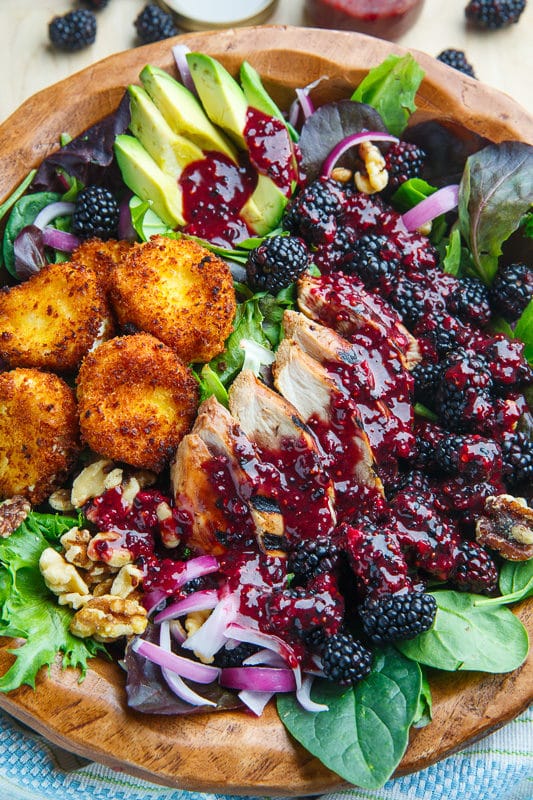 Recipe and photo credit goes to Closet Cooking
Italian Marinade Steak and Vegetable Kabobs
Recipe and photo credit goes to Recipes Worth Repeating