I'm back from our week of vacation in Disney World in Florida! We landed last night and although it feels great to be home, it was sad to leave. It was also a nice break from cooking dinner each night! We had an amazing trip and we loved spending time with our niece and nephews! I made a comment on my meal plan post last week that I was seriously considering starting a travel section within Recipes Worth Repeating and after this trip, I'm definately going to do it! I learned so much on our trip…tips and tricks for what to do at Disney World and Universal Studios and things we had no clue about! There are things we wish we would have done differently…let me tell you! I have so much to share!! Keep your eyes out for a new travel section in the upcoming weeks!!
Since we are back home, it's time to start planning dinners for the week! I did take tomorrow off from work just to give myself one more day to prepare and get ready for the week. (Ok let's be honest…I need a mini vacation from my vacation!) Plus, my kiddos are on spring break for one more week so I need to get their schedules ready, too! When I woke up this morning and headed to the kitchen,  I opened the refrigerator and it was empty. Yep…I cleaned it out before I left last Saturday. So no food in my house! That never ever happens so off to the grocery store I went first thing this morning! But before I headed out the door for the grocery store, I made my meal plan for the week.
Since I'm still pretty tired from traveling, I already knew I was going to pull some recipes for this week's meal plan from Jar of Lemons to pair with a couple of my recipes. Christine's recipes are just fantastic and they never let me down! Since it's starting to warm up outside, you're going to love these fresh and bright recipes! This week's meal plan SCREAMS spring! I'm super excited to get my week started with these fantastic meals! And yep, just like always….all my meal plan recipes below are gluten free!
Enjoy your week and Happy Eats!
5 Easy Dinners
The Recipes
Recipe and photo credit goes to Jar of Lemons
Recipe and photo credit goes to Recipes Worth Repeating
Recipe and photo credit goes to Jar of Lemons
Lemon Thyme Chicken  with Garlic and Rosemary
Recipe and photo credit goes to Recipes Worth Repeating
Baked Sweet Potatoes with Chickpeas and Broccoli Pesto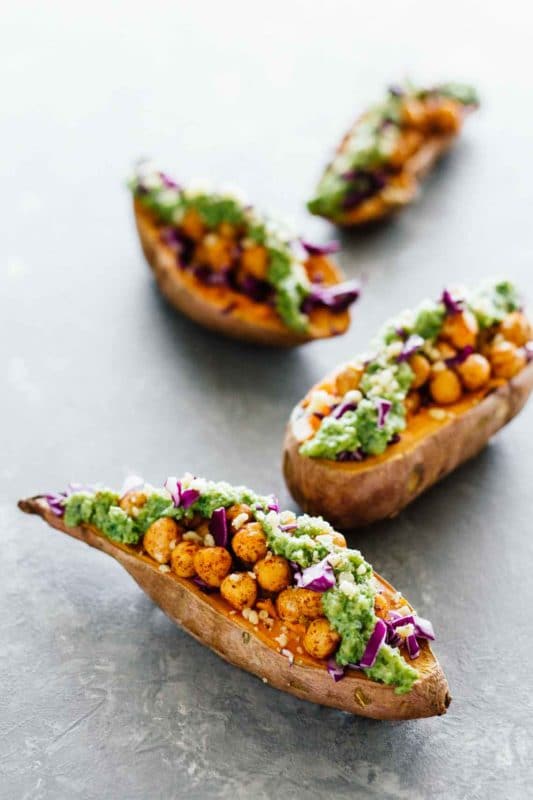 Recipe and photo credit goes to Jar of Lemons
Kale Quinoa Curry Salad with Roasted Brussel Sprouts
Recipe and photo credit goes to Jar of Lemons
Recipe and photo credit goes to Recipes Worth Repeating
Radish & Tangerine Quinoa Detox Salad
Recipe and photo credit goes to Jar of Lemons