Yum, yum yum!! The meal plan for the week of March 27-31 is ready! Is it me or are the weeks just FLYING by? It's crazy that it's already Saturday…and my Saturday is almost over! Ugh…I hate when the weekends fly by! But as your guys know, with every weekend comes meal planning for the upcoming week, so let's get at it!
I have some fantastic recipes for you this week! The first recipe I'm featuring is from Pinch of Yum and she uses her Instant Pot to make this Beef Stew! My friend Jill told me about the Instant Pot a couple of month ago. This beauty is a 7-in-1 Multi-Functional Cooker: Pressure Cooker, Slow Cooker, Rice Cooker, Saute/Browning, Yogurt Maker, Steamer & Warmer. Ok seriously, that sounds heavenly! And I'm seriously about to order one…like right now after I finish this post because I've been procrastinating about this purchase for way too long and so many people are raving about the Instant Pot.
But don't worry, if you don't have an Instant Pot, you can still make this Beef Stew recipe the traditional way in the oven. So don't fret! Lindsay spells everything out really well in the recipe so take a look! As always, all my meal plan recipes are gluten free and are from some of my all time favorite food bloggers! You're going to love all of these yummies this week!
Have a great week everyone and Happy Eats!
5 Easy Dinners
The Recipes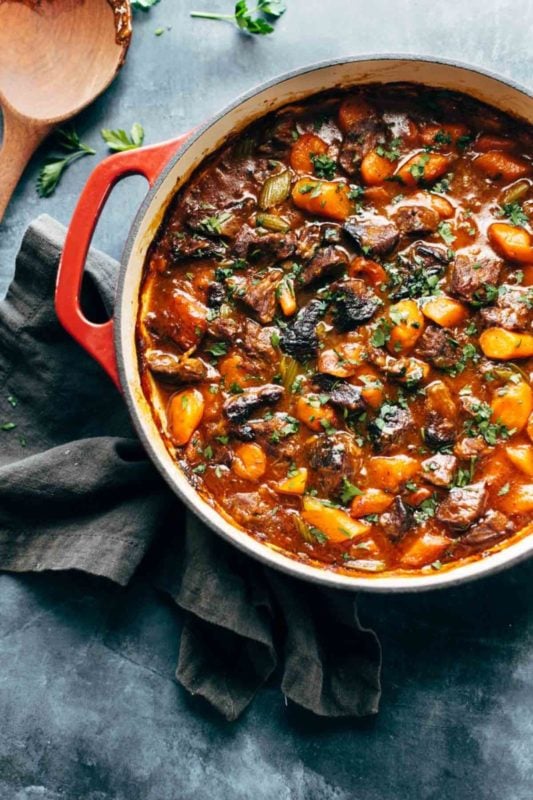 Recipe and photo credit goes to Pinch of Yum
Recipe and photo credit goes to Fusion Craftiness
Lemon Pepper Chicken with Lemon Sauce
Recipe and photo credit goes to Recipes Worth Repeating
Mediterranean Roasted Potato Recipe
Recipe and photo credit goes to Fusion Craftiness
Baja Fish Tacos with Creamy Jalapeno Sauce
Recipe and photo credit goes to Fusion Craftiness
Recipe and photo credit goes to Recipes Worth Repeating
Erin's Summer Corn Salad with Champagne Vinaigrette Dressing
Recipe and photo credit goes to Recipes Worth Repeating