Gluten free pasta tossed through a silky rich butter sauce and flavoured with homemade pesto. Now THAT is how you take pasta up a notch!
The buttery sauce with the pesto and the cherry tomatoes makes for the most EPIC combination. And the sauce is made in quite an interesting way. I got the idea from my favourite culinary chef named Thomas Keller.
Now, I gotta be honest. Usually, I record and edit video recipes for most of my posts. The only problem was I screwed the sauce up about 3 times before getting it right. And the video I recorded doesn't really show a good example of how to properly prepare this recipe, so I had to scrap it. Once I understood the process, it suddenly became very simple.
This recipe doesn't require a video, though. It's not very difficult to explain how to make this pasta dish so allow me to go through it with you.
How To Make The Pesto Sauce
So, what we are trying to achieve here is emulsification. We need to be able to combine the stock and the butter...2 ingredients that don't mix very easily.
The vinegar acts as the emulsifier.
First, you'll simmer the stock, then add your butter and vinegar and continue to simmer. Then, add your half-cooked pasta and poach in the butter and stock mixture. Eventually you end up with a thick, creamy sauce. It is an interesting process, but a dang good one. You just need to be a bit patient and try not to play around with the food too much.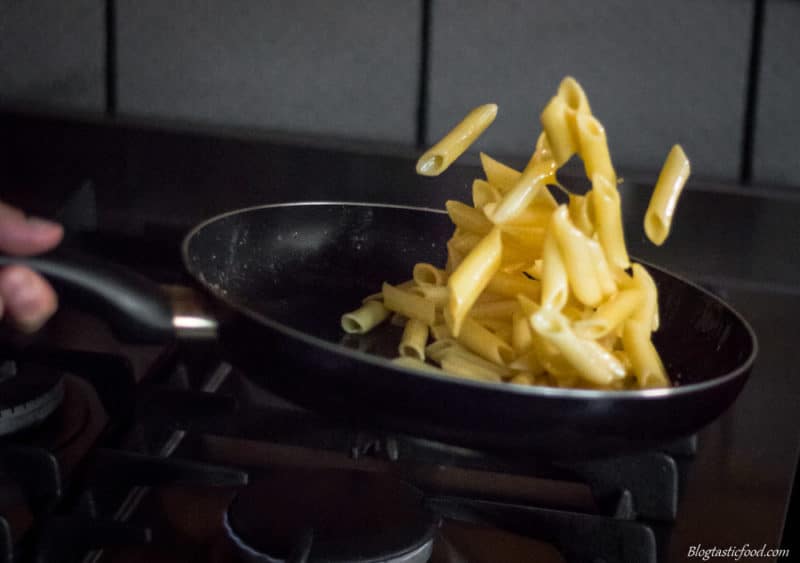 By the time the sauce is done, the pasta should be cooked through.
Start With A Very Light Stock Flavour
A mixture of both water and stock is the way to go with this recipe. Then you have a little more freedom as to how much acid and/or salt you can add later. If you only use stock, you may end up overpowering the sauce.
The way I like to approach it is, first you work on the texture, then you can work on the flavour at the end.
Expert Advice: This just goes to show how valuable stocks can be when making soups or sauces. If you want to know how to intensify stock to make the most AMAZING soup, check out my recipe for the most amazing potato soup.
Best Way To Serve This Pasta with Pesto and Roasted Cherry Tomatoes
If you leave this pasta dish in the fridge, and then you try to heat it up later on, you'll find that the sauce just turns into a pool of butter at the bottom of the bowl. Think of this recipe as more of an intricate dish to make for a significant other.
Hey...Valentine's Day is coming up soon!
Like risotto, this is the kind of recipe you want to serve as soon as possible.
If you'd prefer this to be an easy family meal that you can keep for leftovers then don't worry about the butter sauce. Just make a little extra pesto, then just mix the pesto, the cooked pasta and the cherry tomatoes together at the end,.
Job done.
So there you have it, how to make a freakin DELICIOUS gluten-free pasta recipe. Feel free to make changes if you want. A big thanks to Amanda for letting me post on this fabulous blog. If you're a pasta fan like me, you can check out this post that features 8 killer pasta recipes on my blog. I really hope you enjoy the recipe! Leave me a comment below and tell me how you liked it!
Buttery Gluten Free Pasta with Pesto and Roasted Cherry Tomatoes
A super-rich and flavoursome gluten-free pasta dish, topped with pesto and roasted cherry tomatoes.
Print
Pin
Rate
Ingredients
Roasted Cherry Tomatoes:
1

cup

cherry tomatoes,

halved

1

Tablespoon

canola oil

Salt and pepper for seasoning
Pasta:
2

cups

Gluten Free Penne Pasta
Pesto:
½

cup

Parmesan cheese

2.5

cups

fresh basil

A pinch of black cracked pepper

¾

cup

of pine nuts

1

fresh garlic clove,

peeled

½

a fresh lemon,

juiced

⅓

cup

extra virgin olive oil
Butter Sauce:
⅔

cup

vegetable stock

⅔

cup

water

¾

Tablespoon

white wine vinegar

7

Tablespoons

Salted Butter

Salt for Seasoning
Instructions
Roasted Cherry Tomatoes:
Preheat your oven to 180 degrees C/350 degrees F.

Put the cherry tomatoes on a lined baking tray, drizzle lightly with oil then season with salt and pepper. Toss together and roast in the oven for 10-12 minutes.
Pasta:
Bring a pot of salted water to a boil, then add your pasta. Cook the pasta for about 6-7 minutes (or a few minutes less to what the packet instructions say). Strain the pasta and set aside.
Pesto:
Put your parmesan cheese, basil, pepper, pine nuts, garlic, lemon juice and extra virgin olive oil in a large mixing bowl. Use a hand blender to blend the ingredients together until you have a chunky paste.
Butter Sauce:
Put your stock and water in a medium-sized pan and bring to a simmer. As the stock is simmering, add your vinegar, a pinch of salt and your butter. After about 4-5 minutes of simmering, add your pasta, then poach the pasta in the butter and stock mixture.

You'll eventually end up with a nice sauce with a thick consistency, and by that time the pasta should be cooked through.

Season the pasta to taste with salt and pepper (be careful not to overpower the flavour).

Serve the pasta on a warm plate, spoon some pesto over the pasta, then add some roasted cherry tomatoes on top. You may also finish the dish with extra basil, parmesan cheese or pine nuts if you wish.
Notes
Be patient for the sauce to form, try not to play around with it too much.
You can also use a food processor to blend the pesto.
Remember, don't cook the pasta all the way through in the water. Cook it about ½ - ¾ of the way through, and then finish cooking it in the butter and stock.
Nutrition
Calories:
1616
kcal
|
Carbohydrates:
97
g
|
Protein:
32
g
|
Fat:
125
g
|
Saturated Fat:
37
g
|
Cholesterol:
122
mg
|
Sodium:
1086
mg
|
Potassium:
827
mg
|
Fiber:
6
g
|
Sugar:
7
g
|
Vitamin A:
3535
IU
|
Vitamin C:
25.2
mg
|
Calcium:
401
mg
|
Iron:
6.1
mg
NOTE: You will find affiliate links on this page.