This Beef Enchilada Casserole is super easy to make and deliciously tasty. You'll love the mexican flavors of the creamy refried beans, layered beef, corn tortillas, and melted cheese smothered in a flavorful enchilada sauce and baked to a bubbly perfection!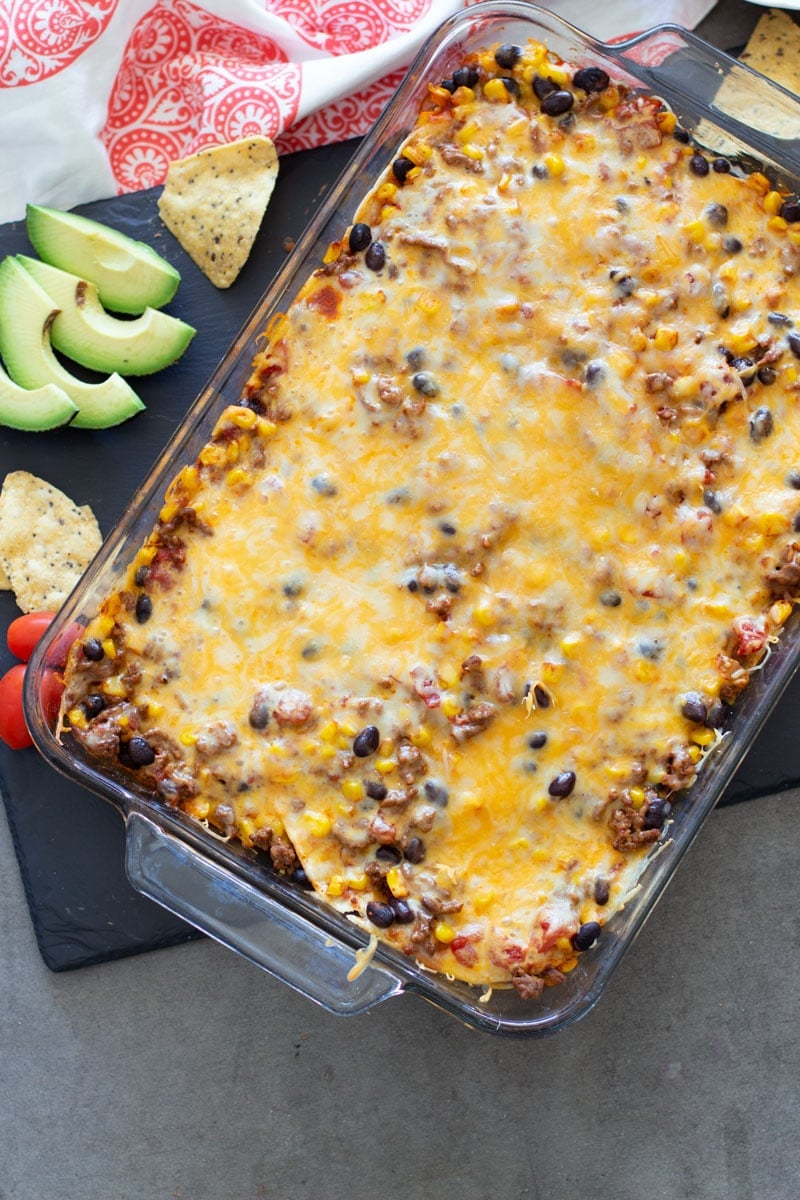 Easy Enchilada Casserole
This casserole is one of my favorites because it's so easy to make. And I love me some casseroles, like this Crock Pot Cabbage Casserole and this Chicken and Rice Casserole.  Casseroles are full of flavor, easy to make, and make for a perfect dinner the whole family will love. Casseroles are the perfect comfort food.
What is a Beef Enchilada Casserole?
Enchiladas are delicious, but taste even more amazing in a casserole form. Enchilada casserole takes all of the wonderful authentic mexican food flavors and simplifies the process by layering all the spices and ingredients in a casserole dish rather than rolling them in a flour tortilla. This casserole contains layer upon layer of corn tortillas spread with creamy refried beans topped with ground beef, corn, and black beans, and then topped with shredded cheese and baked in a delicious red enchilada sauce.
What Ingredients are in Beef Enchilada Casserole?
Corn tortillas – instead of flour tortillas, I prefer corn tortillas. But flour tortillas wills work just fine, as well.
Refried Beans – you'll spread a layer of refried beans onto each corn tortilla to serve as the base of the casserole.
Ground Beef – provides a ton of flavor and protein.
Enchilada Sauce – the key ingredient and the provider of saucy goodness.
Black Beans – adds texture, fiber, and additional protein.
Diced Tomatoes – pairs amazingly well with the enchilada sauce.
Corn – adds a bit of freshness and "sweetness" to every bite.
Shredded Cheese – included in the layers as well as placed on top of the casserole and melts into a bubbly goodness.
Cumin – commonly used in mexican food recipes and provides an earthy and nutty taste.
Chili Powder – adds a mild spice used to bring out the Tex-Mex flavor.
Garlic Powder – I like to use a powder form instead of fresh garlic so the taste comes out milder.
Salt – enhances the taste.
How to Make Beef Enchilada Casserole
Start with the enchilada sauce mixture.
Brown the Ground Beef: I like to use ground beef with a higher fat percentage. It provides more flavor. Brown the meat until it is no longer pink.
Amazing Layer After Layer
Start with the Enchilada Sauce – You can make your own enchilada sauce (in the recipe card) or you can use a canned version. Pour half the enchilada sauce into a baking dish.
Make the filling: In a large bowl, combine the remaining enchilada sauce, corn, black beans, ground beef, can of undrained tomatoes, salt, cumin, chili powder, and garlic powder.
Mix together: With a large spoon, stir until well combined.

Corn tortilla base – take 6 corn tortillas and evenly spread half a can of refried beans.
Place the tortillas on top of the enchilada sauce. It's totally fine that they overlap.
Add the enchilada sauce mixture: evenly layer the enchilada filling on top of the corn tortillas topped with refried beans. Add 1 cup of shredded cheese.
Repeat layering:  now you'll repeat the layers. Add on 6 more corn tortillas layered with the rest of the refried beans. Then, layer on the rest of the enchilada filling mixture.
Top with shredded cheese: to finish off the layers, top with the rest of the shredded cheese.

Expert Tip: using a bag of shredded Mexican Blend Cheese is fine, but when you shred a block of Colby Jack cheese and add it to the casserole, the flavor is out of this world!
Place in the oven and bake – place the casserole uncovered in the oven and bake at 350 for 35 minutes. Once done, remove from the oven and let the casserole cool for 5-10 minutes before cutting it into slices.
Top it and serve – grab a spatula and pile a piece onto a plate. I like to top my casserole with fresh diced tomatoes, fresh cilantro, and avocado.
Got Leftovers?
How will casserole keep in the refrigerator? This casserole will keep in the refrigerator for 3-4 days. Just cover it with aluminum foil.
Can you freeze beef enchilada casserole? Yes, you can freeze it before you cook it or after.

To freeze the casserole before cooking, make sure you are using a freezer safe container. Ground the beef, add the layers and top with cheese. Cover with aluminum foil or lid and place in the freezer.
You can also freeze individual pieces after the casserole is cooked. Just place each piece in a freezer safe container and cover.

Reheat Instructions:

To defrost the entire frozen casserole, you can either place the frozen dish on the counter and allow to thaw for 45 minutes or you can place the frozen dish in the refrigerator to defrost overnight. From there, bake at 350 for 45 to 60 minutes until the center is hot and the edges are bubbly.
To reheat individual pieces, you can reheat in the microwave or the oven.
More Mexican Recipes You'll Love!
Subscribe to my newsletter to receive new recipe notifications. Follow Recipes Worth Repeating on Facebook | Instagram | Pinterest | Twitter for all of the latest updates, recipes, and content!
Beef Enchilada Casserole
This Beef Enchilada Casserole is super easy to make and deliciously tasty. You'll love the Mexican flavors of creamy refried beans, layered beef, corn tortillas, and melted cheese smothered in a flavorful enchilada sauce and baked to a bubbly perfection!
Print
Pin
Rate
Ingredients
Homemade Red Enchilada Sauce
Instructions
Beef Enchilada Casserole Directions
Preheat the oven to 350F. Cook ground beef until brown and no longer pink.

Spread half of the enchilada sauce in the bottom of the dish.

Cook the corn in microwave according to package directions.

Spread half of refried beans on 6 corn tortillas. Place tortillas, bean-side up, over sauce in dish, overlapping to fit. 

Stir together remaining enchilada sauce, corn, black beans, spices, salt, ground beef, and undrained tomatoes in a large bowl. 

Spread half of beef enchilada mixture over the corn tortillas that are layered in the dish. Then layer with 1 cup of cheese.

Repeat layering – take 6 more corn tortillas and spread with the rest of the refried beans and place as another layer in your 13X9 baking dish. Then layer with the enchilada mixture and remaining shredded cheese.

Bake uncovered for 35 minutes or until hot. The center should be hot and the casserole should be bubbly around edges. Let stand 5 minutes before cutting into 8-12 pieces.

Top off your dish with your favorite enchilada toppings – shredded lettuce, sour cream, avocado, etc.
Gluten Free Red Enchilada Sauce
Heat oil in a large saucepan over medium heat. Add the garlic and sauté for 1 to 2 min. 

Add the oregano, chili powder, basil, ground black pepper, salt, cumin, parsley, salsa and tomato sauce. Mix together and then stir in the water. 

Bring to a boil, reduce heat to a low simmer for 15 to 20 min.
Video
Nutrition
Calories:
379
kcal
|
Carbohydrates:
22
g
|
Protein:
23
g
|
Fat:
23
g
|
Saturated Fat:
10
g
|
Cholesterol:
66
mg
|
Sodium:
835
mg
|
Potassium:
397
mg
|
Fiber:
4
g
|
Sugar:
2
g
|
Vitamin A:
859
IU
|
Vitamin C:
2
mg
|
Calcium:
542
mg
|
Iron:
3
mg
Update Notes: This post was originally published in March 2012, but was re-published with updated step-by-step instructions, pictures, and tips in September 2019.