I have so many friends who make fun of me for eating Steel-cut oats. They always say, "My grandparents eat that stuff!" But I love them. I like them way better than regular old-fashioned oats. They have more texture to them and I think they taste fabulous! Plus, I have made so many great recipes I make with Steel-cut oats! My favorite brand is Bob's Red Mill Steel Cut Oats. I just love their products! You can shop on Amazon to get these oats and other products. Just click on this link to Shop Now at Amazon!
Let's talk about the nutritional value in Steel-cut oats for a minute. First off, they have a nuttier taste than regular oats. Steel-cut oats are also referred to as "Irish Oats" and they are the least processed of all the oat types. They basically just take the oat and chop it into chunks. Steel-cut oats are a great source of fiber and protein. There is 7 grams of protein in ¼ cup serving. Steel-cut oats also contain a lot of iron, which your body needs. And they are naturally Gluten Free!
I think I mentioned this before but I eat the same thing for breakfast every single day...2 eggs, 2 pieces of turkey bacon and either ½ of a Gluten Free English muffin or a cup of Steel-cut oats. I typically just make my Steel-cut oats with water and add brown sugar and raisins on top. And it tastes great! But, when I came across this recipe, I really wanted to try it. Not because I don't like my version of Steel-cut oats, but the ingredients in this recipe remind me of fall flavors and hey - we are entering into the fall season!! When I tasted this after I made it, I was in my happy fall season place. I love the taste of cinnamon, allspice and ginger. This version of Steel-cut oats was so great and got my day started off right!
Happy beginning of fall and enjoy this one!
Ingredients
1 cup 2% milk
1 cup unsweetened, original almond milk
1 cup Steel-cut oats
1 teaspoon ground cinnamon
1 teaspoon ground ginger
¼ teaspoon ground allspice
⅛ teaspoon salt
1 Tablespoon honey, for drizzling
¼ cup sliced almonds, for topping
½ cup dried cherries, for topping
Directions
In a medium saucepan, combine the milk, almond milk and 1 cup of water and bring to a boil. Stir in the oats, cinnamon, ginger, allspice and salt. Cover and cook over low heat, stirring occasionally until the oats are al dente and the oats are creamy (about 20 minutes). Pour a cup of the cooked oats in a bowl and top with 10-12 dried cherries, honey and almonds. Feel free to add a bit of brown sugar for more sweetness. Enjoy while it is hot.
NOTE - the oats can be refrigerated for up to 2 days. Add more milk when reheating to loosen and get back to the consistency you desire.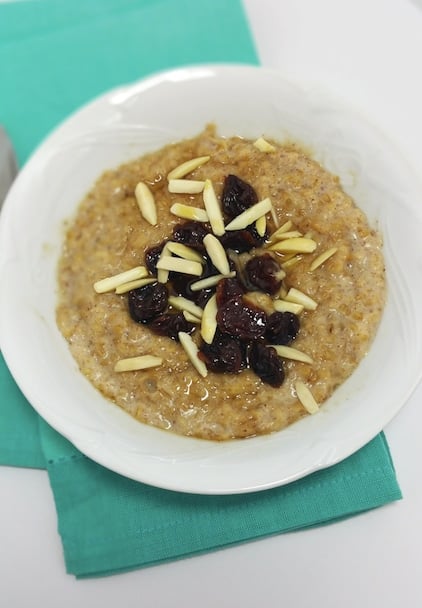 Note: This post is not sponsored, but you will find affiliate links on this page. The price you pay as a consumer does not change, but I may make a small commission based on your purchase! Thank you for supporting Recipes Worth Repeating!