Sweet and tangy, this Orange Walnut Salad with Sweet and Sour Dressing pairs perfectly with any meal! Gluten free and super healthy, this spinach based salad with fresh citrus and crumbled goat cheese will have you begging for more! So fresh! So delicious!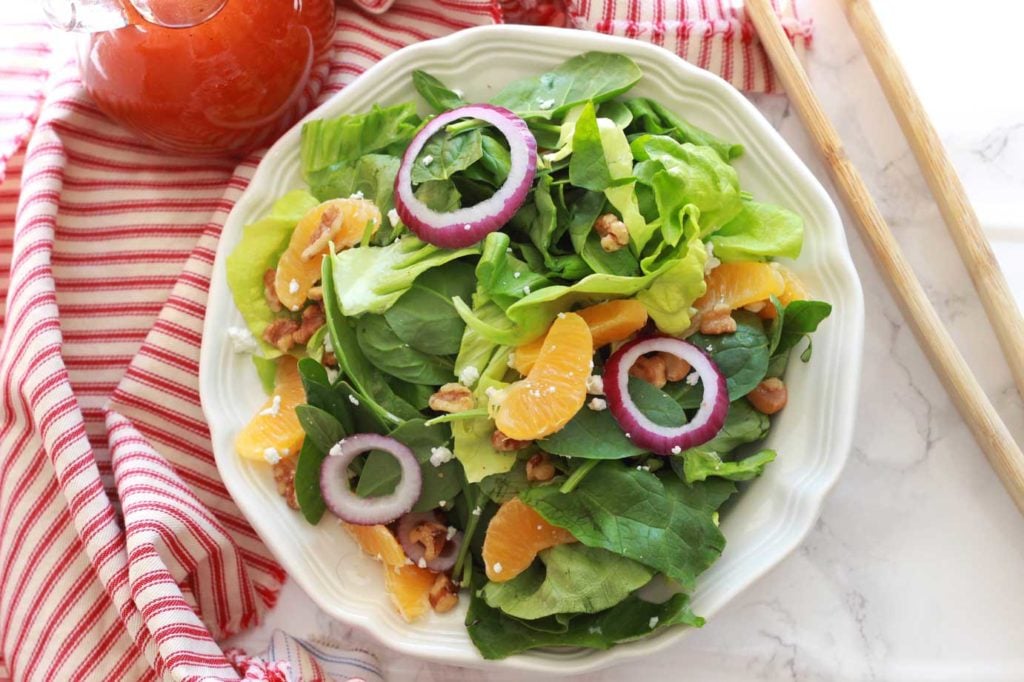 I have been sitting on this recipe for 6 years. I know...that's kinda embarrassing! And as much as I love salads, you would think I would post more salad recipes! And you are probably wondering why I keep posting salad recipes in January. I mean, isn't January supposed to be cold and winter time? Well...not here in Arizona. We had our 2 weeks of winter (we only go as low as upper 40s, low 50s) and then we enter into spring weather! Yep, it's January 17th and it's 70 degrees outside. The kids are out riding their bikes and I'm marinating filet for dinner tonight.
I'm getting ready to have custom cabinets installed in my work closet to help me get more organized. I can't wait...I have stuff everywhere! I'm slowly trying to get things together so I can finally organize my food materials in a better fashion. As I was organizing today, I stumbled upon this recipe and thought what a perfect salad recipe for the filet tonight! And I've had it for six years and have not made it yet!
I stopped what I was doing and went to making this fantastic recipe. With this one, you are going to make a homemade sweet and sour dressing. It pairs so nicely with the oranges and walnuts in this salad. I added a bit of goat cheese and it was ready to go!. So good! I mean...yum!!! And yes, it's Gluten Free.
Oh...and just for fun...have you ever seen a photo shoot for food photography? Well, it's not glamorous...at all. Google it...it's funny. Using natural light is best and since it's such a beautiful day outside, I moved my portable table out to the garage where the lighting was perfect. Because it is such a nice day today, all the kids in the neighborhood are at our house playing basketball and riding bikes. As I pull out my table in my own little world, camera and light reflectors in hand to set up my shoot, all 7 neighborhood kids stopped and looked at my kids and were like, "What in the world is your mom doing??!?!"
I'm sure they thought I was weird taking pictures of food, but they all know I food blog and write for a magazine. They just had no idea what a food photo shoot looks like. That made me laugh today!
Enjoy this recipe! Happy Eats!
Ingredients for Salad
3 small heads Boston Lettuce
1 ½ cups fresh spinach
3 oranges, peeled (I used cuties/clementines)
¼ cup goat cheese, crumbled
¼ of a small red onion, sliced into thin rings
¾ cup chopped walnuts
3 teaspoons butter
Ingredients for Dressing
1 ½ cup olive oil
¾ cup white wine vinegar
¾ cup sugar
1 ½ teaspoons salt
1 ½ teaspoons celery seed
1 ½ teaspoon dry mustard
1 ½ teaspoon paprika
1 teaspoon finely chopped onion
Directions for Dressing
Combine all ingredients in a container with a lid.
Shake well and chill.
Directions for Salad
Combine lettuce, spinach, goat cheese, red onion and oranges into a large bowl.
In a small saucepan, sautée walnuts in butter until lightly browned.
Add to salad mixture and toss with sweet and sour dressing.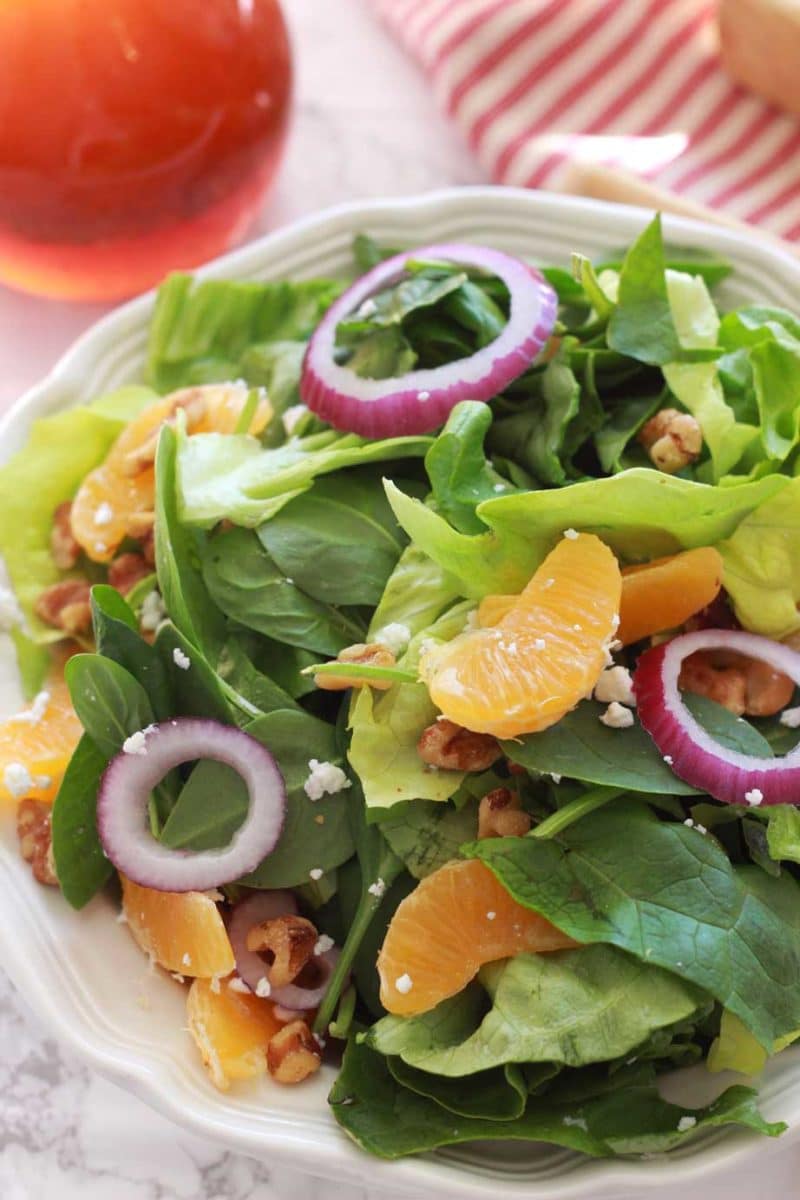 Love this Orange Walnut Salad With Sweet and Sour Dressing? Then share it on your favorite SALAD board on Pinterest so others can love it too!!