When I was a little girl, I used to love to come home from school and walk into my house which smelled like someone had been cooking all day. My mom rarely took time off work, but one of my favorite childhood memories is the house smelling like pot roast or roast chicken. I have a friend that I used to work with who shared this wonderful recipe with me and it took me back to my childhood days. When I made this recipe, my house was filled with that wonderful herb-roasted chicken smell that I loved so much as a child. But don't worry, this won't takes you all day to cook!
This one is so yummy and good for you. And yep - it's Gluten Free. I always use fresh herbs when I make this dish. Let's talk about herbs for a minute. You can use ANY combo of herbs you would like! I used thyme, rosemary, sage and oregano, but honestly, you can do a combo of any fresh herbs and it will be fantastic!
Enjoy this one! It's so savory!
Ingredients
1 cut-up roaster chicken (chicken skinless thighs, legs and skinless breasts)
2 lemons, thickly sliced
5-6 cloves garlic, keep peels on and lightly smash so garlic is slightly broken
1 medium onion, peeled and quartered
Fresh sprigs of herbs
½ cup white wine
Salt and pepper
½ teaspoon olive oil
Take a look at the picture of the chicken before I cooked it. Looks so enticing!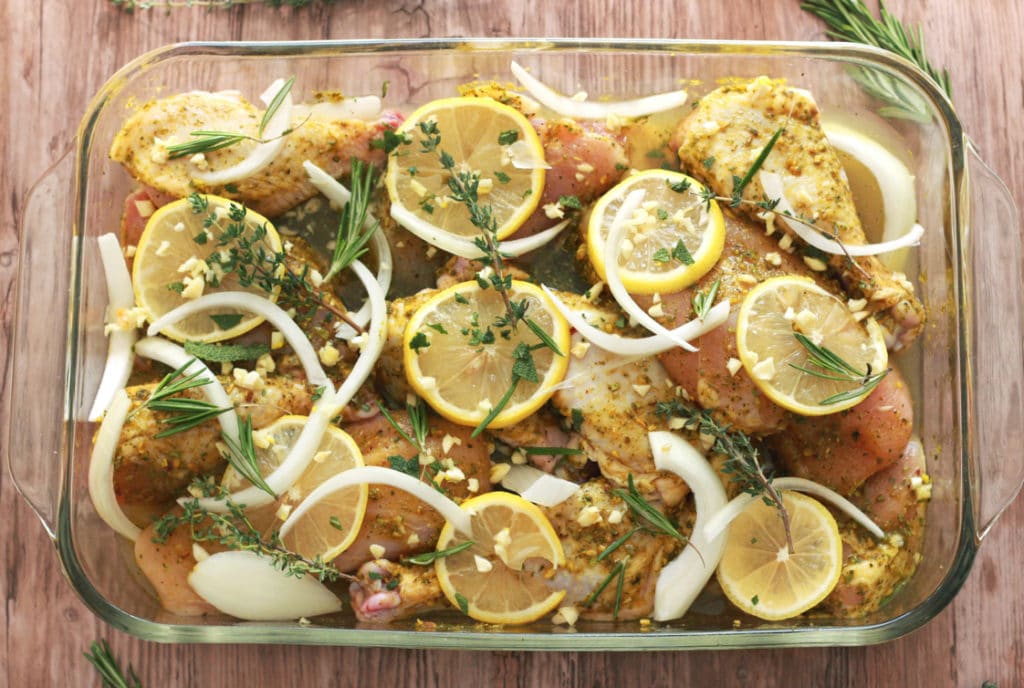 Directions
Preheat oven to 350. Place chicken pieces in a glass roasting dish. Liberally salt and pepper the chicken. Place garlic cloves and onions in the pan on top of the chicken. Arrange lemons on top, cover with herbs (keep on stalks so you can remove after roasting). Drizzle (lightly) with olive oil.
Roast for about 30 minutes or until juices run clear. Pour ½ cup of wine over the top and turn temp to 400. Continue roasting until chicken is brown and done. (About 30 minutes more).