Everything you need to know about jackfruit and how to prepare it. I've got 14 delicious Jackfruit Recipes that will wow your tastebuds including jackfruit bbq, jackfruit curry, and so much more.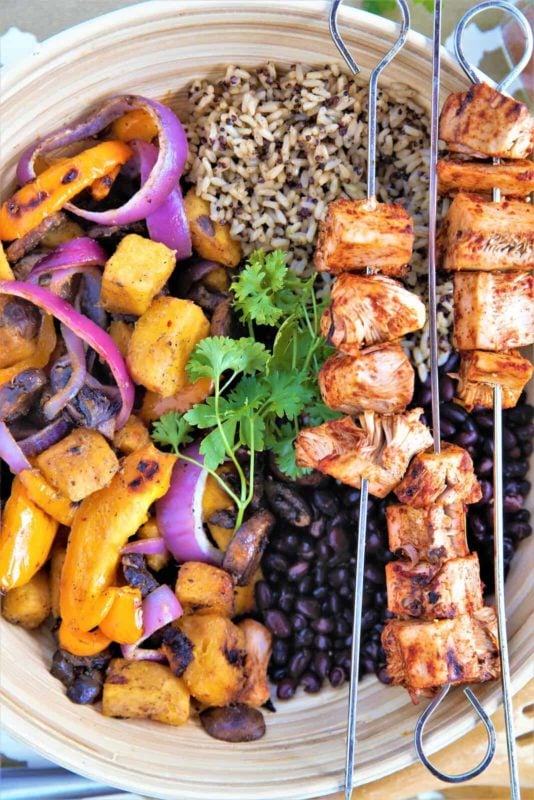 Prior to one of my writers providing these Jackfruit Tacos for the food blog, I'd never even heard of jackfruit before much less tasted it. Then I made the tacos and was blown away. Delicious, AMAZING, and surprisingly wonderful! I'm not vegan or vegetarian, but I'm loving everything jackfruit right now. I've been making a lot of jackfruit recipes lately. I've learned that jackfruit is extremely versatile. I'm actually in awe that you can make so many different types of recipes using both fresh and canned jackfruit.
What Is Jackfruit?
Jackfruit is a healthy fruit that is pretty large in size. It's a big bulbous green spiky looking fruit and it's a part of the fig family. Jackfruit originated in India and grows abundantly in tropical climates. Nutrition wise, here's what jackfruit has to offer:
low in calories
no fat or sodium
no sodium
lots of fiber
high in protein
rich in antioxidants
its seeds are edible and are high in protein, potassium, calcium, and iron
What Does Jackfruit Taste Like?
Eaten ripe and raw, the taste of jackfruit tends to be on the sweeter side and has a similar taste to pineapple and mango. But when you cook it, the taste is more neutral and bland. When you cook jackfruit, it tends to take on the flavors of the herbs and spices it's cooked with, the same way tofu does. Some people describe cooked jackfruit as tasting like pulled pork when cooked and that's why you see a lot of vegan dishes with "pulled jackfruit".
How To Eat Jackfruit – Jackfruit Recipes
There are so many AMAZING jackfruit recipes you can make. We're talking jackfruit BBQ, jackfruit tacos, and even jackfruit pasta! There is so much you can do with this fruit. Here's some of my favorite recipes and why you're going to love each one.
If you're looking for good lunch bowls, you're going to love this chili lime jackfruit bowl. The grilled vegetables add a ton of flavor and the chili lime seasoning brings forth the heat. Simply grill the fresh jackfruit on skewers and serve over a bed of rice. The perfect vegan lunch!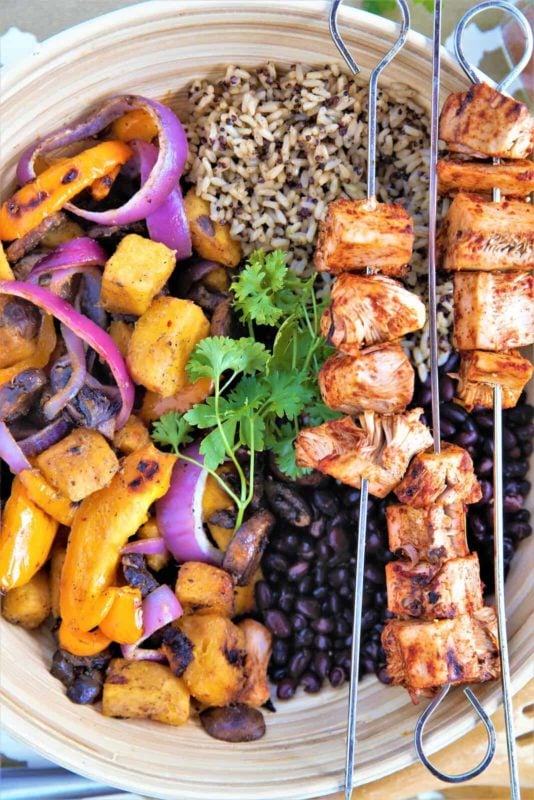 If you love buffalo chicken, you're going to love this buffalo jackfruit chicken alfredo. With this dish, you'll start by marinating the fresh jackfruit in the buffalo sauce. Then, cook the pasta, saute the jackfruit, and then mix in the alfredo sauce. It's so simple and makes for an amazingly delicious easy vegan dinner.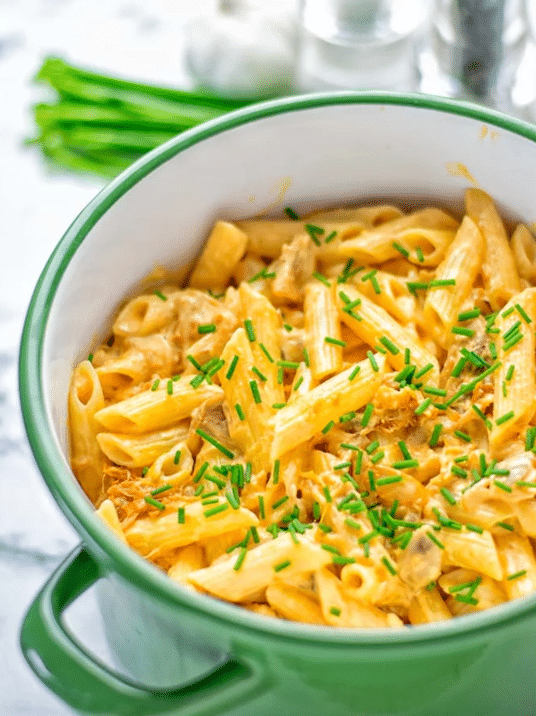 I'm in love with this exotic sweet treat. These mango jackfruit popsicles are made by blending together fresh jackfruit, mango, banana, pineapple, and coconut milk. It's like a jackfruit mango smoothie, only frozen in popsicle form. Dipped in white chocolate and coated with toasted shredded coconut, this is about to become your favorite type of popsicle.
Baked potatoes are amazing. But baked potatoes with bbq jackfruit just takes things to a whole new level. Filling these russets with caramelized barbecue "pulled" jackfruit and topping them with spicy cashew sauce makes for the perfect lunch, side dish, or main course.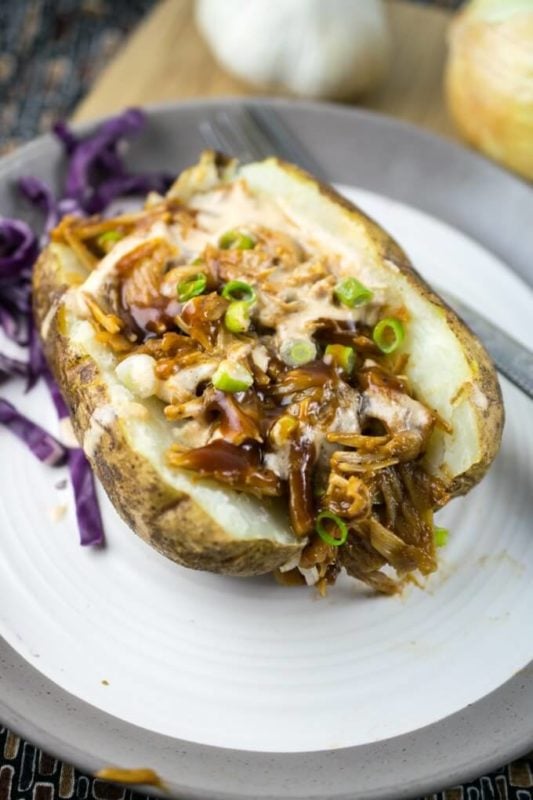 You can make all types of enchiladas, beef, bean, bean and cheese, chicken, pork, and green chili. And NOW you can make jackfruit enchiladas! Jackfruit is a great meat substitute and I bet people won't even know these enchiladas are meatless!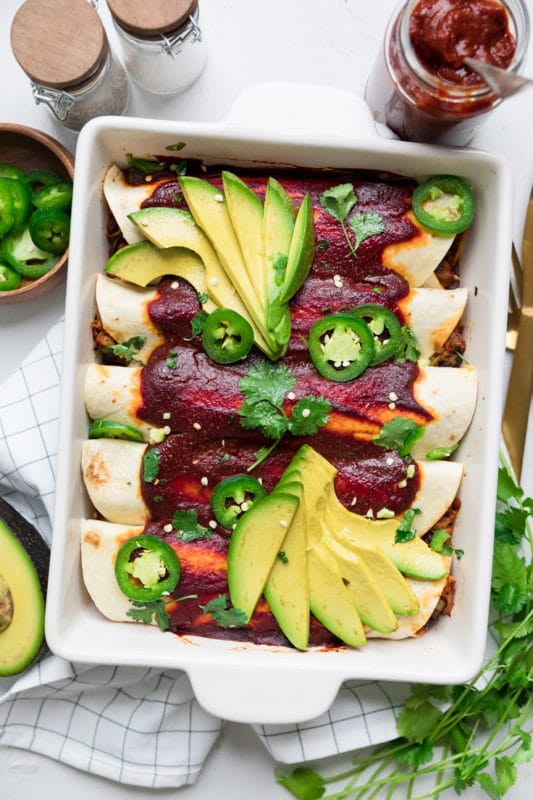 I'm loving that these jackfruit tacos are covered with the most wonderful spices. We're talking coriander, cumin, smoked paprika, ginger and chili powder. You're going to use canned jackfruit for these tacos and saute with all the seasonings. Assemble the tacos with your favorite toppings and you're ready to eat!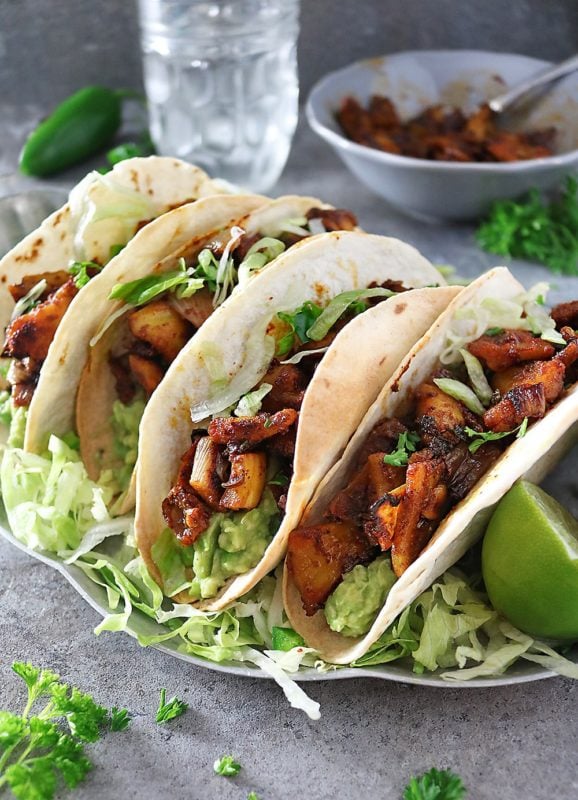 Yes – more jackfruit tacos, but these are topped with a mango salsa. You're going to use canned jackfruit and mix with bbq sauce. Top with fresh avocado, mango, cilantro, and onion and you're ready to dig in.
Also known as Kadgi Chakko, this jackfruit curry recipe originates from India. The meaty texture of the raw jackfruit used in this recipe mixed with mild spices makes for the perfect vegan meal. There is a hint of coconut in every bite.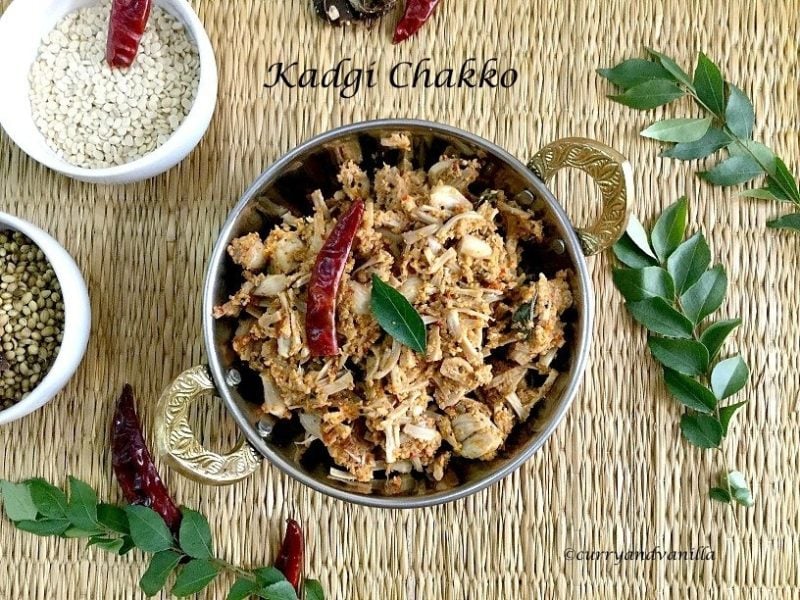 Spiked with a hint of vanilla and cardamom, this gloriously thick and delicious Jackfruit Mango Smoothie is beyond delish. Fresh and ripe jackfruit is used in this smoothie along with chunks of mango and the taste is refreshing.
Jackfruit BBQ sandwiches make the perfect vegan meal and when you add some mango and a side of lime jalapeno coleslaw, the flavor will make your tastebuds cheer! Use canned jackfruit for this recipe. I like adding the coleslaw on the sandwich for a nice crunch.
This jackfruit salad is the perfect recipe if you're just starting to make jackfruit recipes. The Dijon mustard and shallots make the flavors pop in this dressing. The Mediterranean part comes from adding the  kalamata olives, avocado, and cucumber to the salad. Add a can of jackfruit and toss on the dressing and you've got yourself an amazing vegan, vegetarian, and gluten free salad.
Who loves Pineapple Upside Down Cake? Have you ever thought of making a jackfruit upside down cake? Just replace the pineapple with fresh jackfruit for a twist on this classic dessert recipe.

Vegan Jackfruit Enchiladas are oh so delish but when you add in a buffalo style hot sauce, the flavor meter goes up several notches. Use a can of jackfruit for these enchiladas and top with sour cream, avocado, and green onion.
I love a good reuben sandwich. The sauerkraut mixed with the Thousand Island dressing is an amazing flavor combination on 2 pieces of toasty bread. But when you take a reuben sandwich recipe and add canned jackfruit, you're in for the sandwich of all sandwiches! Packed with corned jackfruit, crunchy sauerkraut, and tangy Thousand Island dressing on toasted marbled rye, this is one reuben sandwich you don't want to miss out on.
Where To Buy Jackfruit
Typically, you won't find fresh or canned  jackfruit at your local grocery store, unless you live in a tropical area. I find jackfruit at speciality stores such as Sprouts, Trader Joe's, or Whole Foods. Did you know you can ask your local grocery to order ingredients you need? I've had really good luck with going to customer service and asking them to order speciality item I need.
Which Jackfruit Recipes Did You Try?
I can't WAIT to hear which recipe(s) you tried! Which one was your favorite? Please leave me a comment if you make one of these recipes and tag me @recipesworthrepeating on Instagram and hashtag it #recipesworthrepeating so I can see what you made!
Stay Updated! Get all the latest tasty goodness straight to your inbox by signing up to receive my weekly email for the latest and greatest recipes!