Hearty, delicious, and perfectly spicy jackfruit tacos guaranteed to make your mouth water.
As a vegan and wine lover, I'm always on the lookout for new ways to combine healthy, vegan meals with wine. In the wine world, vegetarian and vegan food usually gets the short end of the stick, so I'm out to give it the culinary respect it deserves. I created Plant & Vine to serve as online encyclopedia for all things wine and plant-based meals. I recently made these delicious and healthy jackfruit tacos and am so excited to share them with you. By the way...I'm Kerrie! Nice to meet you!!
These tacos are magical largely in part to the wonderful wizardry of jackfruit. Let's begin by breaking down these beauties:
What is a Jackfruit? And why are we using it in a taco recipe?
Jackfruit comes from a tropical fruit tree in the fig and mulberry family, capable of producing individual fruits up to 120 pounds in weight! As the national fruit of Sri Lanka and Bangladesh, we're dealing with some celebrity-grade fruit here.
In the vegetarian and vegan food world, jackfruit is often used as a meat substitute because of its realistic shredded meat texture and neutral taste that's well-suited for absorbing surrounding flavor.
This jackfruit taco recipe combines a variety of pronounced and tasty flavors such as fresh garlic, smoked paprika, cumin, soy sauce, and chipotle peppers in adobo sauce. How delish does this look!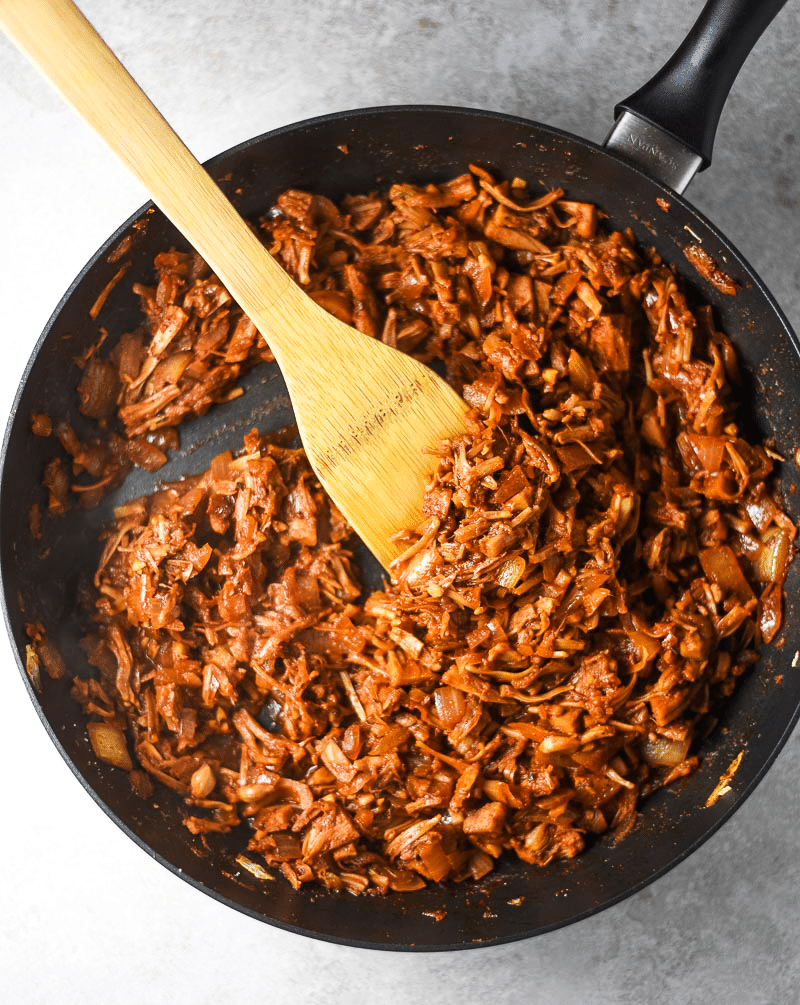 Once we spice and simmer the jackfruit, it's taco-making time. Pair with shredded cabbage, freshly sliced avocado, hot sauce, and raw pepitas for a taco that will have you going back for seconds well before finishing firsts! But we can't let the jackfruit win that easily—let's find an equally delicious wine to compliment this goodness.
Jackfruit Tacos and Wine Pairings
This recipe packs a strong flavor punch so we want wine with enough acidity to refresh our palates to handle the jackfruit's spice. Here are three options that will do the trick:
Dry Rosé: Brings the acidity of a white wine while boasting nuances of red wine's ripe black and red fruit and peppery spice. Added benefit? It won't break the bank.

Suggested Regions: Southern Rhone, France

Crémant: Sparkling wine from France, outside the region of Champagne. Adds some bubbles to the meal to lighten up the spicy jackfruit. It's also more affordable than good Champagne.

Suggested Regions: Crémant de Loire and Crémant de Bourgogne (France)

Albariño: Spanish white wine that offers lovely tropical and stone fruit flavors, fruitiness to balance the spice, and refreshing acidity.

Suggested Regions: Rías Baixas, Spain
If you're interested in learning more about wine pairing, check out my wine pairing guide with vegan food and guide to vegan wine.
---
If you love jackfruit, then make sure to check out these 14 different jackfruit recipes! You'll learn how to make grilled jackfruit plus so much more!
---
Jackfruit Tacos
Hearty, delicious, and perfectly spicy jackfruit tacos guaranteed to make your mouth water.
Print
Pin
Rate
Ingredients
2

20 ounce cans

Jackfruit,

in water or brine

2

Tablsepoons

Olive Oil

¾

Onion,

thinly sliced

7

Garlic Cloves,

minced

1

teaspoon

Salt

1.5

Tablsepoons

Smoked Paprika

1.5

Tablespoons

Ground Cumin

1

Tablsepoon

Oregano

½

teaspoon

Onion Powder

2

Tablespoons

Cane Sugar

1

Small Chipotle Pepper in Adobo Sauce,

roughly chopped

2-3

teaspoons

Adobo Sauce,

from the can

¼

cup

Soy Sauce

⅔

cups

Water

3

Tablespoons

Lime Juice
Optional Toppings
Shredded red and white cabbage

Avocado

Raw pepita seeds

Hot Sauce

Vegan Cheese

Corn Tortillas

Cilantro
Instructions
Drain jackfruit and rinse in a colander. Cut off the tougher core portion of the jackfruit. You can either finely chop the core or throw it away. For the remaining jackfruit, use your hands to shred the jackfruit into small stringy pieces. Rinse the jackfruit once more in a colander, drain, and pat dry (see photos for additional references to starting fruit and shredded fruit.)

Heat a large skillet over medium heat. Once hot, add olive oil, onion, and garlic. Sauté for 4 minutes, until onions are soft.

Add jackfruit, salt, smoked paprika, cumin, chili powder, onion powder, cane sugar, chipotle peppers, adobo sauce, soy sauce, water, and lime juice.

Stir to coat evenly. Reduce heat to low - medium. Cook uncovered for 20 minutes, stirring occasionally. As jackfruit is cooking, you can further shred if you desire a stringier pulled pork consistency.

After simmering, taste and adjust flavor as needed. Add balanced amounts of smoked paprika and cumin for smokiness, chili powder for heat, chipotle pepper or adobo sauce for spice, sugar for sweetness, soy sauce for saltiness and depth of flavor, or lime for acidity. I added more smoked paprika, cumin, soy sauce, and lime juice.

Turn up heat to medium-high and cook for 2-3 more minutes. Remove from heat.

Serve immediately with fresh corn tortillas, sliced cabbage, cilantro, hot sauce, pepita seeds, and avocado. You can also eat this spicy jackfruit in burrito bowls, burritos, salads, nachos, or tropical sloppy joes.

Store leftover jackfruit in covered container in refrigerator up to 4 days.
Nutrition
Calories:
259
kcal
|
Carbohydrates:
44.4
g
|
Protein:
4.7
g
|
Fat:
8.8
g
|
Sodium:
1067
mg
NOTE: You will find affiliate links on this page.
About Kerrie
Kerrie is a photographer, wine nerd, and lifelong learner—currently spending evenings in photography classes and studying for the Wine Spirit Education Trust Level III exam. She has never been satisfied with following a recipe word-for-word and prefers the surprises that emerge when veering from suggestion, in life and in cooking. After being diagnosed with breast cancer at age 30, Kerrie began experimenting with a plant-based diet and hasn't looked back since.