If you haven't jumped on the Instant Pot bandwagon yet, you are missing out! And I'm going to tell you why. I've got 14 Instant Pot recipes that are beyond delicious, super easy to make and will speed up your prep and cook time like never before!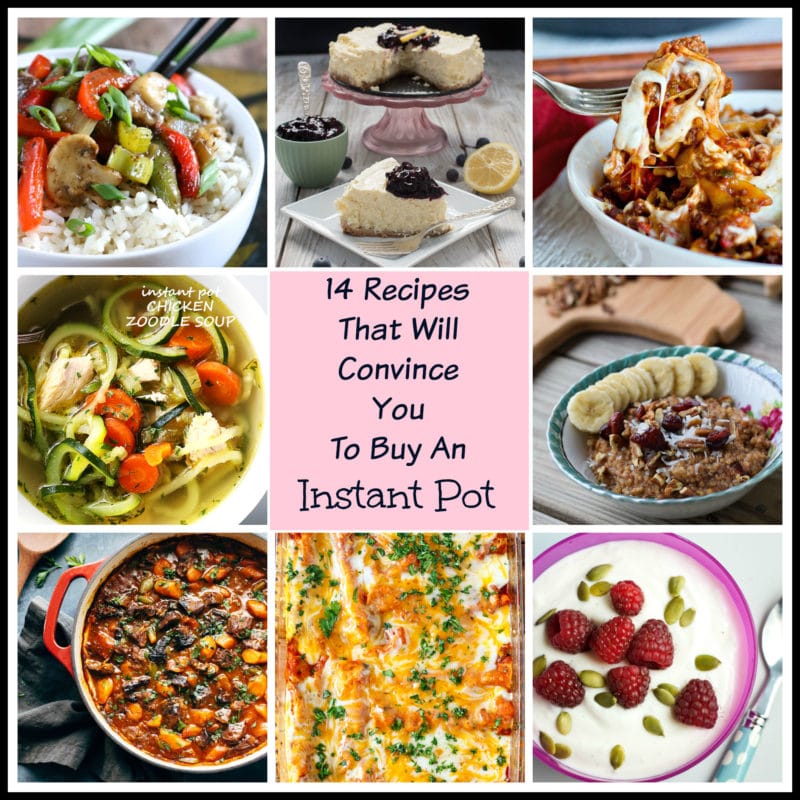 Maybe I'm late to the game, but lately all I've been hearing about is how AMAZING the Instant Pot is. So what did I do? I went out and bought an Instant Pot!  Sure…my Instant Pot came with some recipes but I wanted to hear from some real food bloggers, real FOODIES, on the BEST recipes they've made in their Instant Pot.
The Instant Pot is a 7-in-1 multi-function cooker combining the benefits of a pressure cooker, saute, slow cooker, rice cooker, steamer, yogurt maker, and food warmer. It seriously speeds up your cooking by 6 times and uses a lot less energy than you oven or stovetop.
Below you are going to find 14 irresistible recipes that you can make in your Instant Pot and WHY you should make every single one of these! I guarantee you that these 14 recipes will convince you to buy an Instant Pot and if you already have one…seriously, you have to make these! Here's why…
This was the first recipe I made in my Instant Pot and after the first bite, I was SO glad I bought one! Here's why you want to try this recipe in your Instant Pot:
I made My 9 year old daughter made homemade (from scratch) beef stew in 45 minutes with only 6 ingredients on a school night thanks to the Instant Pot.
It was FULL of wonderful beefy flavor.
My 7 year old who hates all things food right now loved this recipe.
It's gluten free.
Seriously, it's an amazing recipe, super fast to make, full of flavor and my entire family loved it. Check this one out from Pinch of Yum.
This Instant Pot recipe was evolved from a Beef Noodle Skillet dinner and you know how most skillet pasta dinners require a lot of monitoring, right? Well, not in the Instant Pot. This recipe is FULL of flavor and the taste reminds me of a lasagna dish you would order at an authentic Italian restaurant. This one can be made gluten free if you use gluten free pasta. Go check this one out from Homemade Food Junkie. She has a TON of Instant Pot recipes on her site!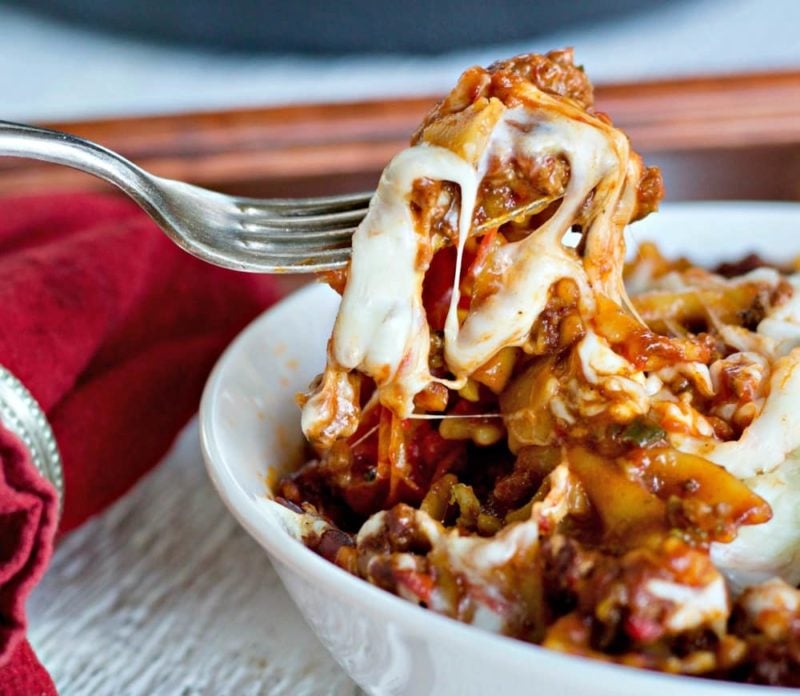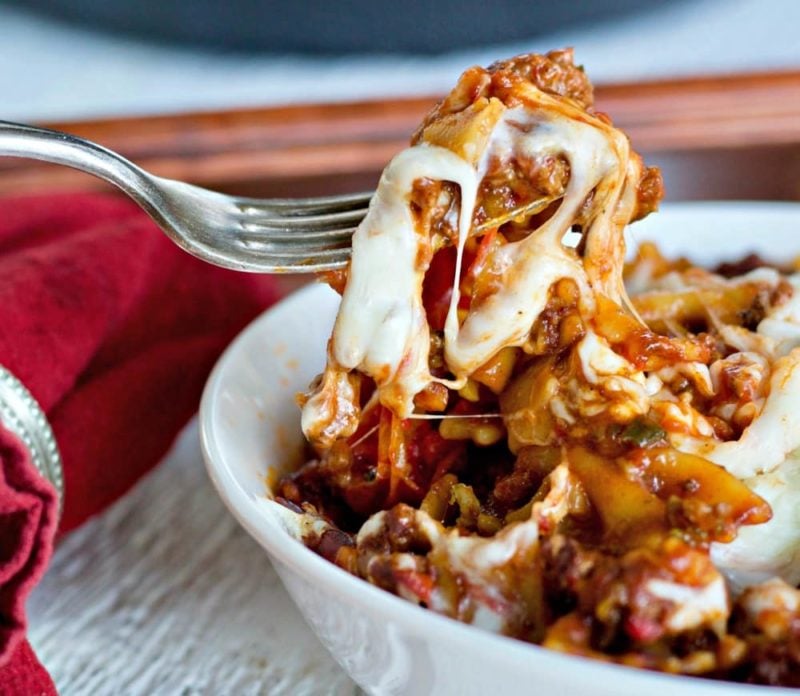 I love this recipe because it's crazy healthy and it has a fabulous taste! Meagan tells us in her post that this chop suey recipe is a spin-off of her mom's recipe which was a spin-off of her grandma's  recipe which was a spin off of a 1950's Betty Crocker recipe. Ok…that just sold me. A spin off of mom and grandma's recipe? You KNOW this one is good based on how she described it! Plus, it looks like it tastes amazing! And…gluten free! Go check this one out on Eat Something Delicious.
So you're telling me I can make Chocolate Lava Cake in my Instant Pot? Ok these are AMAZING! They do indeed have a chocolatey gooey center and I'm so in love with these little Lava Cakes!  Only 35 minutes to make these! Go check out the step-by-step instructions from Paint the Kitchen Red.

If you love Chicken Noodle soup then you are going to love this Chicken Zoodle Soup!! This soup is so healthy guys and low in calories, fat, carbs but high in protein! This is my DREAM soup and the taste is out of this world. One of the secrets to this recipe is Katerina used STAR Olive Oil with Fresh Rosemary. That rosemary REALLY gives this soup an amazing taste! Check this recipe out over at Diethood.
So apparently you can make cheesecake in your Instant Pot! As if I didn't already love my Instant Pot enough! This cheesecake recipe is made with a graham cracker crust and topped with homemade blueberry sauce. Ridiculously yummy! Check this one out from My Wife Can Cook.
Yeah for popcorn! Who doesn't love popcorn! This tastes so great and is ready in 8 minutes. YES! 8 minutes!! Check out this yummy recipe here at The Typical Mom.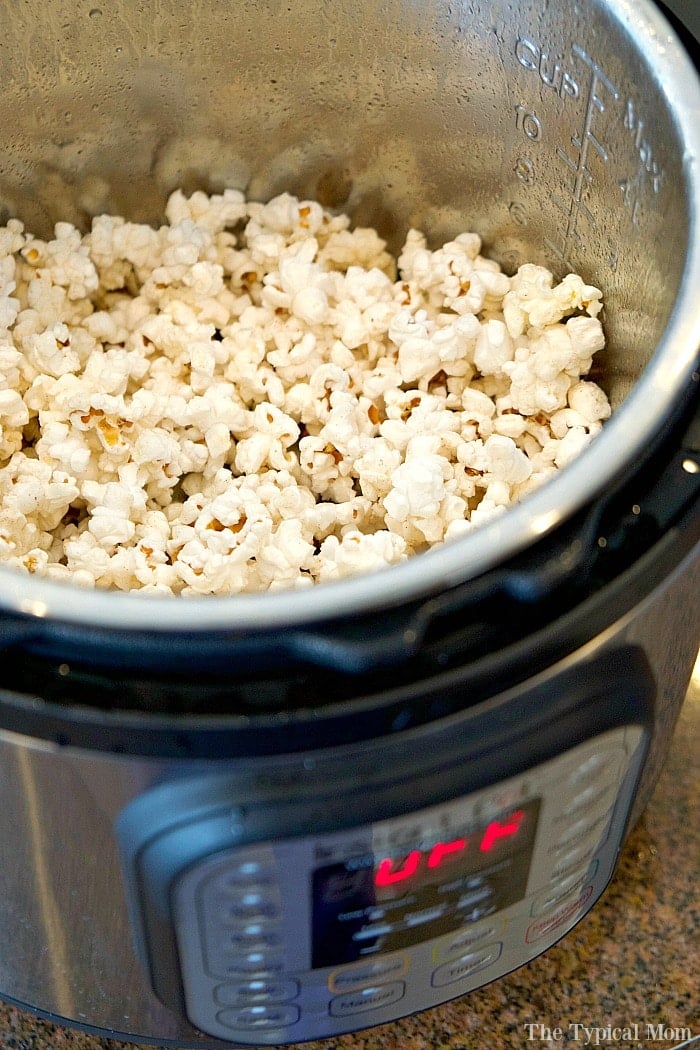 These BBQ ribs made in the Instant Pot fall off the bone and taste like they have been slow cooking for hours! Cook time is 25 minutes. It just doesn't get much easier than that! Check out this ridiculously delish recipe from Heather Likes Food.
 
Who would have thought you could make French Toast in an Instant Pot and it would turn out really really good? Yeah, not me. But I was wrong. Let me go on the record to say I WAS WRONG! This one takes 40 minutes to make from prep time to the table. Full of flavor and the consistency is fantastic! You guys are in for a treat with this one! Check it out from Living Locurto.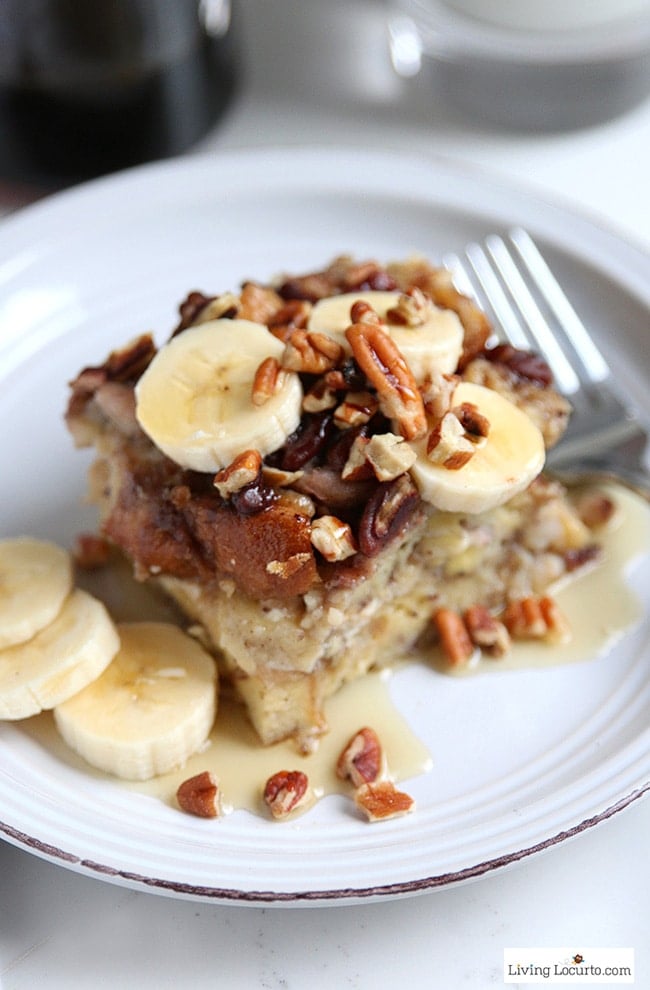 The chicken and the sauce for this recipe is made in the Instant Pot. There is a saute feature on your Instant Pot and you are going to use it on this dish! 40 minutes start-to-finish and this beautiful dish is on your table and ready to serve! This one is gluten free! Check this one out from No. 2 Pencil.

Yes, you can make REALLY good yogurt in your Instant Pot! This recipe is easy, fun and pretty! Only 2 ingredients and you top it off with your favorite toppings! Check this one out from Super Healthy Kids.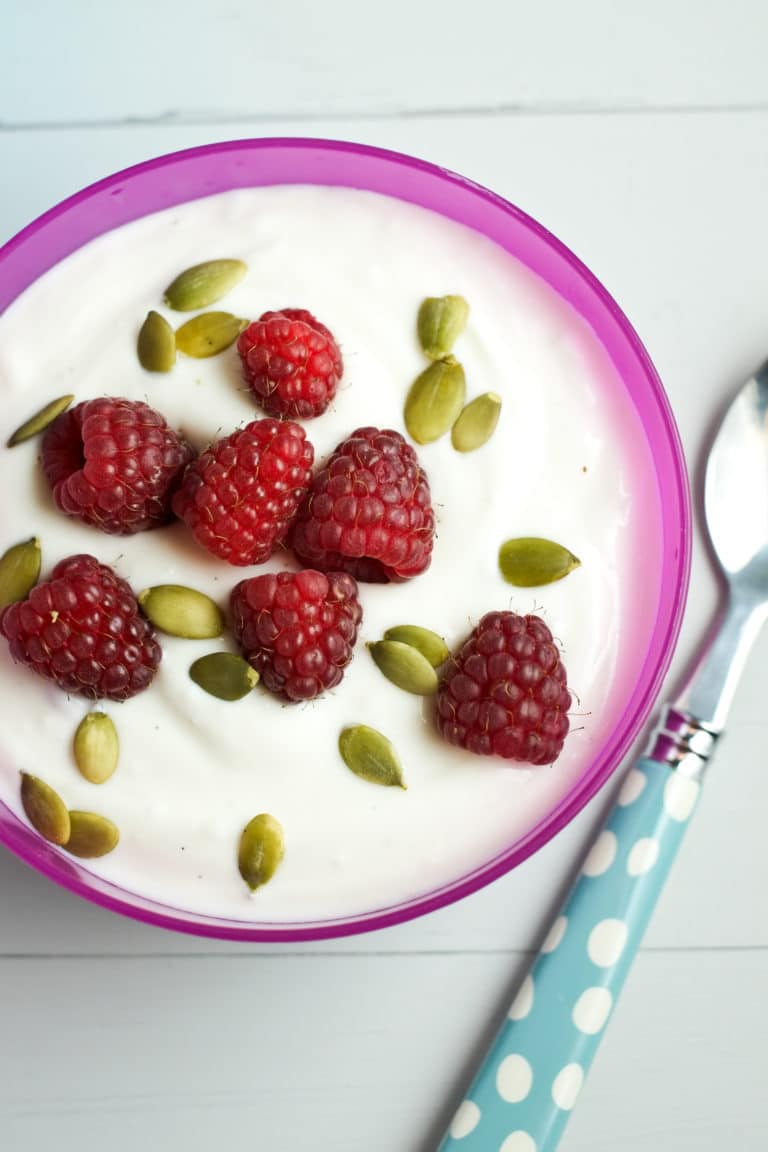 This chili recipe is a family favorite that has been converted to be made in the Instant Pot! Melissa and Greg provide some great tips on what settings to use for this chili in the Instant Pot. This one is gluten free! Check it out here on My Wife Can Cook.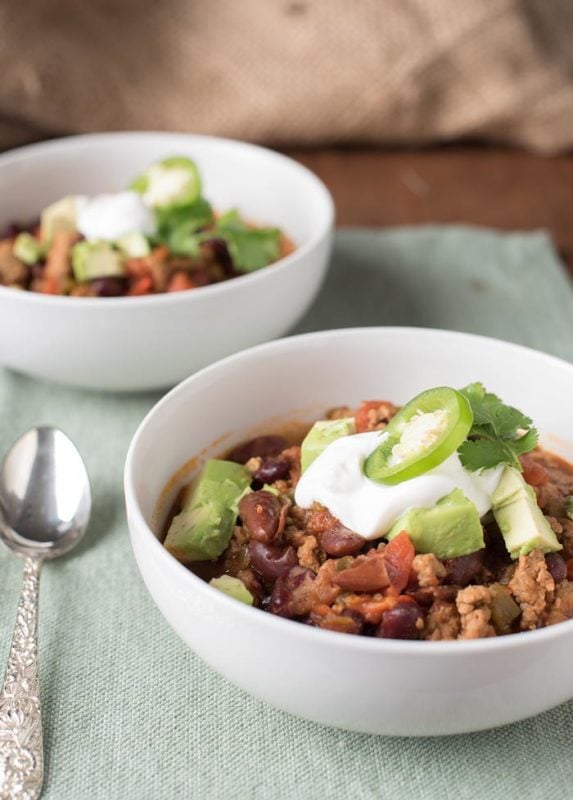 I love a good chowder and this one is SO fantastic! And it takes 5 minutes to cook….only 5 minutes!! Ya'll it doesn't get much better and easier than this! Check this fabulous chowder out from Almost Kosher.
What a yummy breakfast this one is! My husband and I love steel-cut oats…I mean LOVE! This recipe is fantastic because it uses ground nutmeg and cinnamon with vanilla extract. Top this fabulous dish off with coconut flakes, fresh pecans, dried cranberries and sliced bananas! What a healthy breakfast! Check this one out from Muscle and Manna.

And there you have it! Guys, this is your 'set it and forget it' machine. If you haven't bought an Instant Pot yet, you're missing out! Go order one now! I got mine  here: Instant Pot! Oh…and if you are looking for more Instant Pot recipes, you have to check out my Instant Pot Mexican Rice, Instant Pot Garlic Chicken with White Wine & Dijon Mustard Cream Sauce  and these 5 Instant Pot Dinners!
Other Recipe Roundups
Looking for other recipe roundups? Check these out: