When it's blistering hot outside, there's nothing more refreshing than a nice cold smoothie. I love smoothies! And it's hot here in Arizona. It's supposed to be 115 degrees fahrenheit this weekend! So, it's a perfect opportunity to do a smoothie recipe roundup! I've got 21 ridiculously refreshing smoothie recipes from some fantastic food blogger friends! I can't wait to share these recipes with you...so let's not wait any longer! Let's get to it now!
This is one of my recipes here from Recipes Worth Repeating. This one uses fresh raspberries and a frozen banana. So simple! Check it out here: Banana Raspberry Smoothie.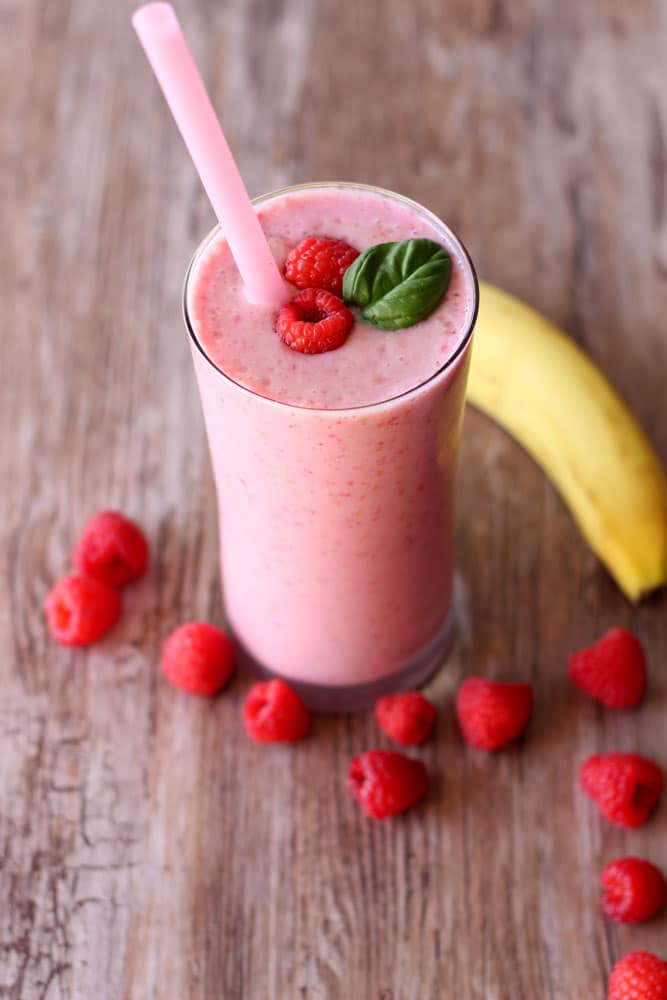 This one is from Brita over at bbritnell.com. She has the most amazing recipes and beautiful photography! This yummy bowl contains strawberries, mango, raspberries and chia seeds! Check her out here: Tropical Berry Smoothie Bowl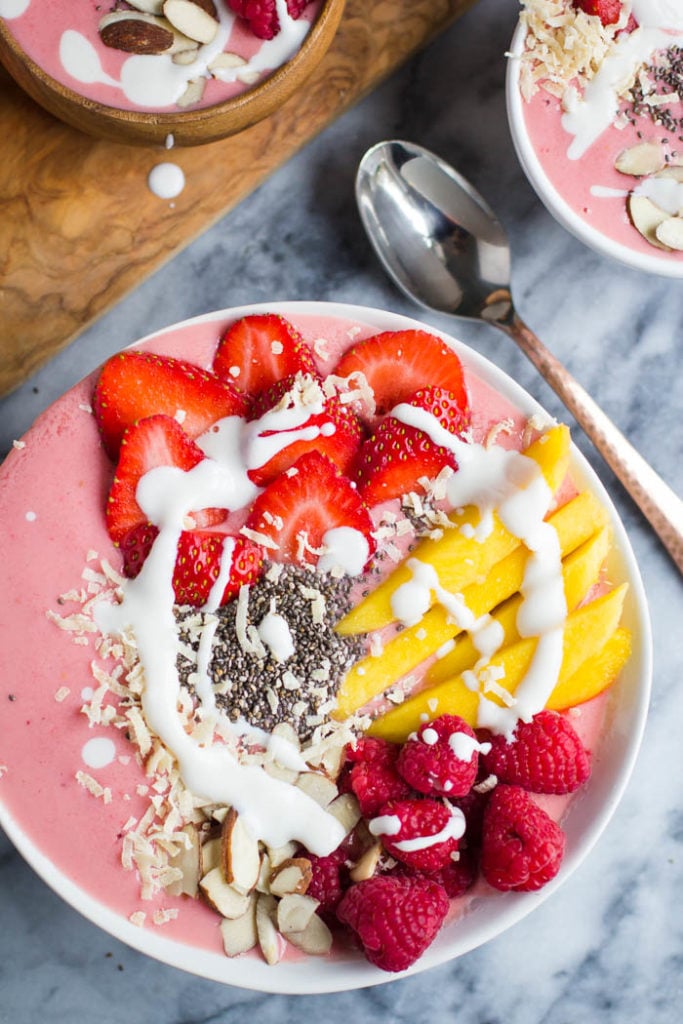 Christine over at Jar of Lemons has such a beautiful site and provides this fantastic mixed smoothie! This one is full of mango, pineapple and berries! Check out how to make this one on her site here: Tropical Breakfast Smoothie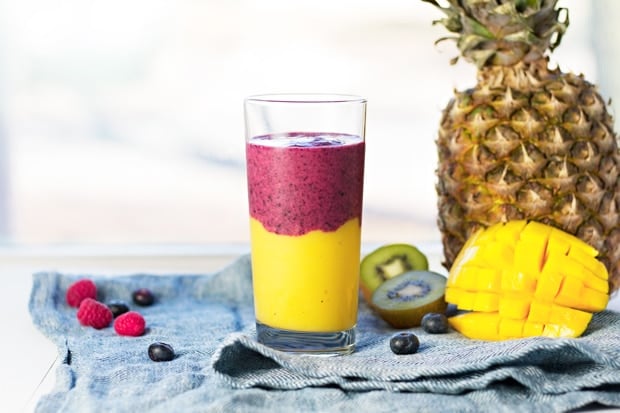 Michelle over at The Last Food Blog lives in my favorite country ever!! I LOVE England and I get to travel there for business! She has such amazing recipes and I love following her site! I love this one because of the nuts she adds on top! She tops this bowl off with flax, pumpkin, sunflower sesame seeds! This one is a must try! Check this one out here on her site: Green Smoothie Bowls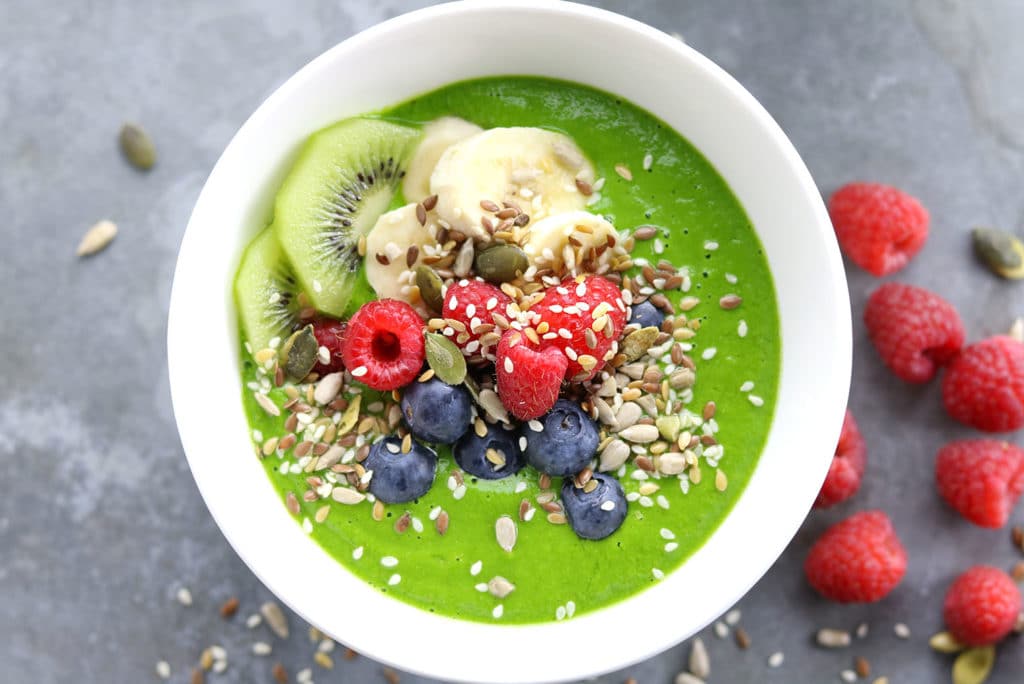 Meet London over from over at Gluten Free with L.B. I love her site for so many reasons but she's gluten free and I LOVE that! This smoothie contains beets, berries, and banana! And it's vegan! Check this recipe out here: Very Berry Best Smoothie With Banana
This yumminess is from Leslie over at Bessie Bakes. I love that this recipe has pistachios mixed with blueberries and mango! Look at that thick smoothie pour! Yums! Check this one out here: Blueberry Mango Pistachio Smoothie
This one is one of my recipes over here at Recipes Worth Repeating and it's super special to me because my 9 year old little girl made this one! Yep - her idea...the whole thing! She uses fresh cherries and bananas in this recipe. Check out her story on my site here: Cherry Banana Smoothie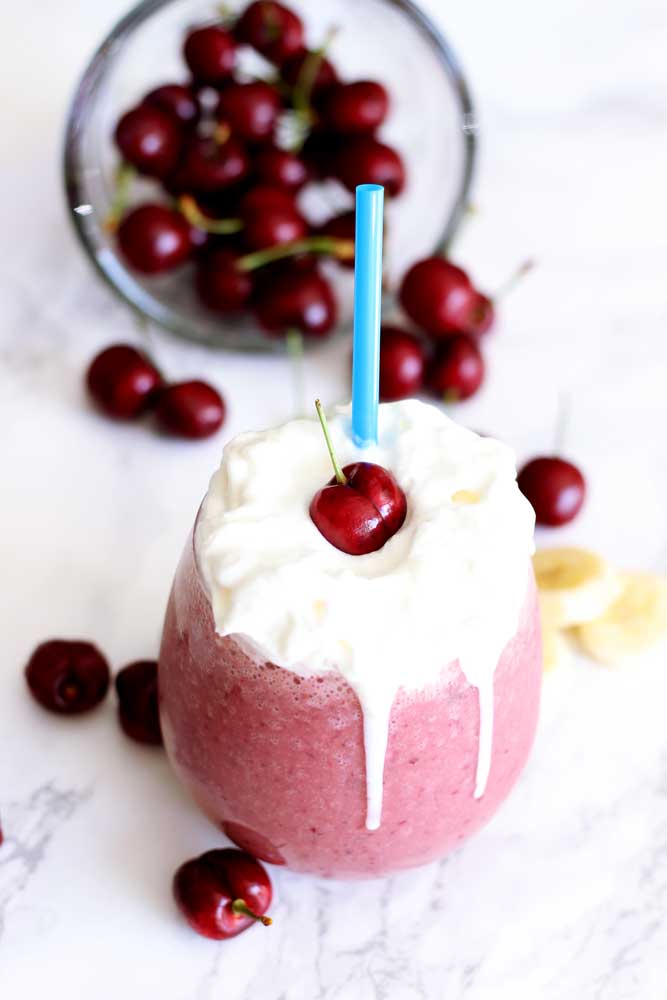 Who doesn't love an Almond Joy candy bar? I love them!! This smoothie tastes just like the candy bar! This one contains raw oats, banana, coconut milk and cocoa powder! You're going to love this one from Amanda over at Savory Style. Check this one out here: Almond Joy Cookie Dough Smoothie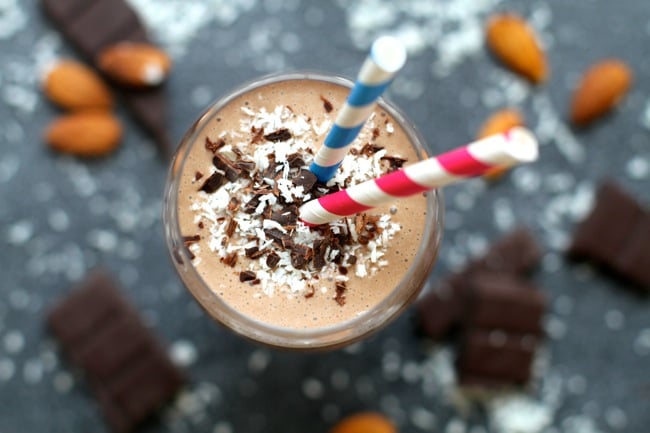 This one tastes like red velvet cake! Can it get any better than this??? But, it's full of beets, banana and spinach! Mind blowing! Your kids will love this! Check this one out from Kate at Root and Revel. For this recipe, get it here: Red Velvet Green Smoothie with Beets
Think of a thick and creamy milkshake with this one. Lauren from over at Free Your Fork has pulled together blueberries, avocado, lemon and banana to make this yummy smoothie. Add some of your favorite toppings like oats, coconut or chia seeds and this one is ready to serve! For this recipe, check it out here: Blueberry Avocado Spinach Smoothie
Another treat from Kate over are Root and Revel! I love this one because she uses pumpkin puree, pecans and spinach. Who says you can't have pumpkin year round!! Check this one out here: Superfood Pumpkin Pie Green Smoothie
Jordan from over at The Fit Kitchen has shared this yummy citrus based smoothie with us! This one is FULL of good stuff...banana, spinach, raspberries, oranges, strawberries and ginger! This one is full of nutrients! Check this one out here: Orange Berry Spinach Smoothie
I love this one from Jillian over at Simple Sassy Scrumptious because it's packed full of protein! This one calls for vanilla protein powder and if you follow my site, you know I'm all over high protein food!! This one also has banana, spinach, pineapple and avocado. Such a yummy smoothie! Check this one out here: Power Greens Smoothie
Meet Justin and Erica over at Real Simple Good. Ok, I LOVE that name...so catchy! I love everything mint and this smoothie has it all! Coconut, avocado, a mixture of berries, banana, spinach and yes...mint!! Check this one out here: Mint Berry Breakfast Smoothie
Real Simple Good has another good smoothie for us! And I love this one because it's all about coffee! I love coffee! This one contains almond milk, coffee and banana. Sounds delish! Check this one out here: Coffee Smoothie
Papaya, mango, oranges, banana and turmeric....this one scream tropical!! I love this recipe from My Modern Cookery! Check this one out here: Tropical Turmeric Smoothie
I want to wake up to this in the morning! The simplicity of this one is why I love it so much. Oats, banana, blueberries and greek yogurt....simple! Check this one out here from Jessica N Wood: Blueberry Banana Oatmeal Smoothie
Seasonal cravings brings a unique one to the table. This one contains exactly what it says in the title. Carrots, apples and turmeric. There are a couple more simple ingredients, but this one is simple and full of nutrition! Check this one out here: Carrot, Apple and Turmeric Smoothie
I love the color of this one and I love what's in this one! Beets, dates, oats, berries and bananas and purple cabbage....ok YUM!! Check this one out here from Savory Style: Hidden Veggie Red Velvet Smoothie
Free Your Fork has delivered us chocolate in a bottle! This one looks so amazing! This one has so many yummy things in it to give it that chocolatey taste, including my favorite....protein powder! Check the details out on this one here: Chocolate Banana Milkshake
We end this fabulous round-up from Molly over at Best and Bites. Chocolate chips, oats, chia seeds, bananas and coconut...really? Need I say more? It's a perfect smoothie to put in a bowl and just dive into! Check this one out here: Berry Almond Smoothie Bowl
And there you have it! 21 fabulous and incredible diverse smoothies to get you through your summer! Enjoy these!