My little girl has started showing sensitivity to wheat, so we are eliminating wheat from her diet to see if her tummy gets better. So far, we are on week 1 of no wheat and she hasn't complained of her tummy hurting once! Which is good, but she loves bread. I mean LOVES it! Especially dinner rolls and bread sticks. I ran across this recipe about a year ago and never made it, but decided to based on our new situation and she really liked these breadsticks! My husband LOVED these. So I'm sharing 🙂 I have no idea where this recipe came from and I tweaked it a bit anyway so I'm claiming it as my own!
These tasty little bread sticks are gluten-free because the "flour" is nothing but steamed and finely chopped cauliflower! So healthy! We paired them with a side of marinara sauce and they are fantastic! If you love a garlic taste, you'll like these a lot! Feel free to double this recipe for more bread sticks.
Enjoy!
Ingredients:
1 cup cooked, finely chopped cauliflower
½ cup shredded mozzarella cheese
½ cup Parmesan cheese
1 egg, beaten
1 teaspoon dried oregano
½ teaspoon crushed garlic
½ teaspoon garlic salt
olive oil
Ingredients for Topping:
2 cloves of garlic (add more if you LOVE garlic...I used 5 cloves)
¼ cup grated Parmesan cheese
¼ cup grated mozzarella cheese
Directions
Preheat over to 450 degrees. Chop the cauliflower florets into chunks and steam them in a steamer or on the stove until slightly soft (about 15 min). Place in a chopper and chop finely.
NOTE
: One large head of cauliflower should produce approximately 3 cups of riced (finely grained) cauliflower. The remainder can be used to make additional pizza crusts immediately , or can be stored in the refrigerator for up to 1 week.
Prepare a baking stone or baking sheet by spreading a small amount of olive oil on it. Make sure it is a small amount, because if you use too much, it will drip into your oven and cause a lot of smoke.
In a medium bowl, stir together 1 cup cauliflower, egg, Parmesan and mozzarella. Add oregano, crushed garlic and garlic salt. Stir until well combined.
Now you are ready to transfer the contents to the baking stone or sheet. Use your hands and pat out into a large rectangle. It is important to make sure your dough is not too thick.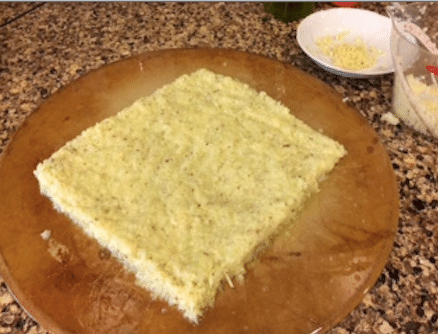 Bake at 450 degrees for 15 to 20 minutes (you want the top to brown). Once it is done, pull it out of the oven and put the garlic and cheese toppings on.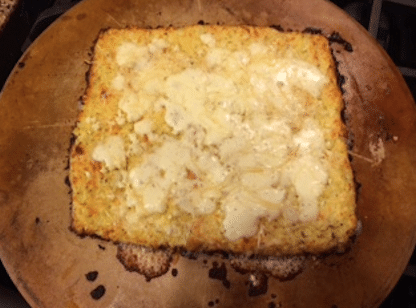 Place back in the oven at 450 degrees until the cheese is melted. Let the bread cool for about 15 minutes, slice and serve! This pairs nicely with marinara sauce!