Easy Gluten Free Chicken Tenders that can be made in the Air Fryer or baked in the oven. Golden, crispy, and full of flavor. Dinner is ready in less than 30 minutes.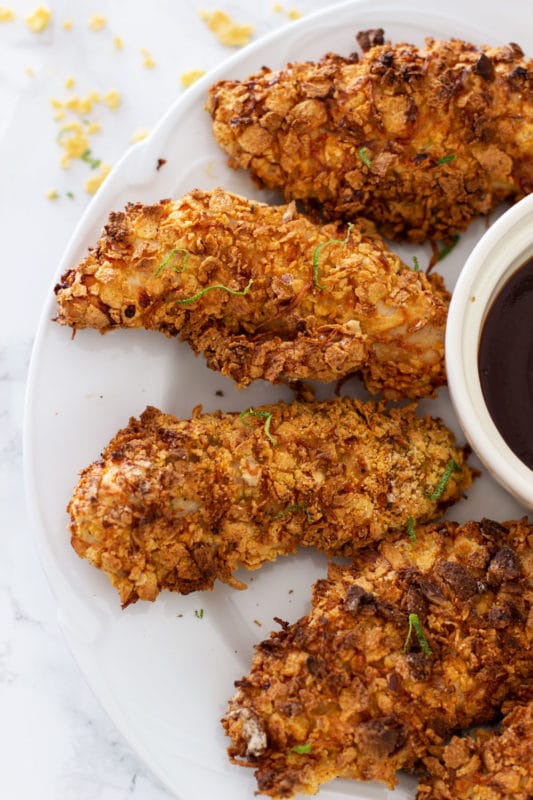 Who doesn't love chicken tenders?!? I mean everybody does, right? Chicken tenders and chicken nuggets were my favorite foods growing up and I still love them to this day. But do I eat them on the regular? No. Why? Because they aren't all that healthy. I mean think about it...you go to a restaurant and they bring out these wonderfully crisp and delicious smelling chicken tenders. You pick one up to take a bite and what do you see? A lot of grease on the plate. It's because they are deep-fried at the restaurant. Delicious yes, but not healthy...so no thank you, I'll just pass. Sigh...
But what if I gave you a healthier version you can make at home? Would you eat them more often?
YES!
You totally would because they are healthier and they are gluten-free!
Breaded Chicken Tenders Using Corn Flakes
If you want to make gluten-free chicken tenders, all you need to do is use gluten-free flour and a gluten-free "crumb" coating. I use gluten-free corn flakes for my crumb coating. Be careful about using just any corn flake cereal. Kellogg's Corn Flakes contain a barley malt sweetener that contains gluten, so stay away from that brand if you are gluten-free. If you're looking for some good gluten-free corn flakes, I recommend these:
Nature's Path Corn Flakes are my absolute favorite. This is a great article to give you some details about which corn flakes are Gluten Free: Which Brands of Corn Flakes Are Gluten Free?
How To Make Oven Baked Gluten Free Chicken Tenders
Step 1
Take 4 cups of gluten-free corn flakes and put them in a large Ziplock bag. From there, roll a rolling pin over the bag until the flakes are crushed into crumbs...kinda like breadcrumbs.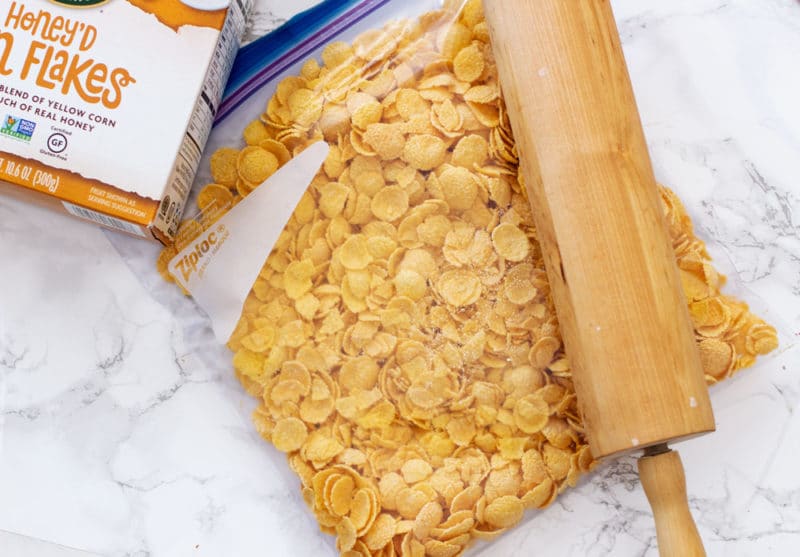 Step 2
Then, I add in some of my favorite seasonings to the corn flake breadcrumb mixture such as garlic powder, smoked paprika, seasoning salt, Parmesan cheese and almond slices. I also add fresh lime zest in this step. I mix the seasonings together with the corn flakes and stir well until everything is combined.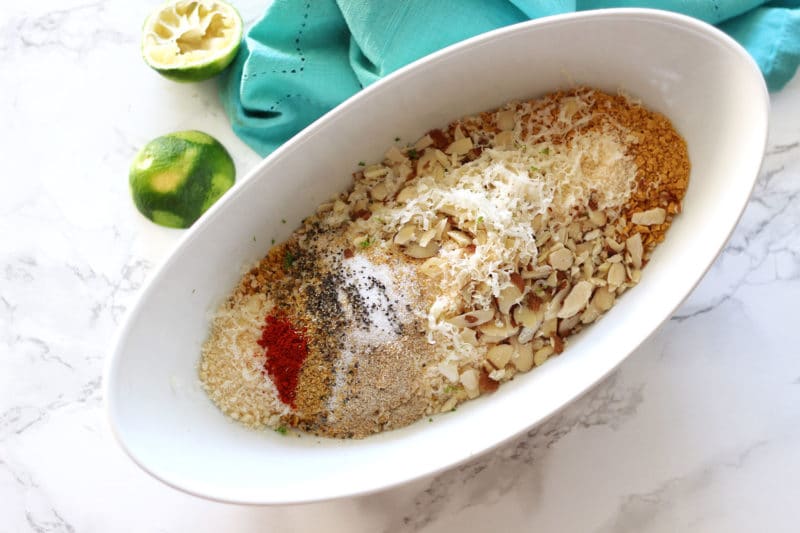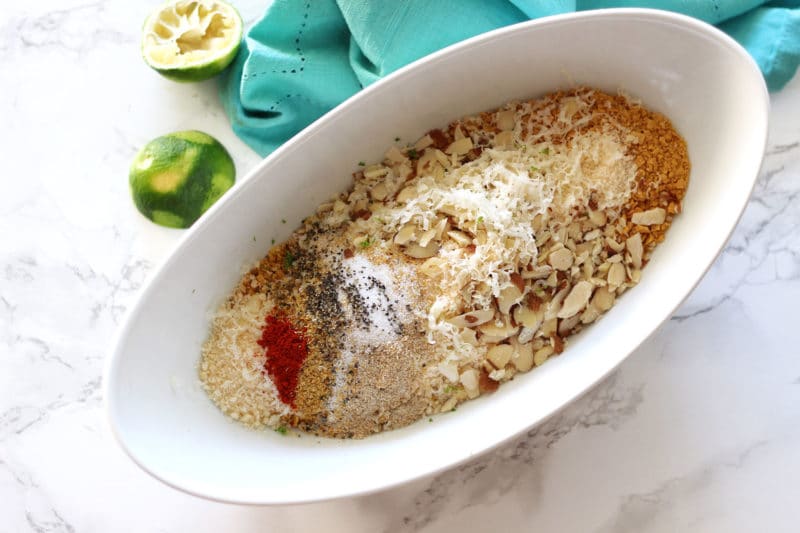 Step 3
Take fresh lime juice and whisk it with two eggs. The addition of the lime juice really makes the flavor "pop". You'll want to ensure the mixture is well mixed because you're going to use the egg batter to help those corn flake crumbs stick to the chicken.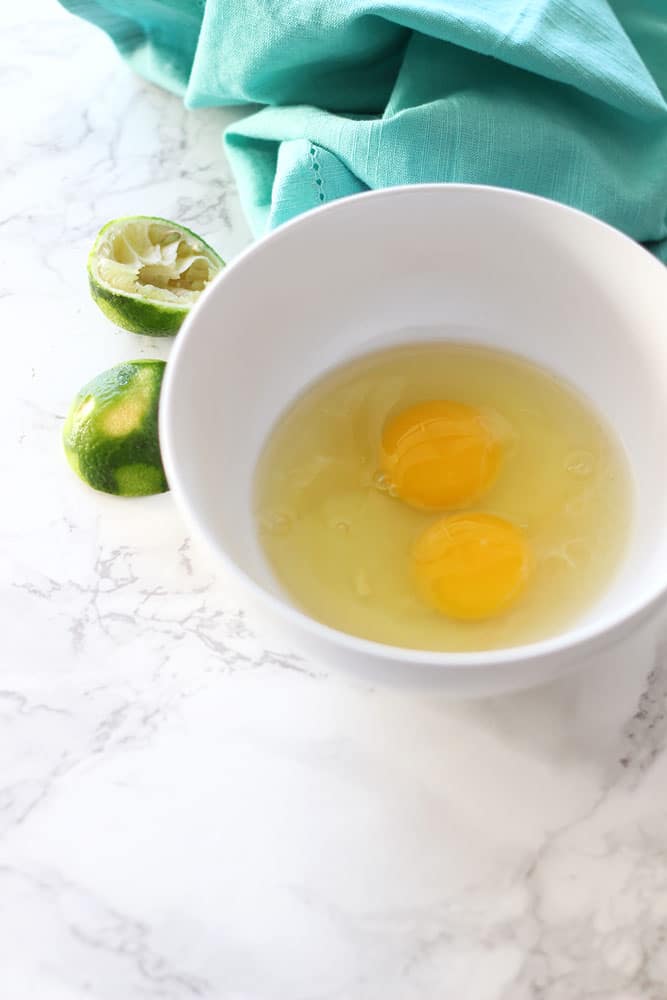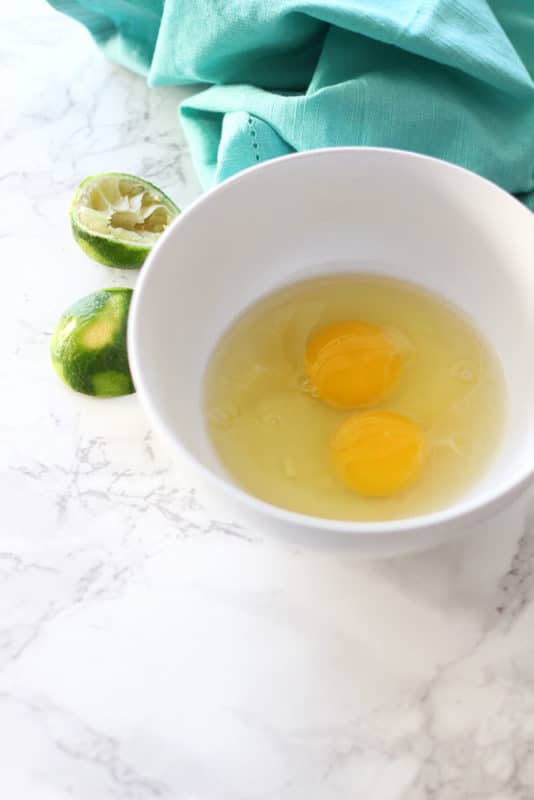 Step 4
It's time to bread the chicken. Place the chickpea flour in a bowl and then grab a chicken tender with a fork or with tongs. Roll the tender in the flour until it's well coated. Next, dip the flour-coated tender in the egg and lime juice mixture. Now, roll the egg coated tender in the corn flake crumb mixture.
You are now ready to bake them in the oven. Once done, pull them out of the oven and let them cool for 5-7 minutes before eating. Look how crispy these are!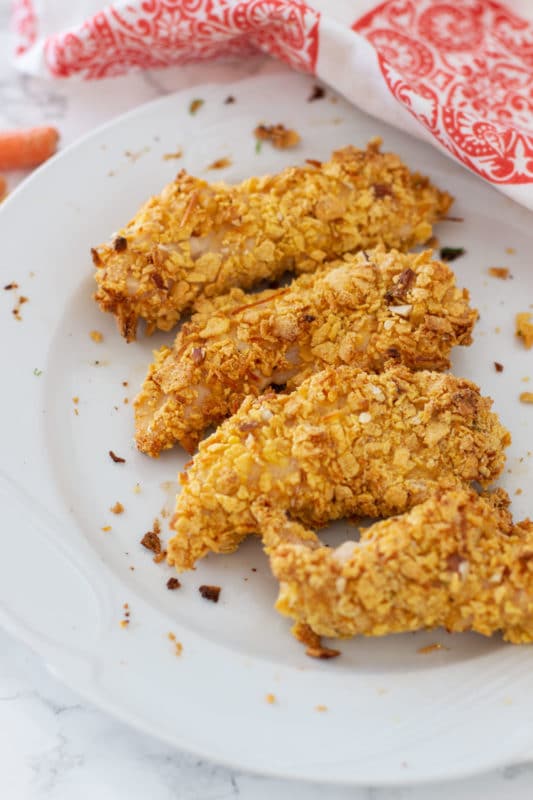 How To Air Fry Gluten-Free Chicken Tenders
If you have an air fryer and you don't want to heat up the house by turning on your oven, you can air fry these chicken tenders. You'll follow steps 1-4 above, but instead of putting them in the oven to bake, you'll put the coated chicken tenders in your air fryer pan.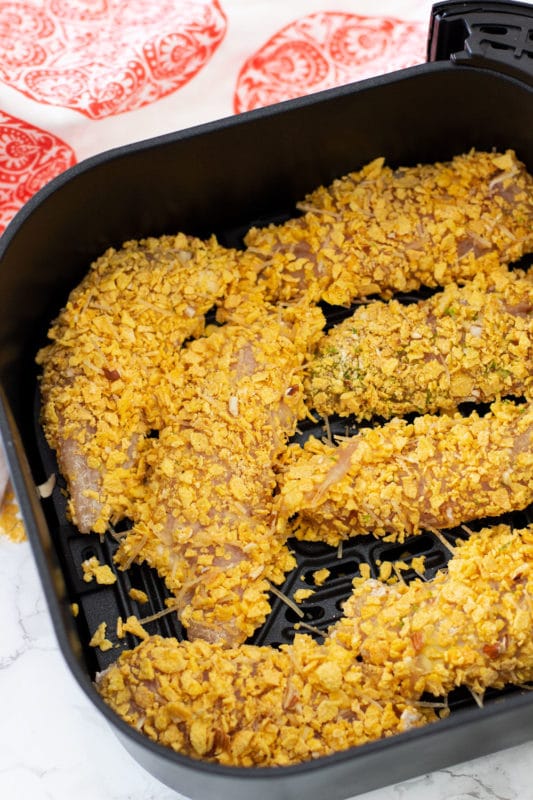 Set your air fryer to the chicken setting and press start. The air fryer will beep once they are done 20 minutes later.
Notice the difference in the texture and color of the air fryer chicken tenders vs. the baked chicken tenders. These turn a golden brown color and become oh so crispy when they are air fried.
Pro Tips for Making Baked and Air Fried Chicken Tenders
What flour can I use for making chicken tenders? - If you are gluten-free, I recommend chickpea flour. You can also use almond flour, coconut flour or gluten-free bisquick. I did use a gluten-free all-purpose flour once and just didn't love the taste. If you are not gluten-free, any all-purpose flour will work or you can use bisquick.
What is chickpea flour and where do I buy it? - Chickpea flour is the same as garbanzo bean flour and sometimes it's called Besan flour. You can find it in the health food section at your local grocery store, Sprouts, Trader Joe's, and on Amazon.
Which tastes better? Oven baked or air-fried chicken tenders? Here's the difference. These oven-baked chicken tenders have more of a consistency of a frozen chicken tender you buy at the grocery store. Air-fried chicken tenders have more of that restaurant taste, but with none of the grease. I like both methods. Oven-baked chicken tenders are delish, but when I want more of a crunch, I use my air fryer.
How long do you bake chicken tenders? If you bake them in the oven, it takes 30 minutes to cook. If you air fry them, it takes 20 minutes on the chicken setting.
What other breading can I use when making chicken tenders? If you are gluten-free, you can use a gluten-free corn flake, rice chex or a gluten-free breadcrumb. If you are not gluten-free, regular Kellogg's corn flakes work great.
Other Gluten Free Recipes You'll Love
Since we're on the topic of using gluten-free flours and coatings, make sure you check out these other recipes:
Onion Bhajis - think about the Bloomin Onion from Outback Steakhouse. This recipe tastes a lot like that, except this one is gluten-free. And, it's an authentic English recipe all the way from London.
Air Fryer Pecan-Crusted Chicken Tenders - these cook up so crispy without deep frying or oil. Made with a pecan, Parmesan cheese and gluten-free breadcrumb crust, these chicken tenders are EASY and QUICK to make.
Turkey Tots - made with ground turkey and gluten-free panko breadcrumbs. These are the perfect homemade nugget!
If you loved these Gluten Free Chicken Tenders, give this recipe a star review! Also, snap a picture of your finished dish and share it with me on Instagram using the hashtag #recipesworthrepeating and tagging me @recipesworthrepeating.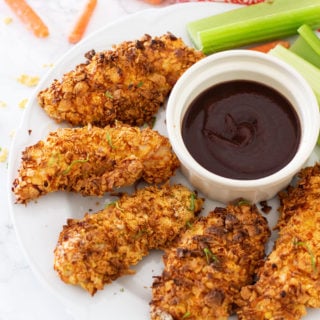 Gluten Free Chicken Tenders
Easy Gluten Free Chicken Strips that can be made in the Air Fryer or baked in the oven. Golden, crispy, and full of flavor. Dinner is ready in less than 30 minutes.
Print
Pin
Rate
Ingredients
2

lbs

chicken tenderloins,

raw

1

cup

chickpea flour

4

cups

Corn Flakes Cereal

(use a gluten free brand)

½

Tablespoon

garlic powder

1

teaspoon

salt

¼

cup

almonds,

sliced

¼

cup

Parmesan,

freshly grated

½

teaspoon

seasoning salt

¼

teaspoon

paprika,

smoked

¼

teaspoon

ground pepper

zest of 1 lime

juice of 1 lime

2

eggs

2

Tablespoons

water
Instructions
Oven Baked Gluten Free Chicken Tenders
Preheat oven to 350 degrees Fahrenheit.

Rinse thawed chicken tenderloins well and set aside.

Pour 1 cup of chickpea flour in a shallow dish and set aside.

Take 4 cups of corn flakes and put in a gallon sized Ziplock bag. Take a rolling pin and crush the corn flakes until they are in the form of breadcrumbs.

Pour the corn flake crumbs into a shallow bowl. Add in the garlic powder, salt, almonds, Parmesan cheese, seasoning salt, paprika, lime zest and ground pepper and mix well with the corn flake crumbs. Set aside.

In a separate shallow bowl, add the 2 eggs, lime juice and 2 Tablespoons of water. Whisk well until all ingredients are well combined.

You are now ready to bread the chicken tenders. Take a chicken tender and roll it in the chickpea flour until it's well coated.

Next take the chicken tender and dip it into the egg mixture.

Roll the chicken tender in the corn flake crumble mixture until it's well coated.

Place chicken tender on a cookie sheet and repeat steps 6-8 until all the chicken tenderloins are coated.

Place cookie sheet in the oven and bake for 30 minutes until done. The tenders should be a golden color and crispy!
Air Fryer Gluten Free Chicken Tenders
Follow all the steps above. Instead of placing the chicken tenders on a cookie sheet, place them in the air fryer.

Set the air fryer to the chicken setting and press start. The chicken tenders will be done after 20 minutes of air frying.
Notes
You may have some chickpea flour left over. Do not save any leftover flour since raw chicken was used to coat the chicken tenders. Toss any excess chickpea flour.
I like to line my cookie sheet with aluminum foil when baking to avoid the mixture sticking to the cooking sheet. I sometimes rub extra virgin olive oil on the aluminum foil before placing the chicken tender on to bake. You can also bake these on a silipat flexipan.
You can leave the sliced almonds as is or add in to be crushed when rolling the corn flakes, your preference here!
Nutrition
Serving:
2
chicken tenders
|
Calories:
286
kcal
|
Carbohydrates:
21
g
|
Protein:
31
g
|
Fat:
7
g
|
Saturated Fat:
1
g
|
Cholesterol:
115
mg
|
Sodium:
745
mg
|
Potassium:
614
mg
|
Fiber:
2
g
|
Sugar:
3
g
|
Vitamin A:
400
IU
|
Vitamin C:
4.3
mg
|
Calcium:
65
mg
|
Iron:
5.6
mg
Update Notes: This post was originally published in October 2017, but was re-published with updated step-by-step instructions, pictures and tips in April of 2019.