Nourishing Instant Pot Bone Broth is just the thing to keep your family healthy during cold and flu season. Rich and flavorful, use it as a soup base or just drink by the mugful.
The Instant Pot is a fabulous tool for full flavored, wholesome homemade stock. Your Fall and Winter soups will be FULL of nutritious, immune boosting bone broth. What a tasty way to stay healthy!
Why Make Instant Pot Bone Broth
While the word 'instant' might be a bit misleading in this case, as this recipe still does take about three hours, it is a lot faster than the traditional stove top method that could take over twelve hours, usually taking overnight.
You can easily buy broth at the grocery store and don't get me wrong, I have definitely used store bought broth in a pinch, but there is truly no comparison to homemade bone broth. With homemade, you control the quality of the ingredients from the water (I use filtered) to the veggies (organic) and finally the bones. I don't think Campbell's is sourcing out local, free range wing tips.
Speaking of wing tips, those are my secret ingredient for a super thick gel like consistency. And by my secret, I mean the tip I was given by the older Asian lady that runs the poultry counter at the market where I shop. 😉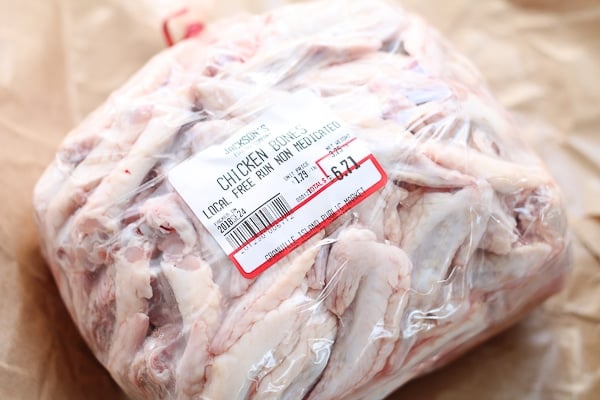 I had used chicken feet before but prefer the wing tips. They give you just as much gel and are far less creepy than the feet. Let me tell you…straining out those feet was so unpleasant! I buy a four pound bag and split the three pounds I don't use into separate bags and freeze them. What do you want that gel for anyway?
Benefits of Bone Broth
Here is a brief list:
Stronger, healthier nails
Can improve sleep
Anti-aging
Anti-tumor
Anti-inflammatory
Cell-protecting
Arthritis and joint-pain relief
Hydrating
Immune boosting
Muscle building
I could go on, but I'm sure you get the picture.
Simply put: Bone Broth good. 🙂
How to Make Instant Pot Bone Broth – Simple Step-By-Step Instructions

Gather your bones, some fresh cloves of garlic, an onion, apple cider vinegar and your veggie scraps. The apple cider vinegar is said to help pull the minerals out of the bones. Bonus!
Stir everything together in your Instant Pot and set it for two hours.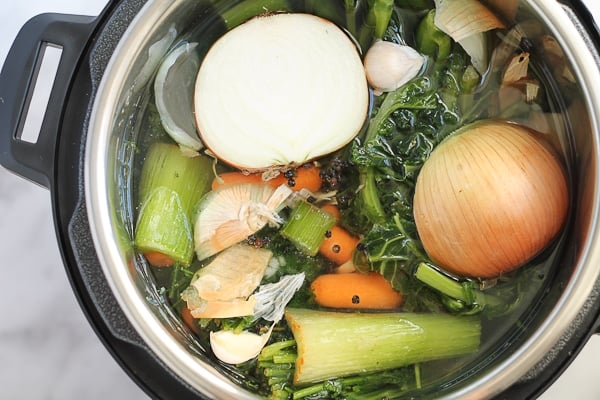 Strain the contents and let the broth cool off.
Pop the containers into the fridge and by the next morning you will be rewarded with the most lovely gel you can imagine.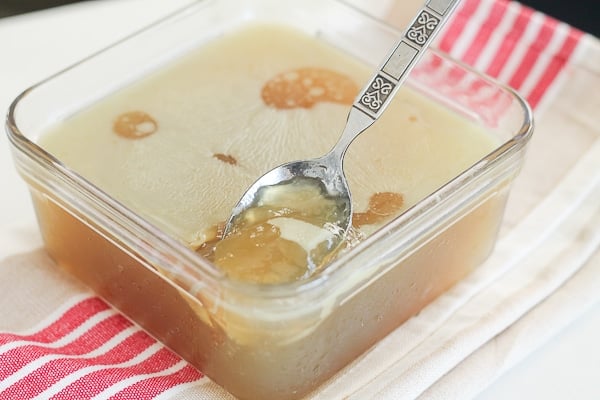 Store it in the fridge or keep it for longer in your freezer.
The bone broth has the nicest, richest globules of fat. The GOOD fat. The fat that feeds your brain, muscles and keeps your gut happy.
Tips You'll Appreciate
A tip I use, which is also a bonus for reducing waste, is to freeze all of your vegetable scraps. Keep a large freezer bag on the go and whenever veggies get used during the week (like stalks from the kale for my smoothies ) toss them in the freezer bag, squeeze the air out, reseal and pop the bag back into the freezer. Onion skins add an especially nice color to your broth. When the freezer bag is full, it is time to get cooking!
This will keep in the fridge for week or 2 months in the freezer.
Here's where you can buy an Instant Pot on Amazon –  Instant Pot
I hope you found this blog post and these SIMPLE step-by-step instructions helpful! If you've tried this or any other recipe on the blog, then don't forget to rate the recipe and let me know how it turned out in the comments below! I love hearing from you! You can also sign up for my newsletter and FOLLOW ME on FACEBOOK, TWITTER, INSTAGRAM and PINTEREST to see more delicious food I'm creating!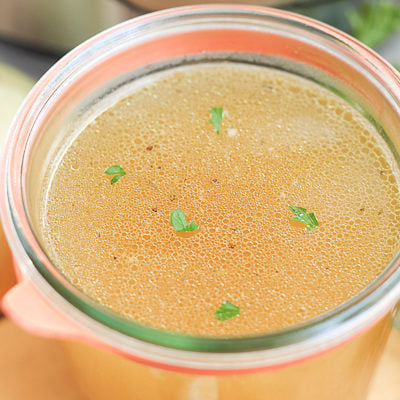 Instant Pot Bone Broth
Nourishing Instant Pot Bone Broth is just the thing to keep your family healthy during cold and flu season. Rich and flavorful, use it as a soup base or just drink by the mugful.
Keyword:
bone broth, Easy, freezer, Gluten free, Healthy, Instant Pot Rice, Soup
Ingredients
1

gallon ziploc freezer bag

vegetable scraps

1

small

onion

sliced in half, skin left on

1

clove

garlic

1

tbsp

sea salt

10-15

whole peppercorns

1

tbsp

apple cider vinegar

1

pound

wing tips

6

cups

water
Instructions
Add all ingredients to Instant Pot and stir.

Lock in the lid and pressure cook on manual/high for 120 minutes (2 hours). Once finished, let the Instant Pot naturally release its pressure.

Carefully remove the lid and using a slotted spoon, remove the veggies and bones and discard. Wait for the pot to cool down enough to handle (or use pot holders) and carefully strain the liquid into glass storage containers. I split it into 2 glass-lock containers that hold 4 cups each.

Allow the broth to cool before sealing the lid and placing it in the fridge overnight.

This will keep in the fridge for week or 2 months in the freezer.
Nutrition Facts
Instant Pot Bone Broth
Amount Per Serving
Calories 6
% Daily Value*
Sodium 1175mg51%
Potassium 17mg0%
Carbohydrates 1g0%
Vitamin C 1mg1%
Calcium 10mg1%
* Percent Daily Values are based on a 2000 calorie diet.
NOTE: You will find affiliate links on this page.