This moisture in this cake is just unbelievable. Using fresh vegetables to make a cake and then topping it with cream cheese frosting is a small piece of Heaven!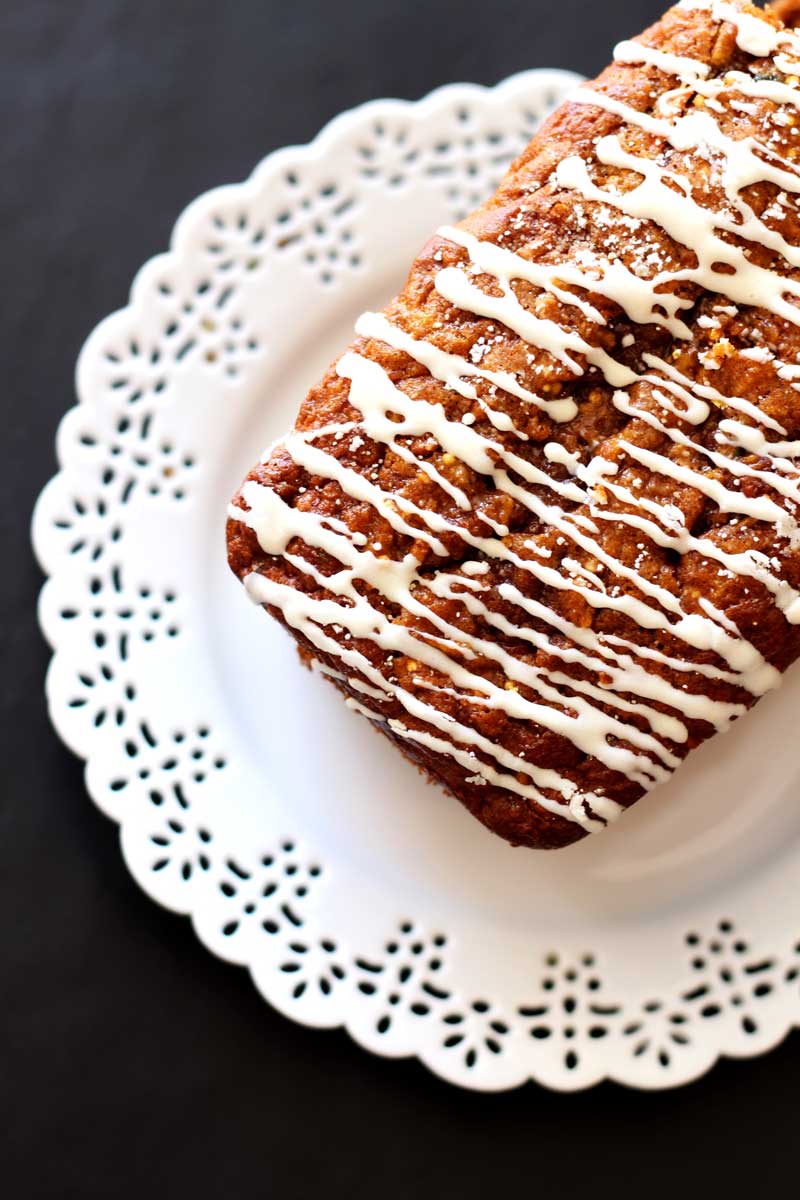 This recipe just blows me away. It's so moist…like crazy good moist! And that's what happens when you use fresh fruits and vegetables in a cake recipe. Oh, and olive oil. For the love of olive oil! Yeah, that helps too.
Did I mention that this Zucchini, Carrot and Apple Olive Oil Cake is gluten free? Yeah, no one will ever be able to tell that when eating this cake. Don't get confused…it's a cake but I made it in a loaf pan. I know…I threw a curve ball there but I needed to make this in a loaf pan because this one started out as a traditional zucchini bread recipe.
My parents have a beautiful garden and my mom brought me over a ton of zucchini the other day. I thought, "What in the world am I going to do with all this zucchini?" Well, of course…I'll make zucchini bread! Well, I do have a couple of other options for using zucchini. I could make my Carrot and Zucchini Bars with Lemon Cream Cheese Frosting or my Zucchini Chicken Bites. But I opted to make this yummy cake instead!
But then I remembered a fellow blogger's post who talked about using carrots and apples in her latest batch of zucchini bread and I thought, well I'll just get creative and play with this recipe. I had carrots and apples in the refrigerator so it just made sense to play around.
You can see all the fresh veggies in this cake and let me tell you, you can't taste them. This one tastes just like a piece of carrot cake. The cream cheese frosting adds that taste of sweetness and it's just fantastic. And yes, I do feel better knowing that my kids are eating this kind of cake because it's full of fruit and vegetables! And it's gluten free. And healthy fat from the olive oil! So there you go! It just doesn't take much more to make me happy food wise!
Your entire family will love this one. It pairs so well with a cup of hot coffee or a glass of milk. You can eat it for breakfast, as a snack or for your dessert! Make sure you store this one in the refrigerator! Happy Eats!
Zucchini, Carrot and Apple Olive Oil Cake
The moisture of this cake is just unbelievable. Using fresh fruits and vegetables to make this cake and then topping it off with cream cheese frosting is a little piece of Heaven!
Course:
Bread, Breakfast, Dessert
Instructions
Preheat oven to 350 degrees.

In a large bowl, whisk eggs together. Stir in olive oil, maple syrup and vanilla extract.

In another large bowl, mix the flours, cinnamon, nutmeg, baking soda, baking powder and salt.

Pour flour mixture into the bowl of wet ingredients and stir until everything is combined just enough.

Let the batter rest for 10 minutes.

If you have a silipat loaf pan, I highly recommend using it for this recipe. If not, you an use a 9x5 inch loaf pan. If using a traditional metal loaf pan, spray it generously with cooking spray.

Going back to your batter mixture, fold in the carrots, zucchini and apple.

Pour the batter into the prepared loaf pan. Back for 55 minutes.

Once done, let the loaf cake cool completely, about 50 minutes before removing it from the pan.

Top with your favorite cream cheese frosting. Store in the refrigerator.
Nutrition Facts
Zucchini, Carrot and Apple Olive Oil Cake
Amount Per Serving
Calories 281
* Percent Daily Values are based on a 2000 calorie diet.
Pin this Zucchini, CArrot and Apple Olive Oil Cake to your favorite DESSERT and FALL FAVORITES Board!
NOTE: You will find affiliate links on this page.