Bursting with flavor in every bite, these sausage balls are the perfect appetizer or snack. Made with sharp cheddar cheese, savory pork sausage, and bisquick, these are done in under 30 minutes. An easy appetizer finger food that will feed a crowd!
Sausage Balls
I was born and raised in the south. There are many things I love about the south, but southern food has to be at the top of the list. Anyone who is from the south knows all about this Bisquick sausage ball recipe. Back home in Tennessee, whenever you attend a baby shower, party, church potluck, or a get together, you'll almost always see Deviled Eggs, some type of cheese spread, and these bisquick sausage balls.
Sausage balls are simple to make, feed a ton of people, and are ridiculously delicious. Oh – and they are addicting! You can't just eat 1. I think it's impossible. I've never actually seen it happen before.
Here's what it takes to make these easy sausage balls.
Ingredients
1 (1-pound) package ground sausage
3 cups of Bisquick
4 cups grated sharp Cheddar cheese
1/4 teaspoon ground pepper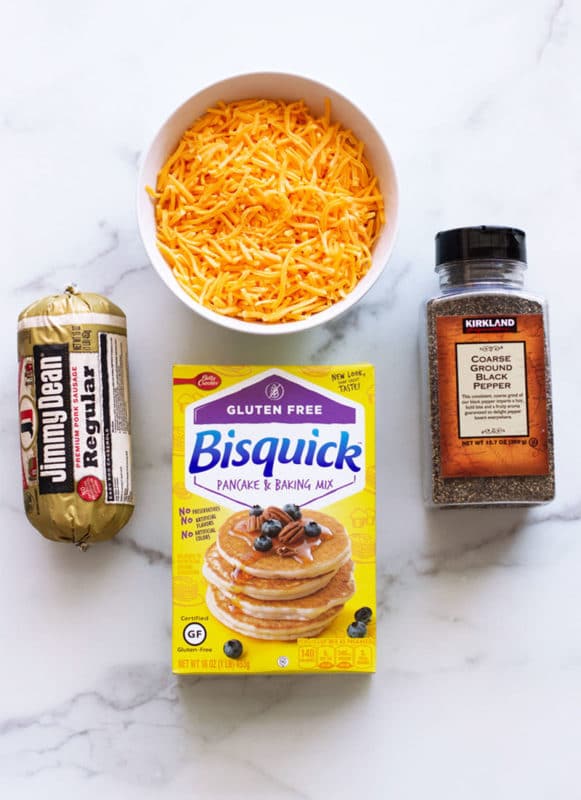 Gluten Free Bisquick
I often get asked if sausage balls can be made gluten free. The answer is YES! Did you know Bisquick makes a gluten free baking mix? The gluten free version primarily consists of rice flour, sugar, baking soda, potato starch, salt, and Xanthan Gum. You can typically buy it in your local grocery store, but it's readily available for purchase on Amazon. The consistency of gluten free bisquick is a lot thinner than the original version. If you know anything about rice flour, you'll quickly see that it's the main ingredient due to the thin powdery consistency. The taste is fantastic though.
If you're not gluten free, use the original version of Bisquick.
Can Sausage Balls be Made Ahead of Time?
Absolutely! But they are best right out of the oven. If you want to get ahead of the game, prepare the ingredients in a bowl and roll into balls. Place the balls on a cookie sheet and cover with plastic wrap. Cook within 1 day of rolling the balls.
If you want to make sausage balls ahead of time and freeze them, just place the uncooked balls in a gallon size Ziplock bag and put them in the freezer. When you are ready to cook them, pull the baggie out of the freezer and place each ball on a lined cookie sheet. Let them thaw for 20 minutes and then cook according to the directions below.
Let's make these "bisquick sausage cheese balls", as my son likes to call them, and then we can cover some more commonly asked questions.
How to Make Sausage Balls
Combine the sausage, shredded sharp cheddar cheese, bisquick, and pepper in a large bowl.
Grab a spoon and stir the ingredients together. Now it's time to get a little messy. Take your hands and mix the ingredients with your fingers. My kids love to help with this part so put them to work! When' you're done, the mixture will be pretty crumbly. This is to be expected.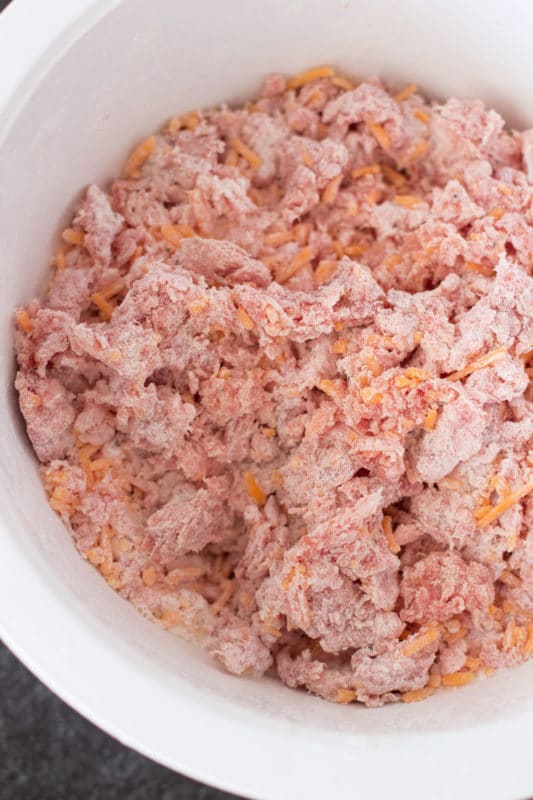 Form the mixture into 1 inch balls, squeezing so it holds together, then rolling it between palms of your hands to form balls.
Place the balls on the baking sheet, about 2 inches apart.
Bake for 20 minutes or until golden brown. Once done, remove from the oven and let cool for about 5 minutes then dive in!
How Long Will Sausage Balls Keep in Refrigerator?
Key word here…refrigerator. Please don't store these on the counter. If you have any leftovers, you need to keep them stored in an airtight container in the refrigerator. They should keep for 3-4 days.
How to Reheat Sausage Balls
You can reheat them in the microwave for 5-7 seconds, but if you have the time then reheat them in the oven. To reheat, set the oven to 350 and bake for 10-12 minutes. Reheating them in the oven helps bring back some of the crispy texture as where the microwave leaves more of a soggy texture.
How to Keep Sausage Balls from Getting Dry
If you're making a gluten free version, they will be a little more dry because of the rice flour. But if you're using regular Bisquick and they still come out dry, try reducing some of the bisquick in the next batch you make. Also, they can dry out because the ingredients were not well mixed. It's super important to ensure you mix the ingredients well. Get those hands in there deep and put those fingers to work!
Possible Variations
If you want more of a creamy texture to your sausage balls, add in a block of cream cheese.
Being from Tennessee, I always made sausage balls with Tennessee Pride sausage. But here in Arizona, we don't have Tennessee Pride, so I use Jimmy Dean sausage.
It's SUPER important to use sharp cheddar cheese. The tanginess in the sharp cheddar cheese brings forth a huge flavor difference from just using a medium or mild cheddar cheese.
If you're in a hurry, you can buy a bag of pre-shredded sharp cheddar cheese, but I like to buy a block and grate it myself. There is a big taste difference when you grate your own cheese.
If you want to spice it up a bit, use a hot pork sausage.
More Appetizer Recipes to Try
Remember to subscribe to my newsletter to receive new recipe notifications. Follow Recipes Worth Repeating on Facebook | Instagram | Pinterest | Twitter for all of the latest updates, recipes, and content!
Sausage Balls
Perfect flavor in every bite, this bisquick sausage ball recipe is the perfect appetizer or snack. Made with sharp cheddar cheese, savory pork sausage, and bisquick, these are done in under 30 minutes. An deliciously easy appetizer finger foods that will feed a crowd! 
Print
Pin
Rate
Ingredients
Instructions
Preheat oven to 375 degrees F.

Spray baking sheet with vegetable oil cooking spray or line with aluminum foil.

Combine all ingredients in a large bowl. Mix well with a spoon and then take your hands and mix well with your fingers. The mixture will be very crumbly.

Form the mixture into 1 inch balls, squeezing the mixture so it holds together, then rolling it between palms of your hands to form balls.

Place the balls on the cookie sheet and bake for 20 minutes or until golden brown.
Notes
To prevent sticking, move the balls with a spatula halfway through cooking.
Nutrition
Serving:
2
balls
|
Calories:
190
kcal
|
Carbohydrates:
9
g
|
Protein:
8
g
|
Fat:
13
g
|
Saturated Fat:
6
g
|
Cholesterol:
32
mg
|
Sodium:
411
mg
|
Potassium:
86
mg
|
Fiber:
1
g
|
Sugar:
2
g
|
Vitamin A:
195
IU
|
Vitamin C:
1
mg
|
Calcium:
158
mg
|
Iron:
1
mg
Update Notes: This post was originally published in August 2013, but was re-published with updated step-by-step instructions, pictures, and tips in September 2019.