This classic Deviled Egg recipe is a crowd favorite and is versatile, pairing perfectly with so many dishes. Learn how to make the easiest deviled egg recipe that are a must have!
Deviled eggs have to be the most versatile food in the entire world. That might sound a bit dramatic, but it's so true. Think about it…deviled eggs are served year round across the globe for all sorts of different holidays and occasions. And deviled eggs can be made so many different ways. I'm going to show you how to make a simple deviled egg recipe, but before we start, let's look at where deviled eggs originated.
Origin of Deviled Eggs
I love history, but I love food history even more. Deviled eggs originated in ancient Rome. If you do your research, "stuffed eggs" started  around 60 AD, but began popping up pretty regularly around the 13th century. These eggs got the name of "deviled" because they were originally made with spicy sauces. They were typically served to the wealthy before the main course and then became a popular food for serving while entertaining.
The word "deviling" is a word used to describe the process of making a food spicy. You'll see deviled eggs at church potlucks, but don't be surprised if you hear people calling them "stuffed eggs" or "dressed eggs". A lot of churches want to keep the word "devil" out when it comes to food so they gave these eggs an alternative name.
Ingredients
Deviled eggs are super versatile and can be made in a variety of ways. The ingredients I use are SIMPLE:
eggs
mayonnaise
mustard
salt
pepper
sweet pickles
paprika
How to Make Deviled Eggs
Boiling eggs – Take 12 raw eggs and place them in a large pot, with just enough water to cover the eggs. Set the burner to high and bring the eggs to a boil. The eggs need to boil for about 10 minutes. After 10 minutes, drain the eggs but leave them in the pot.
Ice bath – Peeling a hard boiled eggs is easy when you give them an ice bath. You'll add about 4 cups of ice to the pot so the eggs are covered. The ice is going to melt and you want to let the eggs soak in the ice bath for about 10 minutes.
Shake, shake, shake – Once chilled, drain all the water from the pot and shake the eggs around the pot until the shells start to naturally fall off the hard boiled eggs.
Peeling boiled eggs – From there, pick up an egg and remove the shell. Do this for all 12 eggs and then rinse them under cool water to remove any tiny shell fragments.
Slice eggs lengthwise – Next, you'll slice each egg lengthwise and remove the yolks. Place the cooked yolks in a bowl. Go ahead and place the egg whites in a deviled egg tray.
Deviled egg filling – In a bowl, combine the egg yolks, mayonnaise, mustard, salt, pepper, and diced sweet pickles. I like using a fork to help finely break up the yolks.
Filling the eggs  – There are so many ways to do this, which I'll get into later in this post, but the quickest method to fill the deviled eggs is with a spoon. Simply dip a spoon into the egg mixture and scrape the filling into the egg.
Top with paprika – When all the eggs are filled, sprinkle on the paprika. Cover the deviled egg tray and place in the refrigerator until you are ready to serve.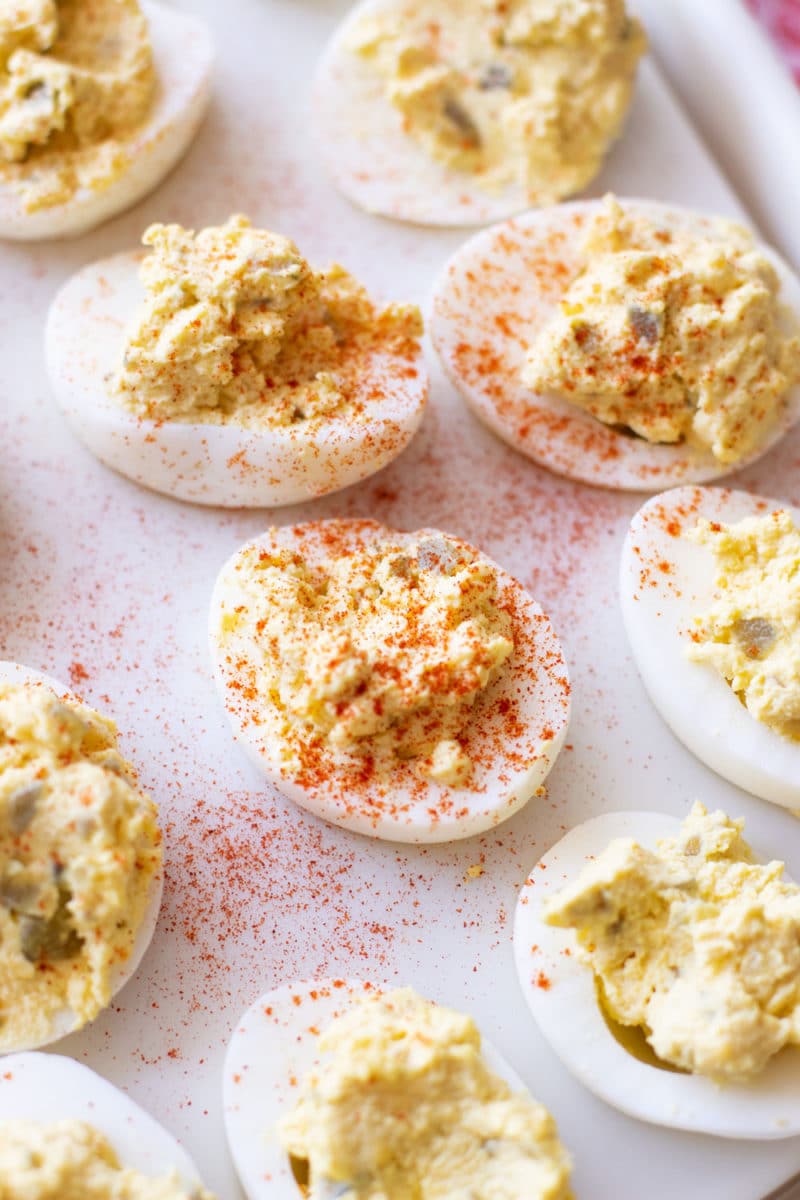 Is there a difference between Paprika and Smoked Paprika?
YES!
And it makes all the taste difference in the world. I talk about the differences in detail in my Smoked BBQ Ribs post so make sure you check it out. You'll be glad you did.
Different Ways to Make Deviled Eggs
Early ingredients included cilantro, onion juice, coriander, raisins, cheese, herbs, and mint. But you don't see a lot of those ingredients in today's recipes. Here's some additional popular ways to make deviled eggs:
with dill pickle relish
with adding capers
adding horseradish
with bacon
shrimp
caviar
salmon
Tips and Tricks for Making the BEST Deviled Eggs
Boil your eggs ahead of time – if you want to get ahead of schedule, boil your eggs ahead of time. Although, there is a benefit to making the eggs directly after they are boiled. Making the deviled egg mixture with room temperature yolks help add to the creaminess of the filling.
Use icing bags or cake decorating nozzles – when I'm entertaining, I like to make my deviled eggs look pretty. I use this piping bag and nozzles to add fun designs to the mixture.
Can I make these deviled eggs without mayo? Yep! If you want to make a keto version of these eggs, just substitute the mayonnaise with avocado. Overripe avocados work best in this recipe. Oh, and leave out the sweet pickles.
Are deviled eggs good the next day? – YES! I typically make my eggs the day before so they are nice and cold.
Are deviled eggs vegetarian? Yep! And they are gluten free. But they are not vegan.
Sweet pickle relish vs. dill pickle relish – my mom always used sweet pickle relish when making her deviled eggs, but I also like to use dill pickle relish. I'm a dill lover so I like to switch out the sweet for the dill every once in awhile. Want a creamier filling? Add in some pickle juice.
Toppings – there are so many ways to top deviled eggs but my favorite is with smoked paprika. It really enhances the flavor. I like a smoky taste to my eggs, but a lot of people don't. So when I'm entertaining, I stick to basic paprika to keep it more neutral for my guests.
What to Eat with Deviled Eggs
Holiday parties, picnics, and cookouts….these eggs are perfect for just about any occasion! If you made this recipe, leave me a comment and give this recipe a star review! Also, snap a picture of your finished dish and share it with me on Instagram using the hashtag #recipesworthrepeating and tagging me @recipesworthrepeating.
Make sure you get all the latest tasty goodness straight to your inbox by signing up to receive my weekly email for the latest and greatest recipes!
Ingredients
12

eggs

1/2

cup

mayonnaise

1.5

teaspoon

yellow mustard

4

sweet pickles,

finely chopped

1/4

teaspoon

salt

Freshly ground black pepper

Paprika,

for garnish
Instructions
Carefully place the 12 raw eggs in a big pot and fill with enough water so there is 2 inches of water above the eggs. Bring the water to a boil and boil 10 minutes on high heat. After 10 minutes, remove the pot from heat and drain the water in the sink, leaving your boiled eggs in the pot.

Add 4 cups of ice to the pot. Let the eggs soak in the ice bath for about 10 minutes. 

Here's the trick on how to peel your hard boiled eggs perfectly. You want to shake your pot over and over again to the left and right and in circles so the eggs roll around and start to have little tiny cracks all over them. Do this for about 3 minutes. Once the eggs are nicely cracked, you are ready to peel your egg. The shell should slide off with no issues.

Once the eggs are peeled, you want to slice the eggs in half lengthwise. Remove the yolk and place in a bowl. Place your sliced eggs in an egg platter and set aside.

Take a fork and finely break apart the yolk until it becomes crumbly. Add in the salt and pepper and mix well. Then, add in mayonnaise, mustard, and finely chopped sweet pickles.

Mix well until you have a smooth creamy mixture. You may want to add in a bit more mayonnaise if you feel the mixture is too dry. You can also add any additional salt and pepper to taste.

Take a spoonful of mixture and spoon into each empty eggs. Sprinkle paprika on top for garnish.
Notes
To make a keto version of this recipe, substitute the mayonnaise with half an avocado.
Nutrition
Serving:
1
g
|
Calories:
67
kcal
|
Carbohydrates:
1
g
|
Protein:
3
g
|
Fat:
6
g
|
Saturated Fat:
1
g
|
Cholesterol:
84
mg
|
Sodium:
108
mg
|
Potassium:
35
mg
|
Fiber:
1
g
|
Sugar:
1
g
|
Vitamin A:
155
IU
|
Calcium:
15
mg
|
Iron:
0.4
mg
Update Notes: This post was originally published in December 2015, but was re-published with updated step-by-step instructions, pictures, and tips in July 2019.
Origin sources:
https://ncegg.org/blog/deviled-eggs-history-from-rome-to-your-home/
https://www.history.com/news/the-ancient-history-of-deviled-eggs