Juicy and flavorful, that is exactly what these brisket burnt ends deliver! Made from beef brisket, these things are packed with an intense smoke flavor after cooking over wood for 15 hours. Then they're caramelized in a tangy, sweet Kansas City-style barbecue sauce. Bring these to your next cookout or BBQ gathering and I guarantee they will be the biggest hit!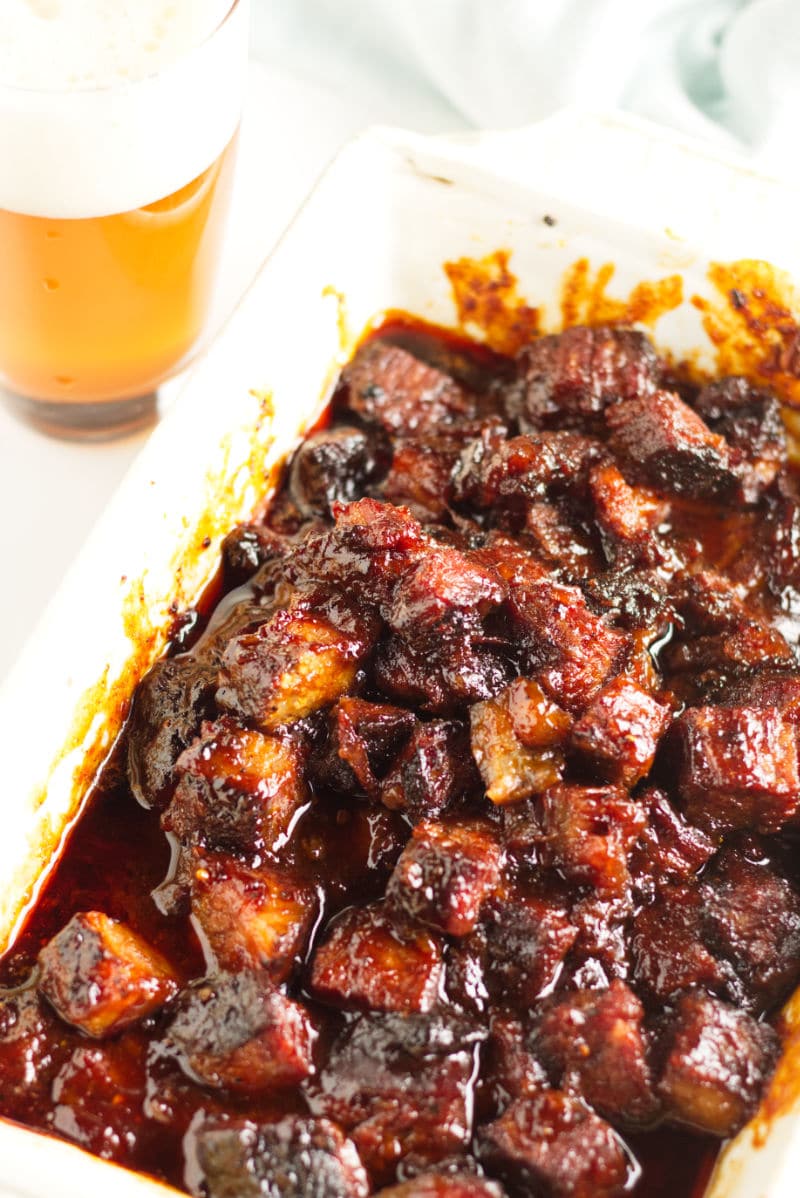 Jump to:
There are so many amazing smoker recipes out there and if you've never made burnt ends, then you're in for a treat! if So, what exactly are burnt ends? They're like meat candy. They are so delicious that calling them "burnt brisket ends" seems like an insult! In fact, they are not burnt at all.
Traditional burnt ends are made from the brisket point, which is the thicker portion. When you buy a packer brisket from the store, it consists of the flat and the point. These two portions are separated by a layer of fat that runs through the middle.
After the brisket point is smoked, it is cut into small cubes and cooked in a thick barbecue sauce with a sprinkling of brown sugar. In this burnt ends recipe, the sugars caramelize and give the smoked brisket burnt ends a delicious, thick coating.
ℹ️ Why This Recipe Works

1. BBQ brisket is by far one of the tastiest and best meats to smoke.

2. You can use any type of smoker to make these burnt ends. Regardless if you're using a pellet smoker, electric smoker, propane gas smoker, or charcoal smoker, this smoker recipe turns out amazing every time.

3. The BBQ sauce becomes caramelized which makes these burnt ends taste like meat candy...literally!
🐄 How To Cut A Brisket
Trimming a brisket is not overly difficult. Beef brisket is a ginormous cut of meat, so I always like to break my full packer brisket down into two pieces to make a savory smoked brisket from the flat and some sweet n' tangy burnt ends from the point.
The first thing you'll do is remove the fat layer between the thicker point and the thinner flat. Then, use a knife and run it through the fat layer, slowly separating the point from the flat. Next, Trim off all of the hard fat from the brisket and then trim the softer fat cap down to about ¼".
🛒 Ingredients You'll Need
Burnt ends are best with a bit of sweetness but they need to have a little bit of heat, as well. This barbecue spice blend is a perfect combination of spices that takes these smoked burnt ends to the next level!
This is the best brisket rub and it's made with ingredients that can be found at a local grocery store. You probably already have these in your kitchen! I use a light brown sugar as the base. It adds a layer of sweetness. Next, I use smoked paprika. It's really important to use a smoked paprika because it's derived from peppers that are smoked and dried over oak fires. You can absolutely taste the difference when using a smoked paprika verses a sweet paprika.
I then combine onion powder, garlic powder, dried oregano, salt, black pepper, cumin, chili powder, and cayenne pepper. The cayenne will give the spice rub just a little bit of a kick.
Kansas City-Style BBQ Sauce
I like my BBQ burnt ends sweet. This burnt ends recipe uses a homemade Kansas City-style BBQ sauce to bring the sweet, but also a bit of heat. The sauce soaks into the meat and caramelizes on the edges making for a sticky, delicious bite of meat candy that will have you licking your fingers clean!
The perfect BBQ sauce will have some acidity, some sweetness, a bit of spice, and a smooth texture. This is ketchup based sauce paired with apple cider vinegar, some spices, and a bit of honey to add to the sweetness.
📋 Step-By-Step Recipe Instructions
Low and slow! That is how this smoked brisket recipe needs to be made. Never rush smoked meat. A low smoking temperature at 225° is how to make brisket taste amazing! For the perfect BBQ brisket, you have to be patient.
If you want a tender smoked beef brisket that falls apart and gushes with flavorful juices, then you will need to be prepared for a lengthy cook. So grab a beer (or two!) and get to smoking!
Start off by preheating the smoker so that it can reach an internal temperature of 225°F. Next, you'll want to trim the brisket based on the steps I detailed above. Once the fat is trimmed, rub the meat with the smoked brisket rub.
Once the smoker has preheated, place the brisket on the smoker, fat side up. Expert Tip: Insert a digital meat thermometer into the side of the brisket all the way into the middle of the meat. When smoking a brisket, it's important to monitor the temperature.
Smoke until the brisket reaches the stall, which will be when the internal temperature of the meat reaches between 150°F to 170°F. To get past the brisket stall, wrap the brisket in butcher paper and then smoke it for another 4-6 hours or until the meat reaches an internal temperature of about 195°F.
Remove the brisket from the smoker and slice the brisket into cubes and place them into a dish. Coat each burnt end evenly with Kansas City BBQ sauce and a little bit of brown sugar. Place the burnt ends of the brisket back in the smoker at 225°F and continue to smoke for 1-2 hours until the sauce caramelizes.
🤷 What Is The Brisket Stall?
The dreaded stall! It's talked about here but it's important to know that the stall is a very real thing. Everybody who has barbecued a large piece of meat has experienced the stall, that point where the internal temperature just stagnates. And it doesn't just happen to brisket. It can happen with pork shoulder as well as a large smoked chuck roast.
Maybe you thought something was wrong. Perhaps you adjusted your fire or increased the temperature of the grill. Some scream in agony...these are all things I have done in the past. But there is no escaping the stall. But there are ways to speed it up such as double wrapping the meat.
The stall occurs due to evaporative cooling. As the meat increases in temperature, the moisture in the meat will begin to evaporate and actually cool the meat during the cook. The cooling will begin to counteract the heat in the smoker and cause the internal temperature of the meat to plateau.
This plateau can last for several hours until enough moisture has been released from the meat so that the cooling effect dissipates. You will find that the stall occurs around 150°F to 170°F.
🗒️ How To Combat The Stall
There are some tricks to help make the stall a bit less agonizing; however, if you're smoking low and slow there is not a quick workaround. Here's some techniques you can use to help get past the stall.
Use The Texas Crutch
As soon as your brisket reaches the stall, you can wrap the it tightly in aluminum foil, shiny side down. This will help trap the moisture as it evaporates and lessen the cooling effect. The moisture will condense on the foil and stay trapped, allowing you to shave a significant amount of time during the stall.
Now for the bad news. Aluminum foil doesn't allow for the smoke to penetrate, so your brisket will not be able to soak up any more smoke flavor during this time period. But, it's been exposed to smoke for hours already so it's not a huge loss. Also, the condensing moisture will make the bark on your brisket soggy. Typically you will want to have a nice firm, crunchy crust develop on your brisket, and wrapping in foil will prevent this to some degree.
Wrap In Parchment Paper
Wrapping the brisket in parchment paper is my favorite method for beating the stall. Parchment paper breathes, which means the smoke will still add flavor to the meat. It also will trap in most of the moisture, although it isn't as tight of a seal so don't expect the stall to disappear!
Either method is completely valid and if you hate the idea of wrapping your brisket, then don't! Just trust the process and ride the stall out. In the end, you will still have a delicious piece of meat if you cook it low and slow!
💭 Expert Tips and FAQs
Trimming a brisket isn't difficult, just remove the fat layer between the thicker point and the thinner flat. Or, ask your butcher to trim it for you.
By adding the brisket rub and letting it sit covered with plastic wrap overnight in the refrigerator helps intensify the flavor of the meat.
You should smoke a brisket with the fat side up.
📖 Best Smoker Recipes
One of the best sides in barbecue ever invented on earth is macaroni and cheese! This smoked jalapeño popper mac and cheese is crazy creamy and has over 3 pounds of cheese packed into it! It also spent some time on the smoker so it soaked up some amazing flavors. There is something about a creamy macaroni and cheese that hits the spot and calls my name for multiple servings, and I am not ashamed to let you know that I always end up eating several portions...
You'll also enjoy this Smoked Jalapeño Popper Stuffed Chicken recipe. These Cheesy jalapeño poppers are stuffed inside of a chicken breast with some sliced ham and provolone cheese. As if that wasn't already delicious enough, the chicken is wrapped in bacon and then smoked to perfection! These things are delicious!
If you loved this burnt ends recipe, give it a star review! Also, snap a picture and share it with me on Instagram using the hashtag #alicensetogrill. You can follow A License To Grill on these social media accounts:
Facebook * Instagram * Pinterest * YouTube * Twitter
Smoked Brisket Burnt Ends
Burnt ends are typically made from the thicker portion of the brisket, which makes for some flavorful and super tender burnt ends. These things are packed with an intense smoke flavor after cooking over wood for 15 hours. Then they are caramelized in a tangy, sweet Kansas City-style barbecue sauce.
Print
Pin
Rate
Ingredients
Barbecue Spice Rub
⅓

cup

brown sugar

3

tablespoons

smoked paprika

3

tablespoons

onion powder

2

tablespoons

garlic powder

2

tablespoons

oregano

1

tablespoon

salt

1

tablespoon

black pepper

1

tablespoon

cumin

1

tablespoon

chili powder

1 to 2

teaspoons

cayenne pepper
Kansas City-Style BBQ Sauce
2

cups

ketchup

⅓

cup

apple cider vinegar

5

tablespoons

brown sugar

2

tablespoon

honey

2

tablespoon

Worcestershire

1

tablespoon

smoked paprika

1

teaspoon

dry mustard

1

teaspoon

garlic powder

1

teaspoon

onion powder

1

teaspoon

salt

1

teaspoon

pepper

1

teaspoon

chili powder
Instructions
Preheat your smoker to 225°F using your favorite wood. I use a competition blend by Pit Boss.

Separate the point from the flat by running your knife between the two muscles.

Trim any hard fat and tough pieces from the brisket and remove any silver skin.

Trim the soft fat, called the fat cap, down to about ¼" thick.

Put the barbecue spice blend rub on the brisket and coat it entirely all the around.

Place the brisket on the smoker and cook until the internal temperature reaches 160°F. This should take about 8-10 hours. Expert Tip: Spritz with about 1 cup of apple cider vinegar or apple juice every hour.

When the internal temperature reaches 165°F, wrap tightly in butcher paper and smoke until the internal temperature reaches 195°F. This will take about another 2-3 hours.

Remove the brisket and unwrap the butcher paper, being sure to catch the juices into an aluminum baking pan. Cut the brisket into 1" cubes.

Place the cubed brisket into the aluminum pan and toss it with the Kansas City-style BBQ sauce. Sprinkle the brown sugar on top. Be sure to work quickly to prevent the brisket from cooling too much.

Set the uncovered pan on the smoker at 225°F for another 1-2 hours or until the juices are caramelized.

Remove from the smoker and enjoy, cheers!
Notes
Trimming a brisket isn't difficult, just remove the fat layer between the thicker point and the thinner flat and remove any hard pieces of fat.
Adding the rub and letting it sit overnight covered in the refrigerator will help to intensify the flavor of the meat.
Smoke with the fat side up.
To beat the stall, either wrap the brisket in aluminum foil, parchment paper, or you can just ride out the stall.
Nutrition
Calories:
647
kcal
|
Carbohydrates:
37
g
|
Protein:
68
g
|
Fat:
24
g
|
Saturated Fat:
8
g
|
Cholesterol:
197
mg
|
Sodium:
1677
mg
|
Potassium:
1412
mg
|
Fiber:
3
g
|
Sugar:
28
g
|
Vitamin A:
2030
IU
|
Vitamin C:
3
mg
|
Calcium:
81
mg
|
Iron:
8
mg
Update Notes: This post was originally published in March 2020, but was re-published with updated step-by-step instructions, pictures, and tips in April 2021.