These Zucchini Chicken Bites are easy to make, super healthy and packed full of protein! Mixed with freshly shredded zucchini, ground chicken and a little bit of spice, these little bites are perfect for an afternoon snack!
Zucchini is not exactly in season right now here in Arizona, but I do have a lot of frozen zucchini in the freezer and it's selling like crazy in my local grocery store so I thought, what the heck....let's make a zucchini recipe in January! Seriously though, I was looking to make a clean and healthy snack that is low in calories and full of protein and quick and convenient chicken bites sounded just perfect! Add in some shredded zucchini and you've got these perfect little Zucchini Chicken Bites!
I don't know about you, but I ate whatever I wanted during the holiday season. I always do...because Thanksgiving, Christmas and New Year only happens once a year so yes, I fully enjoy the flavorful and not so good for you food! And let me tell you, I enjoyed every minute of it! But after the holidays, it's back to clean eating. I'm always looking for new snacks and these Zucchini Chicken Bites sounded great because they are low carb, low calorie and high in protein. And they taste so yummy!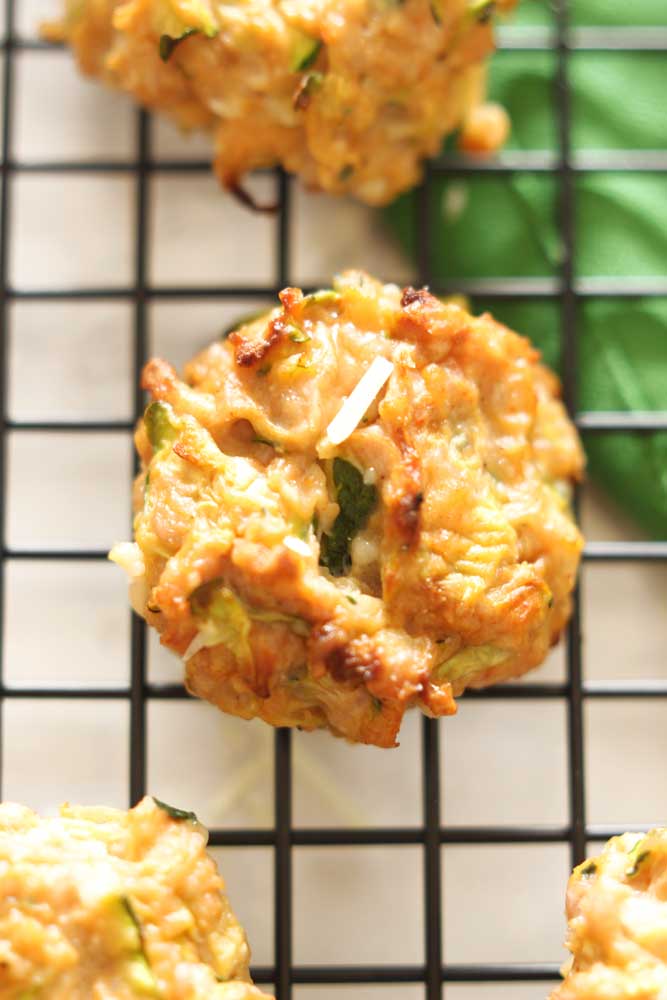 And they look really tasty, don't they? Ya'll these are really easy to make. You take a zucchini and shred it. Make sure you leave the peeling on because that's where the majority of the nutrition lives! You then mix the ground chicken with the shredded zucchini, fresh chopped garlic and onion, Parmesan cheese, paprika, salt and pepper. Mix all the ingredients together really well, form them into small balls and then let them bake in the oven. That's it! So easy!
My kiddos really liked dipping these Zucchini Chicken Bites. There are so many fun dipping sauces I can think of using right now!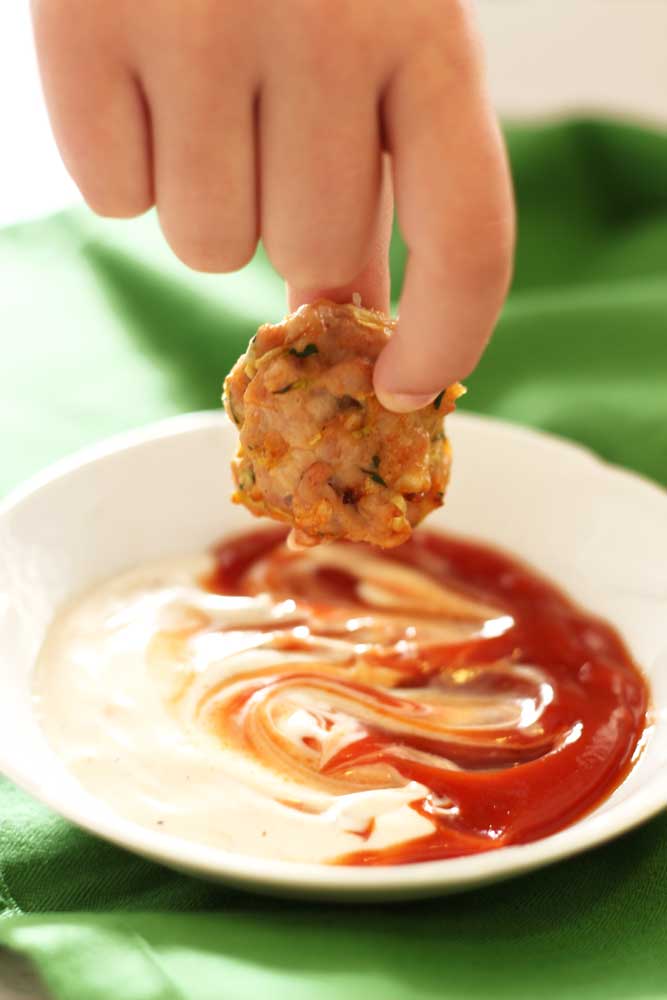 My daughter's idea of a perfect dipping mixture is ranch dressing and ketchup. Mixed together, of course!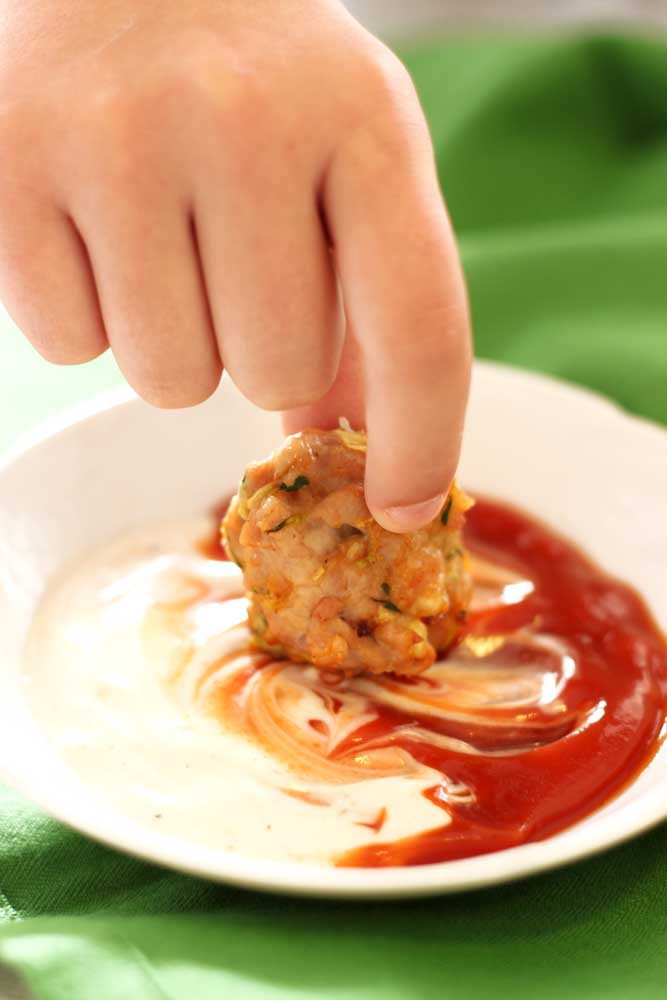 What a perfect bite sized snacks!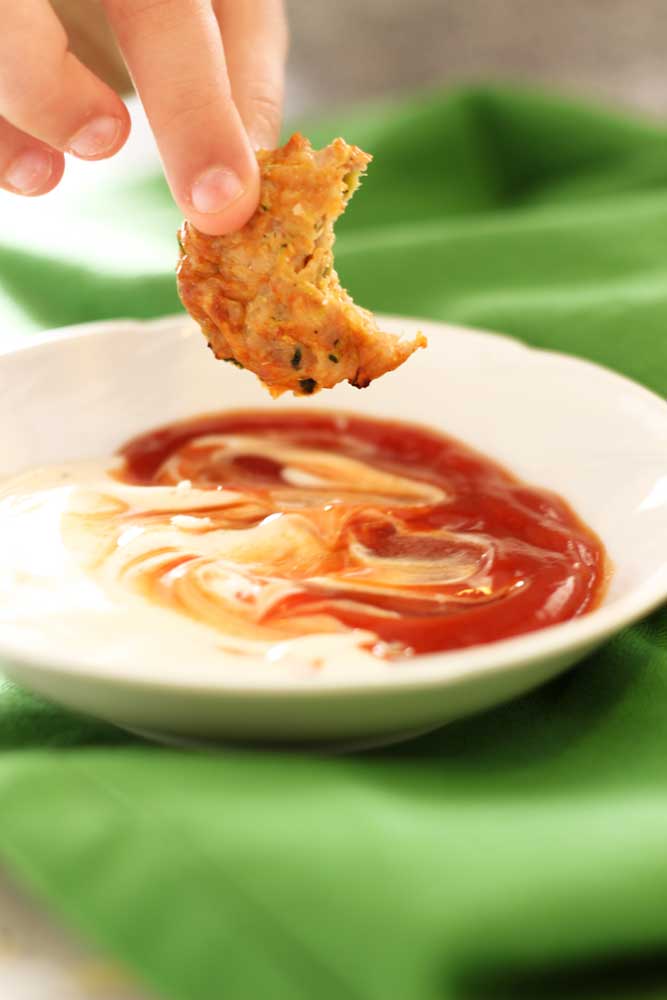 This recipe makes a batch of 28 Zucchini Chicken Bites. After you cook these, you'll want to store the Zucchini Chicken Bites in the refrigerator in a tupperware dish. When you are ready for a snack, pull them out and warm them in the microwave for about 15- 20 seconds and you are ready to eat!
What a fast, easy, convenient, healthy and delicious snack! These are naturally gluten free and great for everyone to enjoy! Yeah! Happy healthy snacking!
Oh, and if you're looking for other healthy snack ideas, check out my recipe for Asian Steak Roll Ups, Turkey Tots and Asian Lettuce Wraps!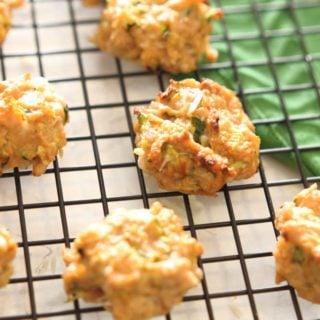 Zucchini Chicken Bites
These Zucchini Chicken Bites are super healthy and packed full of protein! Mixed with freshly shredded zucchini, ground chicken and a little bit of spices, these little bites are perfect for an afternoon snack!
Print
Pin
Rate
Ingredients
1

Zucchini,

grated with peeling on

1

lb

ground chicken

¼

cup

onion,

finely diced

2

garlic cloves,

minced

1

teaspoon

salt

1

teaspoon

paprika

¼

cup

Parmesan cheese,

grated
Instructions
Shred the zucchini with the peeling on and place into a large mixing bowl.

Add in all the other ingredients, ground chicken, onion, garlic, salt, paprika and Parmesan cheese, and mix well until well blended.

Spray a cookie sheet with cooking spray or line a cookie sheet with aluminum foil and lightly coat the aluminum foil with olive oil. You want to avoid the Zucchini Chicken Bites from sticking.

Take a Tablespoon of the Zucchini Chicken Bite batter and roll it into a loose ball. Place the balls 1 inch apart on the cookie sheet.

Once the 20 minutes is up, turn your oven to broil. Let the Zucchini Chicken Bites broil for about 5 minutes, or until the tops turn brown and crispy.

Let these cool for about 5 minutes before eating. Serve with your favorite dipping sauce. Store any leftovers in the refrigerator.
Notes
These Zucchini Chicken Bites bake really well on a flexipan, so if you have one, use it!
Ensure the Zucchini Chicken Bites are at a temperature of 165 degrees before removing them from the oven. 20 minutes plus the 5 minutes of broiling should cook them fully, but it's always good to double check!
Nutrition
Calories:
29
kcal
|
Carbohydrates:
1
g
|
Protein:
3
g
|
Fat:
2
g
|
Saturated Fat:
1
g
|
Trans Fat:
1
g
|
Cholesterol:
15
mg
|
Sodium:
108
mg
|
Potassium:
108
mg
|
Fiber:
1
g
|
Sugar:
1
g
|
Vitamin A:
56
IU
|
Vitamin C:
1
mg
|
Calcium:
14
mg
|
Iron:
1
mg