Quick, simple, and NO HASSLE! I've put together 15 No Bake Snack Recipes that everyone will love. Everything from healthy-based snacks to kid-friendly favorites, you're guaranteed to find a homemade snack for everyone!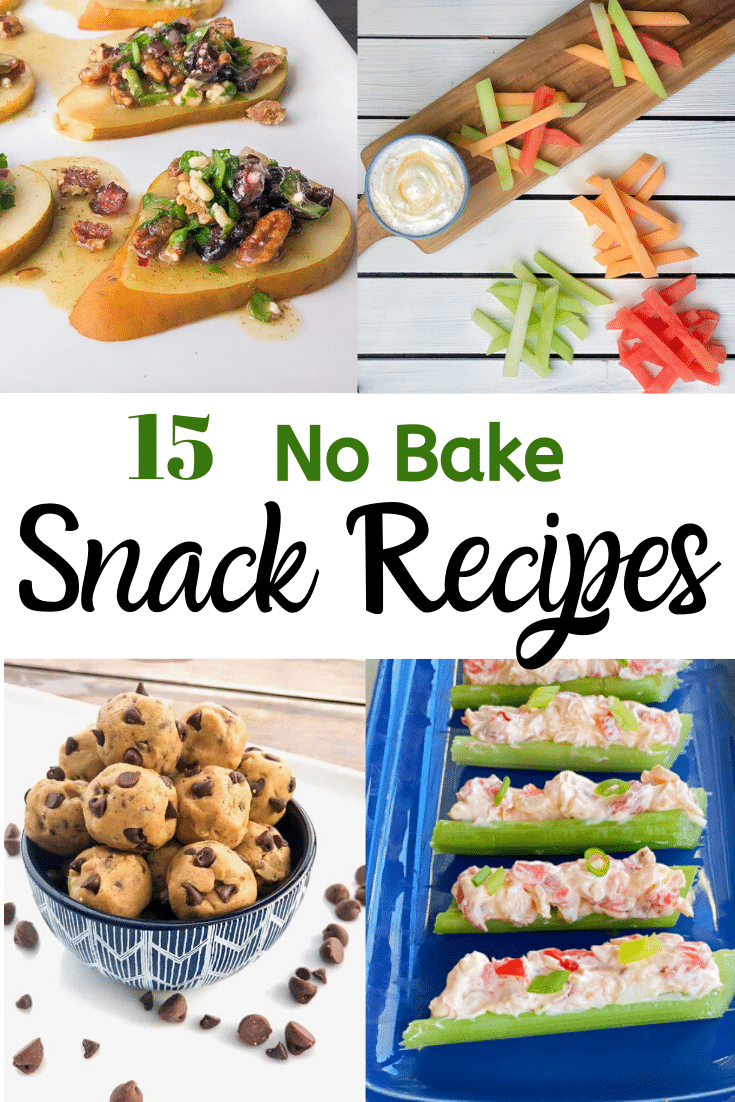 Jump to:
Why You Need These No Bake Recipes
Recipes like this easy to make fruit trifle that require no cooking are my favorite type of recipes to throw together. I love having easy snack ideas available, especially ones that don't require any cooking or baking! These are all easy snacks to make and require few ingredients which makes them hard to resist.
We're talking 15 of my all-time favorite snack foods that include healthy protein snacks, easy snacks for kids, and even some delicious sweet treats!
So, let's dive in!
Pimento cheese recipes are the best! These stuffed celery sticks are easy to make and can even be made a day or two ahead of time! Stuffed with cream cheese, cheddar cheese, and pimento peppers, I like to serve these during the day or as a savory brunch-time snack! They are also a great snack for kids!
Get this Stuffed Celery Sticks recipe here.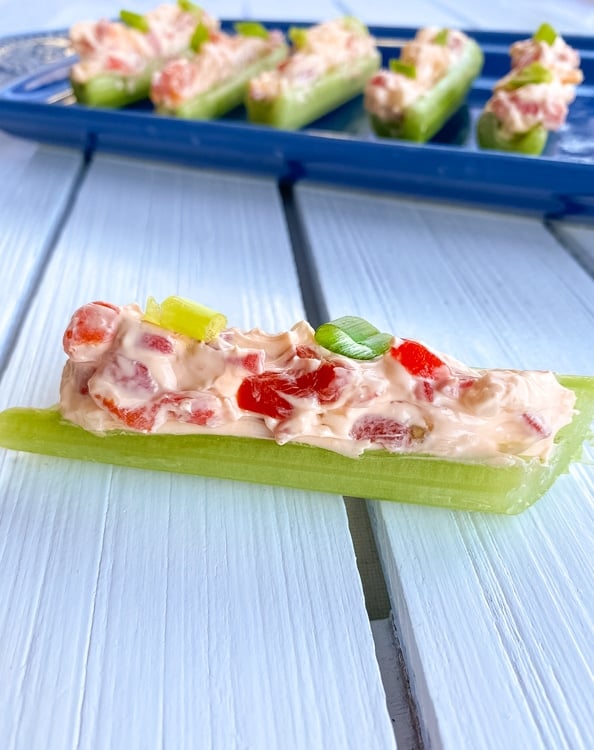 This simple homemade Black Bean Dip is full of flavor and makes for the perfect healthy snack! The juicy, plum tomatoes paired with black beans and zesty citrus lime juice tastes amazing with tortilla chips. I also love adding it as a topping to tacos, burritos, enchiladas, and quesadillas.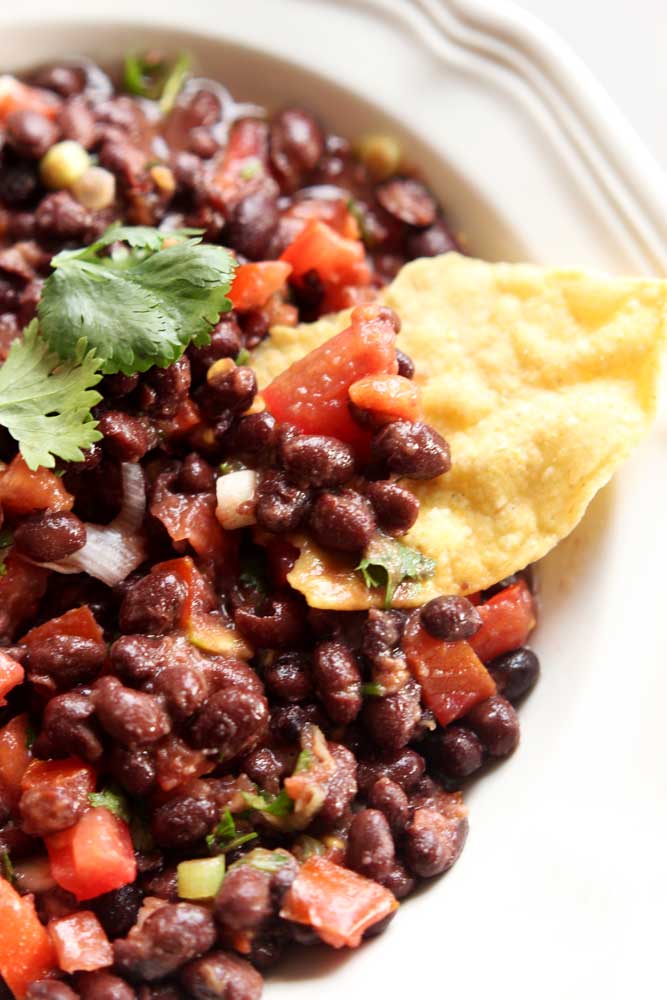 If you're looking for no-bake recipes that satisfy the sweet tooth, look no further! These No Bake Coconut Lemon Cream Cheese Truffles require no baking at all and can be ready to go in less than 10 minutes! Creamy no-bake cheesecake bites are combined with fresh lemon and coconut flakes. Refreshing and perfectly bite-sized!
Get this Lemon Cheesecake recipe.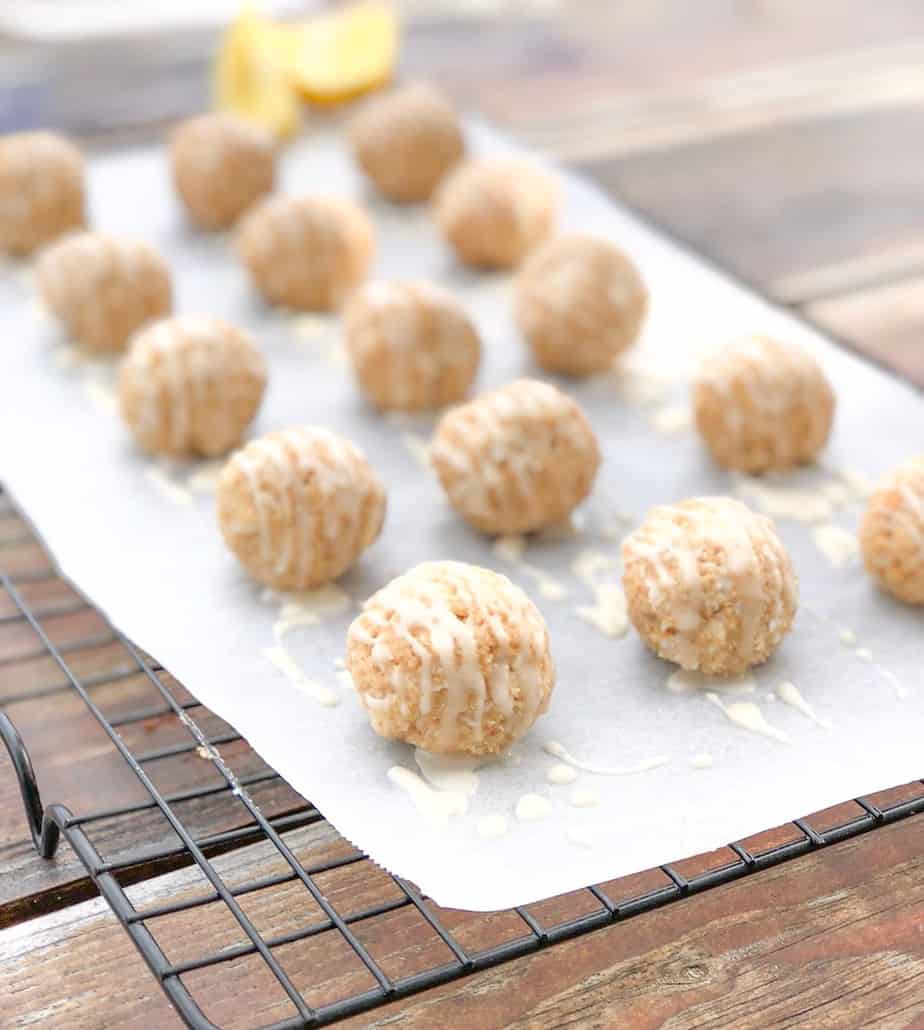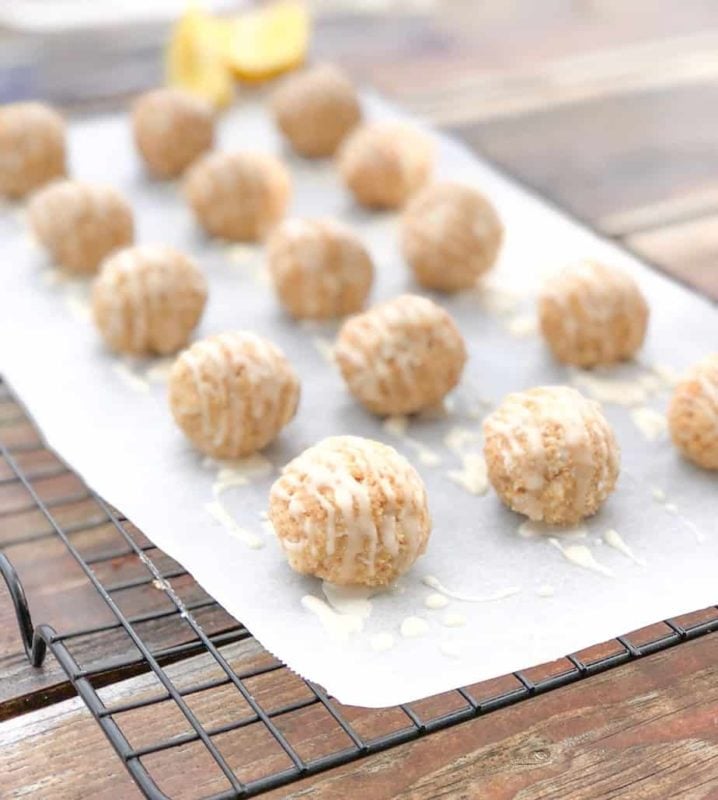 This puppy chow recipe, aka "muddy buddies" is made without peanut butter and is one of the BEST no-bake recipes out there. It's also made without powdered sugar and with dark chocolate so it is not overly sweet! I guarantee friends and family will love munching on this irresistible snack!
Learn How To Make Puppy Chow Here.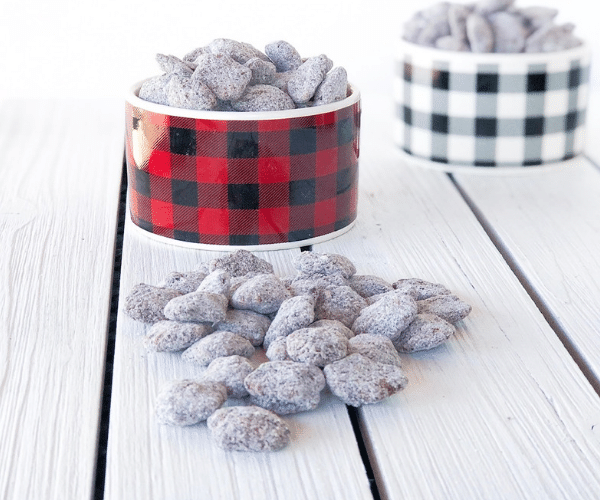 A no-bake cookie recipe? Yes, please! These easy, no-bake edible cookie dough bites are the perfect bite-sized treat to satisfy your sweet tooth! They take less than 5 minutes, are egg-less and will last in the freezer for weeks! You don't have to be a kid to love eating cookie dough!
Make this No Bake Cookie Dough.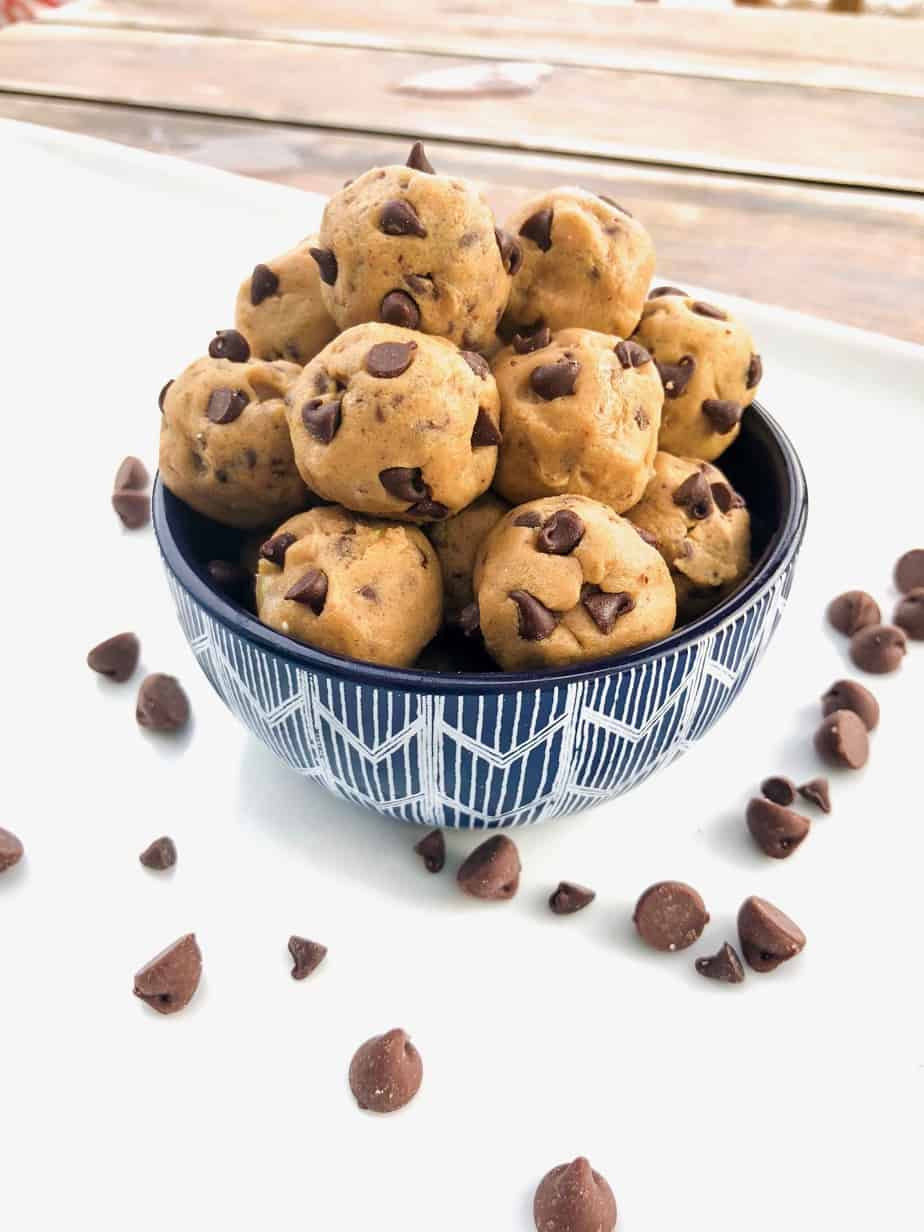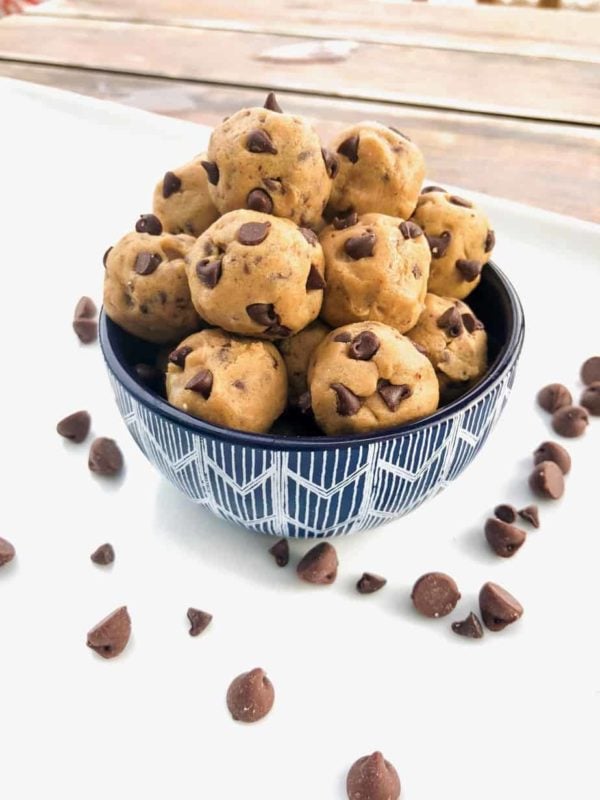 One of the classic flavors for parties or a get-together is Buffalo anything. Whether you are enjoying Buffalo Wings or perhaps a Buffalo Dip, now you can also enjoy the same great flavor in this Buffalo Ranch Snack Mix! A chex mix-based snack, it's easy to throw together and no baking is needed!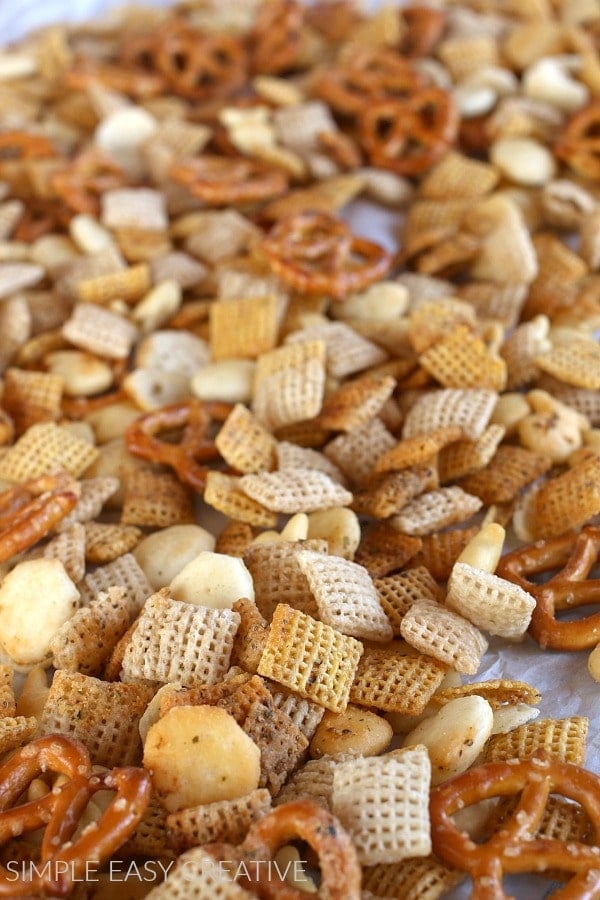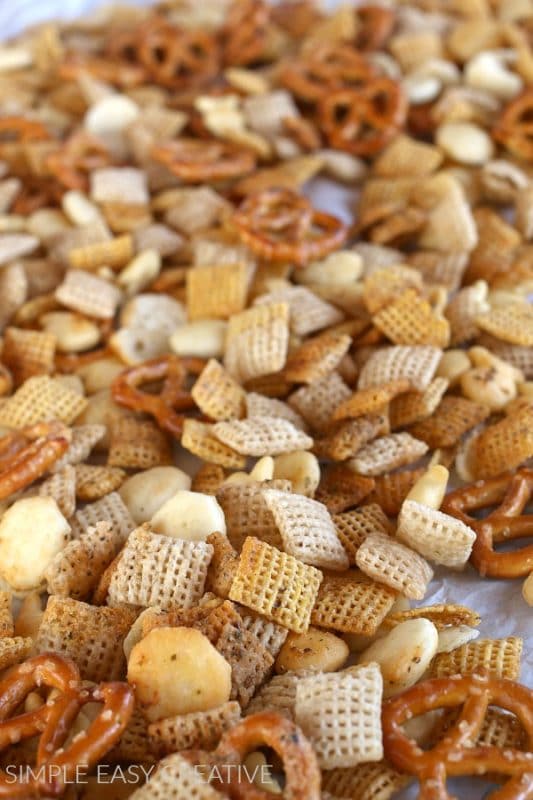 The best protein balls recipe you'll find! These little energy bites are such a great snack to have on hand, especially during that midday slump. They are no-bake and carry a load of omega 3's and protein to keep you full for hours. Above all else, these are the perfect guilt-free healthy snack that also tastes delicious.
Make these Peanut Butter Oatmeal Balls.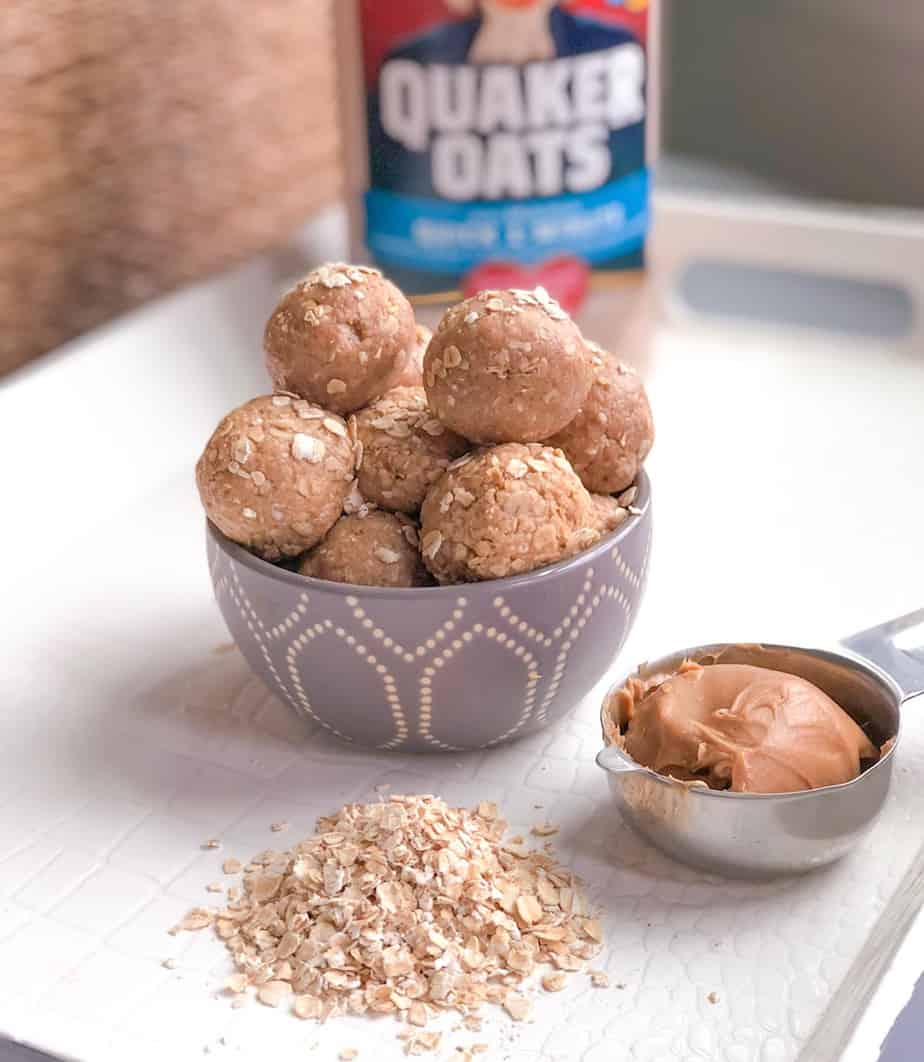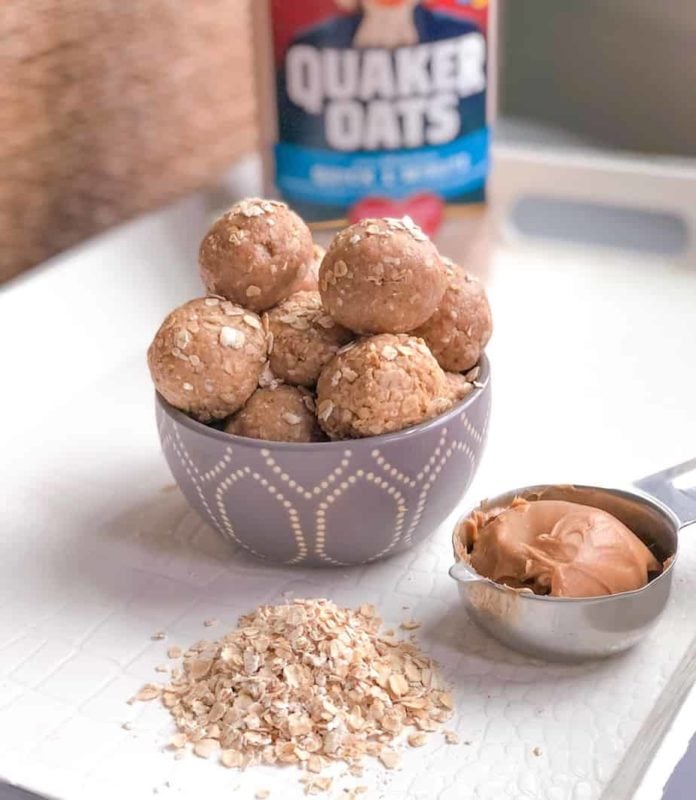 We needed a light appetizer for a potluck and wanted something fresh for spring. So, we found these very simple cucumber bites which are a delicious healthier break from the typical indulgent hors d'oeuvres. Even though these are perfect for an appetizer, this cucumber snack is also great for a healthy midday break!
Enjoy these Cucumber Bites here.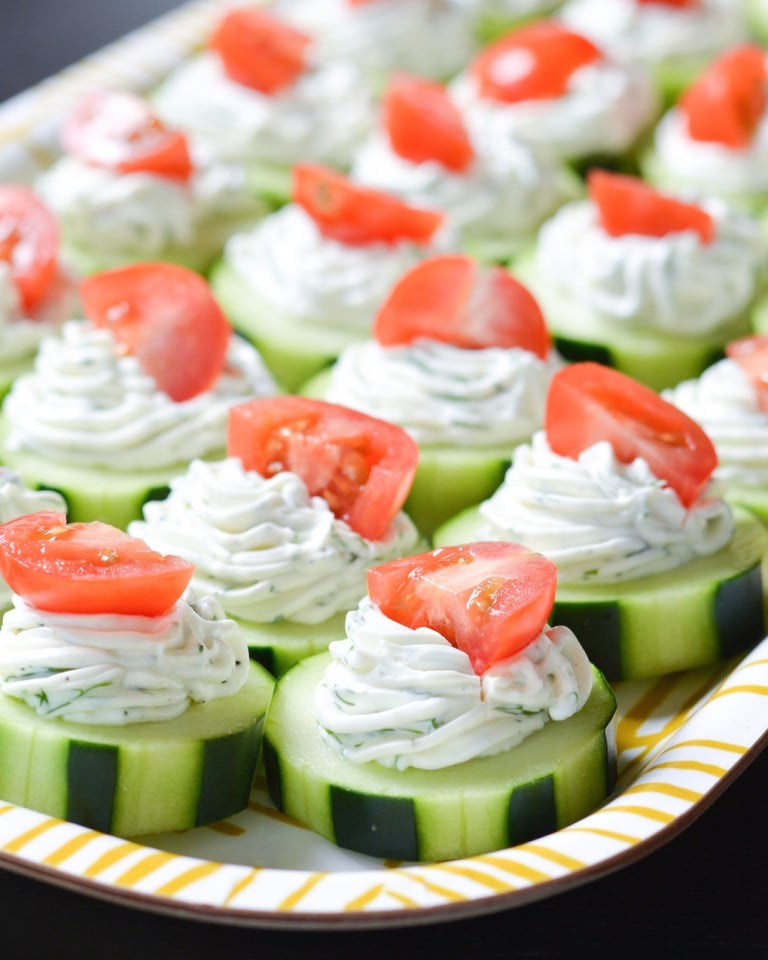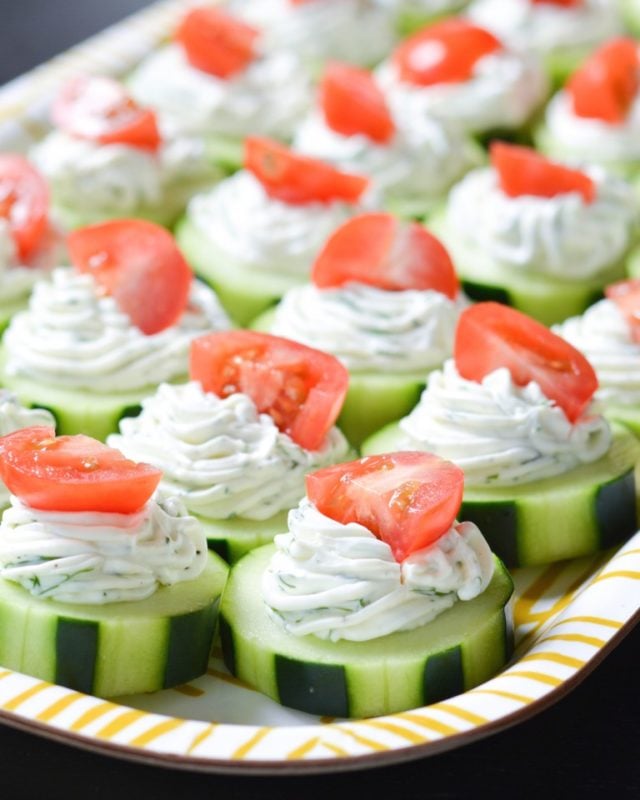 The perfect "sweet and spicy" appetizer for summertime! Grilling them gives this snack another level of flavor! Creamy whipped cream cheese topped with a bright fruit spread and some fresh herbs, this crostini recipe is a tasty, crispy snack ready for any time of day!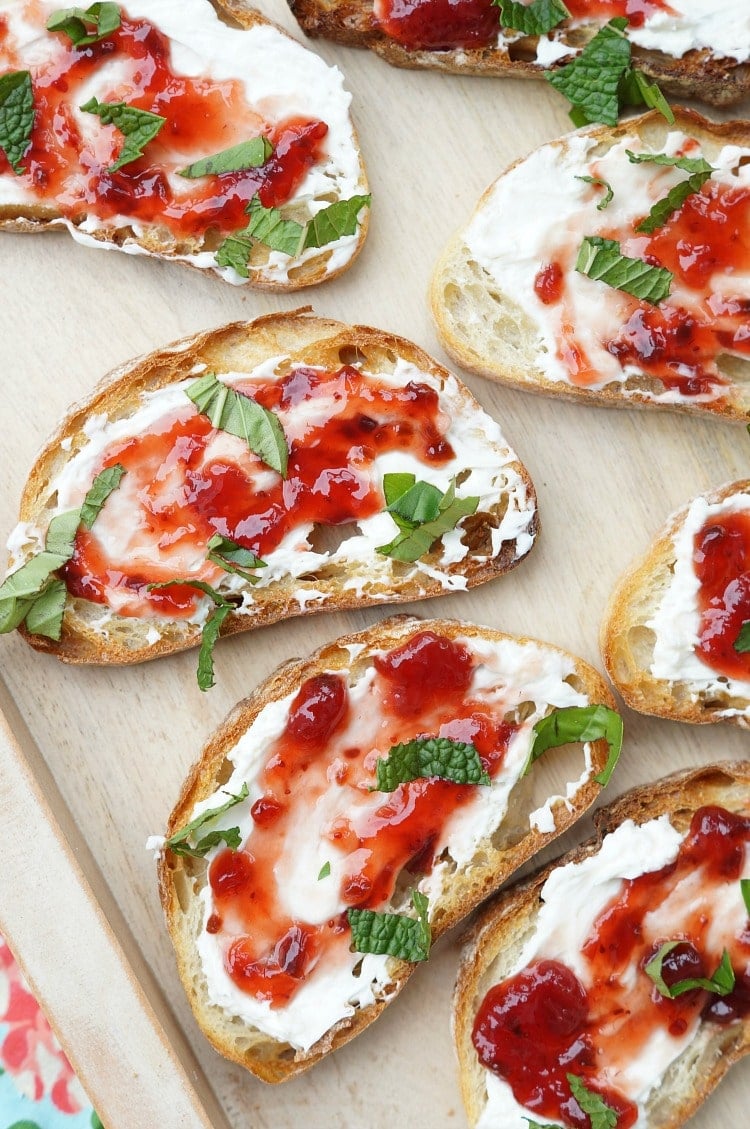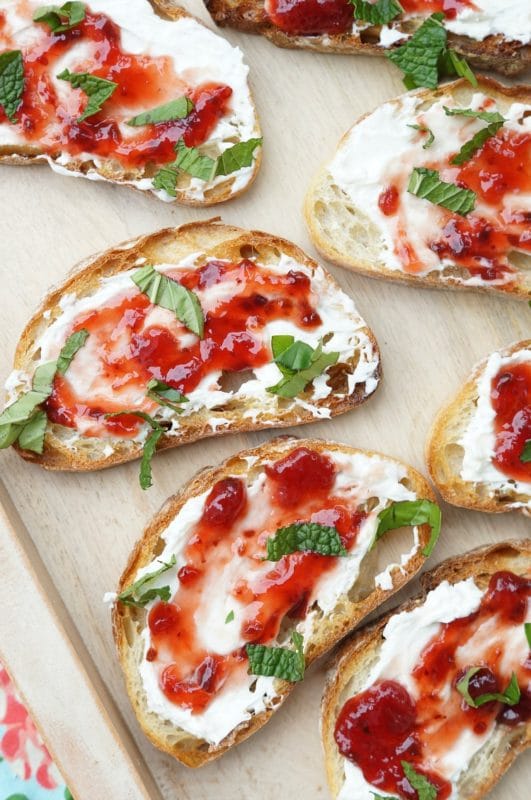 Feta cheese is so popular, and with good reason! This easy no-bake recipe is simple, yet packs a ton of flavor and texture! Cubes of feta are dipped in honey and then coated in chopped pistachios! The easiest 3 ingredient snack you could throw together!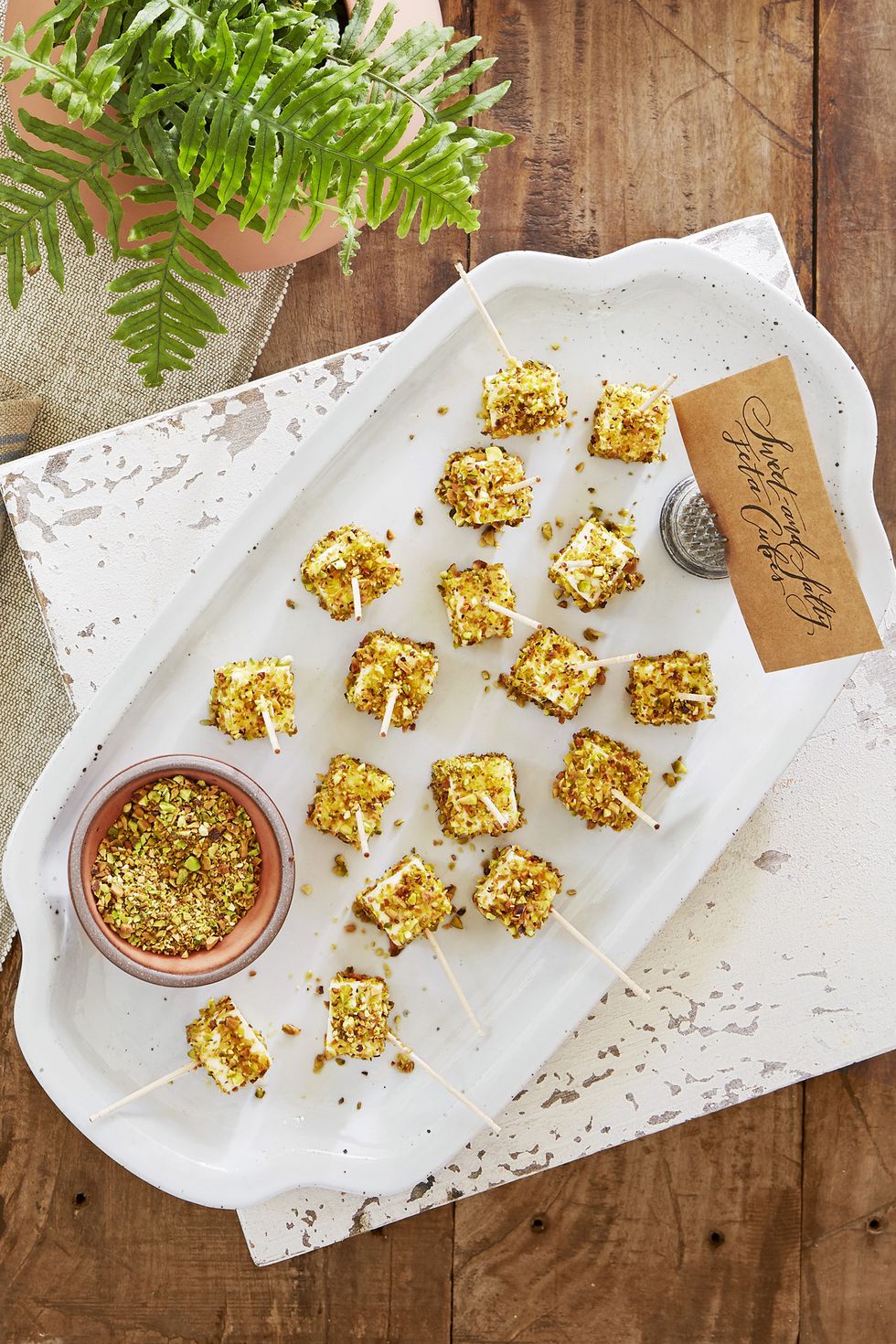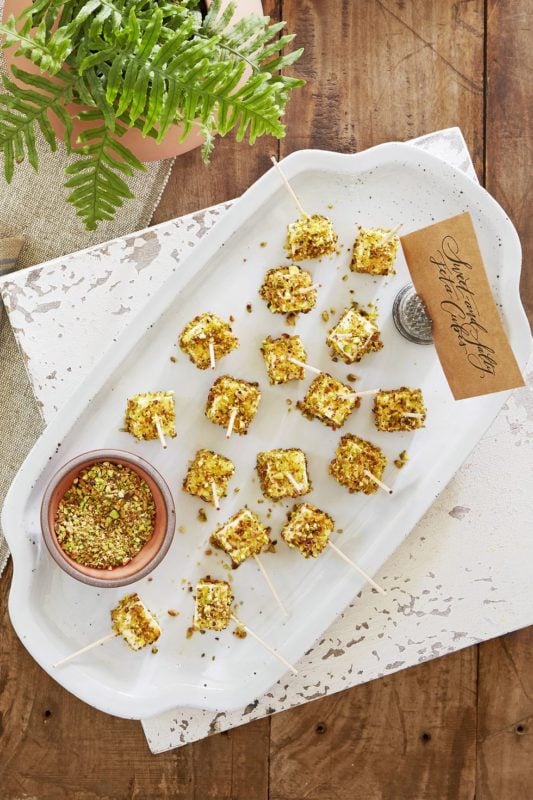 If you want to change up your snack game, these salmon rolls are it! Tzatziki Avocado Salmon Rolls are the perfect party snack! They're totally delicious, easy to make, super pretty, and healthy! Bonus: they can be made ahead of time!
Learn how to make Salmon Rolls.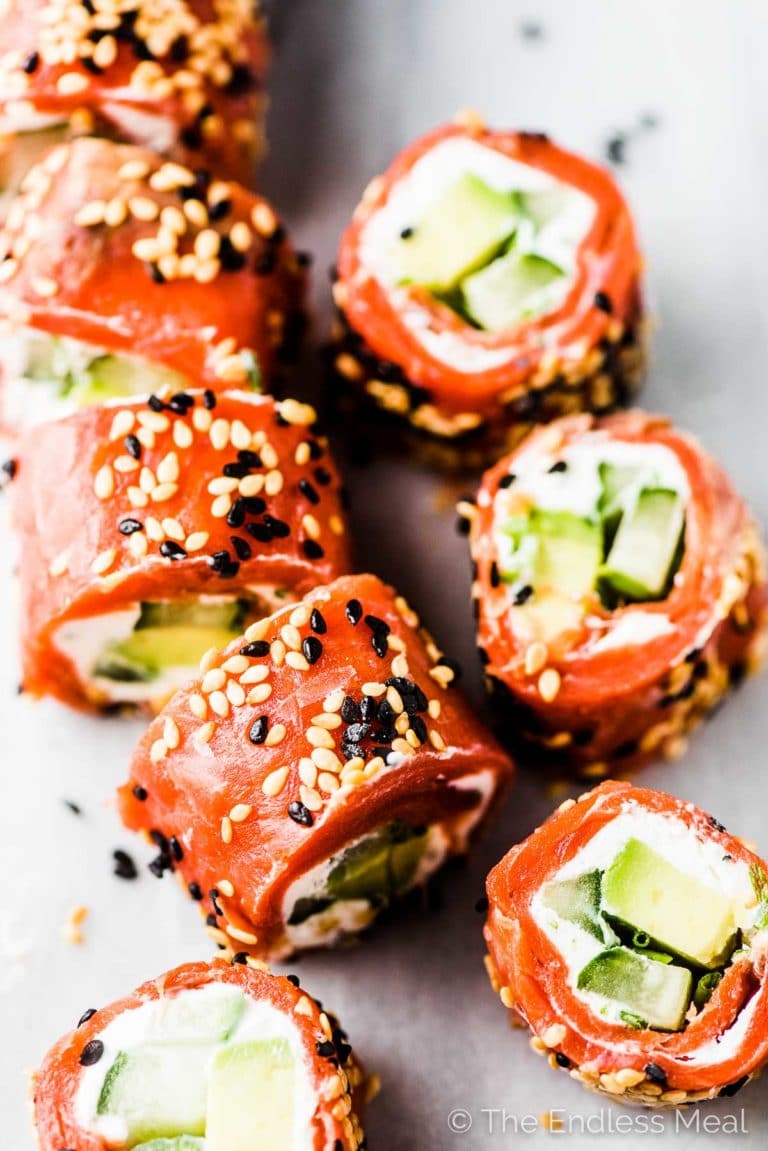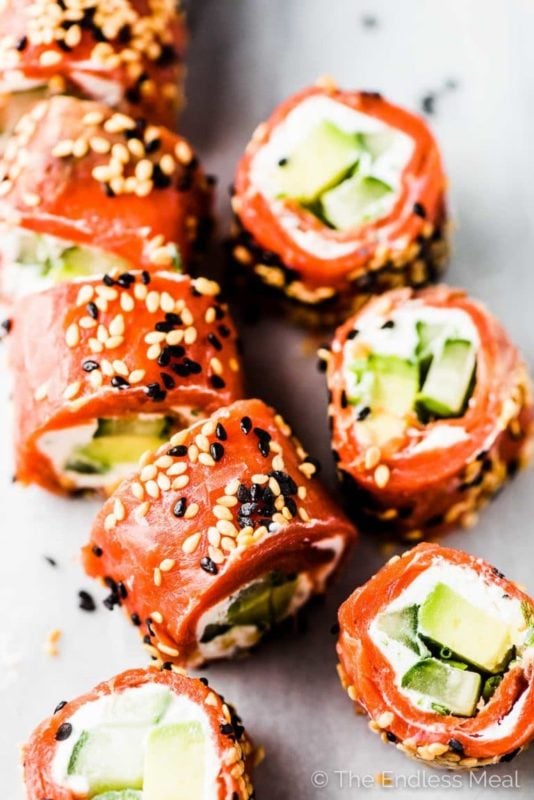 This is the best trail mix! Trail mixes are so popular, especially when you need to quickly hold people over until dinner time. This recipe is healthy, versatile, and totally adaptable. After all, nothing curbs a crunch craving quite like a healthy trail mix recipe. You'll love this sweet and salty version!
Make this yummy Trail Mix recipe here!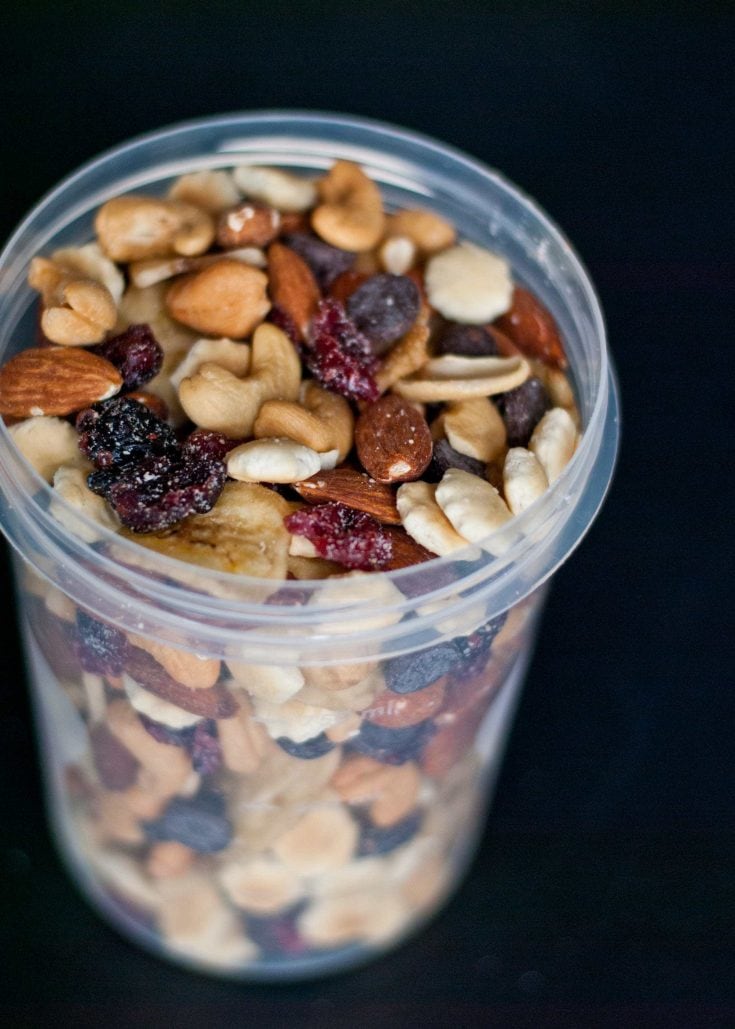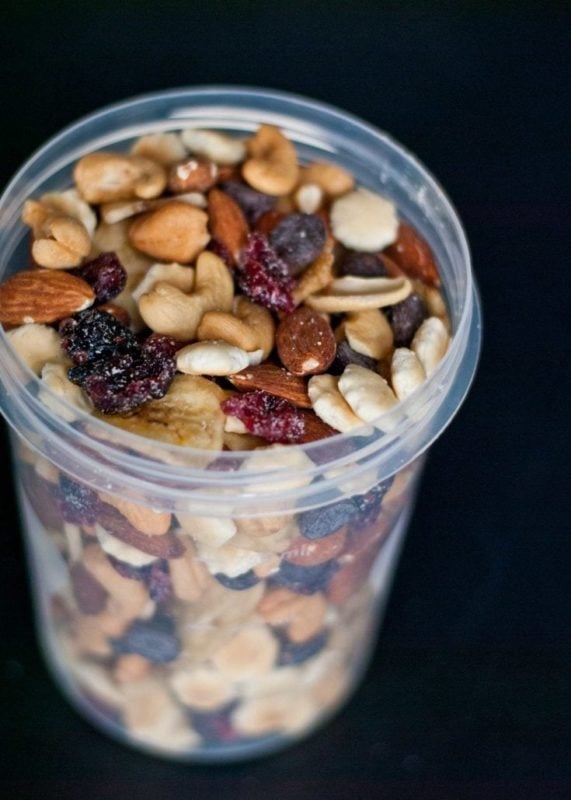 If you're looking for some bruschetta ideas, this one is so unique! This pear "bruschetta" has walnuts, cheese, craisins and is drizzled with a light vinaigrette dressing. It is a fun twist on your classic bruschetta. Made without bread, this is a healthy, low-carb snack everyone will love!
Let me show you how to make bruschetta using Roquefort Cheese!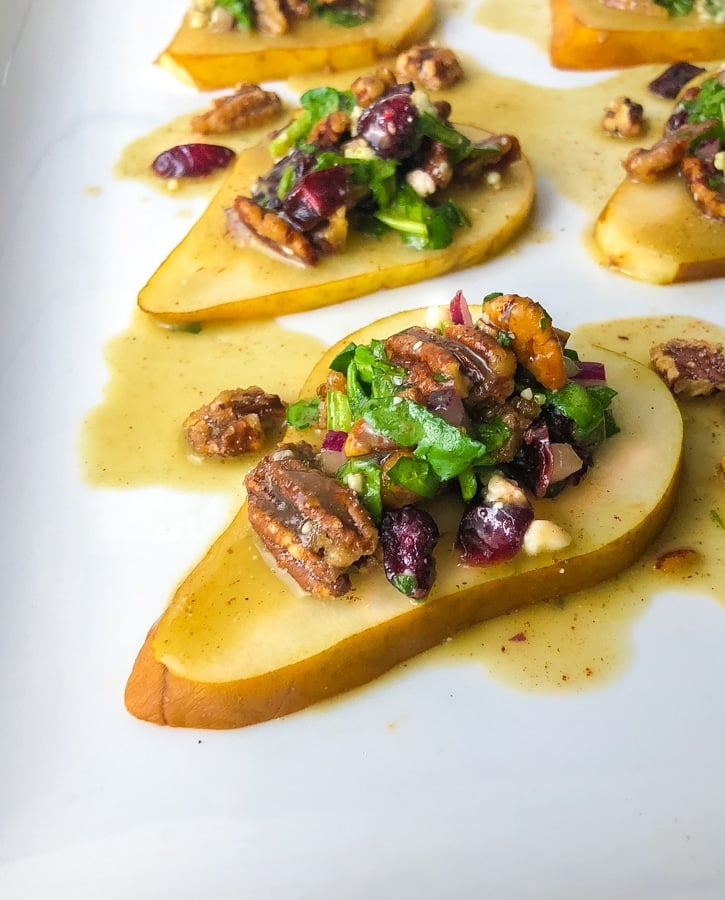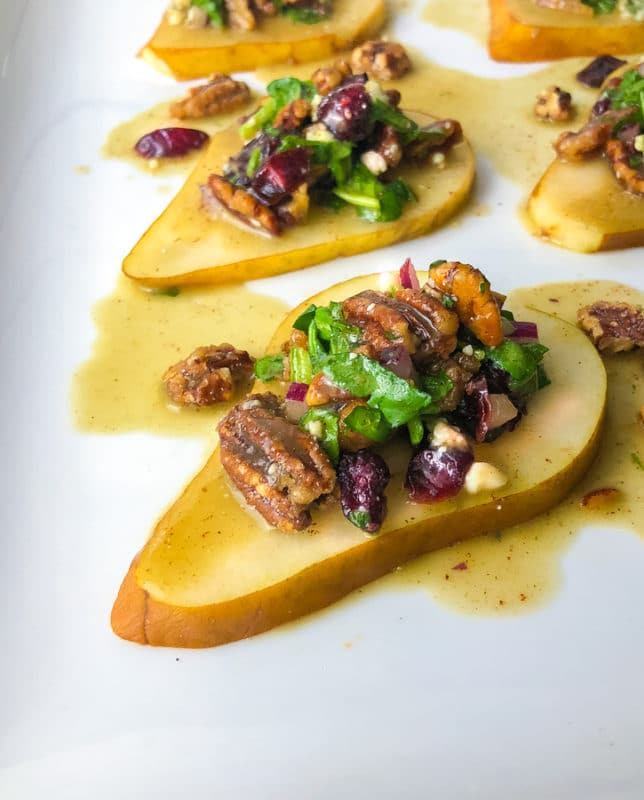 Fruit french fries anyone? Fruit is a delicious and healthy snack any time of the day! With this, no-bake snack the cantaloupe, honeydew, and watermelon are cut into sticks for easy snacking and dipping. And with the coconut Greek yogurt dip, it's time to take your average fruit platter to the next level!
Enjoy this fruit and tzatziki recipe!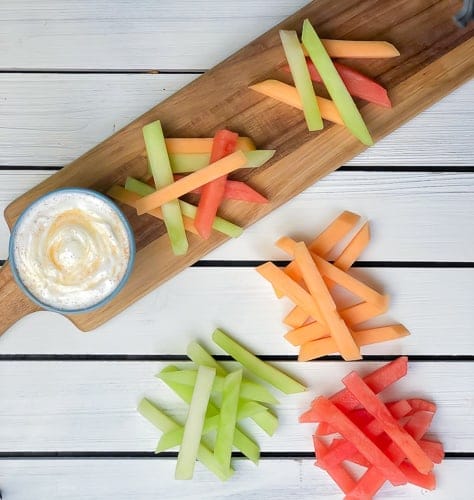 The best popcorn ever! Popcorn is everyone's go-to snack, especially during the day. So why not amp up your popcorn game with this buffalo ranch-flavored popcorn? This recipe uses a simple homemade spice mix combined with hot sauce to get those delicious flavors!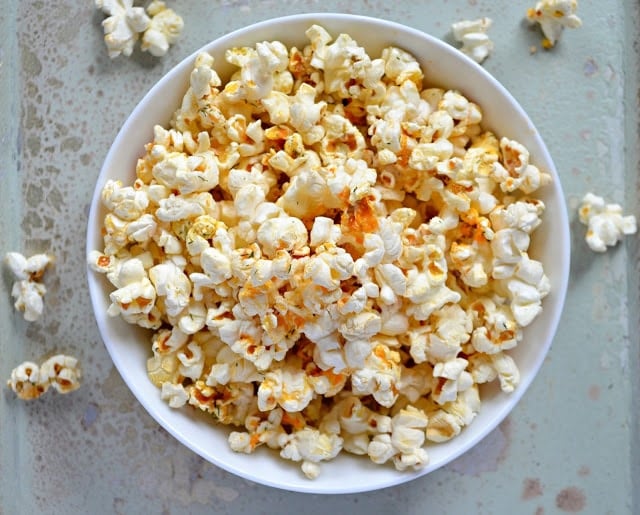 Did you end up making any of these snacks? I can't wait to hear Which ones you tried! Make sure to leave me a comment if you make it and tag me @recipesworthrepeating on Instagram and hashtag it #recipesworthrepeating so I can see what you made!
More Recipe Roundups
If you're looking for more amazing recipe roundups with your favorite foods, check out these favorites:
100 Best Snacks You're Not Making
Stay Updated! Get all the latest tasty goodness straight to your inbox by signing up to receive my weekly email for the latest and greatest recipes!