If you're not yet making side dishes in your Instant Pot, you are missing out! And I'm going to tell you why. I've got 25 Instant Pot side dish recipes that are beyond delicious, unique and super easy to make! Step-by-Step instructions that make your meal preparations a snap!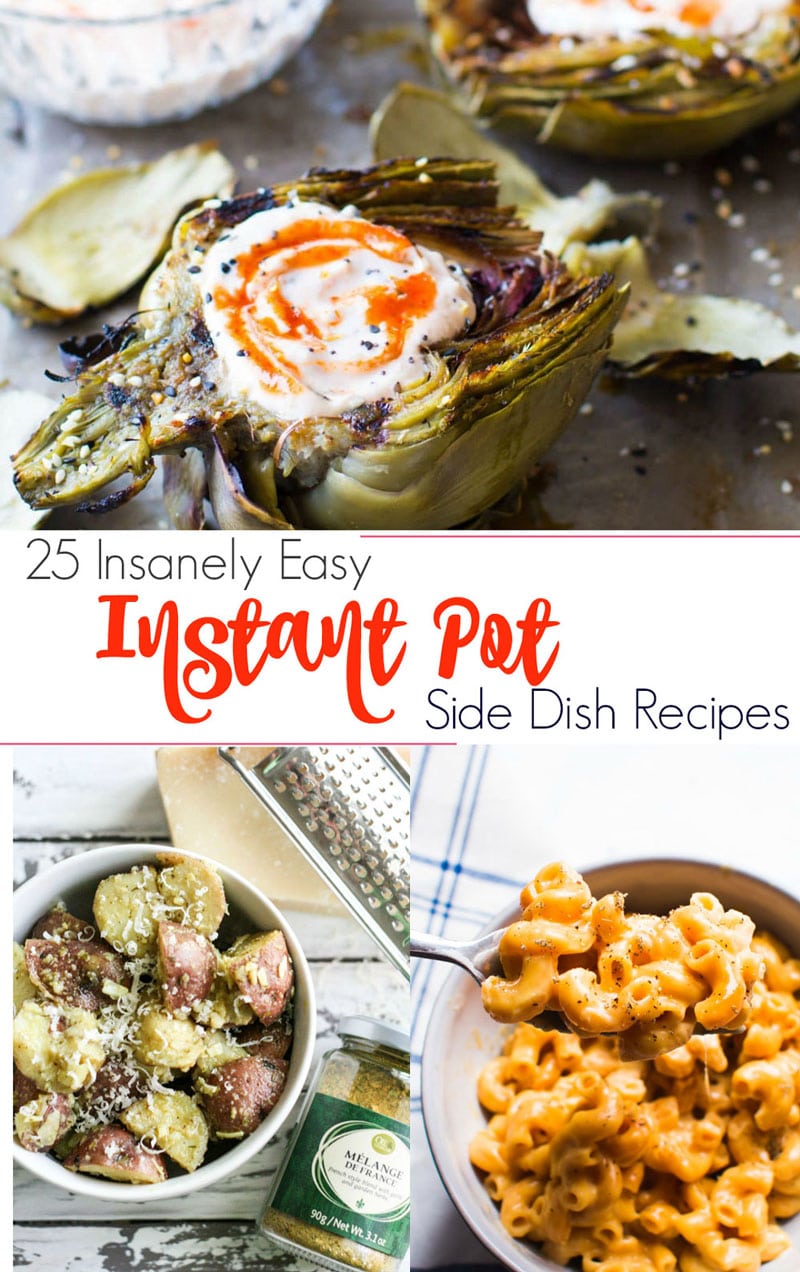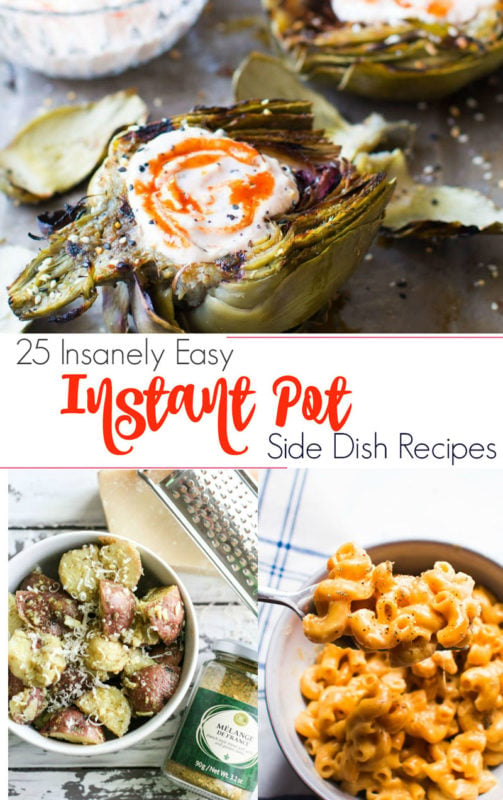 Guilty, guilty, guilty. Yes, I am guilty. I am guilty of making the same side dishes over and over again. Sometimes I get in a rut...I know!! I'm a food blogger! How is that even possible? Well, it happens. That's why I went on the hunt for new side dishes. Specifically, Instant Pot side dish recipes. But not just any side dishes, no. I'm looking for EASY! Not a lot of work kind of side dish recipes! So naturally, I looked for Instant Pot side dish recipes. Because my Instant Pot makes my life EASY! And left me tell you, I found the most amazing side dish recipes out there in the internet realms! Step-by-step instructions with pictures and video kind of easy Instant Pot side dish recipes!
So let's get to it! Below you are going to find 25 irresistible Instant Pot side dish recipes with a reason WHY you should make every single one of these! As a matter of fact, if you haven't bought an Instant Pot yet, I'm willing to bet these recipes will convince you to buy an Instant Pot. And if you already have one…seriously, you have to make these side dishes! Here's why…
Do NOT be intimidated by artichokes! Kelli over at Hungry Hobby tell us that artichokes are not the scary silent bully of the vegetable world. Oh my goodness - so true! Artichokes are insanely easy to make and crazy delicious! Kelli gives you a super helpful video on how to prep these artichokes and she uses her Instant Pot to boil them! Oh and this Sriracha Dipping Sauce...ginger, garlic and honey! My mouth is watering! And it's Gluten Free! Go get this recipe here.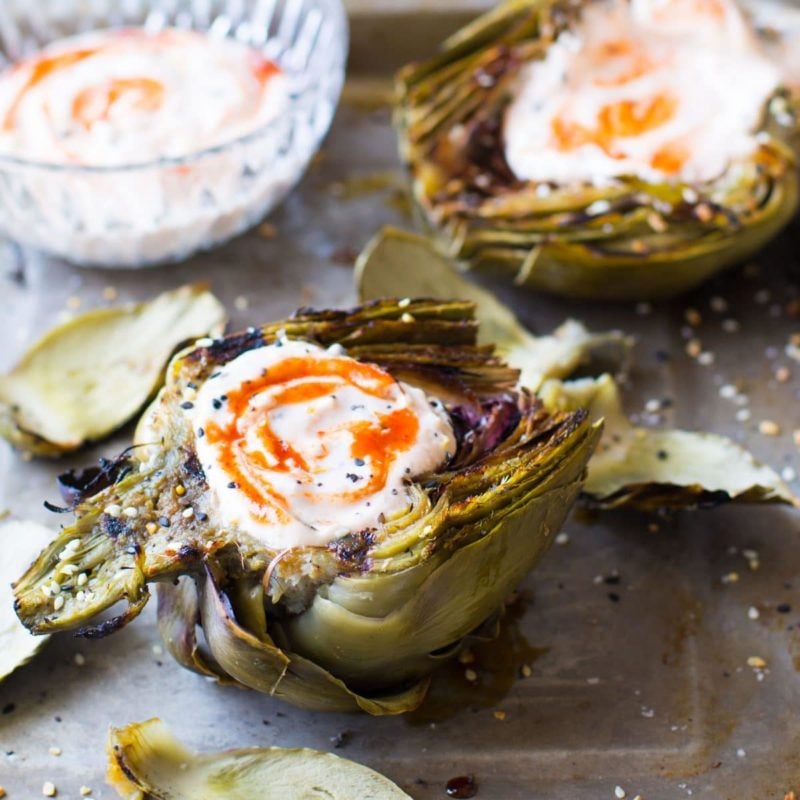 The ultimate nostalgic-childhood-comfort food just got easier. Stephanie over at Blue Bowl just made me the most popular mom in the neighbor with this homemade FROM SCRATCH mac' n cheese recipe. Oh the littles AND the big adult kids love this one! And, it's ready in 10 minutes! A quick prep, no mess and fast homemade side dish made in the Instant Pot. Thank you for making my life so easy and making me the neighbourhood superhero mom!! Go get this recipe here.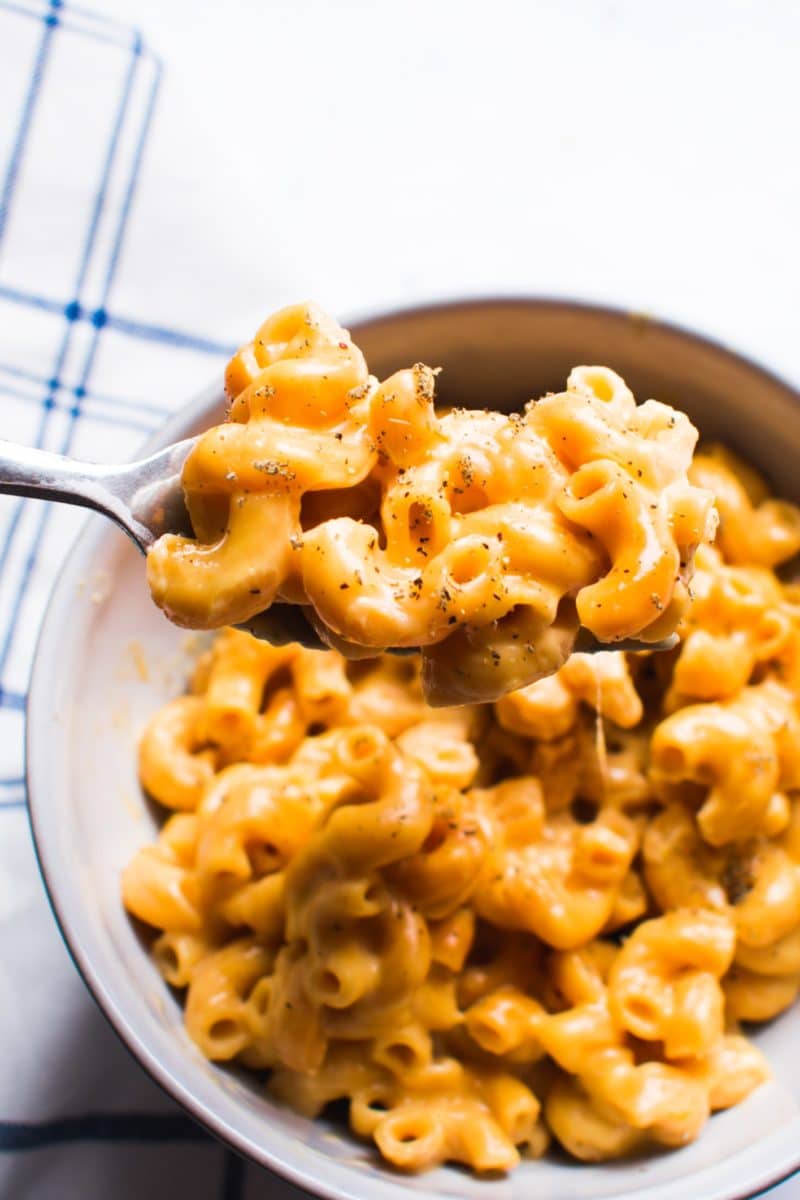 Did you ever think you could make a baked potato in 27 minutes (outside of the microwave, of course)? And actually have it taste good and be cooked all the way through? There is nothing better than a perfectly cooked baked potato. Bintu over at Recipes From A Pantry walks us through a step-by-step tutorial, yes a TUTORIAL, on how to make perfect baked potatoes in your Instant Pot! Only 2 ingredients and naturally Gluten Free! Get the recipe here.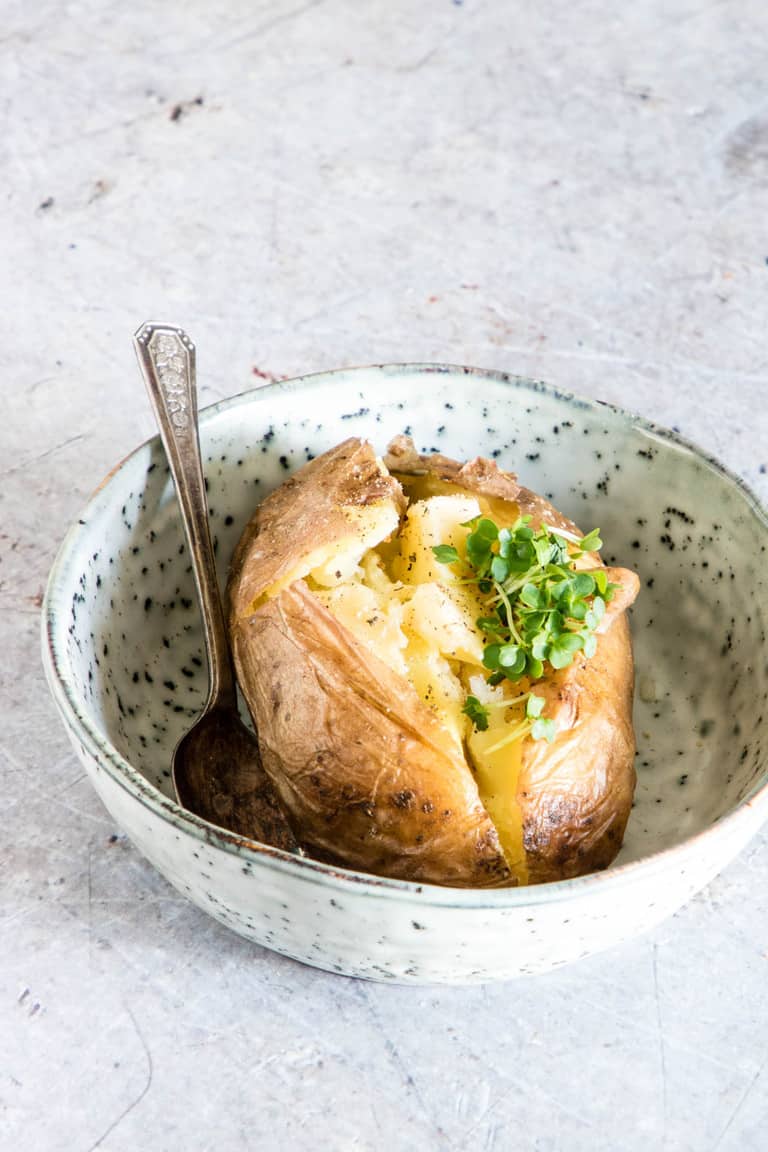 Creamed corn is the best. Danielle over at Went There 8 This shares with us her Instant Pot Spicy Creamed Corn. Y'all, this one is rich and buttery with a spicy kick. Hello cajun style! This recipe only takes 10 minute from start to finish. You dump in your simple ingredients and you walk away. But come back in 10 minutes! Easiest soul warming dish ever and it's Gluten Free! Get the recipe here.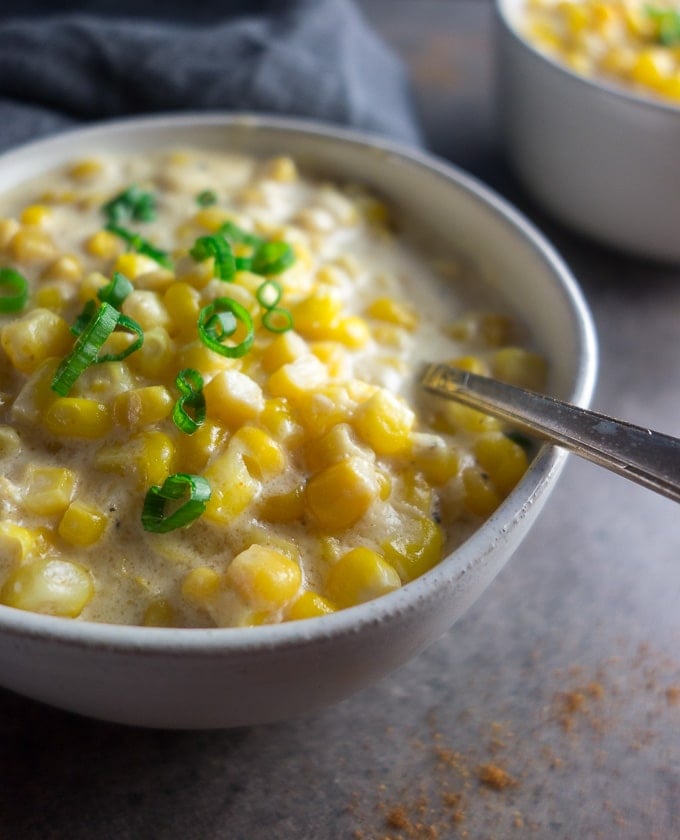 Gosh, I love a true authentic Indian food from someone who grew up in India. And now I get to make a super simple Indian side dish in my Instant Pot! Cooking With Molly brings us this cauliflower that is infused with Indian spices and extremely easy to make! Making it in your Instant Pot is less effort than making it on your stove. AND - it's both Vegan and Gluten Free! Oh...and I LOVE the quick tips on cooking cauliflower without making it into a mush! Super helpful blog post! 7 minutes to make this beauty! Can you believe it?! Get the recipe here.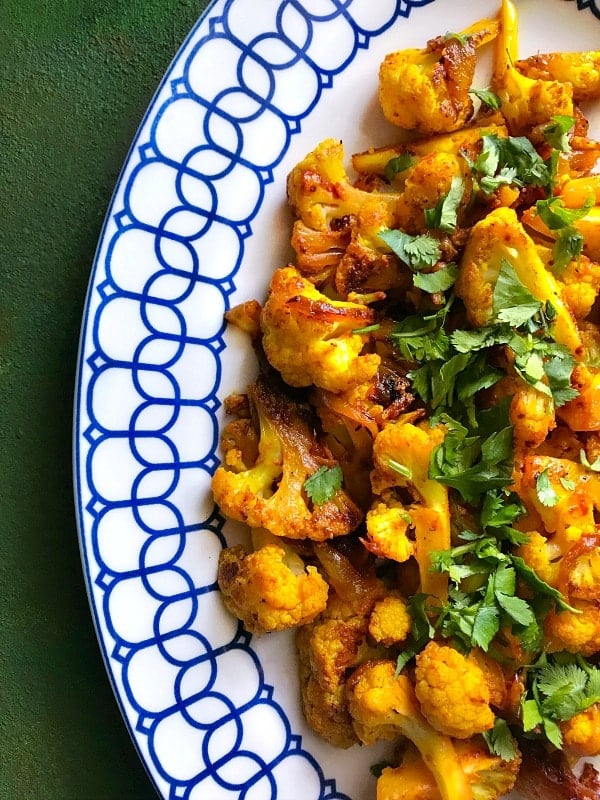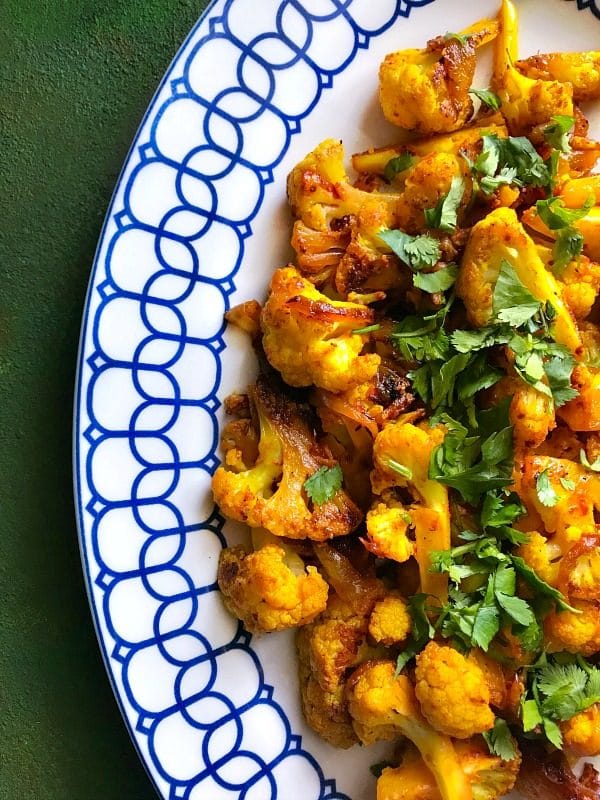 A "no-recipe recipe" that is quick, nutritious, tasty, low-carb and gluten free. 6 easy ingredients that includes BACON! Oh for the love of some bacon! Let's face it...bacon is not a fad and it's not going anywhere anytime soon so let's eat all the bacon! Urvashi over at Two Sleevers literally throws these ingredients into the Instant Pot and lets that machine do all the hard work! Total cook time is 25 minutes. Get the recipe here.
This side dish recipe reminds me a little bit of creamed spinach, except this recipe uses broccoli! Faith and Lara from the Keto Queens use cream cheese and garlic to bring forth the flavor. AND, you can spice it up with some red pepper flakes! Keto and gluten free, this yumminess of a side dish take all of 10 minutes, start to finish! My kids are going to love this one! Get the recipe here.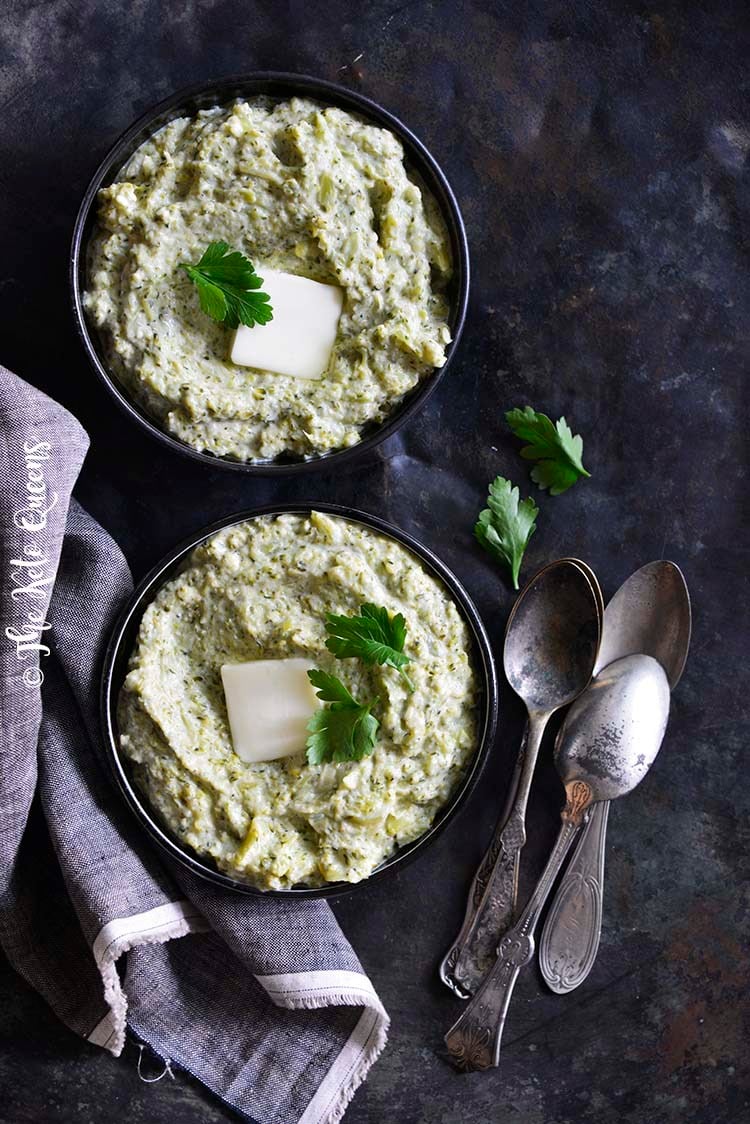 Unique, authentic...DELICIOUS! That's what this Instant Pot side dish recipe brings to the table! Dal Makhani is known as a black and kidney bean mix that is vegan and gluten free. Anvita & Soniya over at The Belly Rules the Mind tells us that this dish is known as a "buttery lentil". It's flavorful with a creamy texture and is a super versatile dish that can be eaten with almost anything. Get this recipe here:
Never boil corn again! Sandy from over at Simply Happy Foodie tells us that this is the easiest vegetable side dish you'll ever make in an Instant Pot! 12 minutes total and perfectly cooked! Sometimes a simple side dish is just what you need! Get the recipe here.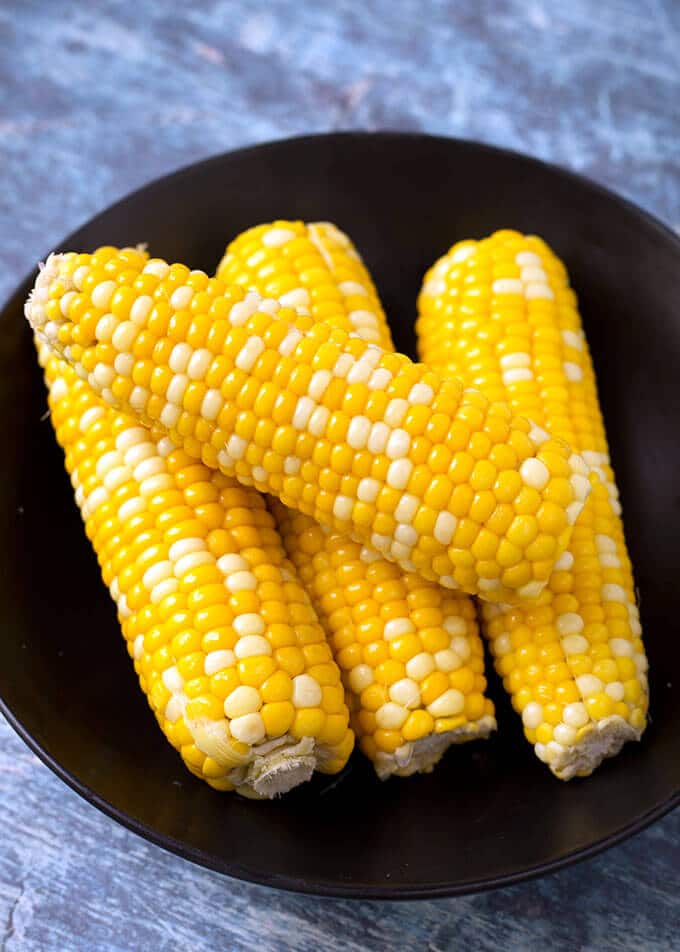 The PERFECT pasta substitute! This Instant Pot Side Dish recipe come from Leslie-Anne over at From Pasta to Paleo. She's a professionally trained Italian cook so you know this one is yummy! 12 minutes from start to finish, she teaches you how to perfectly steam the squash without over-cooking or burning. Naturally gluten free, vegan and vegetarian! Get the recipe here.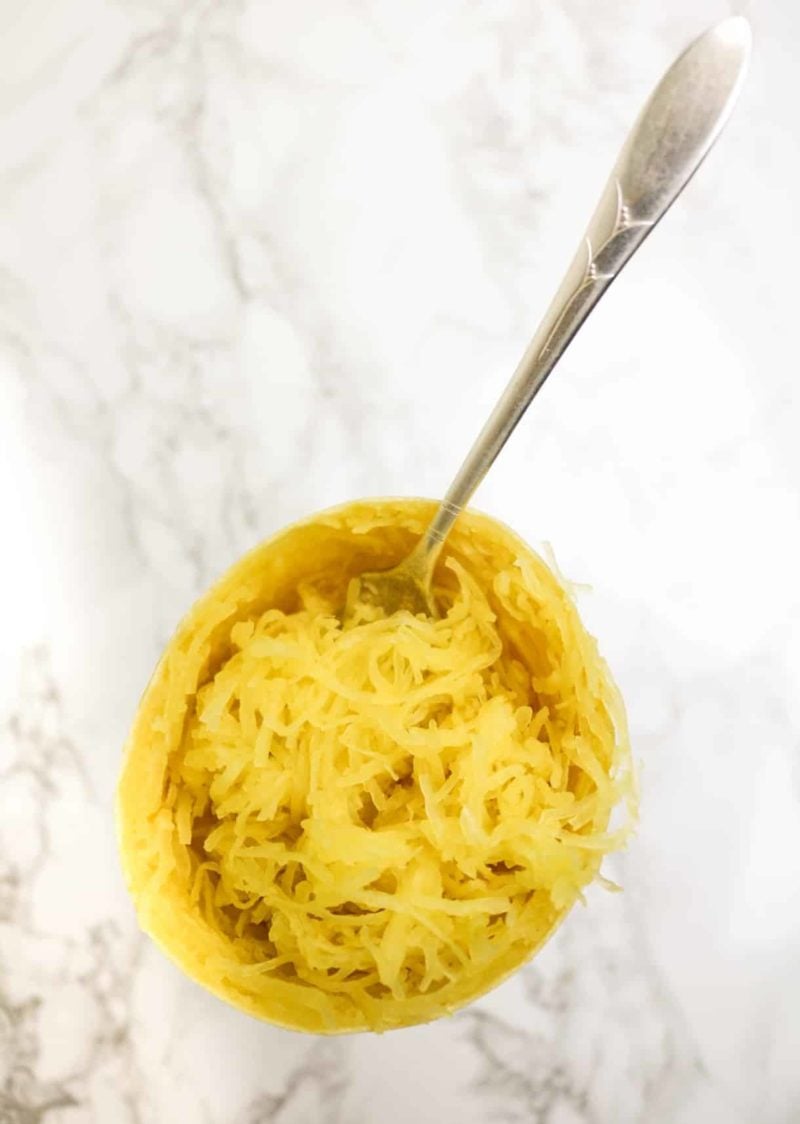 Sarah from over at Sustainable Cooks says it herself...potato salad is boring. But not this one...NOPE! This is a LOADED baked potato salad. And it can be made Whole 30 and is gluten free. 5 minutes total cook time! Oh...and it has bacon in it! Gosh, I love the bacon! Get the recipe here.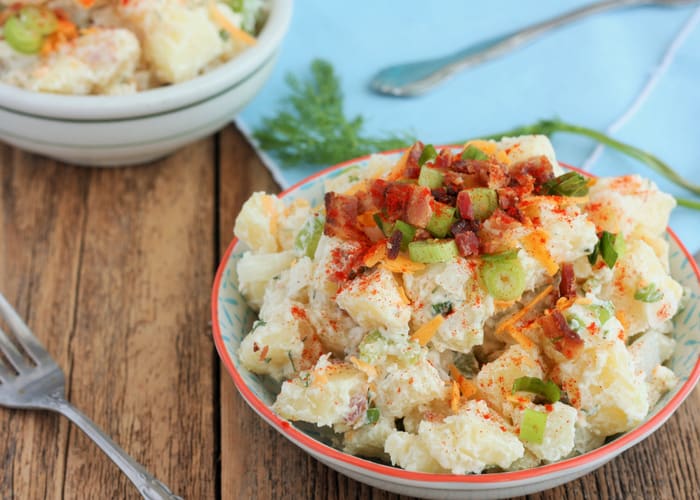 My son is going to LOVE this Instant Pot side dish recipe!! These orange beauties are coated in a delicious honey butter glaze. Natasha over at Salt & Lavender admits that it's not rocket science to make these on the stove-top, but using an electric pressure cooker, like an Instant Pot has its benefits. This recipe is hands off, requires no checking and is quick and easy. 23 minutes from prep to table. Get this recipe here.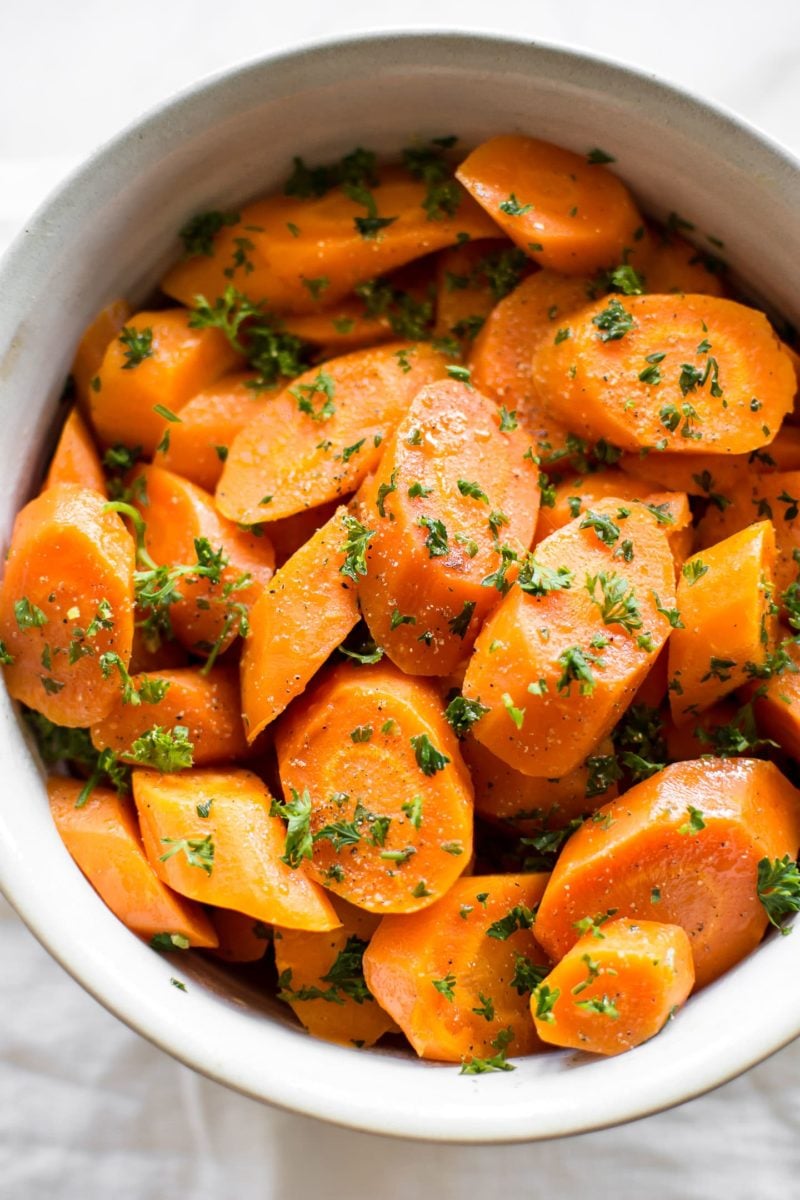 Two Sleevers tells us that traditional Polenta requires some serious stirring. This Instant Pot Polenta side dish recipe is no stir. NO STIRRING!! This is a one-step pressure cooker polenta for a creamy, delicious side dish. 20 minutes total time with 6 easy ingredients! Gluten free and vegetarian - I'm all over this polenta!! Get the recipe here.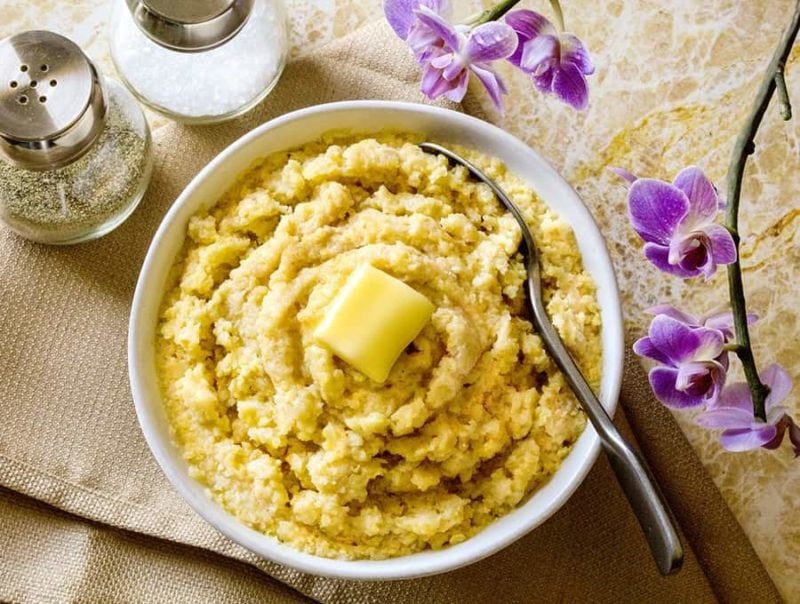 This comfort curry is made using fresh vegetables, chickpeas, warm Indian spices, cashews and coconut milk. Khushboo over at Carve Your Craving tells us that typically this is a vegetables only kind of side dish but she likes to add chickpeas to add protein and make it a complete meal. When you make this in your Instant Pot, there's no need to babysit the curry! And, it's versatile! Not a fan of chickpeas? No problem! You can substitute those chickpeas and use black beans or black eyed peas! 14 minutes total cook time! Can you believe it?! Get the recipe here.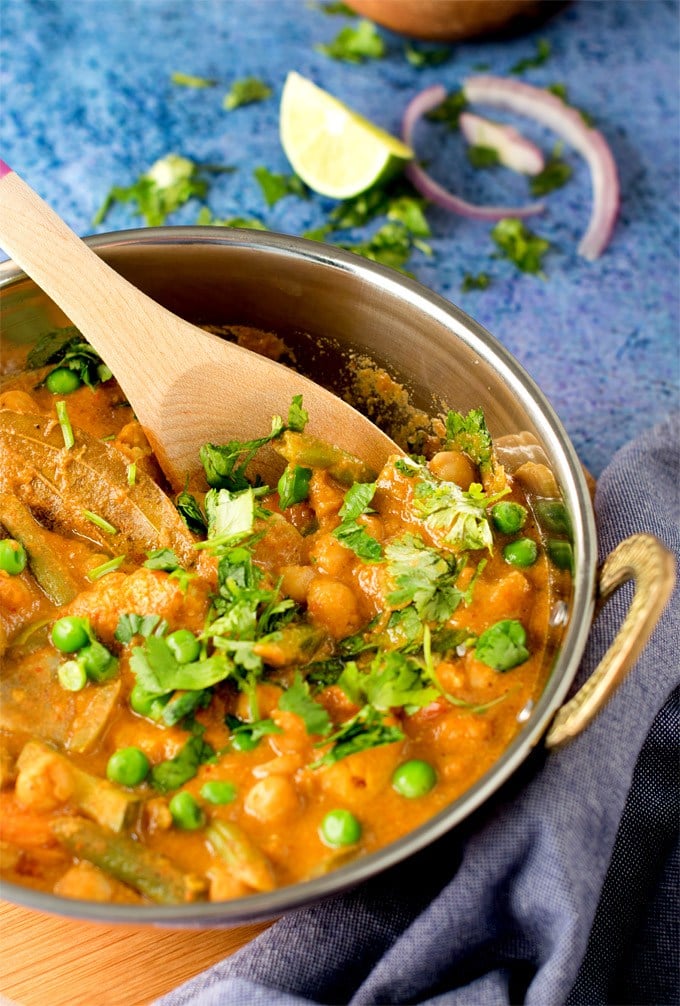 Not your typical boring brussels sprouts recipe here you guys...no way! This one has BACON! Can you guys tell I like bacon...like a lot??!? Julia over at Savory Tooth shares with us her low carb recipe for Instant Pot Brussels Sprouts that is cooked with bacon, apple cider vinegar, and soy sauce. You're going to get a zing in every single bite! Total cook time on this one is 10 minutes. Lots of quick tips provided for this recipe! Check this recipe out here.
What do you think of when you hear these words:
Easy
Quick
No fuss
Hearty
Flavourful
Delicious
When I hear these words, I run fast toward that recipe because guess what? You just made my day 1000 times easier! And that's exactly what you are getting with this recipe from Mel from A Virtual Vegan. This one is a quick, no fuss side dish that can also easily be turned into a mid-week meal! No sticking. No stirring. No boiling over. Just set and forget. Gosh, I love my Instant Pot! Love, Love, LOVE her step-by-step detailed instructions with pictures! 22 minute total cook time. Get the recipe here.
Sally over at Good Dinner Mom is known for this side dish recipe. Traditionally with a risotto recipe, your stir and stir and stir and stir! But not with this Instant Pot version...NOPE! After you make this risotto in the Instant Pot, you'll never again want to make it the traditional way. Comfort food at it's finest! Super detailed step-by-step instructions on this one with a 5 minute cook time! Get the recipe here.
Yes, I know we already talked about an Instant Pot potato salad side dish above but I just HAVE to share this version because you can make this bad boy 3 different ways - with no mayo! Yes! I love versatility!! Jillian over at Simple Sassy Scrumptious breaks it down like this:
The first version uses a Sweet Peppa Sauce, which is a blend of pureed roasted bell pepper and spices.
The second version uses Melange de France, which is a blend of rosemary, mustard and parsley.
The third version is a Wasabi Ginger dressing for an Asian flair.
Is your mouth watering yet? 19 minute cook time! Get the recipe here.
How much eggplant are you eating? Yeah...I'm not eating nearly enough because it can be bear to prep! But not with this recipe! Instant Pot Eats puts it simply for us...Ratatouille is just a dish of stewed vegetables Traditionally, ratatouille is made with tomatoes, zucchini, eggplant, bell peppers, onion, garlic and herbs such as thyme, basil and marjoram. This recipe adds a balsamic vinegar and is gluten-free, vegetarian and vegan, paleo and Whole30 friendly! WOW! 12 minute cook time! Get the recipe here.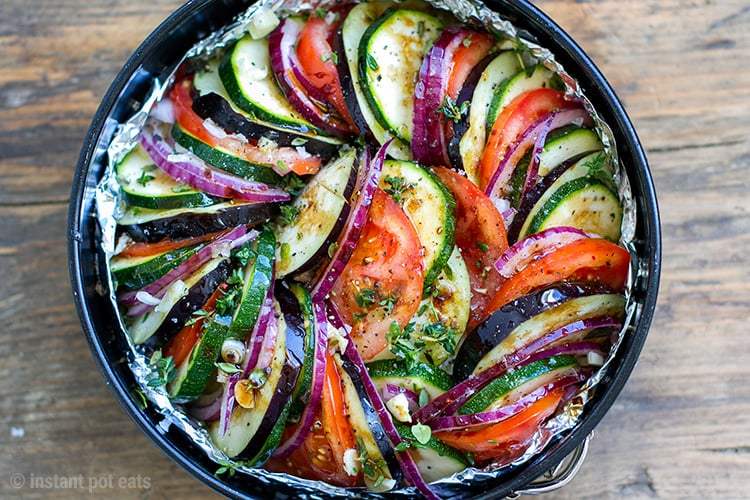 Two Sleevers are at it again with this great mix of poblano peppers, onions, and corn, cooked in the Instant Pot and finished with a little crème fraîche. No longer do you have to stand and char the peppers and then wait for them to steam. You just dump the ingredients and let the Instant Pot do all the cooking. 5 minute cook time! Get the recipe here.
In LOVE! It's a copycat Chipotle Cilantro Lime Rice...except it's made with cauliflower! And it tastes similar to Chipotle's rice!! And it's low carb! Ecstatic over here! Lara Clevenger brings us this super low carb Instant Pot side dish recipe and can you believe it...a 1 minute cook time! Get the recipe here.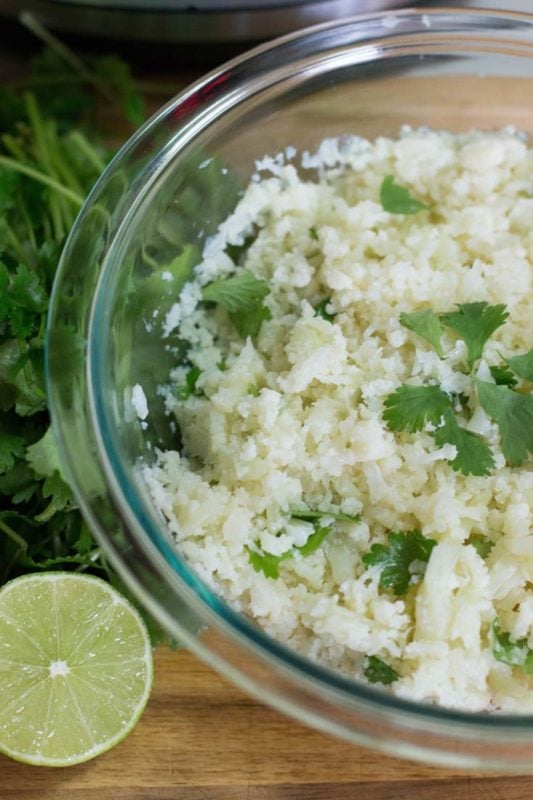 Yes - yogurt is a side dish! My kids eat yogurt with their lunches all the time! But have you ever tried to make your own version of yogurt in the Instant Pot? I love this article because Kelli over at Hungry Hobby gives the pros and cons of making yogurt in the Instant Pot. Get the scoop here.
Fancy restaurant quality mushrooms can be had in less then 15 minutes! These mushrooms make for an awesome topping over steak, grilled chicken, or as a complimentary side dish. Step-by-step instructions from Melanie Cooks. 10 minute cook time! Get the recipe here.
Bring on the authentic!! Punjabi Karhi is a dish originating from India consisting of a thick gravy based with a chickpea flour. It contains vegetable fritters with an added yogurt to provide a little sour taste. This recipe comes from Anvita & Soniya over at The Belly Rules The Mind and you get a step-by-step tutorial video with this one!! 15 minute cook time! Get the recipe here.
I love this Instant Pot side dish not only because it's a perfectly scrumptious side dish to accompany any meal but because I can do so much with it! Danielle from Project Meal Plan tells this recipe has multiple benefits, such as:
Using it to stuff burritos or tacos,
Serve it over some greens for dinner,
Great for meal prep - make some lunch bowls,
Tons of fiber and protein from the quinoa than if you used rice.
Oh...and she gives us a step-by-step video on how to make this Instant Pot side dish! 25 minute cook time! Get the recipe here.
I don't know about you but I'm now SUPER inspired to make some of these yummy Instant Pot Side Dish recipes! Variety at its finest! No more excuses! No more guilty! If you haven't bought an Instant Pot yet, go order one now! I got mine here on Amazon: Instant Pot!
Looking For More Instant Pot Recipe Ideas?
If you're looking for more Instant Pot inspirations, check out some of my featured posts:
So tell me...did you find this blog post and these step-by-step instructions helpful? Let me know via a comment below if you try any of these recipes or any other recipe on the blog! I love hearing from you! You can also sign up for my newsletter and FOLLOW ME on FACEBOOK, TWITTER, INSTAGRAM and PINTEREST to see more delicious food I'm creating!
Note: You will find affiliate links on this page.