You guys are in for a treat today! I've mentioned my aunt Sondra on my site before and I have another recipe from her!  She has been making this recipe since I was a little girl. This recipe has been in my family forever! Every time one of my family members goes home to Tennessee to visit, aunt Sondra ALWAYS sends a batch of her homemade cinnamon rolls to me and Greg. They are so good! I thought she would never let this recipe go, but she said I could publish it in the magazine I write for. YEAH!!!
Ok ya'll, this one is full of gluten. I'm sorry but it's definitely not gluten free and I dont have any desire to try and make a gluten free version. Every time I smell these cinnamon rolls, I think of my childhood and family. I do not want to mess with that memory!
Now, I do consider this recipe to be on more of the advanced side. There is a technique to making these rolls and my followers who bake will understand what I mean by that statement. For best results, you really do need a standing electric mixer. I always use a KitchenAid. That makes me think…I remember my aunt stirring and stirring and mixing and mixing – forever! How in the world did she get the bread flour to be perfect without a KitchenAid!!?? I love my kitchen tools! Oh – by the way, you need about 3 to 4 8 to 9 inch round cake pans to bake these rolls. With this recipe, you need to let the dough rise and there are a couple of tricks I'll share with you for getting the best results down in the directions. Have patience when baking…it makes a world of difference. By the way, this recipe makes about 28 to 30 large cinnamon rolls. Please make sure you read this recipe in it's entirety before starting this recipe. There are a lot of steps and I wrote it in a way for you to pick up on the technique you need to use. I also included a lot of pictures!
If you want a taste of southern yumminess, this is your recipe. I'm going to make my aunt Sondra's name famous with these cinnamon rolls, hence the name on this post! Give credit where credit is due! Love you, aunt Sondra!
Ingredients
3 packets (or 2 Tablespoons bulk) yeast in 1 cup warm water
1 cup warm water
1/2 cup sugar
1 1/2 teaspoons salt
3/4 cup Crisco shortening
1 cup boiling water
2 eggs
6 cups bread flour (I only use Gold Medal Bread Flour)
3/4 cups dark brown sugar (packed)
1 Tablespoon ground cinnamon
4 Tablespoons of butter (for greasing your pans)
Ingredients for Glaze
2 cups powdered sugar
1 teaspoon vanilla
Milk (only enough for consistency)
Directions
Start out by taking 1 cup of water and putting it in a little saucepan on your stove. I turn the burner to low…just to get the water warm. You don't want your water hot. I stick my finger in it to make sure it's not too hot. Once your water is warm, you will need to take all 3 of your yeast packets and dissolve them in the warm water. Turn your burner off at this point. Lightly whisk until the yeast is dissolved and the clumps are gone. Set aside.
In your electric mixer bowl, make sure your dough hook is attached. Mix together 1/2 cup of sugar, 1 1/2 teaspoons of salt and 3/4 cups of Crisco shortening. Do not melt or soften your shortening. You want it firm at this point.
You will now need to take 1 more cup of water and bring it to a boil. The water needs to boil in a different saucepan than the one your yeast is in.
Take the cup of boiling water and pour it into the electric mixing bowl. Mix on medium speed until slightly cooled. Notice, your shortening is starting to melt (that's a good thing).
Once the mixture has been slightly cooled, mix in 2 eggs. Let that mix for about 1 to 2 minutes on medium speed.
You are now ready to mix in your 3 cups of flour. You need to do this 1 cup at a time and do it slowly. It took about a minute for me to mix in the first cup, then I would let the mixer mix it up for another minute. I'd then add in the other cup of flour slowly. Let the mixer take it's time and mix it together nice and slow. Finally I added in the 3rd cup…again adding the flour slowly and letting the mixer work the dough.
Once that has started to mix, slowly add your yeast that has dissolved in the water.
With the dough hook attachment on mixer speed setting, gradually mix in 3 more cups of flour. NOTE: You may not need all 3 cups of flour. What you are looking for here is for the dough to form a ball around your hook and pull away from the sides and the bottom of the mixer. What I typically do is slowly add in 1 cup of flour at a time, very slowly. I typically get to about 2 1/2 to 2 3/4 cups of flour before my dough is pulling away nicely. But you will have to eyeball this part.
While that is mixing, and it takes some time, you need to prepare an area on your counter/or long board where you can flour the surface.
When the dough has pulled away, you will need to turn the dough out onto the lightly floured board/counter. Take your time here and do this slowly. I always keep my dough in a ball when transporting it off the hook to my counter.
Knead in additional flour until no longer tacky.
Place your ball of dough in a large greased bowl, cover with a cloth and place in a warm (NOT HOT) place until the dough doubles in bulk. TIP: I always place my bowl on my stove since it's still warm from boiling the water. Make sure your bowl wont melt.
On a lightly floured counter top/board, roll (with a rolling pin) into a large rectangle…approx 12×18 inches.
Melt about 4 Tablespoons of butter in a bowl, and then lightly glaze the top of your dough with the butter.
In a separate bowl, mix together 3/4 cups of the packed brown sugar and 1 Tablespoon of cinnamon until well mixed.
Sprinkle the brown sugar mixture evenly on top of the dough where you just brushed your butter. Dont spread it out perfectly even, just sprinkle it evenly onto the dough.
Roll up your dough, like a jelly roll, and pinch the ends together.
Cut 18″ dough roll into 14 or 15 equal slices, approx. 1 1/4 " wide.
Get out 3 to 4 8 or 9 inch metal cake pans and heavily butter the bottoms and the sides. You do not want your rolls to stick to the pans.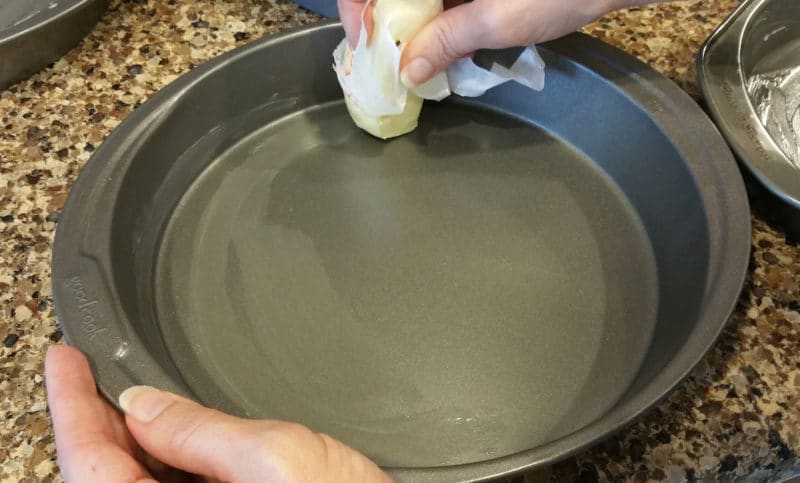 Place your roll slices in the buttered baking pans. You can fit about 7 rolls per pan.
Place the cake pans in a warm area and allow to rise a bit more until they have doubled in size.
Preheat the over to 350 degrees and bake the rolls about 10 to 15 minutes, checking after 10 minutes. Bake until the tops are golden brown. You do not want your sides to gett too much of a dark brown color.
When your rolls are done, pull them out of the oven and place the pans on top of the stove so the rolls will stay warm.
Go ahead and start making your glaze by mixing with a whisk:  2 cups of powdered sugar, 1 teaspoon vanilla and enough milk for consistency to drizzle in a pan on the stove over medium heat.
Once your glaze has a nice consistency, you are ready to pour the mixture over your cinnamon rolls.
Drizzle over the rolls and allow to cool before covering with plastic wraps. When your glaze has started to turn a creamy white, they are ready to eat.
Pin these Cinnamon Rolls to your favorite BREAKFAST, BREAD and HOLIDAY Board on PINTEREST!