Cooked in a spicy, flavorful ranchero sauce, this baked chorizo-butternut squash chile relleno recipe offers a fun fall twist on one of my favorite Tex-Mex dishes.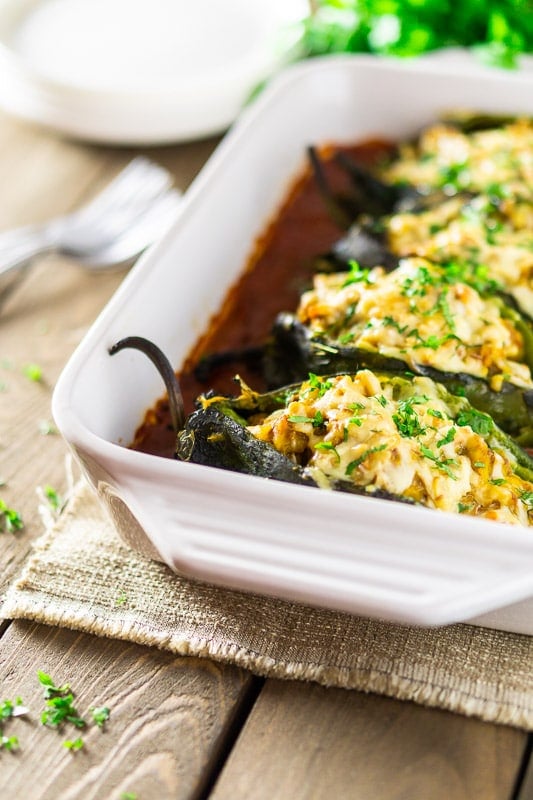 Growing up in Houston, Tex-Mex has always been a staple of my diet. I haven't met a Tex-Mex dish I didn't like, and chile rellenos are no exception. Melted cheesy goodness served in a chile pepper? Sign me up!
At the same time, I love cooking seasonally, and I can't get enough butternut squash in my life right now. I'm a huge fan of the spicy and sweet combination, so I figured bringing the two together would make for one DELICIOUS idea.
What Are Chile Rellenos?
Traditionally, chile rellenos are roasted poblano peppers stuffed with cheese and meat, dipped in an egg batter and bread crumbs, and then fried. After frying, chile rellenos are served in a spicy sauce to make that delicious stuffed pepper even better.
The type of sauce varies, but a tomato-based ranchero sauce is a popular option in Texas while Colorado, where I live now, seems to favor a pork green chile. Both sauces are delicious with chile rellenos, but for this recipe, I went back to my roots and paired it with a ranchero sauce.
Although chile rellenos are typically fried, you can also bake them, which is what I did in this recipe. Don't get me wrong. I love the crispy fried version, but chile rellenos are so flavorful without frying that I thought I'd keep it simple.
Plus, baked chile rellenos are a little healthier. With the holidays here, I could use a meal that's still delicious but friendlier to my skinny jeans. Sure, these chile rellenos may have chorizo and plenty of cheese, but, hey, we save where we can, right?
Ingredients You'll Need To Make Baked Chorizo-Butternut Squash Chile Rellenos
Let's start by gathering our ingredients. To make this baked chorizo-butternut squash chile relleno recipe, here's everything you'll need.
Poblano or pasilla peppers

Butternut squash

Canola oil for roasting
Chorizo
Smoked cheddar cheese
For the ranchero sauce, you'll need the following.
Tomato sauce
Tomato paste
Chicken stock or broth
Onion
Garlic
Jalapeno
Cumin
Chili powder
Oregano
Cilantro
How to Make Baked Chorizo-Butternut Squash Chile Rellenos Step-By-Step
Step 1
I like to start by rubbing the peppers with a little canola oil and roasting a few inches under the broiler until the skin blisters and turns black. Of course, the broiler gets extremely hot, so you want to keep a close eye on the peppers. After one side blisters, turn to another side and keep roasting until all sides are equally charred.
Step 2
Now we toss the peppers into a plastic bag and seal.  After about 10 minutes or so, we remove the skin from the peppers. A few pieces of skin may stick here and there, and that's fine. We don't have to be perfectionists here.
Step 3
As our chiles sweat it out, it's time to start on our roasted butternut squash. With a sharp knife, we cut the butternut squash into halves and scoop out the seeds with a spoon. Now we brush the squash halves with oil, place in a water-filled pan and roast until it's tender enough to puree.
Step 4
While the butternut squash roasts, I like to multitask by browning the chorizo and cooking the ranchero sauce. This may sound like a lot, but making the ranchero sauce is as easy as cooking onion, jalapeno and garlic and then stirring in tomato sauce, tomato paste, chicken stock, the spices and cilantro.
Step 5
Once the butternut squash is ready, we scoop it into a food processor to puree. I like to puree the butternut squash until it's velvety smooth, but if you want to leave some butternut squash chunks, that's fine too.
Step 6
Now we're ready to mix the chorizo and butternut squash puree together and stuff it into the roasted peppers. And let's not forget to top these stuffed peppers with plenty of cheese. That's the best part, right?
Step 7
Stuffed and topped, these tasty chile rellenos are ready to go into the oven for about 20 minutes until the cheese is nice and bubbly. If you're inclined, finish with a little extra chopped cilantro for good measure and dig in.
Tips For Making The Best Chorizo-Butternut Squash Chile Rellenos
When you toss the peppers into a plastic bag and seal, it allows the peppers to sweat, which makes it much easier to remove the skin.
Butternut squash is a tough vegetable, so don't be afraid to use a little muscle!
If you're feeling a little lazy, you can roast frozen or pre-cut butternut squash. We've all had those days, and the smaller pieces require less cooking time. You can also roast the butternut squash ahead of time and store it for a couple days in the refrigerator if that's easier.
Looking for More Recipes?
If you're in need of more recipe inspiration, here are a few dishes I can't get enough of right now.
Did you find this blog post and step-by-step instructions helpful? I hope you love this Baked Chorizo-Butternut Squash Chile Rellenos recipe as much as I do. If you try it, you're welcome to leave a comment and rating below. I love hearing from you! You can also sign up for my newsletter on my website here and FOLLOW ME on FACEBOOK, TWITTER, INSTAGRAM and PINTEREST to see more delicious food I'm creating!
Baked Chorizo-Butternut Squash Chile Rellenos
Baked in a spicy, flavorful ranchero sauce, this roasted chorizo-butternut squash chile relleno recipe offers a fun fall twist on this Tex-Mex dish.
Print
Pin
Rate
Ingredients
For Chile Rellenos
4

poblano or pasilla chile peppers

1

butternut squash

halved, seeds removed

Salt and pepper

Water

1

pound

chorizo

1

cup

smoked cheddar cheese

Fresh cilantro

optional, chopped, for garnish
Instructions
Rub the poblano or pasilla chile peppers with canola oil. Place on a broiler-safe pan and roast under the broiler until the skin blisters and turns black. Carefully turn on all sides so that the peppers are completely roasted. Seal in a plastic bag and let the peppers sweat for 10 to 15 minutes.

As the peppers sweat, heat oven to 425 degrees and rub the butternut squash halves with canola oil and salt and pepper. Place in a baking pan with about an inch of water. Roast until the squash is soft enough to puree. Depending on the size of the squash, this should take about 45 to 60 minutes. Once cool enough to handle, scoop out the roasted squash and puree to your desired consistency.

While the squash roasts, brown the chorizo in a large nonstick skillet over medium heat until cooked through. Use a wooden spoon to break up the chorizo as it cooks. Drain on a paper towel-lined plate.

For the ranchero sauce, which you can also make as the squash roasts, heat oil in a large nonstick skillet over medium heat. Add chopped onion and jalapeno and cook for about four minutes. Stir occasionally. Toss in garlic and cook for 30 seconds, stirring constantly. Stir in tomato sauce, chicken stock, tomato paste and spices. Cook for about 15 minutes and stir occasionally. Turn off heat. Add salt to taste and stir in fresh cilantro.

Heat oven to 375 degrees. Pour the ranchero sauce into a 9-inch-by-13-inch baking pan. Evenly mix together the butternut squash puree and chorizo in a bowl. Make a slit in one side of the chile pepper and stuff with the butternut squash-chorizo mixture. Place in the pan with the ranchero sauce and top with cheese. Bake for 20 minutes until the cheese is bubbly. Top with additional fresh cilantro if desired.
Notes
This recipe can be made ahead and stored in the refrigerator. Remove from the refrigerator about 30 minutes to an hour before baking to prevent the pan from cracking. 
You can also take care of any or all steps ahead of time and store in the refrigerator for quicker assembly. 
Nutrition
Calories:
780
kcal
|
Carbohydrates:
32
g
|
Protein:
37
g
|
Fat:
56
g
|
Saturated Fat:
22
g
|
Cholesterol:
129
mg
|
Sodium:
1991
mg
|
Potassium:
1283
mg
|
Fiber:
6
g
|
Sugar:
7
g
|
Vitamin A:
20460
IU
|
Vitamin C:
56.1
mg
|
Calcium:
328
mg
|
Iron:
4.1
mg
NOTE: You will find affiliate links on this page.