You certainly won't miss the crust while eating this bad boy of a quiche. The soft texture, that cheesy flavour...oh and on top of that....it's easy to make!!
The ingredients that are packed in this crustless quiche make it taste like a flavour bomb going off in your mouth!
This got me super pumped because when I make a vegan recipe, a vegetarian recipe, a healthy recipe or in this case...a gluten-free recipe, I don't want the emphasis to be geared toward the fact that it's just a gluten-free recipe. I would much rather you make this purely because it looks good if you catch my drift. So let's go through some of the things that make this quiche amazing! Here's the video to see the entire process and then, I break things down below.
Ingredients
Here's the ingredients I used in this mouthwatering and delicious Cheesy Asparagus and Tomato Crustless Quiche:
spinach
cheddar cheese
Parmesan cheese
sun-dried tomatoes
asparagus
butter
onion
garlic
cream
eggs
salt
pepper
Adding Whipped Cream
Queue the cream, please! Whipping the cream into soft peaks and folding it through the egg makes your mixture really thick, light and fluffy which allows the asparagus to sit nicely on top.
Expert tip - did you know there are different stages of whipped cream? You've got soft peaks, medium peaks and stiff peaks. The stiffer the peaks, the better the cream will hold its shape.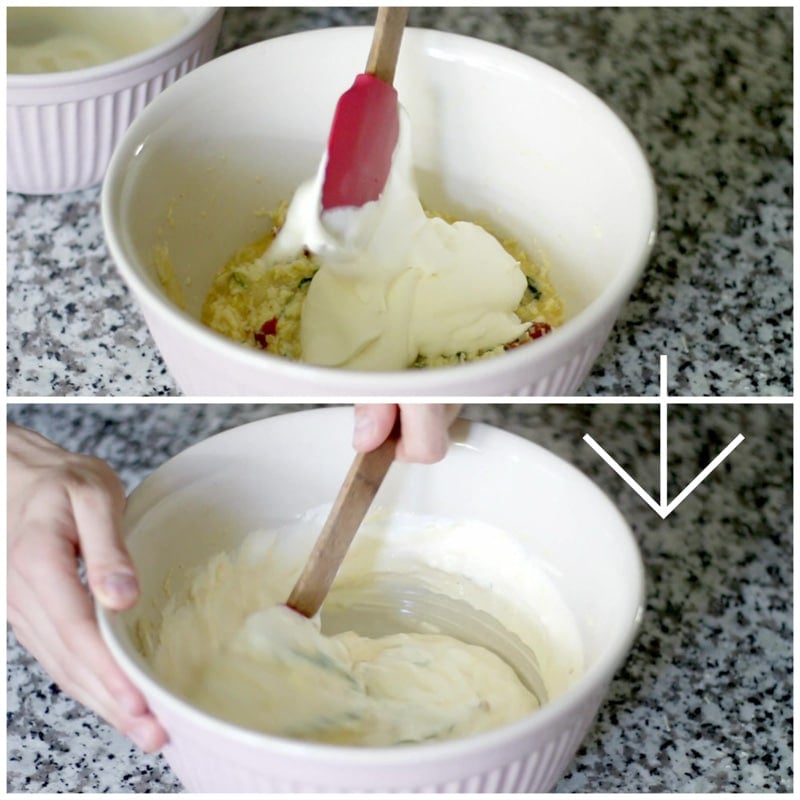 Now, it doesn't really matter if you accidentally whip the cream to stiff peaks instead of soft peaks, the quiche will still be great. However; if you are someone who hasn't whipped cream very often, you should definitely focus on making sure you don't overwhip the cream. That's when the cream curdles up and turns into butter, and that will not give the light fluffy result we are looking for.
Take a look at what I mean. I show the difference between whipped cream and over-whipped cream in this Salted Caramel and Baileys No-Churn Ice-Cream post, so feel free to check it out. This recipe is also gluten-free!
Greasing the Pie Dish
I actually greased my pie dish really well and it still was hard to remove from the dish. But I don't want you guys and gals stressing out over trying to remove a quiche that's stuck in the dish. Here's the steps I originally took below and a way to get around a stuck cooked quiche in the dish:
I greased my pie dish with lots of butter.
After I combined the quiche ingredients, I poured them into the buttered pie dish.
Then I placed the asparagus on top before I cooked it.
And even after all that greasing, removing the quiche was a bit of a fiddly process.
Of course, you don't have to remove the quiche, but if you really want to, I recommend that you line your pie dish with baking paper, then spray that baking paper with cooking spray. That way, you'll be 100% certain that the quiche won't stick.
Cutting the Quiche
Whether you decide to remove the quiche from the pie dish or not, I recommend cutting the quiche with a serrated knife. It's SUPER helpful! There is no base to this quiche. And the asparagus is going to be laying on top so that makes the structure of the quiche a little more delicate...so using a serrated knife really helps to get those clean cuts. Be gentle and use the length of your knife when you cut your portions.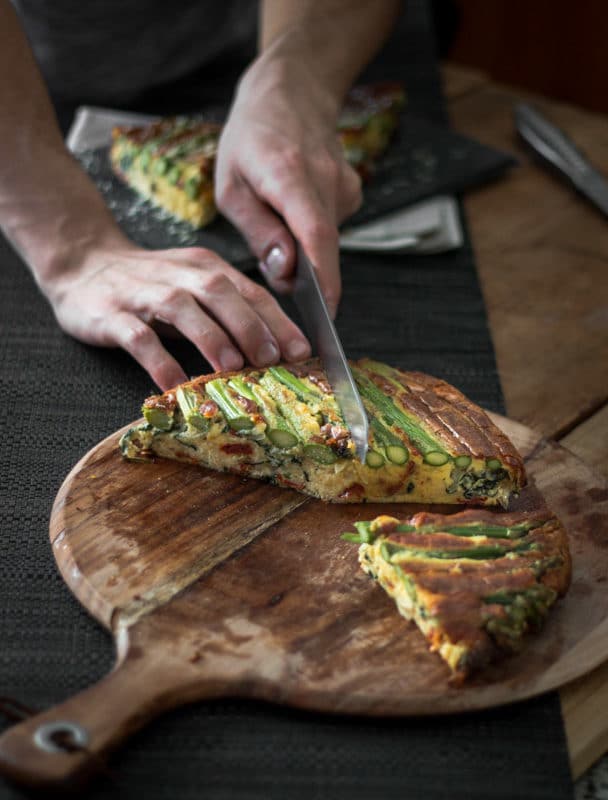 Also, cutting the quiche once it's cooled down will also help prevent you from ruining how beautiful this quiche looks. The colder the quiche is, the more firm it will be. From there, you can reheat the quiche once you've portioned it.
Add Plenty of Cheese
Like most quiches, this one has a lot of egg and cream. And these are two very enriching ingredients that give this quiche a wonderful texture. However, they are two ingredients that have a very light, subtle flavour, so they need help. And salt and pepper alone will not do the job.
This is where the cheese comes in. As you read through the ingredients of this recipe, you may think to yourself "wow, that is a lot of cheese", but trust me, you need it. Both the cheddar and Parmesan cheese give an amazing body of flavour to the egg mixture. You may use a sharper parmesan or cheddar, but be careful because if you use an extra sharp cheddar and extra sharp parmesan, you can end up overpowering the flavour of the quiche.
How Long does this Quiche Keep?
This quiche makes for great leftovers and it should keep in the fridge for up to 3-4 days. You can keep it in the fridge for dinner the next day, or you can portion it up and take it to work for lunch.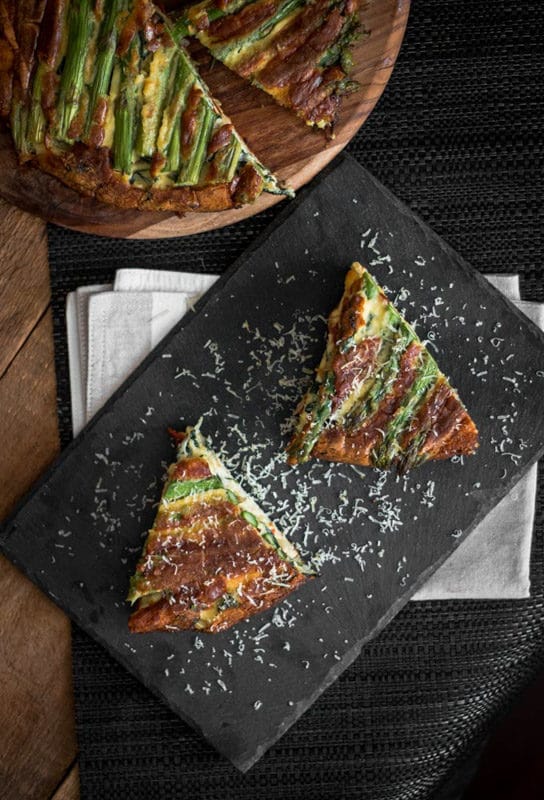 Do you love egg recipes? Do you want more really good egg recipes? Then you'll want to check out my French Toast with Scrambled Eggs Breakfast post. If you're gluten-free, just be sure to replace the bread I used with gluten-free bread.
Thank you so much for taking the time to read through this post. And thank you, Amanda, for giving me the opportunity to post on your blog. It really means a lot. I really hope you enjoy the recipe.
Did you find this blog post and these step-by-step instructions helpful? If you've tried my Easy Crustless Asparagus Quiche then don't forget to rate the recipe and let me know how it turned out in the comments below! Oh - and watch the video!! Step-by-step instructions!! You can also sign up for my newsletter on my website here and FOLLOW ME on FACEBOOK and PINTEREST to see more delicious food I'm creating!
Easy Crustless Asparagus Quiche
Creamy, delicious, soft, cheesy....everything your gluten-free heart desires in a crustless quiche. You don't want to skip this recipe.
Print
Pin
Rate
Ingredients
3

cups

Spinach

1

Tablespoon

Butter,

plus extra for greasing

1

Onion,

peeled and sliced

2

cloves

Garlic,

peeled and finely chopped

1

cup

Cream

5

Eggs

Pinch of salt

Generous pinch black pepper

1½

cups

Cheddar cheese,

grated

1

cup

Freshly grated Parmesan cheese

1

cup

Sun Dried Tomatoes

12

Stalks of Asparagus,

woody ends snapped off
Instructions
Preheat your oven to 180 degrees C (350 degrees F).

Preheat a frying pan over medium-high heat, then add your spinach. Once the spinach has wilted, transfer it onto kitchen paper (paper towel) and set aside.

Wipe the inside of the pan with paper towel, or just clean it and get it back on the stove. Pre-heat the pan again over medium heat, then add your butter. Once the butter has melted and is bubbling, add your onions and saute them for about 2 minutes.

Add your garlic and saute for another minute. Grab your spinach, squeeze as much excess liquid out as you can, then roughly chop it up on a chopping board. Finally, add your spinach and stir it through the buttery onions and garlic. Turn the heat off and set aside.

Put your heavy whipping cream in a large bowl, then use a whisk or an electric beater to beat the cream until soft peaks (thick enough to barely hold it's shape). Put in the fridge until you're ready to use it.

Use your extra butter to grease the inside of your pie dish. If you want to remove the quiche at the end, I recommend lining the pie dish with baking paper (parchment paper) and then greasing that paper with more butter, or by using cooking spray or by brushing on some olive oil.

Crack your eggs into a large mixing bowl then whisk until all the egg is well beaten.

Add a small pinch of salt, a generous pinch of black pepper, your cheddar cheese, your Parmesan cheese, your sun dried tomatoes and your spinach, onion and garlic mixture. Stir everything together until well combined.

Get your bowl of heavy whipped cream, then add it to your egg mixture. Then, slowly fold the whipped cream through the egg until you have a light, well combined mixture.

Transfer your quiche mix to the greased/lined pie dish. Neatly place your asparagus on top and then bake in the oven for 35-40 minutes.

To test if the quiche is fully cooked, stick a skewer or a toothpick in the quiche and leave for 2 seconds. If the skewer or toothpick comes out clean, the quiche is ready to serve.
Notes
Be careful not to overwhip your cream.
Grease your pie dish well, or if you want to be 100% certain that the quiche won't stick, line the pie dish with baking paper and then grease the paper.
Cut the quiche with a sharp serrated knife. Use the length of your knife to cut so you get clean portions.
Don't be shy with the cheese.
This quiche should last in the fridge for about 3-4 days.
Nutrition
Calories:
250
kcal
|
Carbohydrates:
9.4
g
|
Protein:
15
g
|
Fat:
17.8
g
|
Saturated Fat:
8.9
g
|
Cholesterol:
190
mg
|
Potassium:
564
mg
|
Fiber:
2.9
g
|
Sugar:
2.3
g
|
Calcium:
220
mg
|
Iron:
3.1
mg
NOTE: You will find affiliate links on this page.