It's back to school time! Well, we've been back to school for 5 weeks now but for a lot of schools they will be going back after the Labor Day weekend. My kids love to pack a lunch and take it to school, but they get so bored with my typical "turkey and cheese" sandwich. So…I decided to get creative and put some different lunch ideas together!
There are so many options for making kid lunches! I've broken it down into 4 sections to make this easier for us.
Protein (pick 1-2)
Fruit & Vegetables (pick 1)
Snacks & Treats (pick 1)
Drinks (pick 1)
Here are some options for each category.
Protein
Turkey & Cheese (on crackers, bread or wrap)
Peanut Butter & Jelly (on crackers, bread or wrap)
Mini Bagel Pizza
Hard Boiled Egg
Soup
Chicken Nuggets
Chicken Strips
Hot Dog
Cheese and Meat Soft Taco (hamburger meat or chicken)
Greek Yogurt & Granola
Fruits & Vegetables
Cucumbers, Broccoli, Carrots, Cauliflower
Salad
Edamame
Cherry Tomatoes
Strawberries & Grapes
Blueberries & Raspberries
Cherries
Pineapple
Cutie Oranges
Raisins
Applesauce
Snacks & Treats
Cheese Sticks/Cheese Shapes
Dry Cereal
Mixed Nuts with Fruit
Fruit Roll Up
Rice Cakes
Popcorn
Goldfish
Yogurt
Marshmallows
Granola Bar
Drinks
Milk
100% Juice Box
Capri Sun
Water
Lunch Packing Ideas – Let's Put it Together!
Idea 1 – Homemade Lunchables
There are so many cute little containers out there to help organize your lunch boxes. Cupcake holders, as well as decorated cardboard boxes give your kid's lunches a pop of color and it helps brighten up their day! My daughter came home and told me, "Mom, my lunch was so cute today! I loved the little polka dot containers!" It's the small things in life, right?!?!
Oh, and don't forget about your cute little cookie cutters! I like to make my own version of lunchables. My kids always begged me to buy the packaged lunchables but I felt I could make a healthier version! I didn't have a small and cute cookie cutter, so I pulled out a shot glass and cut the turkey and cheese in to small circles and attached them with toothpicks. Because my daughter is Gluten Free, I pulled out my box of Van's "The Perfect 10" baked crackers. It makes the PERFECT homemade lunchable and it's healthy!
Idea 2 – Peanut Butter & Jelly Sandwich
Another really great option is a simple peanut butter and jelly sandwich. But, it becomes fun when you cut the sandwich in fun shapes! I did a circle here, but grab your star or triangle cookie cutters and have fun with this! Add a couple of fun sides and you are good to go! And be careful…they will sneak in and take a bite before it's even time to go to school!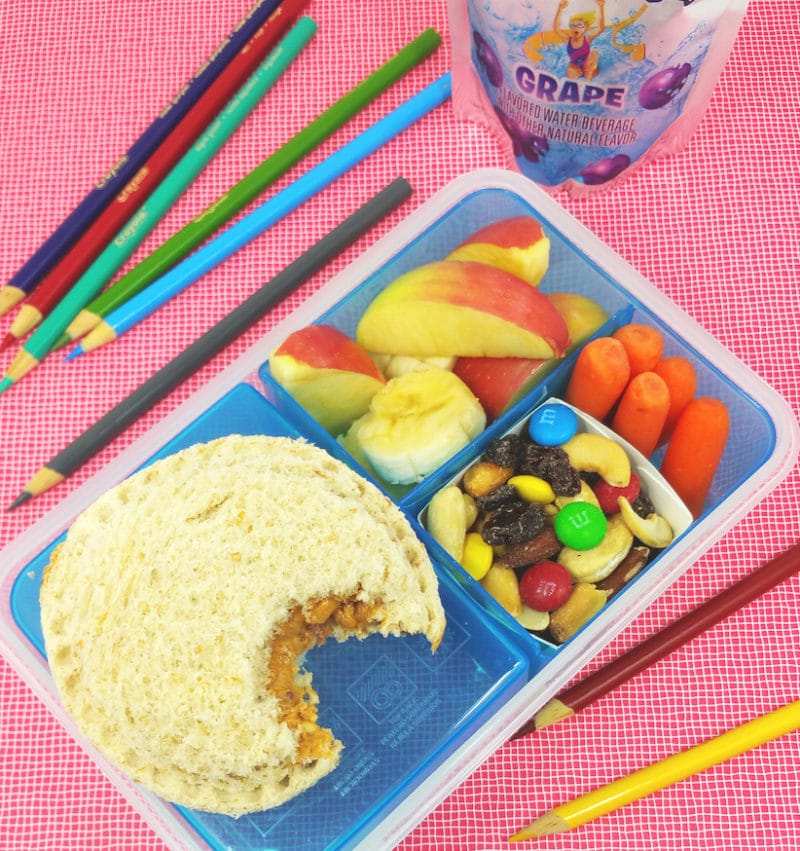 Idea 3 – Peanut Butter and Banana Roll Up
My son loves peanut butter and bananas, so I decided to wrap it a tortilla to make it fun! We paired this with a fun little salad and some fresh fruit. He could not wait for lunchtime!
Our kids are only young for so long, so I like to have fun with their lunches while I can. Slip a little note in their lunch box or a small little treat, and it will really help make their day extra special!
Happy Eats!