This is by far one of my favorite dessert recipes. My dad has been making this ever since I was a little girl and I still love it today! We always called this one, "Banana Flip Dip" but my dad recently told me it's a Hawaiian dessert so we have started calling it "Hawaiian Banana Flip Dip! I have no idea where he got this recipe. He probably came up with it on his own, since that's what he tends to do!This one can be made gluten free ONLY if you use gluten free graham crackers.If you are making this dish, be aware that it must chill for at least 6 hours for all the ingredients to set and become firm. It will be runny and not taste great if it doesn't sit. I always let mine sit and chill in the refrigerator overnight.This one is a GREAT summer dish! Nice and cool and refreshing! You can decorate this dish however you want. I put fresh mint leaves from the garden on this one, but you could very easily make this one look like an American Flag for a 4th of July Celebration. All you would need to do is add blueberries and strawberries!Enjoy!
Ingredients
2 cups of graham cracker crumbs (if you are gluten free, use a gluten free graham cracker)
2 sticks of butter, softened to liquid
2 cups powdered sugar
2 egg whites
2 cans crushed pineapple (drained)
6 bananas
1 medium container of Cool Whip
1 small package pecan chips
Garnish with maraschino cherries
Directions
Mix 1 stick of butter and graham cracker crumbs together.
Pour into a 9×13 pyrex dish, spread evenly and compact firmly to form the bottom layer.
Next, mix the powdered sugar, egg whites, and 1 stick of butter together.
Mix on high speed for 10 minutes.
Pour mixture evenly on top of crust.
Slice bananas by 1/4″ slices.
Place slices on top of mixture close together so they cover the entire dessert.
Spread pineapple evenly on top of bananas.
Top with cool whip and sprinkle pecan pieces on top of cool whip.
Put 6 Maraschino cherries op top.
Chill for at least 6 hours before serving.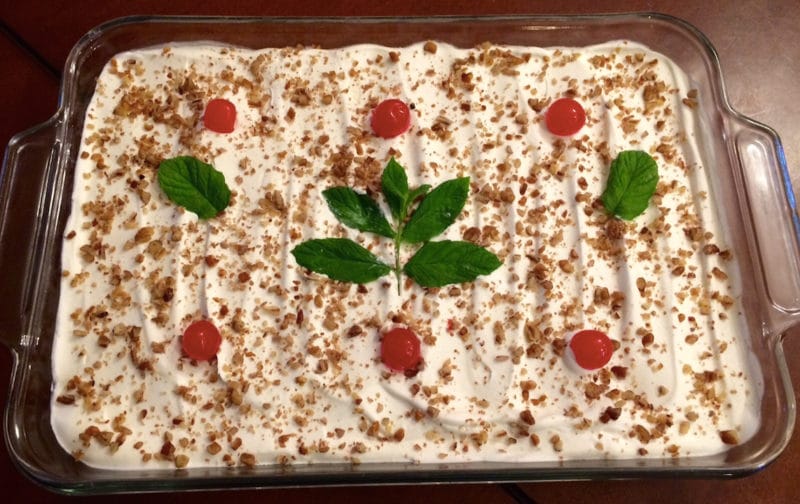 Recipe source: Bobby Peach