These No-Bake Quinoa Protein Bites are the perfect snack! It takes no time at all to throw together the ingredients and roll them into balls. Once they're frozen, they are ready to eat! Super healthy and full of taste, these protein bites are perfect for that quick burst of energy you need in your day! And they are ridiculously tasty!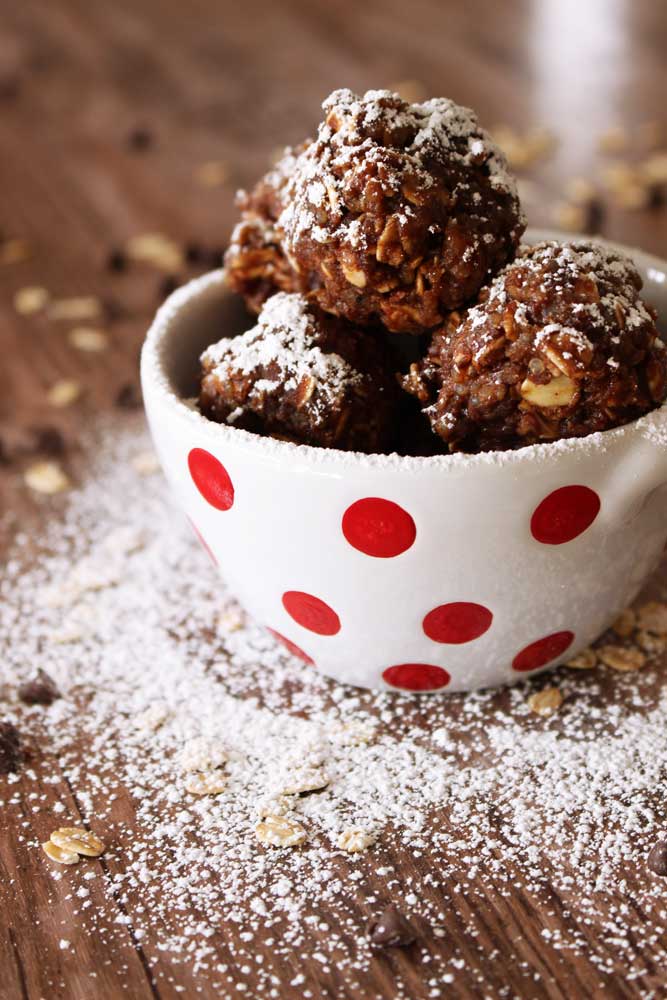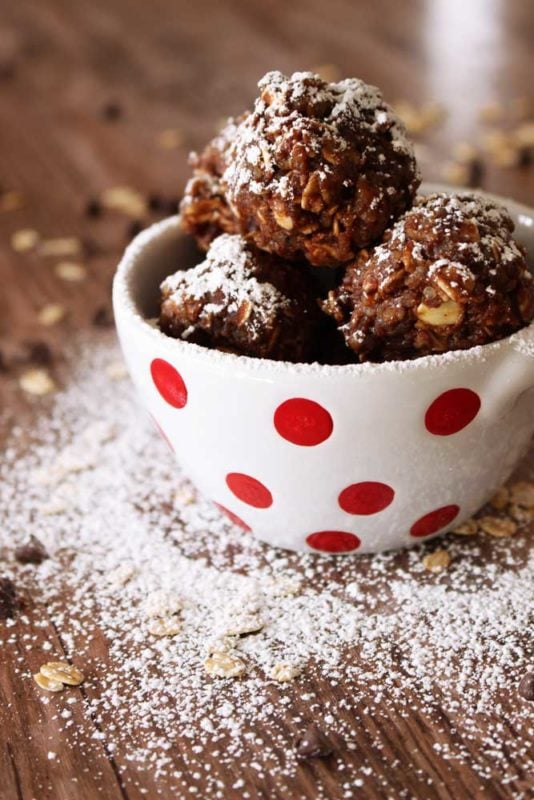 You have no idea how excited I am to post this recipe! There's 2 reasons why I'm so excited…one is because these Quinoa Protein Bites taste so amazing…oh my goodness I could eat 15 of these little balls in one sitting! The other reason I'm excited to post this recipe is because it's my first food video! Ya'll…I still can't believe I did it! You've all seen the cute little food videos on YouTube and on other social media channels so you know what I'm talking about here. For the past year, I've wanted to make my own food videos to my own recipes but I was terrified to do it! It takes a lot to really nail food photography and I feel my photography is pretty much there…but that took about a year to accomplish. Introducing one more thing into my already busy life really stressed me out. How in the world was I going to make food videos happen?!?
I did a lot of reading of articles and reaching out to other food bloggers to ask about their experience with food video. I even priced it out to see how much some of my food blogger friends would charge me for them to do my food videos. I was seriously stressing out about it because I've wanted to add  food videos so badly to my site!
About a month ago, I finally said to myself, "You know what….you're going to learn how to do food videos. So just go do it." I mean…outside of food blogging, I'm an analyst so that's kinda what I do. People pay me to figure stuff out for computer software and I do it everyday…so why am I freaking out about learning how to make food videos?
So I took a leap of faith and I did what I do best (outside of cooking)…I started researching. I reached out to my cousin who is a film editor and told her what I was trying to do and told her I had no idea where to start. She was kind enough to write me out detailed scenes for this Quinoa Protein Bites recipe video…SCENES I tell you! I would have never thought to pre-write my scenes before filming! Thank God for her expertise! So thankful…let me tell you. So there…I had step one covered…
The rest just kinda fell into my lap. Tyler, who is a really good friend of mine and who created this Brussels Sprout Salad , showed me a new independent film he and his team has been working on and it just hit me….Tyler knows how to do videos! After talking to him, he uses the same software to edit his films that my cousin recommended I use. So I approach Tyler and said, "If I promise to make you a really yummy recipe of his choice, would he consider helping me learn how to not only film the recipe but also edit it?" Because he's such a fantastic friend, he said yes. .Here it is ya'll…take a look and tell me what you think!!!
Is my first food video perfect, no. But I'm super proud of how this food video turned out!  I can tell you that filming was the hardest part. You wouldn't think simple things like hand placement and moving a bowl from one spot to another would be so difficult, but it really is. As for the editing…I was scared to death of using Adobe Premiere at first. I didn't want to do it. I ask Tyler if I could pay him to edit all my future videos and he kept telling me, "Amanda, it's easy and I promise you will get it on the first try." I didn't believe him. But, in true Tyler fashion, he was right and I was wrong. So yippee to my first food video and a super yippee to Tyler and my cousin who took the time to help me! Ok…now onto this ridiculously easy and fantastic tasting recipe.
Do you guys remember me talking about my friend Lindsay in some of my previous posts? I have several friends who send me recipes to try and every single one of the recipes Lindsay sends over is fantastic! She sent me the Feta and Sun-Dried Tomato Turkey Meatloaf recipe, the Turkey Tots (I need to make those again here soon) and the Italian Marinara with Meatballs recipe. So Lindsay knows good food! Lindsay and I are both on a kick to eat clean so she sent me over this recipe for the Quinoa Protein Bites and I fell in love with them. I've altered her recipe slightly. Because I'm all about eating food with protein, I've added in a scoop of vanilla protein powder and let me tell you these little bites are so good and quite addicting! My 7 year old who is the pickiest eater in the world loves these bites! I'm on my 7th batch in 4 weeks. He asks me to make these for him all the time and I do because they are healthy. YES! You heard me…healthy!
These Quinoa Protein Bites have 10 ingredients: cooked quinoa, oats, maple syrup, ground flax seed, peanut butter, vanilla extract, ground cinnamon, salt and mini chocolate chips. So when my son asks if he can grab a couple out of the freezer, I always say yes because these are naturally gluten free, he's getting nutrition in every bite and he's getting some protein! Oh…and the best part about these is that they are no-bake! You cook your quinoa and throw the other ingredients into a bowl, roll them into balls and freeze!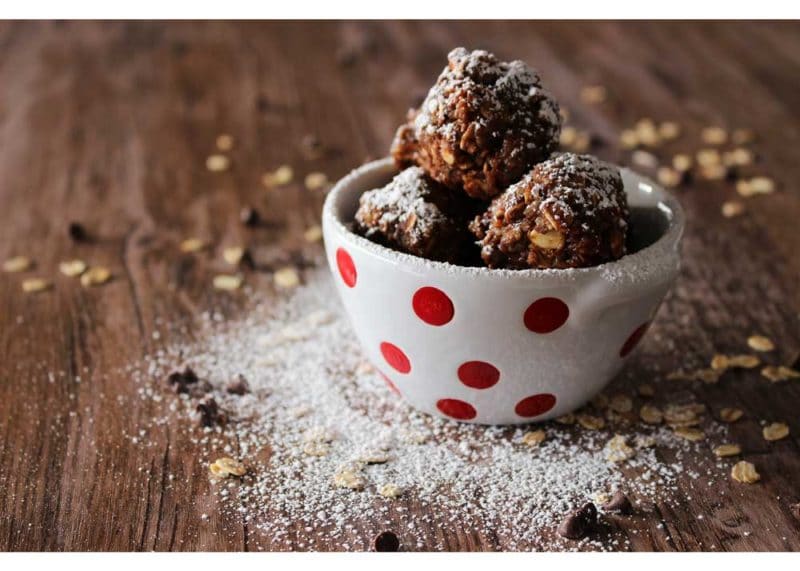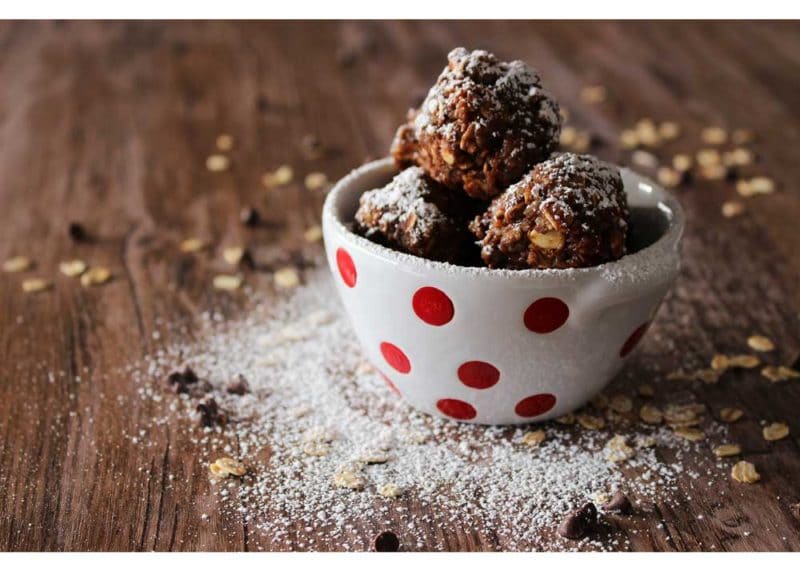 My mom used to make those no-bake chocolate oatmeal peanut butter cookies when I was a kid. Do you remember those? Well, these Quinoa Protein Bites taste exactly like those cookies! And with that being said ya'll…go get started making these! They taste like cookies, but they are healthy! I can't stop raving about each little bite! Just like I say at the end of my video, Happy Eats!
Looking For More Easy Snacks?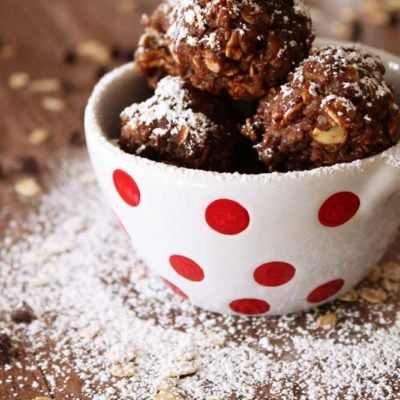 No-Bake Quinoa Protein Bites
These No-Bake Quinoa Protein Bites are the perfect snack! It takes no time at all to throw together the ingredients and roll them into balls. Once they're frozen, they are ready to eat! Super healthy and full of taste, these protein bites are perfect for that quick burst of energy you need in your day! And they are ridiculously tasty!
Print
Pin
Rate
Instructions
Line a small baking sheet with parchment paper.

Cook the quinoa according to package instructions.

Once the quinoa is cooked, combine all ingredients in a bowl, stir until well incorporated.

Using your hands, roll the mixture into small balls. You can make them into 1 inch or 2 inch balls.

Put the balls on the lined baking sheet and put into the freezer for 6 hours.

Once they've frozen, transfer them into a freezer safe ziplock bag and store in the freezer.
Video
Notes
Tip - When rolling the balls, keep a small bowl of water near you and keep your hands wet. The moisture from your hands helps the mixture form into perfect balls!
The powdered sugar at the end is optional!
Nutrition
Calories:
81
kcal
|
Carbohydrates:
11
g
|
Protein:
3
g
|
Fat:
2
g
|
Cholesterol:
2
mg
|
Sodium:
40
mg
|
Potassium:
83
mg
|
Fiber:
1
g
|
Sugar:
3
g
|
Vitamin A:
5
IU
|
Calcium:
20
mg
|
Iron:
0.6
mg
Pin these Quinoa Protein Bites to your favorite SNACK board on Pinterest!

NOTE: You will find affiliate links on this page. The price you pay as a consumer does not change, but I may make a small commission based on your purchase! Thank you for supporting Recipes Worth Repeating!