Juicy, flavorful and super easy to prep and make, this 10 Garlic Clove Marinated Grilled Filet is perfect for that weekend when you want to grill! It's mouthwatering and so tender!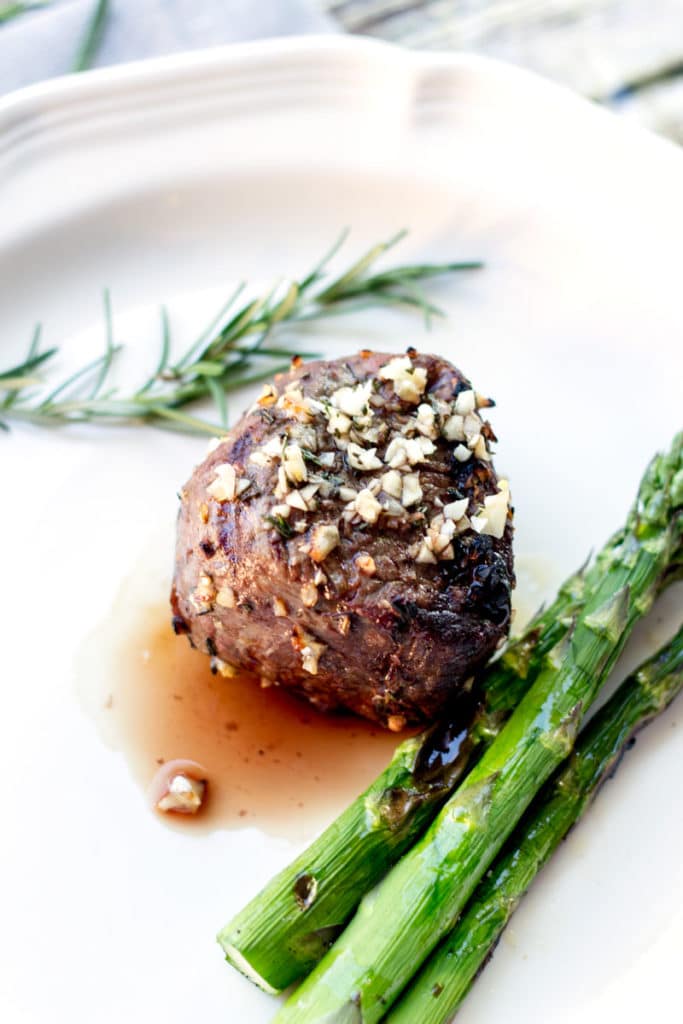 A steak should be juicy and full of flavor. Your ingredients should be simple because you don't want anything to take away from the taste of the meat. About a month ago, I wrote this article for eazy peazy meals so now I want to share it with my readers! This recipe is so amazing that it's a must share! It's now summer here in Arizona and it's getting hot outside…so we are grilling a lot! My husband loves a good steak and this is his absolute favorite steak recipe out there…ever! He is not interested in going to a fancy steak restaurant anymore because he says my filet recipe blows any restaurant quality steak out of the water. WOW! That's quite the compliment!
He obviously has no idea how simple this recipe is. I think he would laugh if he knew the simple ingredients included for this steak. But, when I tried to tell him about it he told me,"Nope, don't tell me! I don't want to know how you make it, just keep making it!" So fine…I won't tell him, but I'll tell you guys!
This recipe contains the simplest ingredients: Extra-Virgin Olive Oil, salt, fresh ground pepper, fresh rosemary and garlic cloves. Yep, that's it! Let's just keep it simple!!

This marinade goes perfect with almost any cut of steak, but filet mignon is my favorite. Filet is super tender and it's not hard to find a good cut. I typically buy my filet mignon at Costco or my local grocery store. Sometimes when we have a special occasion we'll get out cut from a local butcher. And here are the two secrets to this recipe….1. Get a good quality cut of meat (I love filet mignon) and then 2. Let these simple ingredients marinate the steaks for at least 24 hours. Super easy right there!!
The marinating process is critical to ensure you get the full flavor from each ingredient. And let me tell you, this one is full of flavor! It's juicy and it melts in your mouth. Oh, and let's talk garlic for a minute. Everyone knows that if you have a recipe that calls for garlic, you should double the garlic….well, I did that for you with this recipe so no need to double the garlic unless you just really want to! But seriously, I already doubled the garlic for you!!

I serve this one with a side of asparagus…I mean the grill is already going! You might as well throw your asparagus on with the steak and grill those up, too! And while we're grilling, Grilled Corn with Fresh Lime and Cotija Cheese pairs really well with this steak dish, too! Add this Garlic and Rosemary Flatbread to finish this meal off! It's both gluten free and yeast free!
You're just going to love this recipe! Keeping it simple is key! Happy Eats on this one!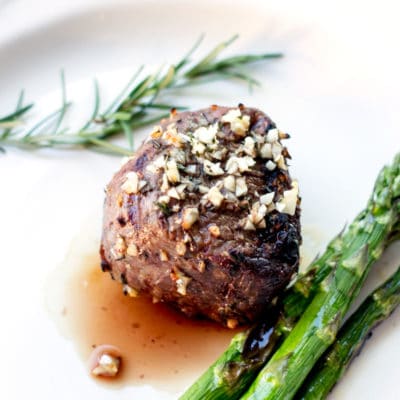 10 Garlic Clove Marinated Grilled Filet
Juicy, flavorful and super easy to prep and make, this 10 Garlic Clove Marinated Grilled Filet is perfect for that weekend when you want to grill! It's mouthwatering and so tender!
Instructions
Place the steaks into a 8x8 pyrex dish.

Take the salt and pepper and rub generously into each steak, front side only.

Next, pour the extra-virgin olive oil evenly onto the front of the steaks. Take a basting brush and rub the oil evenly onto the sides. While turning the steaks over, continue to brush the steaks with the olive oil, salt and pepper from the bottom of the pyrex dish. Ensure the steaks are well saturated with the olive oil, salt and pepper.

In a small bowl, take the minced garlic and chopped rosemary and mix together.

Place the garlic and rosemary mixture on the top of each steak and press the mixture lightly into each steak.

Cover the pyrex dish in plastic wrap and let marinate in the refrigerator for 24 hours.

After 24 hours, take your steak out and uncover the dish. Let the steaks rest on the counter at room temperature for 30-45 minutes.

Start your grill and let it get hot enough to where you can sear your steaks. Once hot enough, sear the steaks for 3-4 minutes on each side. NOTE: Some of your garlic rub will fall off at this point...it's ok!

Grill your steak to the desired internal temperature.

Serve immediately.
Pin this 10 Garlic Clove Marinated Grilled Filet to your favorite GRILLING board on PINTEREST!