These homemade pinto beans are full of flavor and super simple to make! No pre-soaking is required…just get out your slow cooker and combine 4 simple ingredients. Let that slow cooker do all the work and pretty soon you'll have yourself a tasty side dish to pair with any meal!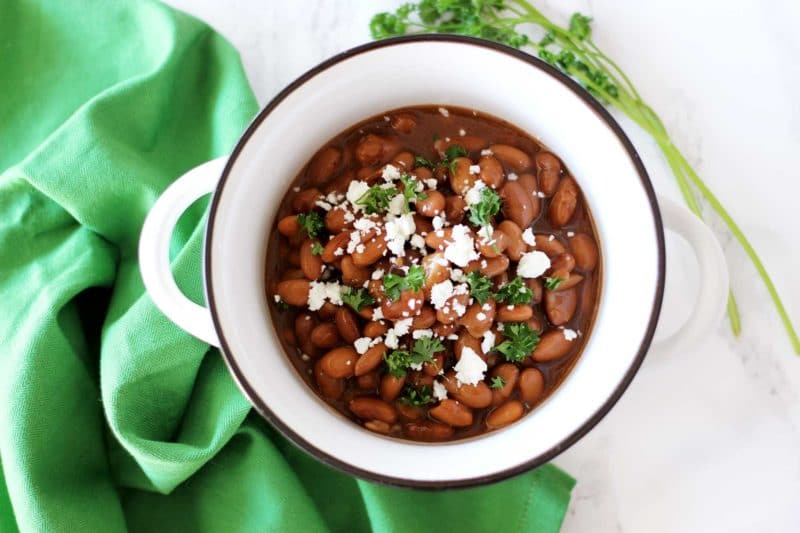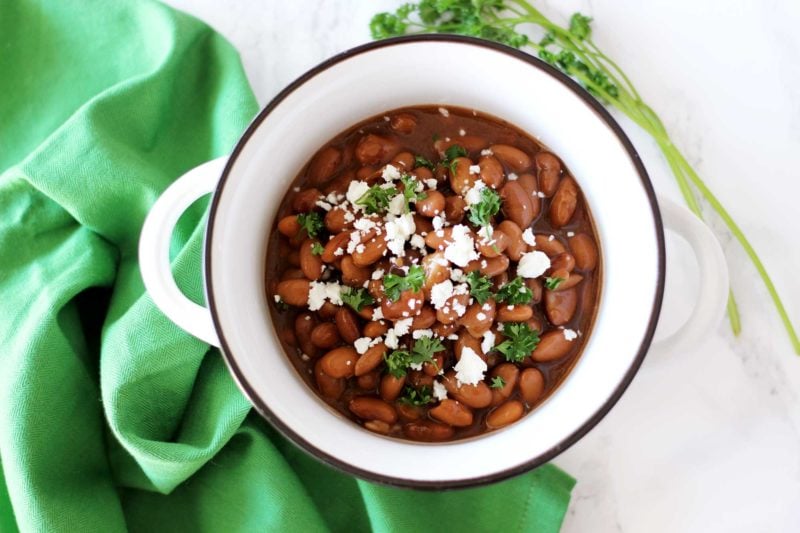 I was raised on homemade slow cooked pinto beans. My parents made pinto beans once a week on the stove. We paired this pinto beans with chicken, meatloaf, beef, pork and tacos. I remember my parents always buying a big bag of dry pinto beans each week at the store so we could make sure we always had a bag on hand. When it was time to make the pinto beans, my parents would pour the bag on the counter and they would call me and my sister into the kitchen to pick out the "broken beans". We would take our hands and spread all the beans into a nice even layer and pick out all the half broken beans and the little rocks you would find in the mix. From there, we'd take the beans and add them to a big bowl, rinse and drain. We would then let the pinto beans sit on the counter to soak for hours.
I asked my parents one day, "Why do we soak the pinto beans before we cook them?" My dad said it helps to remove some of the air so we wouldn't get as gassy after we ate them. That was always so funny to me as a kid!
As an adult, I still make so many recipes from my childhood. Some of my favorite childhood memories are of me, my mom, dad and sister sitting down every night to a home cooked meal. Because this has left such a warm place in my heart, I've instilled this same tradition in my house with my husband and kiddos. I literally cook a homemade meal 6 days a week. It's so rare that we go out to eat because my family loves my cooking and I love to cook.
Why You Should Eat Pinto Beans
When the kiddos were old enough to get off baby food, I decided to take a stab at my parent's recipe and method for making  homemade pinto beans. I would make the pinto beans and smash them up with a fork for the kids to eat and lucky for me, both kids instantly fell in love with pinto beans! Which made me happy…pinto beans contain:
A lot of vitamins and minerals that our bodies need, like fiber and iron.
They are also low in fat and high in protein.
So I was super happy that my kids liked pinto beans and they still love them today! They ask me to make them a big pot all the time!
Video: Step-By-Step Instructions For Making Pinto Beans In A Slow Cooker
How To Make Pinto Beans
I was really struggling with something when I made my pinto beans on the stovetop. My beans would always turn out mushy! After talking to my dad and explaining to him how I was cooking the pinto beans, he told me the beans were getting mushy because I was probably doing at least one of the following:
Over watering them as they cooked
My temperature was probably too high
I was probably over stirring them as they cooked.
He asked me why I was still making pinto beans the old fashioned way. I was stunned…I was like, "Daddy, what do you mean the old fashioned way? This is how you always did it." On the stove…in a POT! He softly smiled and said, "It's so much easier in the slow cooker. Let me tell you how…" Hooray for this news from my dad! Ok, so here's how he told me to make Pinto Beans in the slow cooker.
Step 1
Daddy told me to get a 1 lb bag of dried beans and pour them out on the counter. The bag below is a 2lb bag. If that's all you have, just use 1/2 the bag.
Step 2
He told me he doesn't soak the dry beans anymore. He now just skims through the beans quickly on the counter and throws away the obvious broken ones and any rocks he finds. He also throws away any dark beans.
Step 3
From there, he rinses the dry beans and then puts them in the slow cooker.
Step 4
Next he adds the salt, pepper and water to the slow cooker, puts the top on and walks away.
7-9 hours later, the pinto beans are done and are of the perfect consistency. I was so happy to hear this news! Let me tell you, it was not fun nursing a big pot of pinto beans cooking them the old fashioned way for 4-5 hours while adding yet more water because they boiled down too low. So, I took my daddy's advice and made the pinto beans this new way and oh my goodness, they turned out so AMAZING!!
Ingredients
Guys, you are literally going to throw 4 simple ingredients together and walk away while your slow cooker does ALL the work for the next 7-9 hours. Here's your ingredients:
1 lb bag of dry pinto beans
Salt
Pepper
Water
And let me tell you…these pinto beans turn out so velvety smooth and full of flavor! Just like my parent's pinto beans did when I was a kid!
What To Serve With Pinto Beans
I serve pinto beans as a side dish to so many meals. I especially love pinto beans with these family favorites:
Most of the time, I serve the pinto beans plain, but they are super yummy topped with feta or cotija cheese and parsley or cilantro!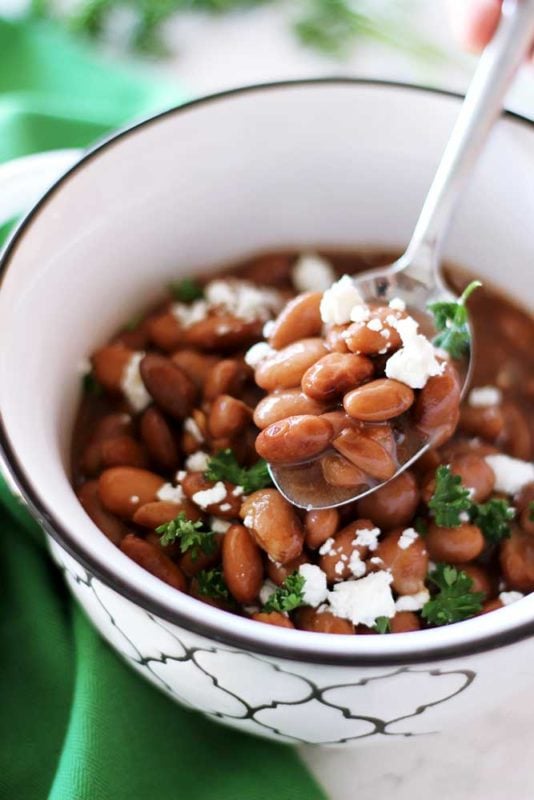 Tips And Tricks For Making Pinto Beans
To Pre-Soak Or Not Pre-Soak – Let me talk a little bit about the pre-soaking and gassiness aspect. Ok, yes this is going to get personal for a minute so just bear with me here. When I make these pinto beans in the slow cooker, I don't pre-soak them beforehand. And I don't notice any more or less gassiness than when I used to soak them. So I have no idea if there is any science behind that pre-soaking piece, but I did read a cool article about why you don't need to soak pinto beans before cooking them. You can read about that here.
Toss The Stones  – So you're probably asking…"Why in the WORLD are rocks in my pinto beans?!?" It's a good question! Don't fret! Rocks are left over from the soil after the beans are harvested. Some get picked up in the harvesting process. Just don't cook them or eat them and you'll be ok!
Broken and Dark Pinto Beans – You absolutely NEED to toss those broken beans! There's a lot of reasons why these beans are broken. Some can split because of insect holes and the really dark ones just taste AWFUL if you cook them! So pick through those dried beans and get rid of broken beans, dark beans and rocks! It's SUPER important!
Naturally Gluten Free – Pinto Beans are naturally gluten free and contain so many nutritional benefits, so eat them up!  They are also naturally low in fat!
Spice It Up! – You can add a pinch of crushed red pepper if you want a kick of spice!
Additional Add Ons – I've had readers write me who added in bacon, chorizo, and chopped up mozzarella. They RAVED about it!
Sometimes simple is SO much better. I guarantee you will LOVE these pinto beans cooked in the slow cooker! Ya'll – enjoy this new super easy way to make pinto beans and Happy Eats!
What Did You Think?
So tell me…did you not just LOVE my Slow Cooker Pinto Beans recipe?! Did it make your life easier in the kitchen?! If you tried my recipe I'd love to hear your feedback in the comments below! And don't forget to rate the recipe! FOLLOW ME on Facebook, Twitter, Instagram and Pinterest because I'm CONSTANTLY posting yummy food that I know you will love! Don't miss out!
Slow Cooker Pinto Beans
These homemade pinto beans are full of flavor and super simple to make! No pre-soaking is required…just get out your slow cooker and combine 4 simple ingredients. Let that slow cooker do all the work and pretty soon you'll have yourself a tasty side dish to pair with any meal!
Print
Pin
Rate
Instructions
Put all ingredients into a slow cooker and stir.

Cover and cook on low for 7-9 hours. You want to ensure you don't overcook the beans. You don't want them falling apart.

Once cooked, turn the slow cooker off.

The pinto beans are now ready to serve. You can serve them plain or top them off with your favorite toppings such as feta or cotija cheese and parsley or cilantro.
Video
Notes
NOTE:
A 1 pound bag of dry pinto beans equals 2.5 cups.
I omit the crushed red pepper from my pinto beans because I don't like them spicy. I did make a pot with the red pepper flakes for a friend and they raved how the spice was just enough.
My dad likes to cook his pinto beans in the slow cooker for 5 hours on high and then turn the temperature to low for the last 4 hours. 
Nutrition
Serving:
0.75
cup
|
Calories:
262
kcal
|
Carbohydrates:
47
g
|
Protein:
16
g
|
Sodium:
404
mg
|
Potassium:
1053
mg
|
Fiber:
11
g
|
Sugar:
1
g
|
Vitamin C:
4.8
mg
|
Calcium:
90
mg
|
Iron:
3.8
mg
Update Notes: This post was originally published in March of 2017, but was republished with new photos, step-by-step instructions and tips in April of 2018.
 NOTE: You will find affiliate links on this page.