This flourless chocolate torte is a chocolate lover's dream come true! Dense and indulgent, this is the perfect gluten free chocolate treat! Easy to make!
I'm not going to lie, I was intimidated to make this Flourless Chocolate Torte. My really good friend and I went to a restaurant several months ago and had their Flourless Chocolate Torte for dessert and it was out of this world. My friend is a really great cook, so she told me she was going to make a flourless torte. Well...she made it and it was not good at all. It was so bad that we tossed it after eating the first bite! But a flourless chocolate torte is my most favorite dessert recipe ever so I had to try to make it! I was determined!
So I bought all the ingredients and made it this afternoon and it was absolutely amazing. I couldn't be more proud of my cooking skills than I am right now! So, I'm sharing it because it's THAT good! Flourless tortes are gluten free and full of chocolate. I love dark chocolate. I crave chocolate. So this was perfect. I thought this was going to be hard to make, but it wasn't.
My number one piece of advice when making this recipe is to use your KitchenAid mixer. You have to beat the eggs for 6 minutes on high and it is so convenient to run your KitchenAid while prepping the other ingredients. A KitchenAid is so worth the investment! I make so many recipes with it, like Aunt Sondra's Cinnamon Rolls and my Pumpkin Chocolate Chip Muffins.
The other thing I love about this recipe is that my entire family can eat this. My daughter has gluten and yeast allergies, but this one is safe for her to enjoy. The entire time I was making this, my kids were begging me for a bite! Once it was done, I served it to my 2 kiddos and their friends that were over playing and all the kids ate this up and asked for seconds!
My neighbor right behind our house is a really great friend of mine and she's 5 months pregnant. I called her up and said, "Hey - I just made this flourless torte and I need a taste tester that's not a kid...can I hand you a piece over the back fence?" Of course she said yes. I actually gave her 3 slices and she texted me back 10 minutes later and said, "OMG, that was so absolutely amazing!" So there you go...passed my test, the neighborhood kid test and a pregnant lady test. It doesn't get any more solid than that!
Enjoy this gluten free yumminess! Happy, Happy Eats Ya'll!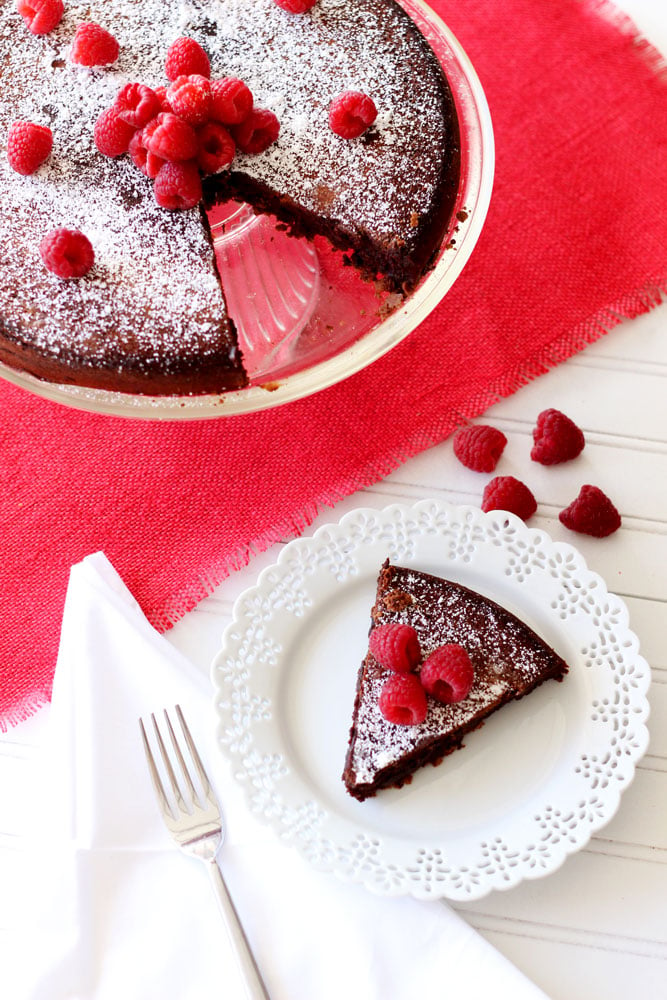 Flourless Chocolate Torte
This flourless chocolate torte is a chocolate lover's dream come true! Dense and indulgent, this is the perfect gluten free chocolate treat! Easy to make!
Print
Pin
Rate
Ingredients
¾

cup

unsalted butter,

divided

¼

cup

unsweetened cocoa powder,

sifted

1

teaspoon

vanilla extract

5

large eggs

1

cup

sugar

1

teaspoon

salt

Fresh red raspberries,

for garnish

Powdered sugar,

for garnish
Instructions
Preheat oven to 350. Butter the bottom and the sides of a 9″ springform pan. Open up your springform pan and cover the bottom of the pan with parchment paper. Lock your springform pan back and butter the parchment paper on the bottom.

Combine 1 and ⅔ cups chocolate chips with ¾ cup butter in a saucepan. Melt, over low heat until completely smooth.

Whisk in the sifted ¼ cup of cocoa powder and vanilla, and let cool for 10 minutes.

While the chocolate is cooling, combine the 5 eggs with 1 cup of sugar and 1 teaspoon of salt and mix on high in your KitchenAid until your mixture is VERY thick, about 6 minutes.

Carefully fold in the melted chocolate mixture into the egg and sugar mixture. Pour batter into the prepared springform pan.

Bake for 42 minutes. The center will fall and this is normal. The edges will also remain lofty. It's ok 🙂 Let the cake cool, in the pan, for an hour before using a spatula to press the edges down to the same height as the center.

Invert the torte onto a plate or cake stand and remove the parchment paper.

Garnish with fresh raspberries and powdered sugar.
Nutrition