So moist and chocolatey, these Pumpkin Chocolate Chip Muffins are the perfect snack to get you into the fall season! These muffins have the perfect combination of all your fall favorites flavors....pumpkin, cinnamon, nutmeg, ginger and clove!
Fall is finally here and can you believe it...it's actually starting to cool off here in the hot desert! Well, I say cool down...that means the low 90's but we were triple digits for SO long! This low 90's weather makes me want to put on a sweater! And the nights are fabulous ya'll! Low 60's! I love it! And that's where these lovely little Pumpkin Chocolate Chip Muffins come into play. Let me elaborate....
I love a good cup of hot decaf coffee or hot tea at night when the weather cools off. I picked up this habit while I was traveling around in England. It's just something that me and my friend and co-writer, Lindsay Pineda, did almost every night. I don't know why...it's just a simply little pleasure in life that I enjoy, but a nice hot beverage at the end of the day leading into the evening is absolutely fantastic. But let's be honest...it just adds to the pleasure when I add a little sweet treat with my hot tea or coffee. We did this almost every night while we were traveling in England!! And let me go ahead and tell you...these Pumpkin Chocolate Chip Muffins are absolutely PERFECT right now for this fabulous weather and my cup of hot tea or coffee at night.
But let me stop here for a minute because I know you are probably dying to know how to make these muffins...OMG you guys they are SO EASY to make! Check out my video!!
I'm really starting to enjoy making different types of food videos with my videoographer, Tyler Bain. Making a video on how to prepare a recipe is so artistic...there are SO many elements and ways to portray the food to the audience. And the music associated to the food video is imperative! Tyler and I really wanted to portray a cozy and warm fall feeling for these muffins because they represent everything fall! Are you craving one yet?
And just like my video showed you...these Pumpkin Chocolate Chip Muffins are gluten free! When Tyler had one of these muffins for the first time he was like...no way...NO WAY are these gluten free! They are so moist! All my gluten free friends are going to LOVE the texture of these muffins. They are the most moist dessert recipe that I have on my website. Well, my Apple Pumpkin Spice Cake with Butter Rum Glaze and my Zucchini, Carrot and Apple Olive Oil Cake are pretty darn moist though...but seriously, these muffins are SO moist! And don't worry, if you aren't gluten free you can use a regular flour. Check out my notes in my recipe card on specifics there.
This recipe makes a total of 12 muffins. Let's talk sifting for a minute. One of the reasons these Pumpkin Chocolate Chip Muffins are so moist is because I sift my flour and the spices together. Sifting makes a BIG difference in the texture of your baked good. It's not required that you sift the flour and the spices together, but I highly recommend it. The muffins will be more moist if you sift.
I can't keep these muffins in the house...my kids, their friends and my husband go through these things super fast! I'm constantly baking another batch! Which is fine with me...this is the easiest recipe to make and I'm all about fall food right now! This is one of those recipes that falls into the category of things I will look forward to making and enjoying every fall!! Happy eats guys! I guarantee you will love these!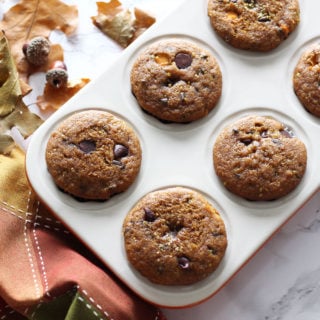 Pumpkin Chocolate Chip Muffins
So moist and chocolaty, these Pumpkin Chocolate Chip Muffins are the perfect snack to get you into the fall season! These muffins have the perfect combination of all your fall favorites flavors....pumpkin, cinnamon, nutmeg, ginger and clove!
Print
Pin
Rate
Instructions
Preheat oven to 350 degrees.

Line a 12 muffin pan with cupcake liners.

Add flour, baking soda, ground spices, and salt to a sifter. Hold your sifter over a large bowl and sift the ingredients into the bowl. After sifting, your dry ingredients should equal 1 and ½ cups.

In the bowl of your Kitchen Aid (or you can use an electric hand mixer) cream the butter and sugar until light and fluffy. If you are using a Kitchen Aid, you will want to use your wire mixing attachment.

Add the eggs, one at a time, beating well after each addition.

Next, add in the vanilla extract. As the mixer is working, scrape down the sides of the bowl.

Stop the KitchenAid and switch out the wire mixer attachment with the white bread paddle attachment. With the mixer on low speed, add the flour mixture and pumpkin puree to the wet ingredients, in three additions, beginning and ending with the flour mixture.

Fold in the chocolate chips.

Fill the muffin cups a little above half way with the batter using a spoon or an ice cream scoop.

Place muffin plan in the oven and bake for about 18 -20 minutes.

Place on a wire rack to cool.
Notes
If using a regular flour, you'll still want to use 1 ½ cup of flour. It's going to be the same measurements as the gluten free flour.
Nutrition
Serving:
1
g
|
Calories:
200
kcal