Using 3 simple steps, learn how to peel hard boiled eggs with this fail-proof method! Removing the boiled egg shell has never been so easy!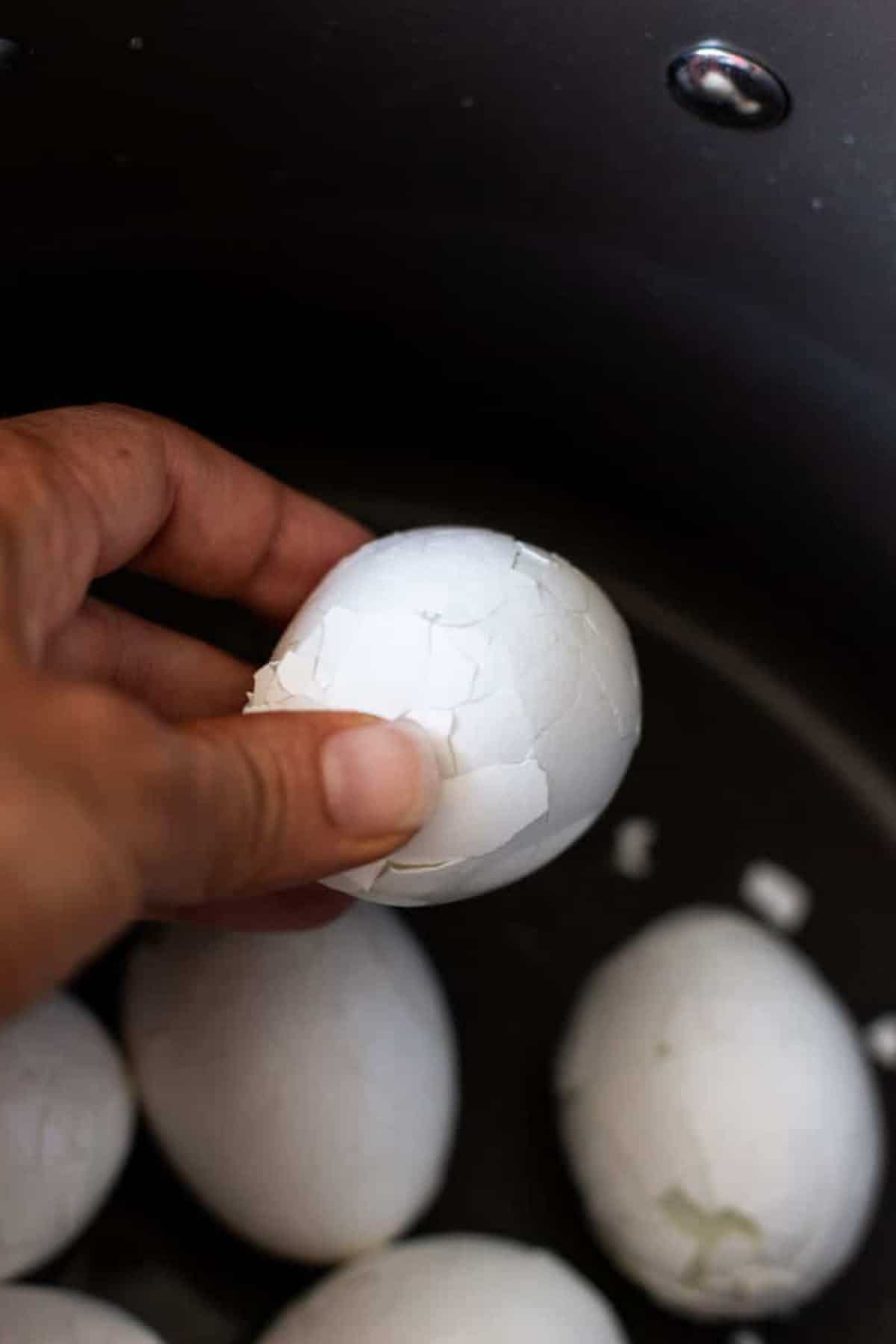 Jump to:
Whoever said that it's easy to peel boiled eggs lied to all of us. It can be the most frustrating process to peel the shell off of a hard boiled egg. Sometimes the egg breaks or the thin shell membrane won't budge...and that can ruin a perfectly cooked hard boiled egg.
---
---
The thin translucent layer between the shell and the egg white is called the membrane. When it sticks to the white part of the egg, it can tear the cooked egg which will make the hard boiled egg hard to stuff or decorate. So what makes it stick to the egg? There are a lot of factors that come into play such as how fresh the eggs are, how they are processed, and how they are boiled and cooled.
---
---
Some eggs will peel easily while others can be extremely hard to peel. I've learned that using the following method helps with successfully peeling hard-boiled eggs! Learn how to peel boiled eggs using these 3 easy steps!
📝 How To Peel Boiled Eggs
Step 1: Boiling Water
Placing eggs into a pot of water that is already boiling is key to ensuring the membrane doesn't stick. Place 7-8 cups of water in a large pot and set it on the stovetop burner. Set the burner to high temperature and bring the water to a boil.
---
---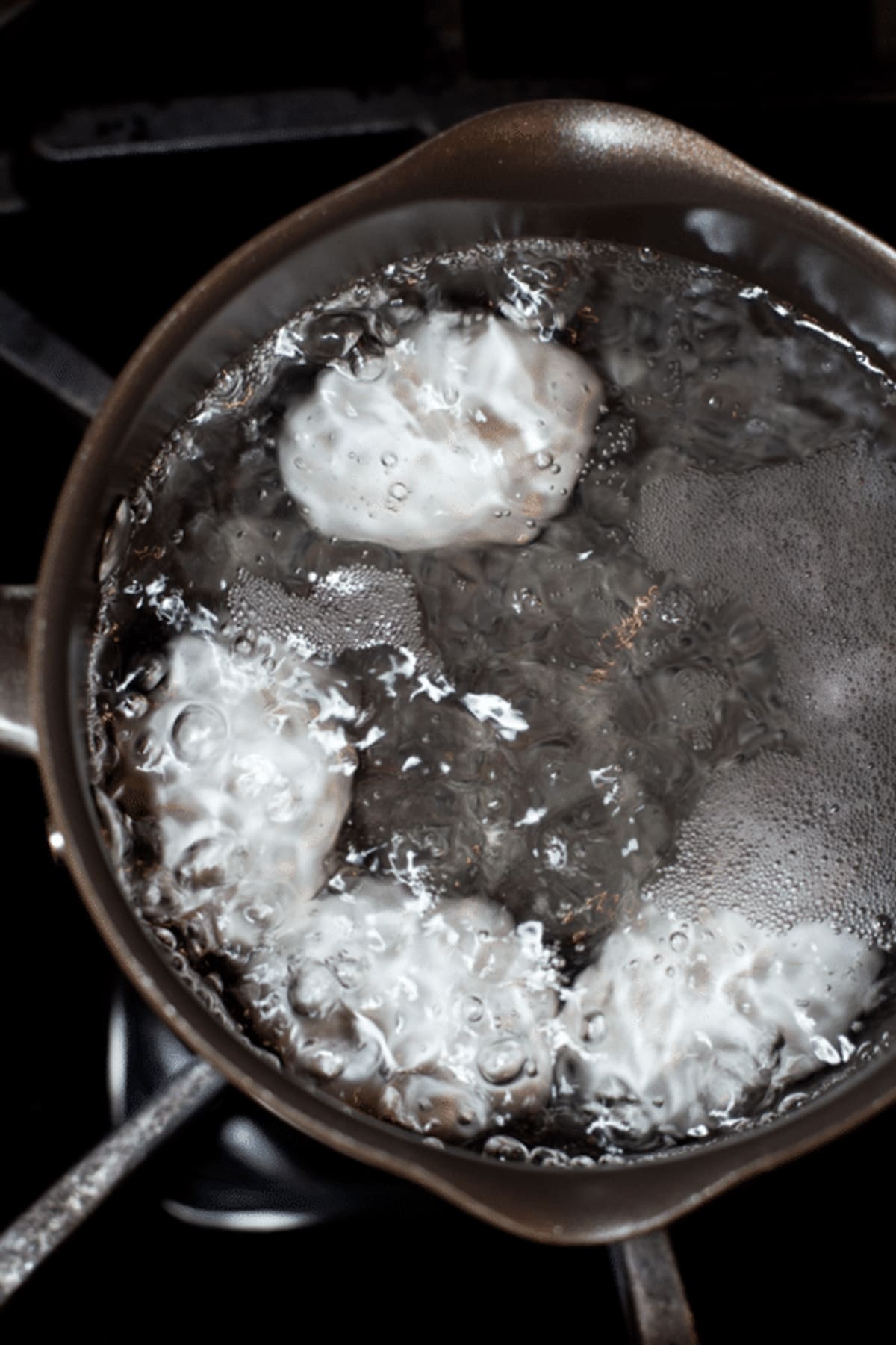 For large hard boiled eggs, they need to boil for about 8-10 minutes. Once done, drain the water, but leave the eggs in the pot.
Step 2: Ice Bath
Now it's time for an ice bath. Peeling hard boiled eggs is easy when you give them an ice bath. Add 4 cups of ice to the pot so the eggs are covered. Allow the eggs to sit in the ice and water for 10 minutes.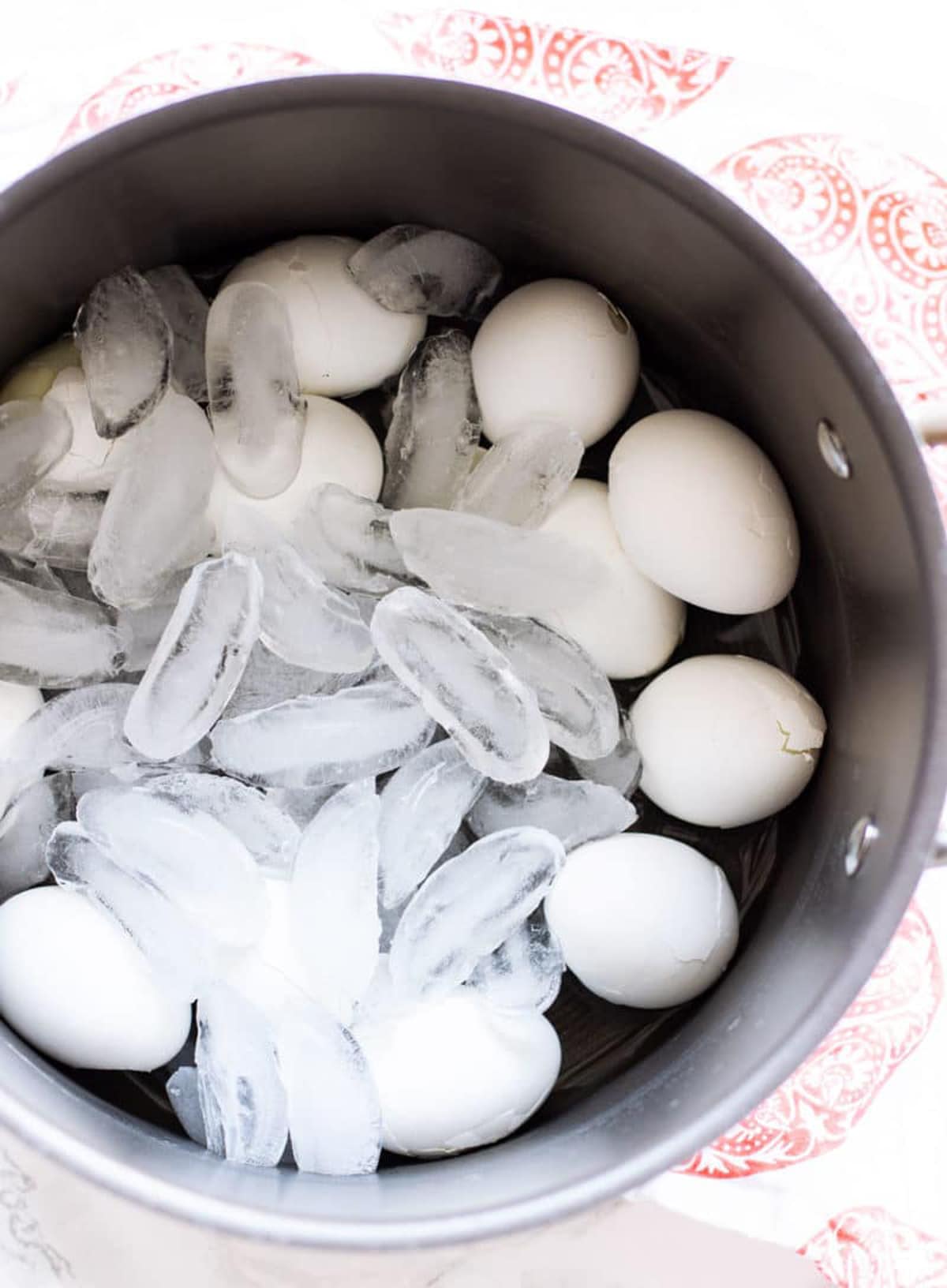 Step 3: Shake And Roll
Once chilled, drain all the water from the pot and shake and roll the eggs around the pot until the shells start to naturally crack and loosen. Some of the shells will completely fall off during this process.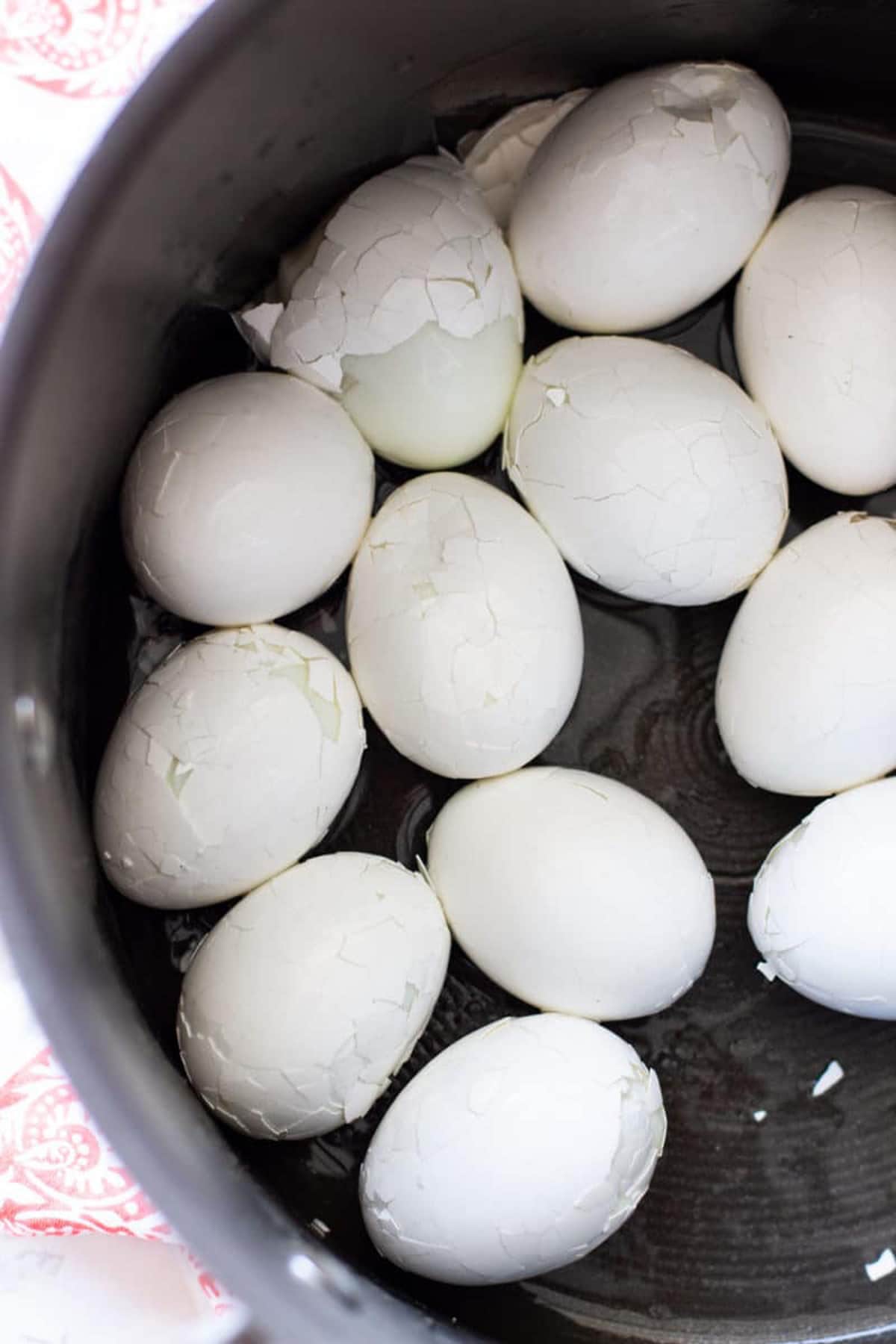 From there, pick up an egg and remove the shell. It should easily fall off with little effort. Do this for all the eggs and then rinse them under cold water to remove any remaining shell fragments.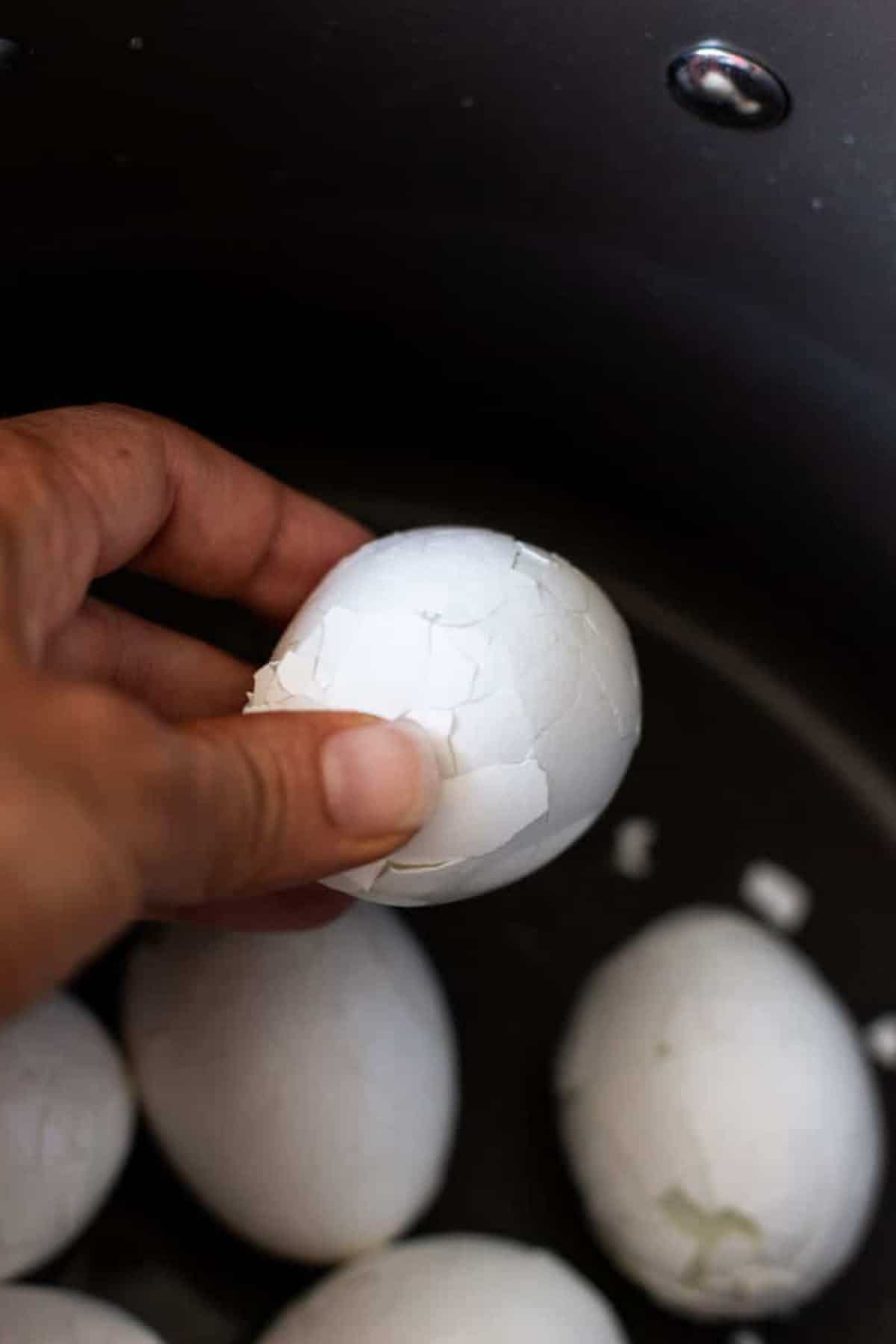 It's that simple! Every. Single. Time! And when you slice into the egg, it's perfectly shaped and cooked to perfection!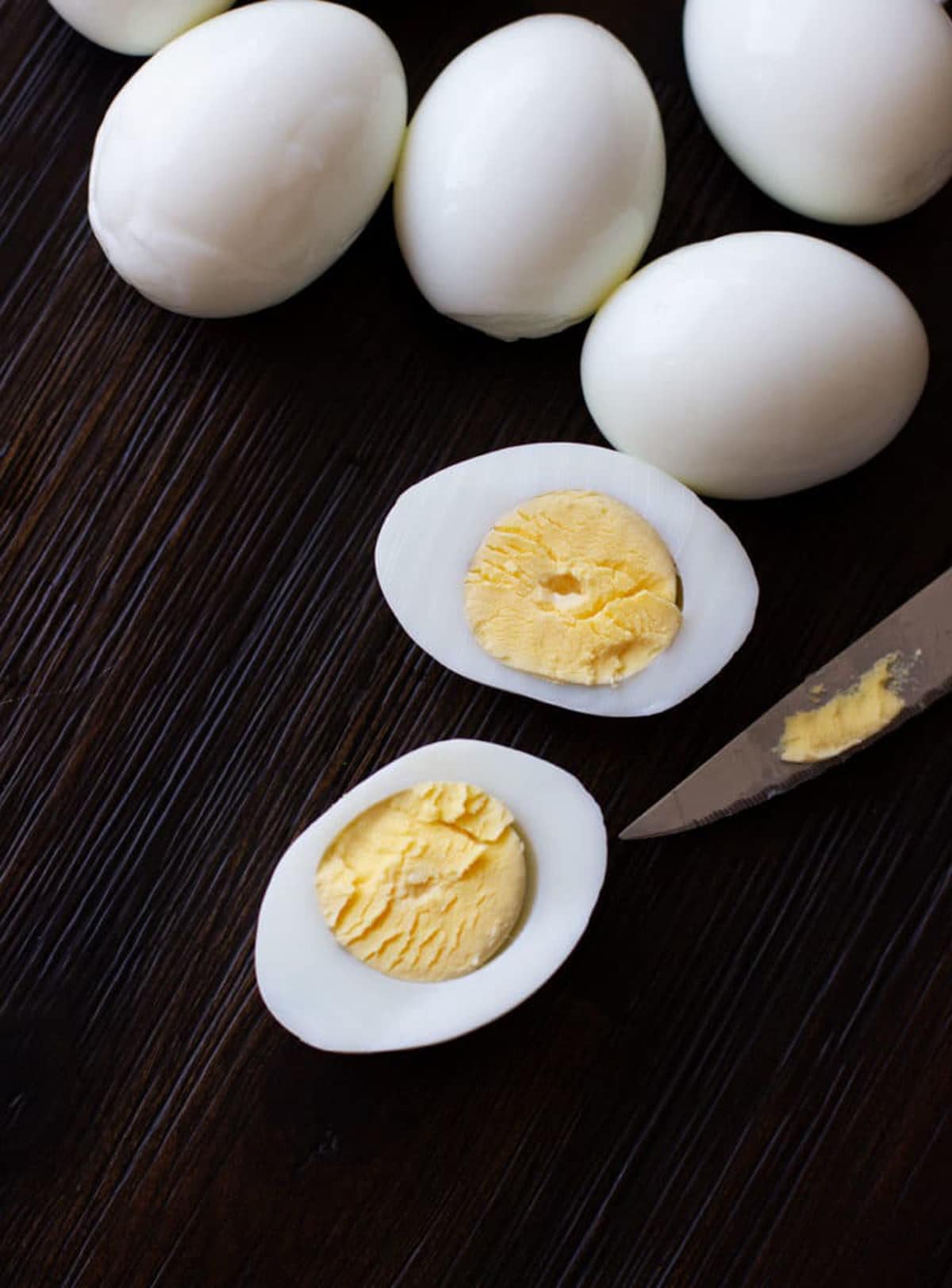 💭 Expert Tips
Try adding baking soda while the eggs are boiling so they peel more easily.
Instead of using baking soda, a splash of lemon juice or white vinegar can be added to the boiling water to help naturally increase the pH level.
If there is a stubborn piece of shell stuck to the egg after the shaking process, try removing it under a stream of running cold water. Water is a natural lubricant and can easily help loosen any remaining pieces of membrane or shell.
🙋 Frequently Asked Questions
How does baking soda make eggs easier to peel?
Adding 1 teaspoon of baking soda to the boiling water can raise the pH level while the eggs are boiling. This science behind this is the boiling water and baking soda softens the membrane between the shell and the eggs white, which makes for an easy peel with less breakage.
Do you put eggs in boiling water or cold?
Technically, either will work. But, adding the eggs after the water has started to boil will make them easier to peel. Slow cooking the eggs in cold or room temperature water actually promotes the egg whites bonding to the membrane, which is what you don't want to happen.
🥚 Hard Boiled Egg Recipes
Hard boiled eggs are excellent for breakfast, as a snack, or in other recipes. Try applying what you've learned for easily peeling hard boiled eggs when making these delicious recipes!
Southern Deviled Eggs
A crowd favorite that is super versatile and pairs perfectly with so many dishes. Made with only 7 ingredients you already have on hand, learn how to make this simple classic deviled egg recipe.
Get The Recipe For These Deviled Eggs Here!
Avocado Egg Salad
Packed with nutrition, this Avocado Egg Salad is HEALTHY and full of flavor! The best egg salad, eat it as a dip with your favorite chips, make an egg salad sandwich, or serve it on a piece of toast!
Make This Avocado Egg Salad Recipe Today!
Best Potato Salad Recipe
I love adding chopped hard boiled eggs to potato salad! Even though this recipe doesn't call for them, try including them for a boost of extra flavor and protein!
Make This Potato Salad Today!