Fresh salmon is richly textured and highly flavorful! Adding this cucumber-lime salsa on top provides the perfect essence for your meal that everyone is guaranteed to love!
I have such an amazing salmon recipe for you! If you didn't already know…I'm in love with salmon! Like big time love! Salmon is not only really good for you, but it's super high in protein, provides amazing omega-3 benefits and contains tons of vitamin A, D, B6, B and E. All that is fabulous…it really is, but I'm also in love with salmon because it can be made so many different ways! It's so versatile!
I wrote this recipe about a month ago for Eazy Peazy Mealz website and it was  a big hit! So I hope you enjoy it as much as her readers did! This recipe is so easy. Almost too easy! It literally took me 20 minutes to make this from start to finish and my meal was ready to eat. We all need a fast , simple and delicious meal in our lives. With this particular recipe, the salmon does provide a ton of flavor but I also attribute a lot of the deliciousness of this dish to the cucumber lime salsa.
Before we jump into the salsa, let's talk salmon for a minute. Salmon lesson 101…here we go. The two most popular types of salmon is what? You got it… Atlantic and Sockeye. I like both, but for this recipe I chose to use Sockeye salmon. So what's the difference between these two types of salmon? Well, I'm glad you asked!
Sockeye salmon is considered wild and is typically referred to as "red salmon". I mean, look at it below. It has an amazing color!! The reason is because the salmon return upriver to their spawning grounds and as they do, the fish change from a bluish color to an amazing red color. Personally, this is my favorite type of salmon because it has a rich, full flavor and also a firm texture.
Atlantic salmon is typically farmed and is a little less rich in taste. It is a milder-tasting, paler "pink colored" fish. Regardless of what type of salmon you choose for this recipe, they are both incredibly healthy for you. Both types are rich in the healthy omega-3 fatty acids and that plays a huge role for proper brain function.
Ok, back to this salsa I keep raving about. I love a good fish recipe with a yummy "topper" as I like to call it! This salsa recipe combines some of my favorite ingredients! Fresh! Fresh! Fresh! I can't emphasize it enough! Fresh jalapeno, English cucumber, red onion, cilantro mixed with fresh lime juice is one of the best combinations you can put together. And these ingredients are so simple! Run to your local grocery and you can easily find all of these ingredients!

Once you chop all these yummy fresh ingredients together, you're going to mix them in a bowl and set aside for just a bit. This allows all those flavors to really come together. Oh and let me tell you…the salsa mixture makes this recipe! It's so fantastic!
And there you have it….once your salmon is seared, you top it off with this fantastic salsa and it's ready to go. I always serve this one with either my Romaine Salad or my Greek Kale and Quinoa Salad. It's such a light meal, yet so filling! I've also served this recipe with Ono Rice and it pairs to well! Every aspect of this recipe is screaming freshness and it's absolutely one of my summer favorites!
You can now literally stick a fork in it! Your salmon should be flaky and full of moisture. It should easily fall apart when the fork enters. Oh and yes…this one is Gluten Free! Happy Eats with this one!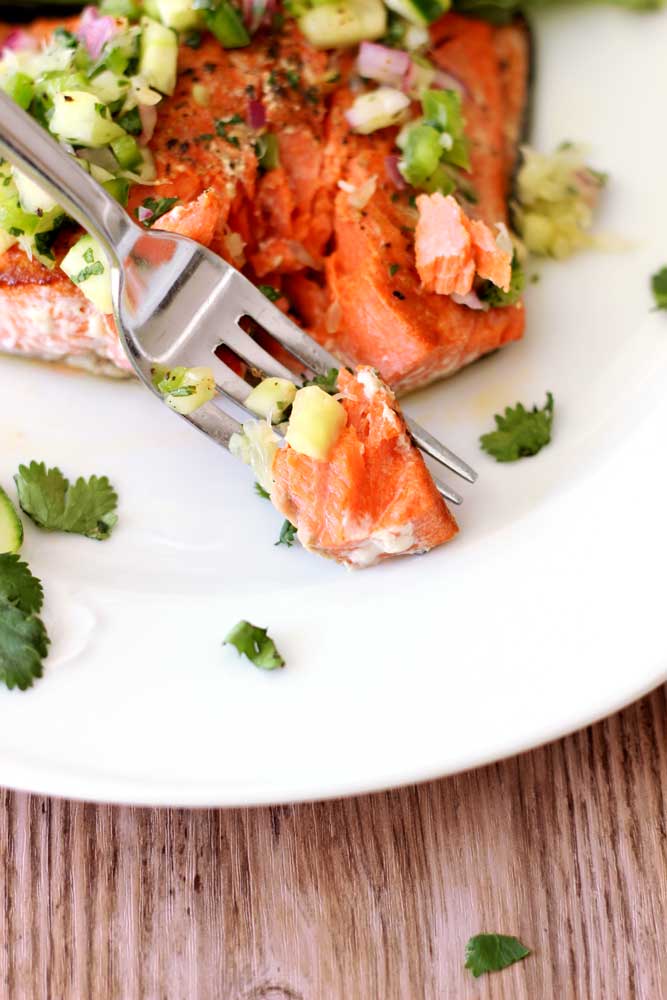 Pan-Seared Salmon With Cucumber-Lime Salsa
Fresh salmon is richly textured and highly flavorful! Adding this cucumber-lime salsa on top provides the perfect essence for your meal that everyone is guaranteed to love!
Ingredients
1

lime

1

small jalapeno pepper

seeded and minced

1/2

English cucumber

diced

2

Tablespoons

red onion

minced

2

teaspoons

cilantro

minced

1

teaspoon

salt

divided

1

Tablespoon

extra-virgin olive oil

4

ounce

boneless

salmon fillets (preferably with skin), 6-

1/4

teaspoon

fresh cracked ground pepper
Instructions
Remove the pith from the lime and finely dice the flesh of the lime.

In a small bowl, lightly mash the lime with the fork to release some of the lime juice and then stir in the pepper, cucumber, onion, cilantro and 1/2 teaspoon of salt. Set aside and let the salsa ingredients marinate together.

Heat extra-virgin olive oil in a nonstick skillet over medium heat.

Season the salmon with the remaining salt and fresh cracked pepper.

Cook the salmon, skin side up, until golden brown, about 4 minutes.

Carefully flip the salmon and continue to cook until flesh is opaque and flakes easily when a fork is inserted...about 4 minutes more.

Transfer salmon to plates and spoon cucumber-lime salsa over top. Serve alongside your favorite salad!