My neighbor, Heather, introduced me to these sandwiches. She and her husband invited us over for dinner so we could get to know our new neighbors and she served these French Dip Sandwiches for dinner. Oh my goodness…they were so far past amazing that I begged her for this recipe. She was happy to share and 7 years later, we are still good friends! She loves to cook and has shared so many recipes with me that have become family favorites!
I make these a lot for family that come in from out of town because they feed up 6 to 8 people. Here's a secret about how to make the meat tender. Cook the meat in the slow cooker on low for at least 8 hours. I typically let mine continue to cook for about  9 or 10 hours. You cant really overcook roast. I took these to work this past week for a pot luck and I woke up at 2 AM to start the crock pot! I wanted these to be tender!
Ok, so these are not gluten free. Sorry – they just aren't and I haven't found a gluten free substitute for beef consomme or french onion soup. But seriously – this one is so good, I counldn't NOT post it. That would not have been fair to not share this one because it is definitely worth repeating! Enjoy!
Ingredients
1 3lbs beef chuck roast
1 10.5 ounce can beef consomme
1 teaspoon of bouillon granules or 1 beef bouillon cube
1 10.5 ounce can french onion soup
1 10.5 ounce can beef broth
8-10 french rolls
Directions
Halve roast and place in a slow cooker.
Combine all ingredients except for the rolls and pour over roast.
Cover and cook on low for 8 to 10 hours.
Ensure the meat is tender.
Remove meat and shred with two forks.
Serve on rolls. Slim the fat from the cooking juices and serve as an au jus dipping sauce.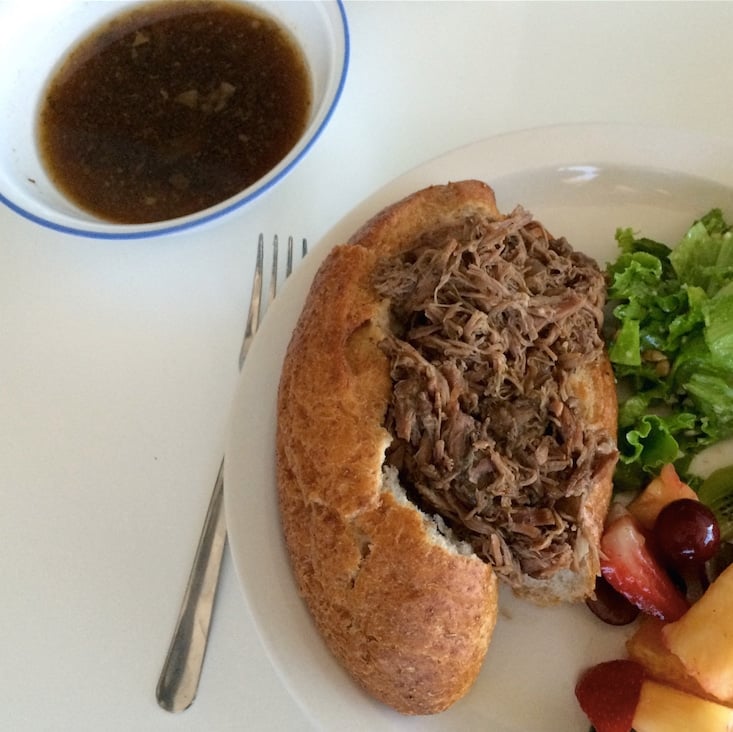 Recipe source: inspired by Heather Huberich