Crispy and delicious, these french fries are EASY to make in the air fryer! You can have better than restaurant french fries in your home in less than 30 minutes.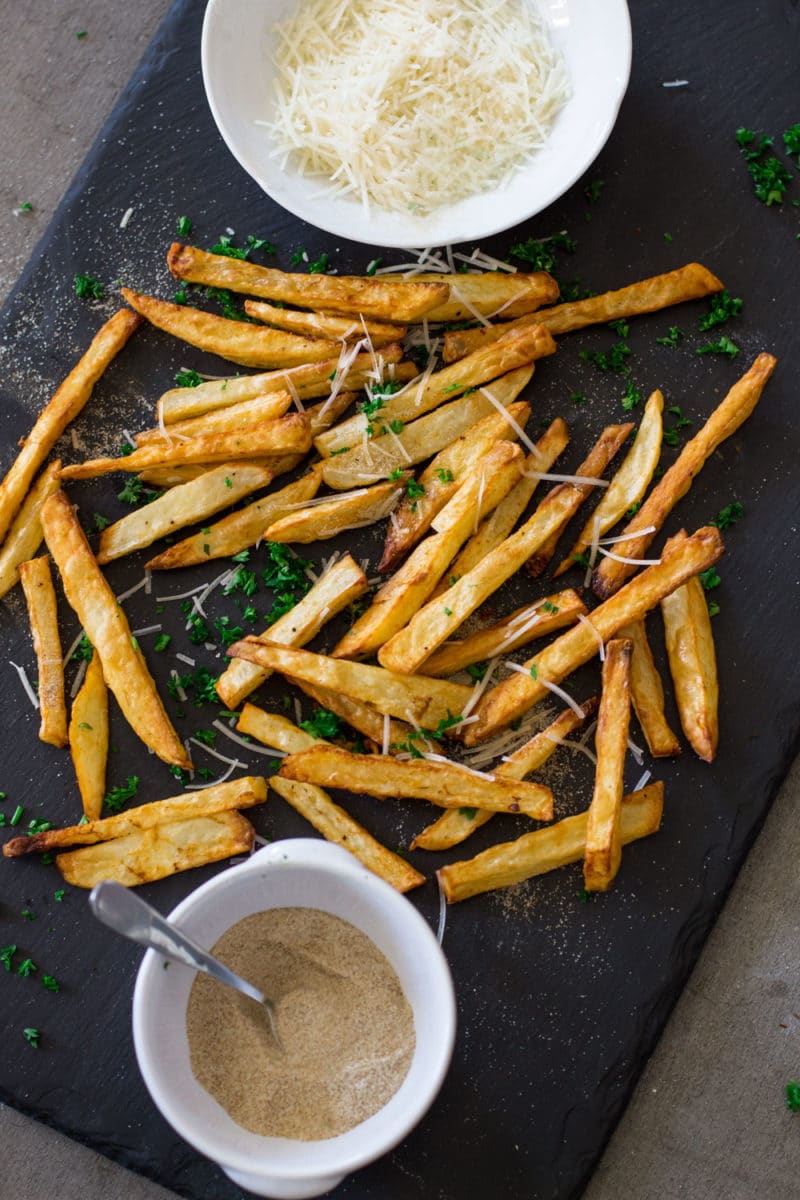 The whole "better than restaurant french fries" are my son's words, not mine. But he's not wrong.
I was honestly shocked at how good these air fryer french fries turned out. And I was even more shocked at how easy they were to make. So let's jump into my son's new favorite obsession. But first, let's talk about this air fryer gadget.
What is an Air Fryer?
I wrote an article here talking about how the air fryer works, so definately check it out. But simply put, the air fryer is just an amped up convection oven that works by circulating hot air up around food. From there, it transforms the food into crispy yumminess without a bunch of oil. It delivers the results of deep frying with only hot air and a tiny amount of oil.
And it's absolutely AMAZING and I love my air fryer WAY more than I thought I ever would.
Ingredients For Air Fryer French Fries
I use simple ingredients for this recipe:
Avocado Oil
4 Idaho Potatoes
Paprika
Seasoning Salt
Garlic Powder
Ground Pepper
Notice all these ingredients are gluten free. That makes these french fries naturally gluten free. I use a very small amount of Avocado oil in this recipe….just enough to coat the potatoes so the seasonings will stick. So simple that you probably have all these seasonings in your spice rack.
How to Make Crispy French Fries
The first think you're going to do is peel the potatoes. Some people like all the peelings gone while others like just a tiny bit of peeling left on the potato. Personally, I like all the peelings removed but you can peel them based on your preference.
The next thing you're going to do is cut the potatoes into french fries. I like to cut my potatoes about 1/4 to 1/2 inch thick. After they are cut and peeled, rinse them well in a colander.
Go grab a gallon size Ziplock bag and add the cut potatoes, Avocado oil, and the seasonings. Shake well until the cut potatoes are coated well.
From there, dump all the seasoned cut potatoes into the air fryer pan. Make sure they are spread out evenly in the air fryer pan. Place the pan back into the air fryer so it's completely closed.
Manually set the air fryer to 390 degrees fahrenheit. Set the timer to 18 minutes and press the power button. You'll want to make sure you open the air fryer pan a couple times during the cooking process to stir the fries around with a pair of tongs. When the timer goes off, remove the pan from the air fryer. Wait about 5 minutes before serving and then top with fresh chopped parsley and Parmesan cheese.
Tips for Making the Best Air Fryer French Fries
Oil – The type of oil you use does matter. I use Avocado oil because it does extremely well in high heat. It's also a very healthy and high quality oil to cook with. And I only use a very small amount of oil. You just don't need a lot when it comes to air frying.
Cooking Time – I let my fries cook in the air fryer for 18 minutes, but if you want them a bit more crispy then let them air fry for 20 minutes. That extra 2 minutes makes a big difference.
Soaking Potatoes Before Air Frying – I've done both methods…soaked the cut potatoes in water for 30 minutes before air frying and just rinsing them really well. To be honest, I can't tell a difference. So if you're in a hurry, rinse them well. If you want to soak them before air frying, then do it.
Do Air Fryer French Fries Taste Good? – Only when they are made fresh. I tried reheating some leftovers the next day and they were not so great.
Toppings – I top my french fries with fresh grated Parmesan cheese and fresh parsley. My son loves to make chili cheese fries. My daughter likes to melt mozzarella cheese on top with diced peppers. The creations you can make are endless!
More Air Fryer Recipes
Looking for more air fryer recipes? You'll love these:
If you loved these Air Fryer French Fries, give this recipe a star review! Also, snap a picture of your finished dish and share it with me on Instagram using the hashtag #recipesworthrepeating and tagging me @recipesworthrepeating.
Air Fryer French Fries
Crispy and delicious, these french fries are EASY to make in the air fryer! You can have better than restaurant french fries in your home in less than 30 minutes.
Keyword:
#Air Fryer, french fries, Gluten free
Instructions
Peel the potatoes and then cut the potato lengthwise into 1/4 ro 1/2 inch thin slices.

Rinse the cut potatoes well in a colander. Take the cut potatoes and add them to a gallon sized Ziplock bag.

Add the Avocado oil and all the seasonings. Zip the bag and shake well, just enough so that the potatoes are evenly coated.

Dump the seasoned cut potatoes in the air fryer pan. Spread evenly.

Manually set the air fryer to 390 degrees fahrenheit. Manually set the timer for 18 minutes then press start.

During the cooking process, open the air fryer pan and stir the fries around 2-3 times.

Once done, let the french fries sit for 5 minutes before serving. Top with fresh parsley and fresh grated Parmesan cheese.
Recipe Notes
You can adjust the cooking time based on the texture you're looking for in your french fries. Some people like them done at 14 minutes. I like them done at 18 minutes. My husband likes them done at the 20 minute mark.
Nutrition Facts
Air Fryer French Fries
Amount Per Serving
Calories 100
Calories from Fat 9
% Daily Value*
Fat 1g2%
Sodium 296mg13%
Potassium 444mg13%
Carbohydrates 19g6%
Protein 2g4%
Vitamin A 60IU1%
Vitamin C 6.1mg7%
Calcium 14mg1%
Iron 0.9mg5%
* Percent Daily Values are based on a 2000 calorie diet.
NOTE: You will find affiliate links on this page.