These steak kebabs are the juiciest most tender pieces of flavorful beef. With a zesty Italian base marinade, this shish kebab recipe is the perfect summertime meal the whole family will love!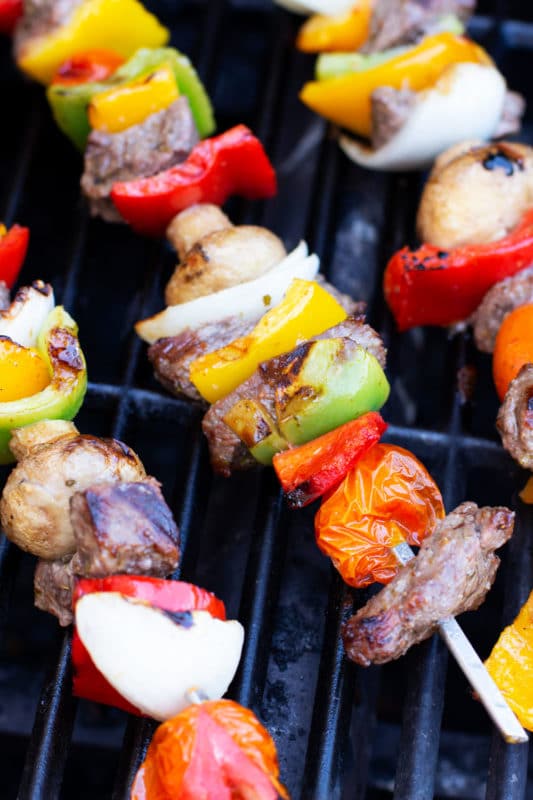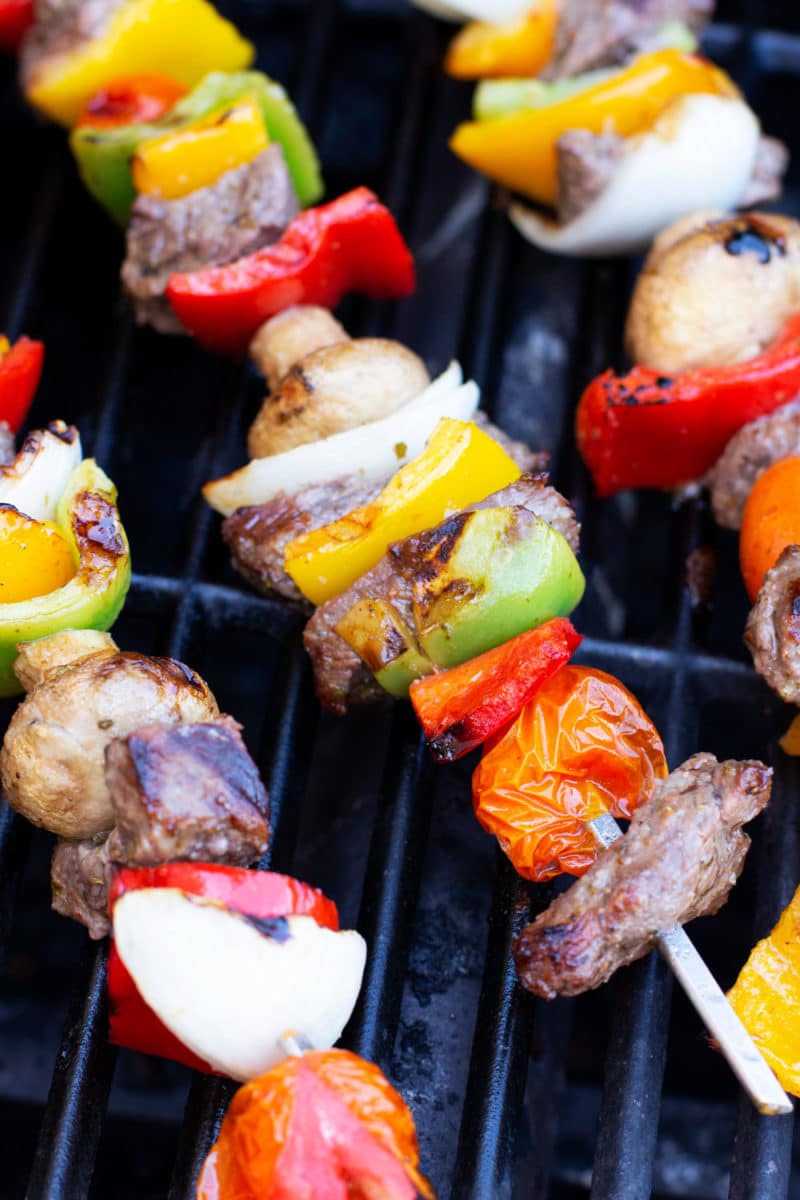 Regardless if you call them kebabs, shish kebabs, or skewers, these Steak Kebabs are crazy super flavorful and so easy to make! Especially when you serve them over a bed of Ono Rice. This steak kebab recipe has the most flavorful marinade mixture made up of richly flavored ingredients like apple cider vinegar, oregano, olive oil, lemon juice, and Italian seasoning mix. Similar to my Greek chicken marinade, this marinade is perfect for steak! This is a perfect summertime dinner ready with only a few simple steps.
The questions I get asked the most about this recipe are:
What beef is best for skewers?
How do I make beef skewers tender?
Can I cook steak kebabs in the oven?
Can I make beef kebabs without skewers?
Before we jump into how to make this skewer recipe, let's go directly into tips for success for making these steak kebabs.
Steak Kebabs - Tips for Success
What Beef to Use for Skewers - sirloin and filet are my favorite cuts of meat to use when making this kebab recipe. Sirloin is an inexpensive cut of meat and pretty tender. Filet is my absolute favorite cut of meat. It's the most tender and flavorful cut, but also the most expensive. When I'm entertaining guests, I use filet. If it's just an everyday casual dinner, sirloin is my go to cut of meat.
How to Make Beef Skewers Tender - it's all about the marinating process. Ingredients such as apple cider vinegar and lemon juice have higher levels of acid and help naturally tenderize the beef. How long you marinate the beef contributes to the tenderness of the meat.
Cooking steak kebabs in the oven - Yep, you sure can! If you want to skip the grill, preheat the oven to 425 degrees fahrenheit. Line a large cookie sheet with aluminum foil and place the skewers on the cookie sheet. Bake for 20 minutes for a medium cooked steak.
Beef Kebabs without Skewers - do you want steak kebabs but don't feel like assembling the skewers (we've all been there)? Grab a grilling basket and grill the steak and vegetables in the basket on the grill.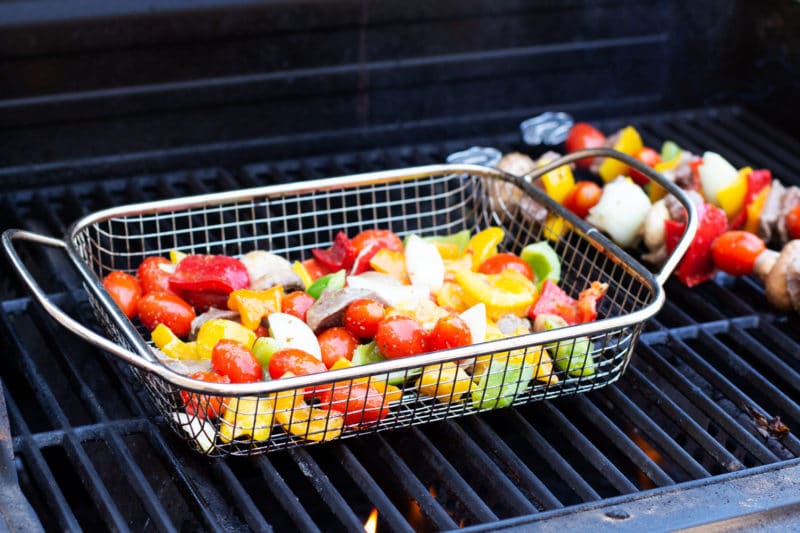 Steak Kebab Ingredients
Here's the kebab ingredients you'll use for this recipe:
sirloin (or your favorite steak)
red pepper
green bell pepper
yellow pepper
cherry tomatoes
medium onion
Marinade Ingredients
The most flavorful marinade mixture...guys! Below are the ingredients you'll use for the marinade:
1 package of dry Italian Seasoning Mix
olive oil
apple cider vinegar
dry oregano
fresh squeezed lemon juice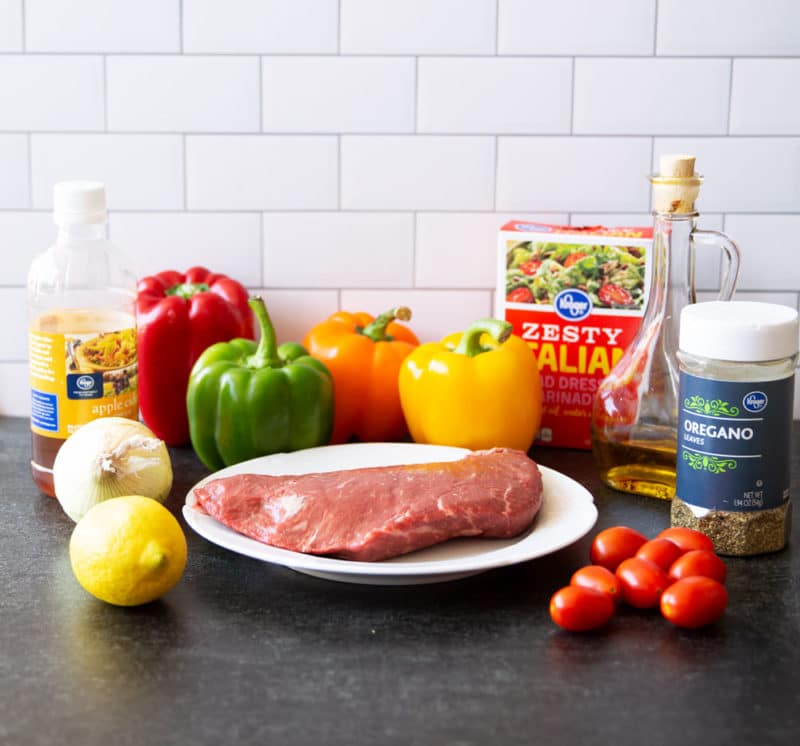 How to Make Steak Kebabs
Cut the steak into cubes: Grab a cutting board and a sharp knife and cut the beef into cubes.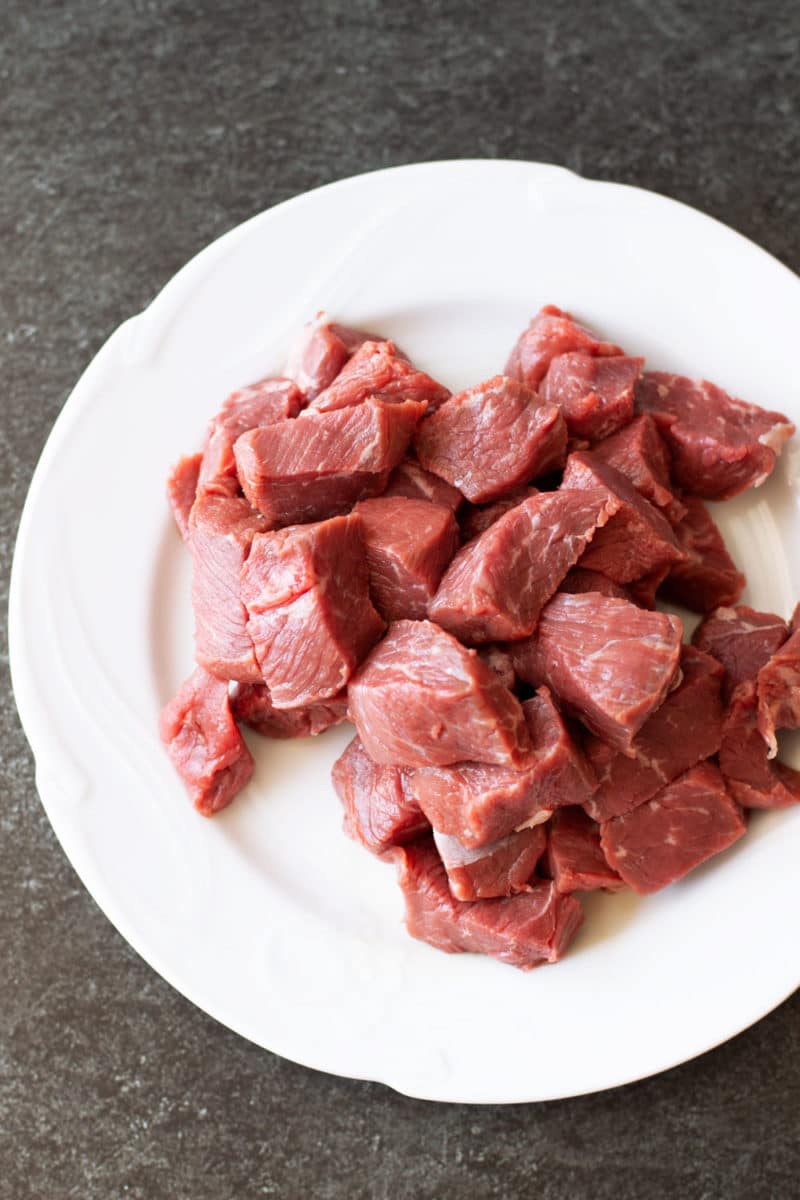 Chop the vegetables: Dice the peppers and onions into bite-size pieces. When making kebabs, you can use any vegetables and fruit you want. Some of my favorites to string on skewers are:

green bell peppers
red bell peppers
yellow bell peppers
mushrooms
onions
cherry tomatoes
zucchini
squash
eggplant
pineapple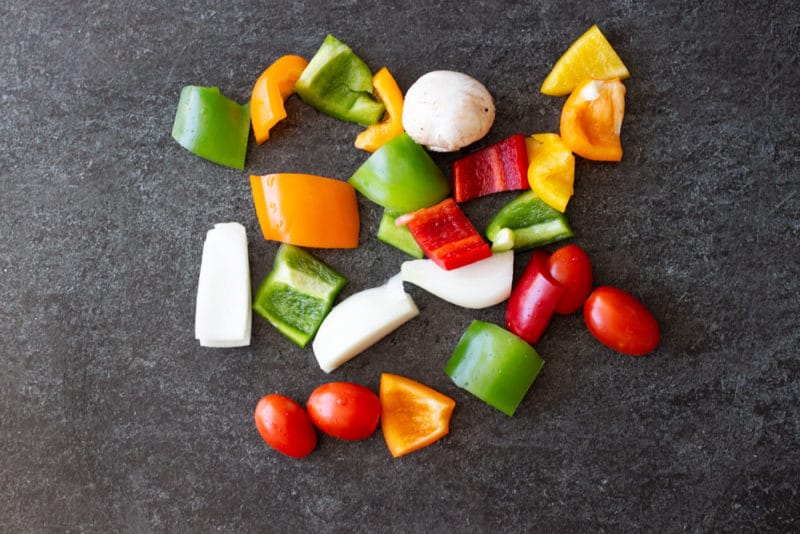 Make the marinade: In a mixing bowl, whisk together these richly flavorful ingredients of dry Italian Seasoning Mix, olive oil, apple cider vinegar, dry oregano and fresh squeezed lemon juice.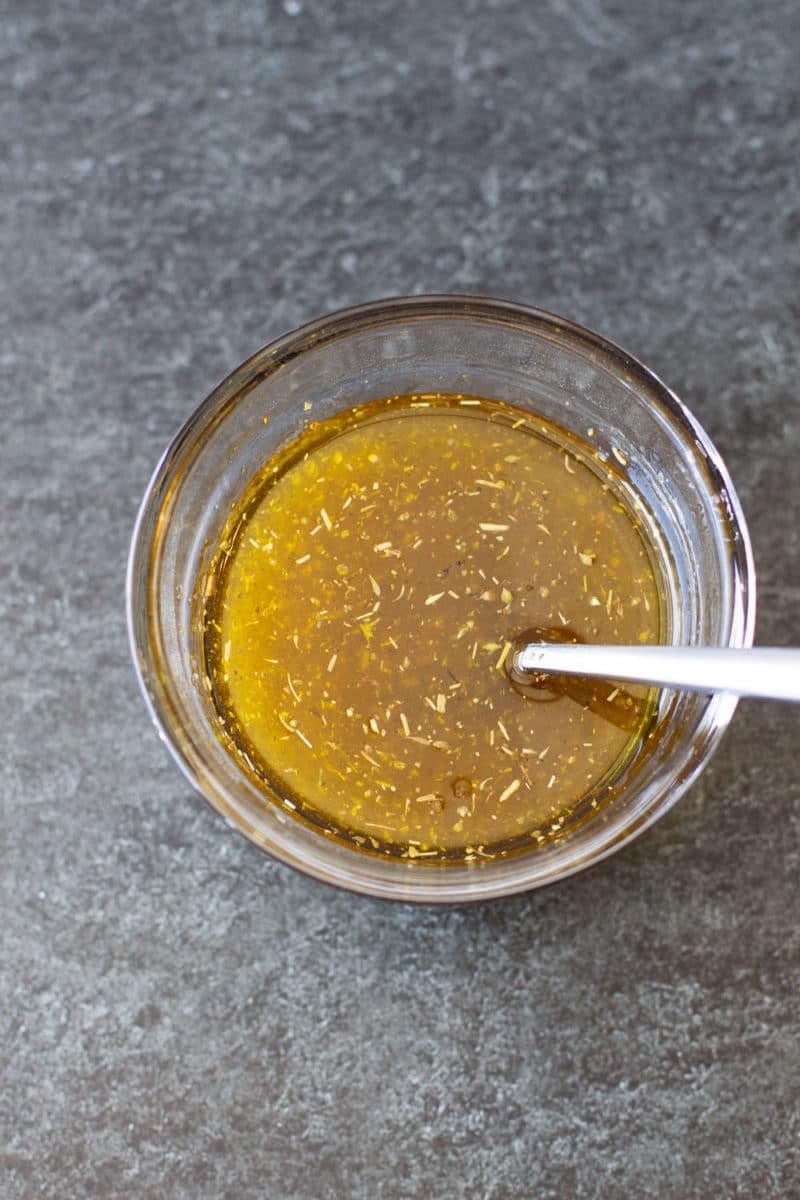 Marinate all the ingredients: Add the steak and chopped vegetables to a large bowl. Pour in the marinade and mix well. Cover with saran wrap and place in the refrigerator and let the marinade process take place. There is another option/method for marinating these steak kebabs. Grab a gallon size ziplock baggie and place the steak in the bag. Pour the liquid marinade over the steak and seal shut. Place the baggie in the refrigerator and let it marinate. Personally, I like my vegetables to marinate with the meat, but it's really all about preference here.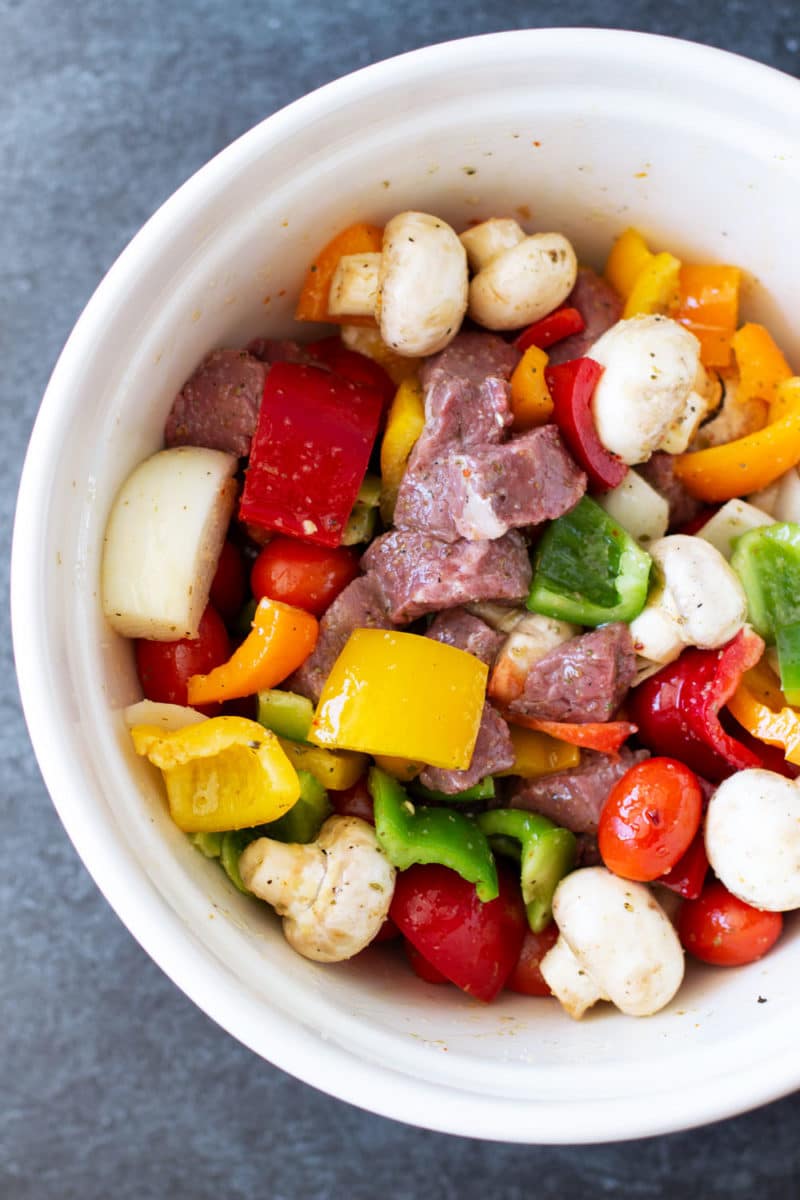 Assemble Steak Kebabs: Layer the steak and vegetables onto the skewers in any order you choose. My preference is to put a mushroom or a piece of steak at the end of the skewer. It provides a strong barrier and helps keep the other vegetables from sliding off.
Grill the Kebabs: Preheat the grill to medium high heat then cook the kebabs for 9-10 minutes, turning a couple of times. One done, let them cool and then serve.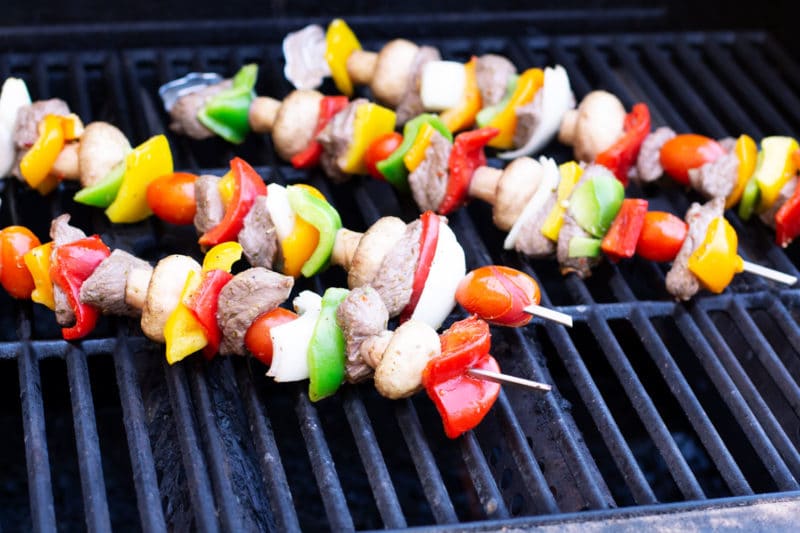 Pro Tips
Marinating time - Marinating the steak overnight makes this the most flavorful and tender steak kebabs recipe ever. If you don't have that kind of time, marinate them for at least an hour.
Chicken and Shrimp Kebabs - In the mood for chicken or shrimp kebabs? Feel free to switch out the steak.
Soak Wooden Skewers - When using wooden skewers, soak them in water for at least 1 hour before placing them on the grill. This will prevent them from burning.
Crispy Steak Kebabs - I've found that if you leave a little bit of space between the peppers and meat on the skewers, it helps them not become too crispy. Unless you love crispy veggies and steak (which I do)!
How to Reheat Beef Skewers - If you want to reheat these kebabs, you can warm them in the microwave for a minute or so, but I prefer reheating in the oven.

Want more of a crispy texture to your steak and vegetables? If so, set your oven to broil and let broil for 5 minutes. Keep your eye on them so they don't burn.
If you like your steak and veggies less crispy, set the oven to 350 and bake for 7-10 minutes until hot.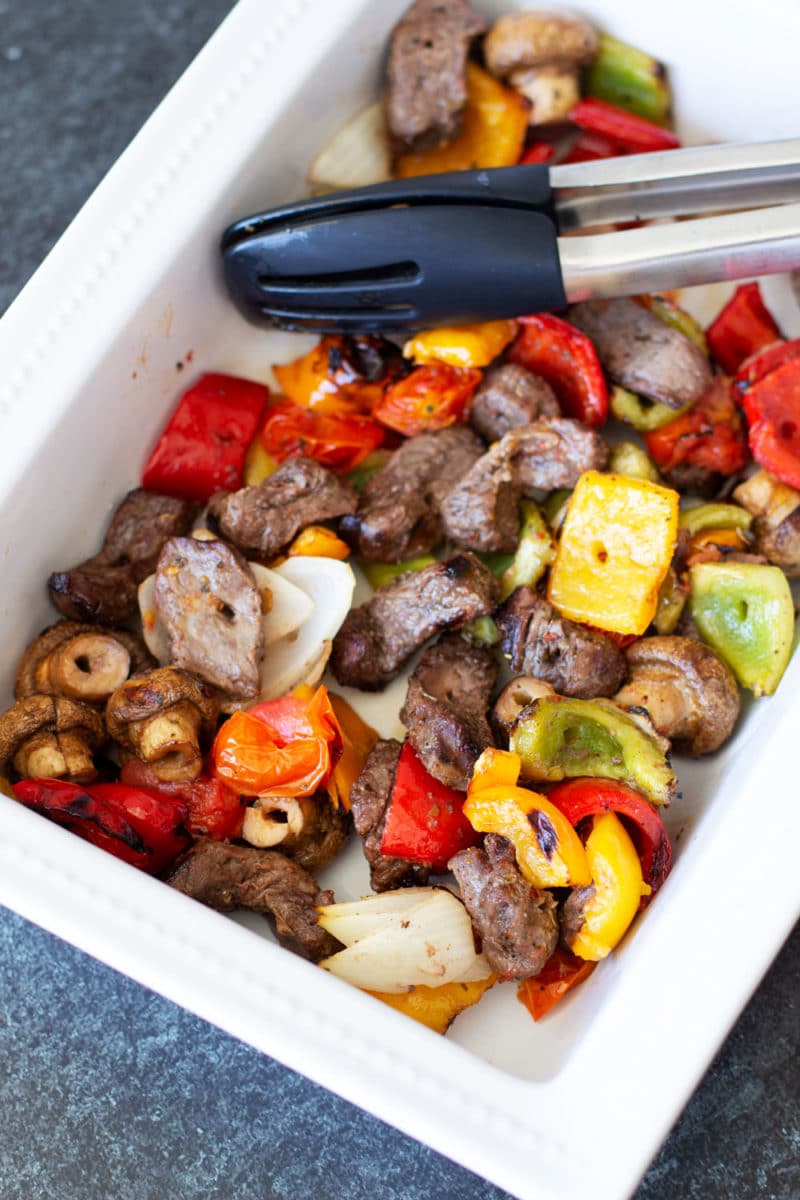 What Goes Good with Beef Skewers?
Did you make this recipe? Make sure to tag me @recipesworthrepeating on Instagram and hashtag it #recipesworthrepeating so I can see all your wonderful recipe creations!
Remember to subscribe to the Recipes Worth Repeating newsletter to receive new recipe notifications delivered to your inbox! Follow Recipes Worth Repeating on Facebook | Instagram | Pinterest | Twitter for all of the latest updates, recipes and content!
Steak Kebabs
These steak kebabs are the juiciest most tender pieces of flavorful beef. With a zesty Italian base marinade, this shish kebab recipe is the perfect summertime meal the whole family will love!
Print
Pin
Rate
Ingredients
Marinade Ingredients
1

package

dry Italian Seasoning Mix

½

cup

olive oil

⅓

cup

apple cider vinegar

1

teaspoon

oregano,

dried

2

Tablespoons

lemon juice,

fresh squeezed
Steak Kebab Ingredients
2

lbs

sirloin steak,

(or filet)

1

red pepper

1

yellow pepper

1

red pepper

1

onion

mushrooms

cherry tomatoes
Instructions
To Prepare the Marinade
Take the Italian Seasoning Mix packet and put in a small bowl. Add the olive oil, apple cider vinegar, oregano, and lemon juice to the dry seasoning mix in the bowl and mix until well combined. Set aside.
To Prepare the Kabobs
Cut the steak into cubes and place on a plate and set aside.

Cut the peppers into cubes and onions into wedges.

From there, take the steak and vegetables and put them in a large mixing bowl. Pour the marinade into the bowl with the vegetables and steak.

Mix well and let marinate in the refrigerator for overnight. Once marinated, you are ready to assemble the kabobs.

Take the piece of steak and vegetables and place onto the skewers.

Grill the steak and vegetable kabobs for a total of 10 minutes, turning the kebabs a couple of times.
Nutrition
Serving:
6
people
|
Calories:
393
kcal
|
Carbohydrates:
6
g
|
Protein:
34
g
|
Fat:
25
g
|
Saturated Fat:
5
g
|
Cholesterol:
92
mg
|
Sodium:
90
mg
|
Potassium:
679
mg
|
Fiber:
2
g
|
Sugar:
3
g
|
Vitamin A:
1282
IU
|
Vitamin C:
90
mg
|
Calcium:
57
mg
|
Iron:
3
mg
Update Notes: This post was originally published in January 2014, but was re-published with updated step-by-step instructions, pictures, and tips in August 2019.