Whether you follow the keto diet or not, you're going to love these delicious low-carb recipes! From pizza to soup to pancakes to brownies...I've got 21 of the easiest keto recipes I just know you're going to love!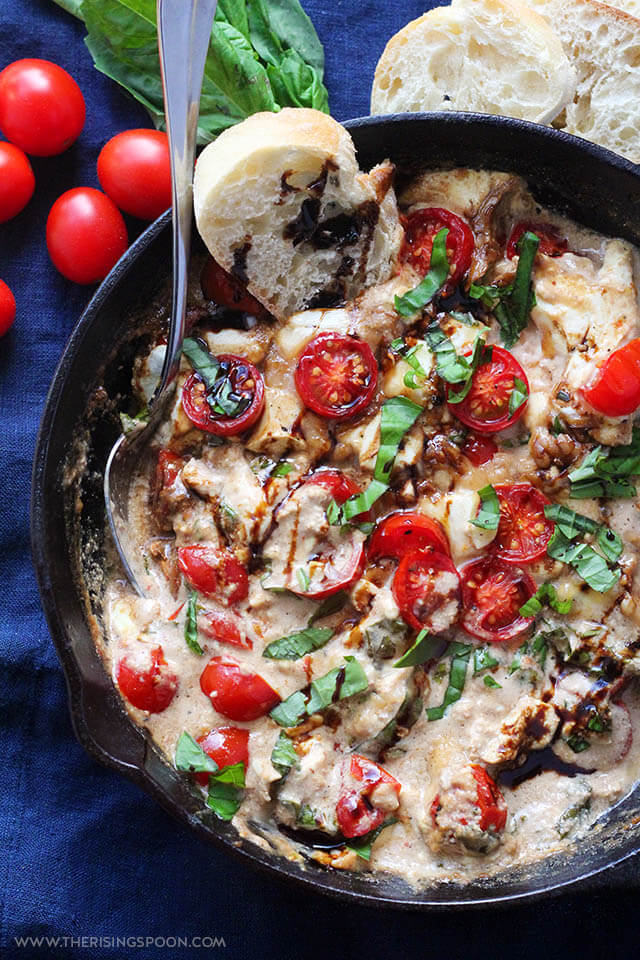 Jump to:
I'm starting the year off exactly like I ended it... busy busy busy. Competitive dance, club sports, and travel. But I'm not complaining at all. I'm loving every single second of it!
People ask me all the time how I keep everything so organized and balanced. If they only knew...
Can I let you in on a little secret?
It's recipes like these below that keep me sane and help me stay on top of family dinners. There is one thing I consistently do to keep organized each week and that is putting together our weekly meal plan.
Every Sunday I sit down and make out a dinner menu for the week. And then I post the menu on the bulletin board in the kitchen. That way everyone knows what's for dinner each night and no one is wondering (or constantly asking me) what are we going to eat for dinner.
Easy Keto Recipes
Finding easy dinner recipes is a HUGE part of my meal planning process. Recently, I've been making a lot of keto recipes. They fit into my daily macros and most are extremely delicious so hey, why not venture out into the keto world a little bit more?! And let me tell you...I'm LOVING the recipes we are trying!
And now it's time to share some of my favorite's with you! I've put together 21 easy keto recipes I'm loving and I'm going to tell you why you need to make every single one. So let's jump into these delicious, mouthwatering, and SCRUMPTIOUS easy meals!
Here's what I'm loving about these keto meatballs. First of all...they are so tasty! You're going to make these in the Instant Pot which is super convenient. And, they're low carb with only 5g net carbs per serving. They can also be frozen.
Can we say make ahead freezer meal?!? They're perfect for lunch, dinner, or for a snack!
Low carb, super simple, and only 4 ingredients is all it takes to make this keto pizza! Except this one is in casserole form. A keto pizza crust that is made with cauliflower rice and then topped with shredded mozzarella cheese, Italian seasoning, and pepperoni slices. This pizza casserole is such an easy dinner!
Chicken and sausage go so well together and this one reminds me of so many meals I used to eat as a child growing up in the south. And I'm loving the addition of the okra! This is one of those easy dinners everyone will love!
Not only is this a delicious keto recipe, it's also low carb, simple, and effortless! And, it only takes 25 minutes to make!
Zucchini noodles recipes are not only delicious but also make the best keto recipes, especially when paired with butter, Parmesan cheese, garlic, and lemon. This keto recipe only takes 20 minutes to make, can be made vegan, is high in protein, and gluten free.
Huevos rancheros, also called rancher's eggs, is a Mexican style breakfast that includes corn tortillas and fried eggs topped with warmed salsa. Paleo, Whole30, and Keto Friendly, this keto recipe is naturally gluten free and dairy free. It only takes 10 minutes to prep and 8 minutes to cook.
To make these almond flour pancakes, all you need is 5 ingredients. Made with cream cheese, eggs, and almond flour, these low carb pancakes are absolutely DELISH and oh so simple to make!
Do you like a good caprese salad? Have you ever thought about turning caprese into a dip? If you love a mozzarella caprese, you're going to love this easy appetizer! This one includes mozzarella and parmesan cheese, as well as garlic and balsamic vinegar. I especially love this particular dish because it can be made in the crockpot!
Cheese? Check! Bacon? Check! Nachos? CHECK!
If you love cheese and bacon then you're going to LOVE this nacho recipe! It only takes 3 ingredients to make these keto nachos and they pair perfectly with my Black Bean Dip.
I like starting my day with a healthy blueberry muffin and finally...one I can eat and not feel guilty about. These keto muffins only have 6 grams of carbs per muffin and they are simple to make. I'm loving the hint of lemon in each bite!
Comfort food in a bowl, this instant pot broccoli cheddar soup is savory and quick to make. If you like the Panera broccoli cheddar soup recipe, you're going to love this one! While it calls for chicken broth, you can also make a vegetarian version by using vegetable broth instead.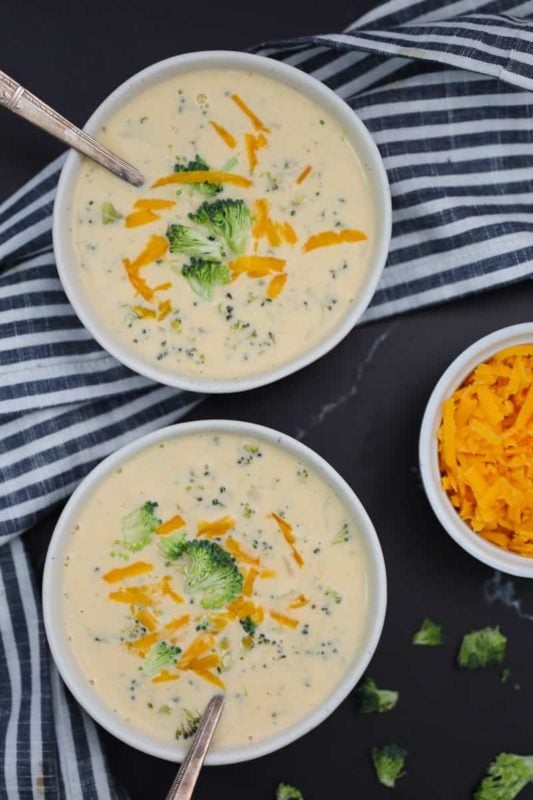 Keto waffles are wonderful for breakfast and these are not only delicious, but they're also made with 100% natural ingredients. They have no wheat, no grains, and nothing artificial. And, let me tell you...they are so flavorful! With this recipe, you'll learn a trick for how to make lighter low carb waffles!
A keto-friendly breakfast that also makes for the perfect snack! These egg muffin cups contain only 5 grams of carbs per serving and are filled with nutrition from all the fresh vegetables used. Make your life easier and prepare these ahead of time so you can grab breakfast on the go!
Everything but the bagel...that's what's you're getting with these keto chips. These low carb chips are made with 3 different types of cheese for the most amazingly crunchy and salty snack that pairs really well with my guacamole and herbed cream cheese spread.
This keto pizza is made with a low-carb crust and covered with cheese and fresh veggies. It's easy to make this keto pizza dough, which is low in carbs and moderate in protein. You don't need a pizza pan for this homemade pizza; all you need is a sheet pan!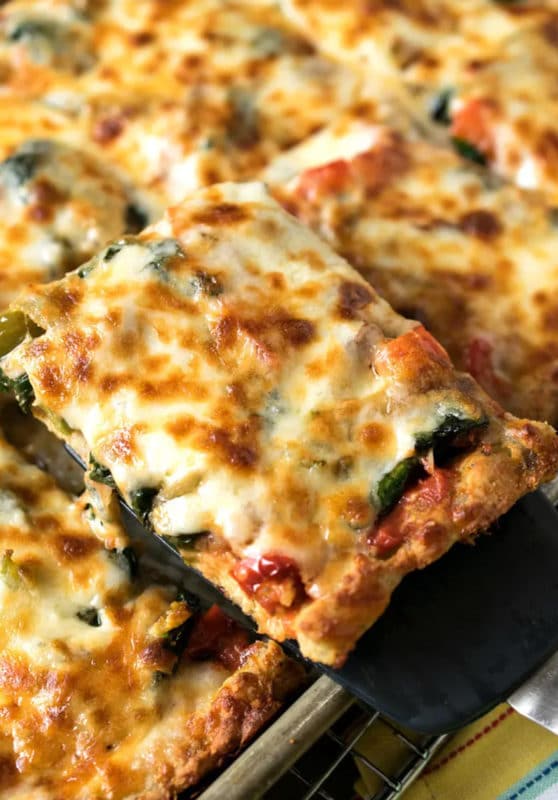 If you like Starbucks Egg Bites, you're going to love these! Eggs, bacon, cheese, and basil make up this high protein food that you can eat for breakfast or as a snack. They can be made in advance and they also freeze well!
These keto brownies are both gluten free and guiltless! These are cheesecake brownies which means they contain both cheesecake and brownies. You get the best of both worlds with this keto dessert and these satisfy my sweet tooth!
It tastes like the real thing! A low carb lasagna for meat lovers. You won't find any noodles in this recipe. The noodles are made from cream cheese, eggs, mozzarella cheese, and parmesan cheese. This keto lasagna is really easy to make and is the perfect family-friendly dinner!
A breakfast casserole that is vegetarian, paleo, low-carb, dairy free. and gluten free. Super healthy and so pretty, this egg bake also contains spinach, avocado, broccoli, tomatoes, and eggplant! A healthy breakfast everyone will enjoy.
If you like zoodle spaghetti, then you'll enjoy this zoodle recipe. It has a bruschetta flavor and while it's keto and vegetarian, it's also made with halloumi cheese. Halloumi is very versatile, but is amazing when pan fried. Try it out on top of these zoodles!
I love a good vanilla cupcake recipe and these are especially yummy because they are made with sour cream! Moist and delicious, each cupcake contains only 2 net carbs and you know what? You would never know it! While they are delicious covered with icing, I love eating the cupcakes plain.
Feta and spinach recipes are divine! With only 5 ingredients, the shredded zucchini mixed with feta cheese is both healthy and versatile. You can make this dish ahead of time and warm it up for a quick and healthy meal.
Related Recipes
Now it's my turn! Recipes Worth Repeating has some amazing keto favorites that everyone will love! My Lemon Butter Chicken is made with a sauce mixed with fresh garlic and Parmesan cheese and it pairs perfectly with tender and juicy chicken.
Another keto chicken recipe I love is this Lemon Thyme Chicken with Garlic and Rosemary Served with fresh lemons, garlic, rosemary and thyme, this chicken is seasoned and coated with a butter-herb sauce and baked to perfection.
My Pesto Cod Fish is an easy and mouth-watering dinner recipe that includes healthy proteins and omega 3's. The pesto sauce adds just the right flavoring to the fish. It's a simple, tasty way to get fish into your diet, even if you're not a big fan!
I can't wait to hear which recipes you try! If you've tried this or any other recipe of mine on the website, make sure you rate the recipe and leave me a comment! I love hearing from you!
Stay Updated! Get all the latest tasty goodness straight to your inbox by signing up to receive my weekly email for the latest and greatest recipes!