This Quinoa Banana Bread is an easy quick bread recipe that bakes up and results in the most amazingly moist loaf of bread ever! Bread so tender, perfectly moist, and packed with banana flavor, this is an even healthier version of the classic banana bread recipe that's going to wow your tastebuds!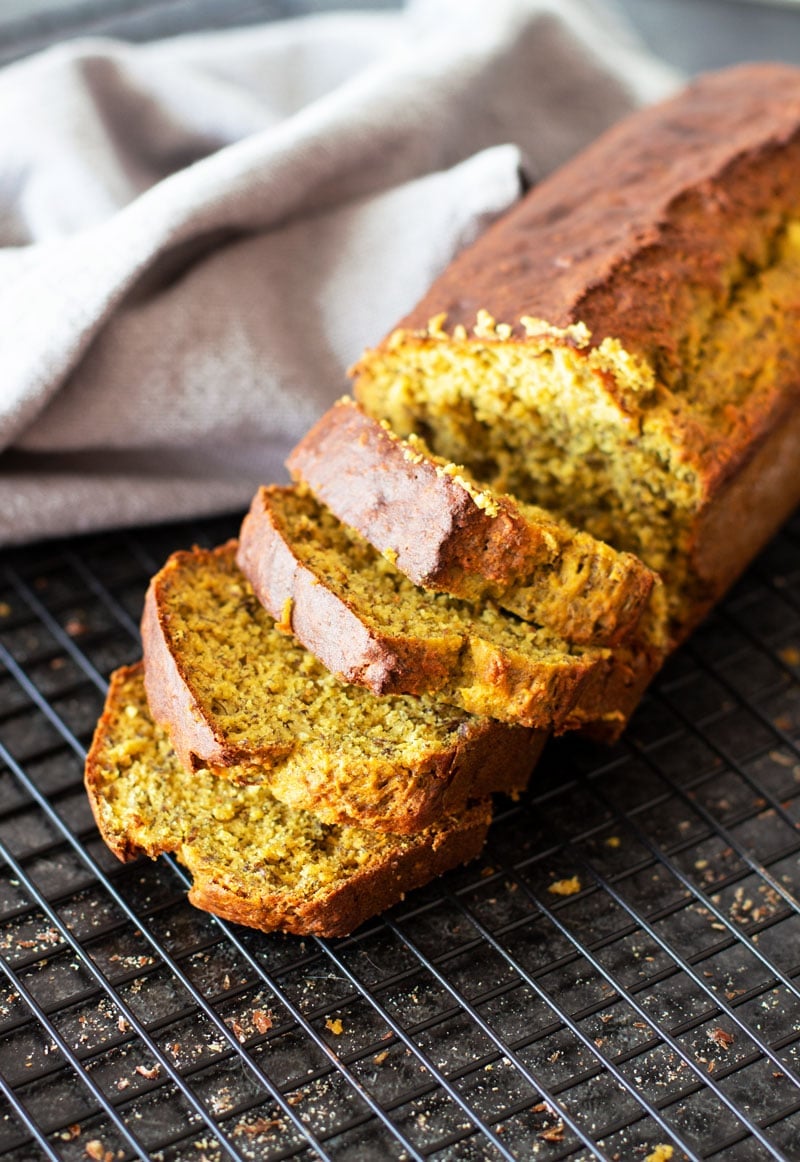 Quinoa Banana Bread
I have been a big fan of Banana Bread since I was a little girl. I remember going out and picking fresh walnuts from the my great grandmother's walnut tree in her backyard just so we could crack them open and get out the fresh walnut to put in a fresh batch of nanny's banana bread. Talk about amazing childhood memories. I still love my nanny's banana bread recipe today, but coming up with healthier versions of bread is kinda where I am right now in my adult life. And that's where this Quinoa Banana Bread come into play.
Queue the quinoa flour and flaxseed, please!
I'm on a quinoa and flaxseed kick right now, so I'm creating more and more flaxseed and quinoa recipes all the time, like these Protein Quinoa Bites. I've never combined a quinoa flour with flaxseed meal before, so I decided to take the typical banana bread recipe and turn it into a healthier version.
And….OMG…SO DELISH!! Like crazy moisture in a cake delish!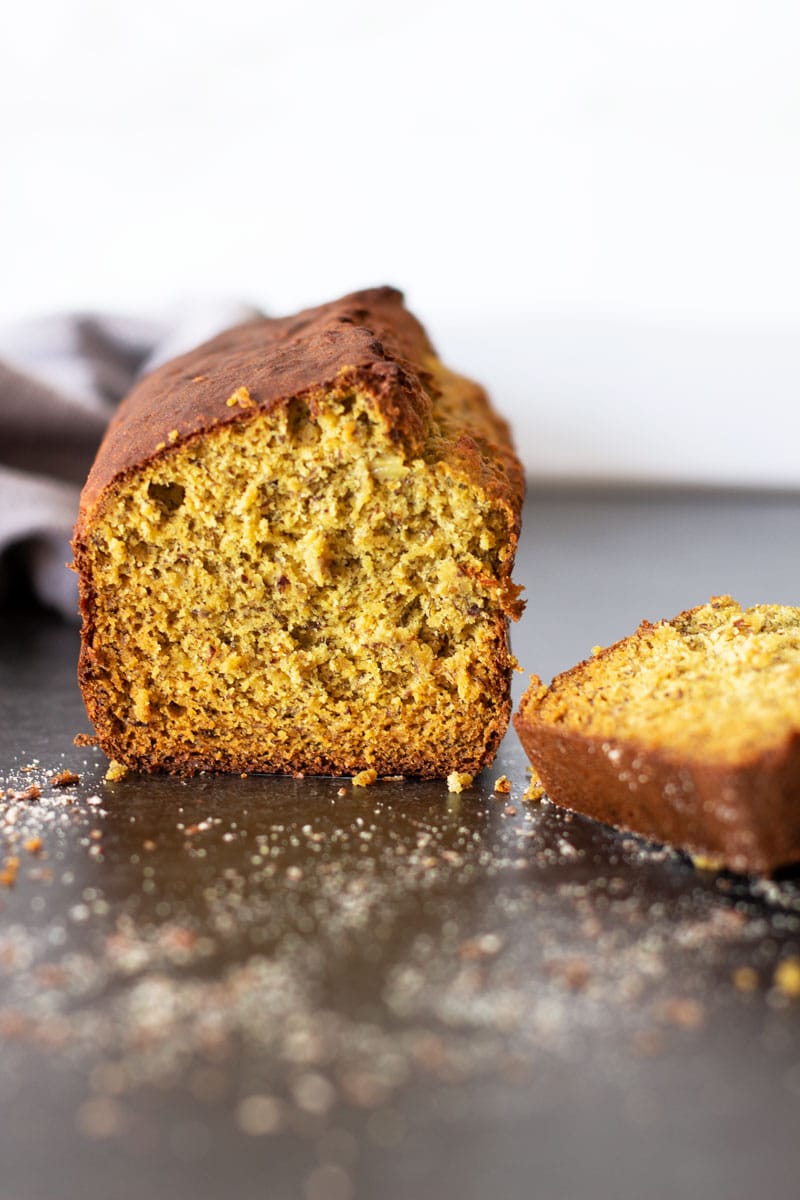 Is Quinoa Banana Bread Gluten Free?
Yes! Quinoa is naturally gluten free. Quinoa flour is becoming more and more popular because it's extremely versatile in gluten free baking and it contains protein, fiber, and other vitamins and minerals.
What is Flaxseed Good For?
There are a lot of flaxseed benefits. Flaxseed is high in fiber, as well as contains a high amount of protein. It also contains omega fatty acids. Flaxseed meal has a natural nutty taste, so it is the perfect partner ingredient for a loaf of quinoa flour based banana bread recipe. Adding flaxseed to your diet can also help protect your body against certain cancers, lower cholesterol levels, and promote a healthy heart.
So what am I getting at here? You can eat this delicious bread and feel good about yourself!!
Ingredients
Let's take a look at the players in this recipe:
quinoa flour – quinoa is considered a "superfood" and when you grind it into flour, it's perfect to use when making breads, pastries, and desserts.
flaxseed meal – has a lot of omega 3 fatty acids and has a "nutty" taste. It's the perfect ingredient if you're looking to make a nut bread without actually adding nuts.
baking soda – helps the bread rise.
baking powder – partners with the baking soda and helps the bread rise.
3 ripe bananas – provides a natural sweetness without adding sugar. The riper the better.
2 large eggs – acts as a binding agents to hold everything together.
honey – pairs with the bananas to provide a natural sweet flavor instead of using sugar.
vanilla extract – gives this bread recipe a nice hint of vanilla flavor.
salt – equalizes the sweetness.
Sugar Free Banana Bread
Notice there is no sugar in the list of ingredients above. Honey and bananas are natural ingredients and take the place of white and brown sugar in this recipe. And you'd never know the difference. This quinoa banana bread with honey and bananas is so moist and mouth watering delicious, it's going to become your favorite bread recipe.
How to Make Quinoa Banana Bread from Scratch
Preheat oven: Go ahead and preheat your oven to 400 degrees. Grease a 9×5-inch loaf pan or if you have a flexipan loaf, use it. It's perfect for bread recipes.
Dry Ingredients: Place the dry ingredients in a large bowl and mix together until well combined.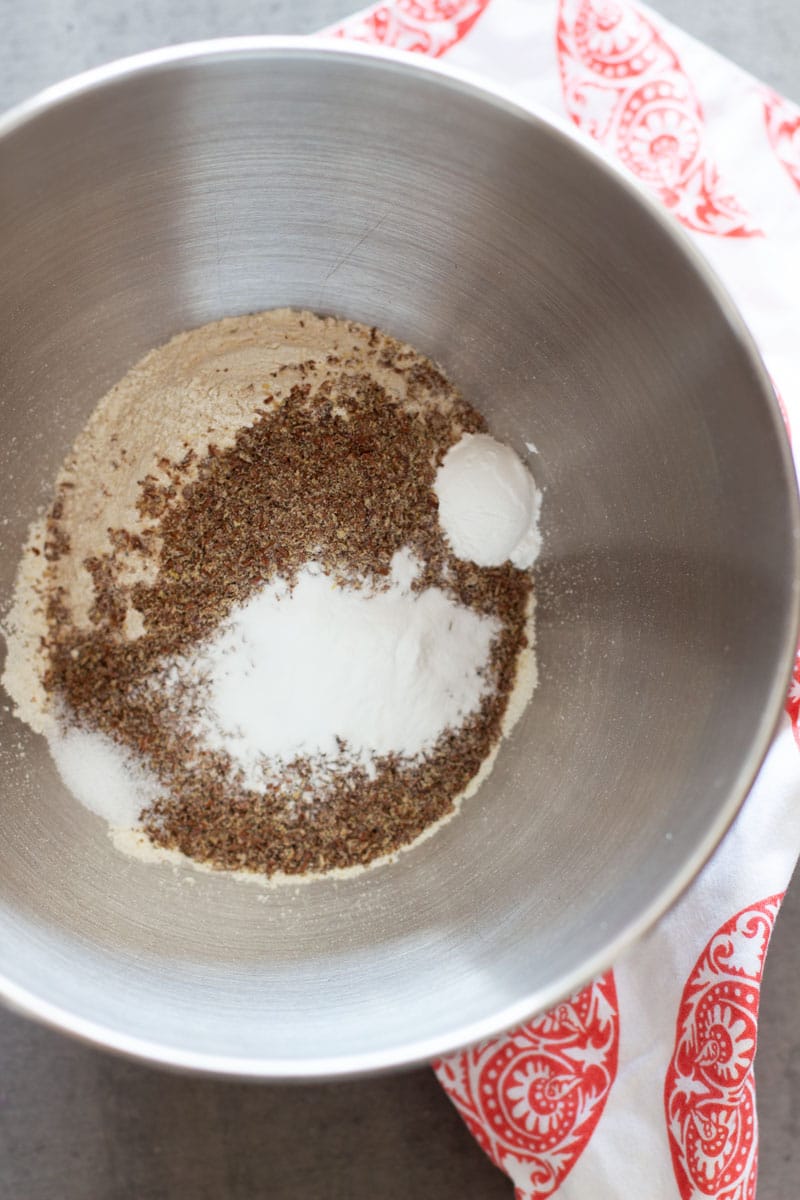 Wet Ingredients: In smaller bowl, mash the bananas. I use a hand held masher. It works amazingly well. Mix in all the wet ingredients until they are all well combined.
Mix Wet and Dry Ingredients: Add the wet banana mixture to the dry ingredients and mix until combined. The batter will have specks of brown grains. That's your flaxseed meal.
How to Cook Quinoa Banana Bread
Pour the batter: Pour the batter into the prepared pan. The batter will only fill up about half of the loaf pan. Don't worry, the bread will rise while baking.
Bake: Bake for 27-30 minutes until done.
Expert Tip – the bread will turn a beautiful golden brown when it's done, so that will be a good gauge to let you know when you should remove the bread in those last minutes of baking.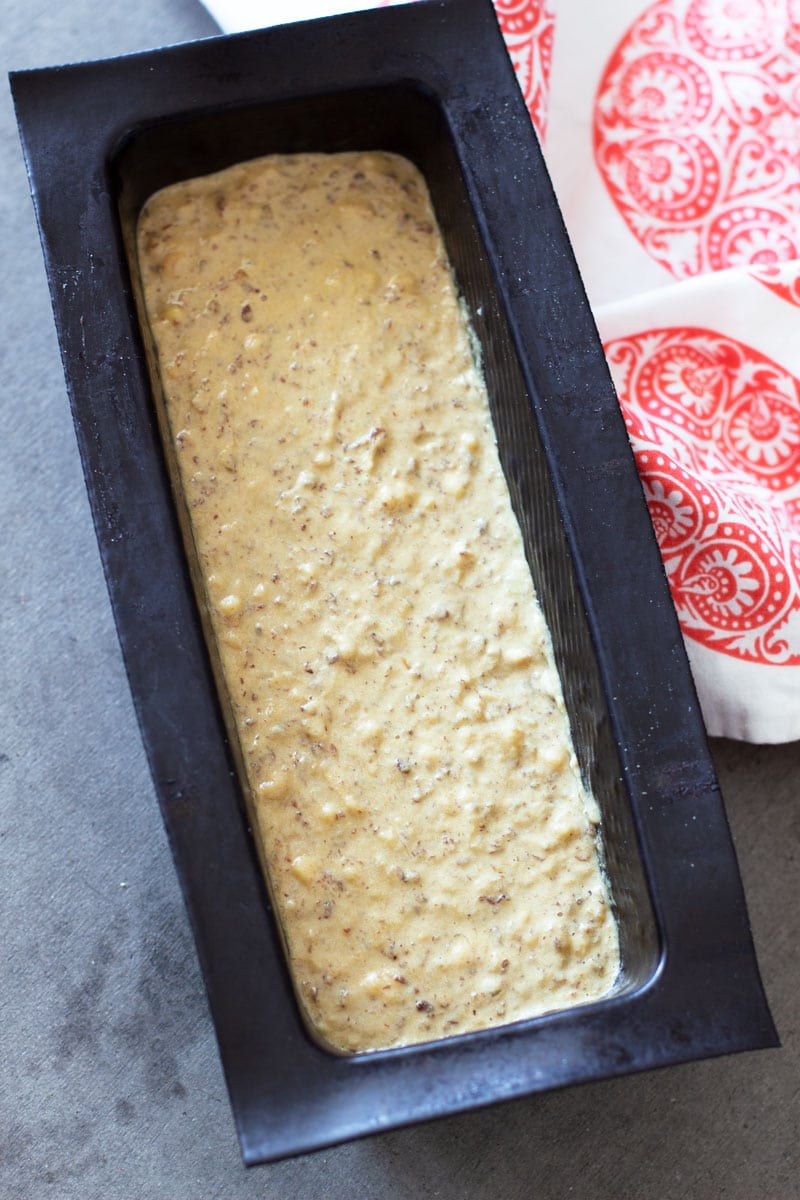 Cool Completely: It is so important to let the loaf of bread cool completely before removing it from the loaf pan. I wait at least 30 minutes to ensure the bread is cooled. When you let the bread cool, the loaf stays perfectly in place. No crumbles!
Slice the bread: After I remove the bread from the mold, I place it on a wire cooling rack and let it sit about 10 more minutes before I slice the loaf into 1/4 inch thick slices. Add some butter, and enjoy!
Tips for the Best Quinoa Banana Bread
Use Overripe Bananas – Using overripe bananas are best. You want the bananas to have some brown spots. Those offer a ton of flavor and sweetness to the bread. If you don't have overripe bananas, you can add a Tablespoon of milk to your ripe bananas. The milk will make it much easier to smash.
Don't Overcook and Let the Bread Rest – When you pull the bread out of the oven, it may appear to be a little moist in the center. That's ok. The bread is going to continue baking after you remove it from the oven. Don't overcook the bread. If you do, you'll lose a lot of the moisture.
KitchenAid Mixer – I am a huge fan of the KitchenAid mixer. When mixing the wet ingredients, use the metal wire whisk. When adding the wet ingredients to the dry ingredients, use the white paddle attachments.
Add Nuts – If you want a little crunch, add in chopped walnuts or pecans. I typically add in a 1/4 cup.
Can Quinoa Banana Bread  be Used for Muffins? – Yes! Just use a muffin pan, fill about halfway full, and bake for 14-16 minutes, or until golden brown.
Can banana bread sit out on the counter? – Yes, it can sit out for 3-4 days. I wrap my loaf in either Saran wrap or aluminum foil.
How long will banana bread keep in the refrigerator? 4-5 days. So if you're storing it in the fridge, you're buying yourself another day.
This bread is best right out of the oven. I ate 3 pieces…I just couldn't stop myself! The moisture in this bread loaf was like cake, but the difference is I didn't feel guilty eating that many slices because of all the nutritional benefits in this Quinoa Banana Bread. You're going to love every single bite of this delicious and good for you bread!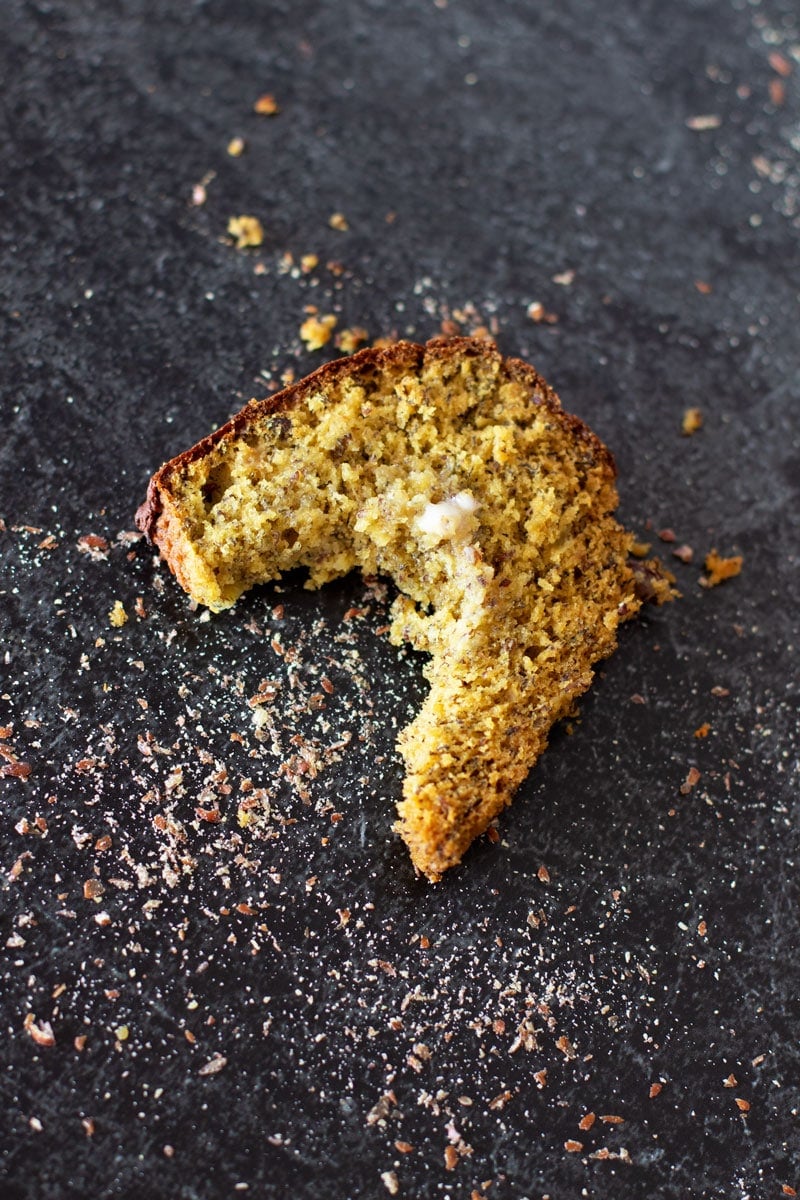 Other Bread Recipes You'll Love
Remember to subscribe to my newsletter to receive new recipe notifications. Follow Recipes Worth Repeating on Facebook | Instagram | Pinterest | Twitter for all of the latest updates, recipes, and content!
Quinoa Banana Bread
This Quinoa Banana Bread is an easy quick bread recipe that bakes up and results in the most amazingly moist loaf of bread ever! Bread so tender, perfectly moist, and packed with banana flavor, this is an even healthier version of the classic banana bread recipe that's going to wow your tastebuds!
Print
Pin
Rate
Instructions
Preheat oven to 400 degrees. Grease a 9x5-inch loaf pan.

Place dry ingredients in large bowl and mix together until well combined.

In smaller bowl, mash bananas. Mix in the eggs and honey until combined, about 2 minutes on low speed.

Add banana mixture to dry ingredients and beat until combined and batter has a smooth consistency.

Pour batter into prepared pan. Bake for 27-30 minutes until done.
Nutrition
Serving:
1
g
|
Calories:
154
kcal
|
Carbohydrates:
25
g
|
Protein:
5
g
|
Fat:
4
g
|
Saturated Fat:
1
g
|
Cholesterol:
41
mg
|
Sodium:
368
mg
|
Potassium:
265
mg
|
Fiber:
4
g
|
Sugar:
10
g
|
Vitamin A:
88
IU
|
Vitamin C:
4
mg
|
Calcium:
48
mg
|
Iron:
1
mg
Update Notes: This post was originally published in July 2012, but was re-published with updated step-by-step instructions, pictures, and tips in September 2019.