The ultimate guide to the best Memorial Day recipes for your backyard BBQ! Celebrate with quick and easy appetizers, juicy and tender grilled meats paired with a variety of side dishes and desserts!
Whether you're taking it easy or going all out, these Memorial Day recipes fit any venue and are guaranteed to please a crowd! From easy no cook recipes, like this strawberry cream cheese dip, to grilled meats like this juicy flank steak recipe, you'll find food ideas that will meet all your needs!
Start off with some easy no bake snacks and finger foods, like this guacamole and chips, to munch on throughout the day. Then dive into the main course with your favorite grilled recipes. Pair that meat with some savory side dishes and salads and then finish it off with a sweet treat! You'll find some of the most delicious Memorial Day recipes everyone will love below!
Jump to:
Let's start with Memorial day recipes that focus on appetizers. Keep everyone full and happy with the best finger foods. Things like having a simple charcuterie board is a big win for those who love the graze and it's so easy to prepare. Keep finger foods readily available so people can stay satisfied before the main meal!
Making a charcuterie board is an easy appetizer for your Memorial day and other summer holiday barbecues. It's simple, involves no cooking, and takes around 15 minutes to put together.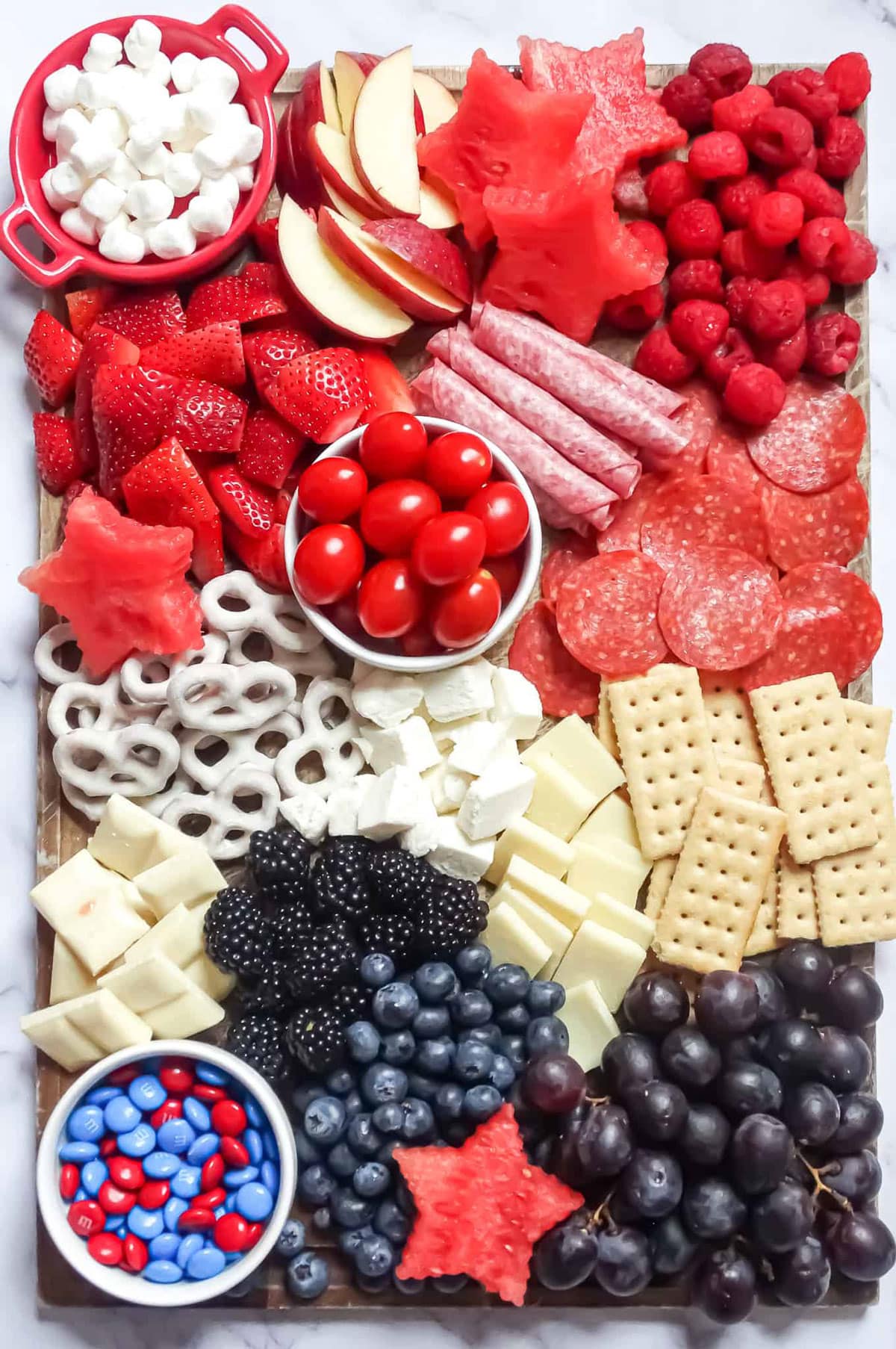 Recipe: Patriotic Charcuterie Board
Wings are the perfect grilling food for summer. Grilled to perfection in a sweet and smoky homemade BBQ sauce, these wings can be eaten with one hand while holding a cold drink in the other! Perfect for Memorial day and a guaranteed crowd pleaser!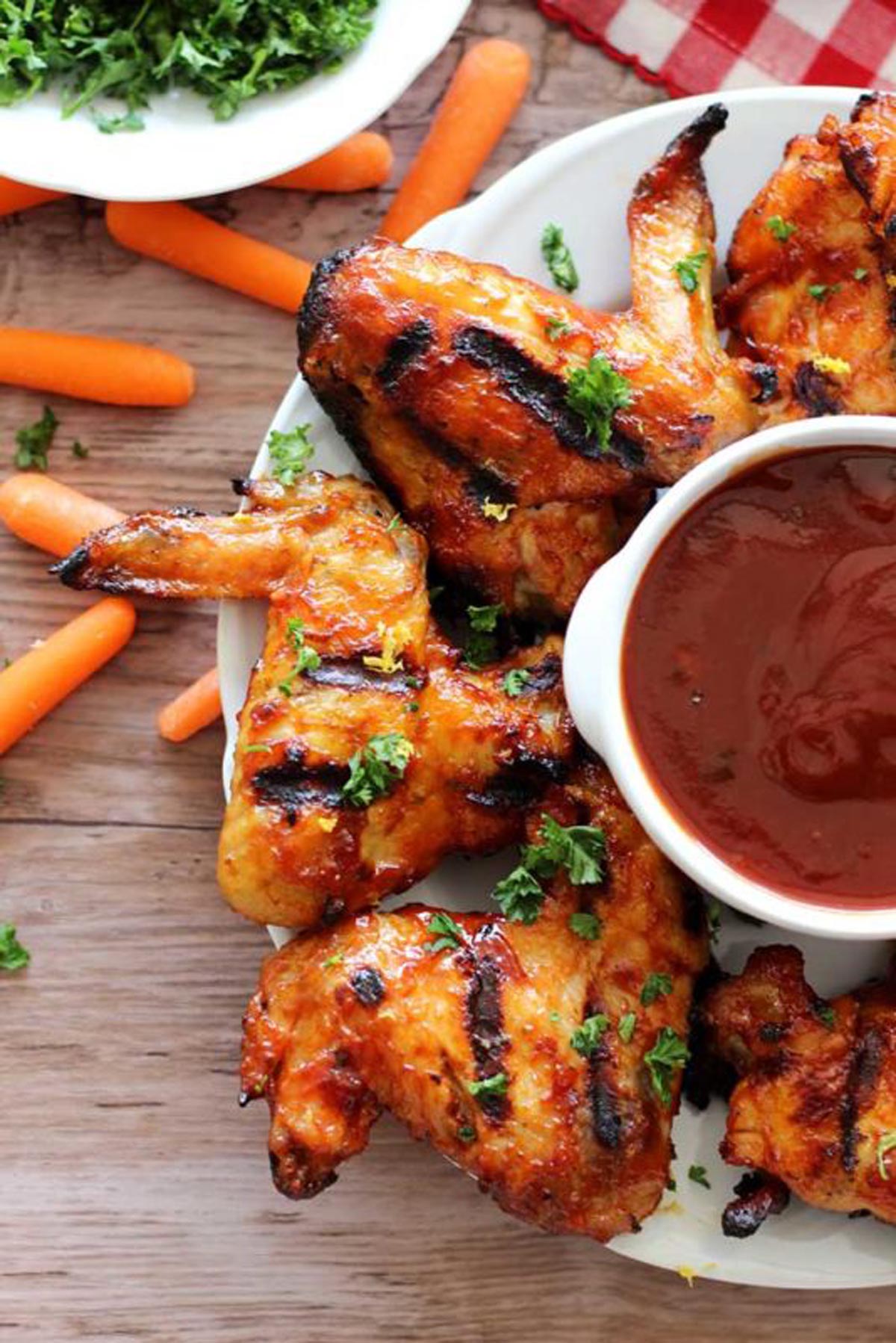 Recipe: How To Make BBQ Grilled Chicken Wings
A creamy and warm appetizer dip filled with cheese, spinach, and chopped artichokes. Melted together and baked until it's hot and bubbly in a skillet that's ready for dipping!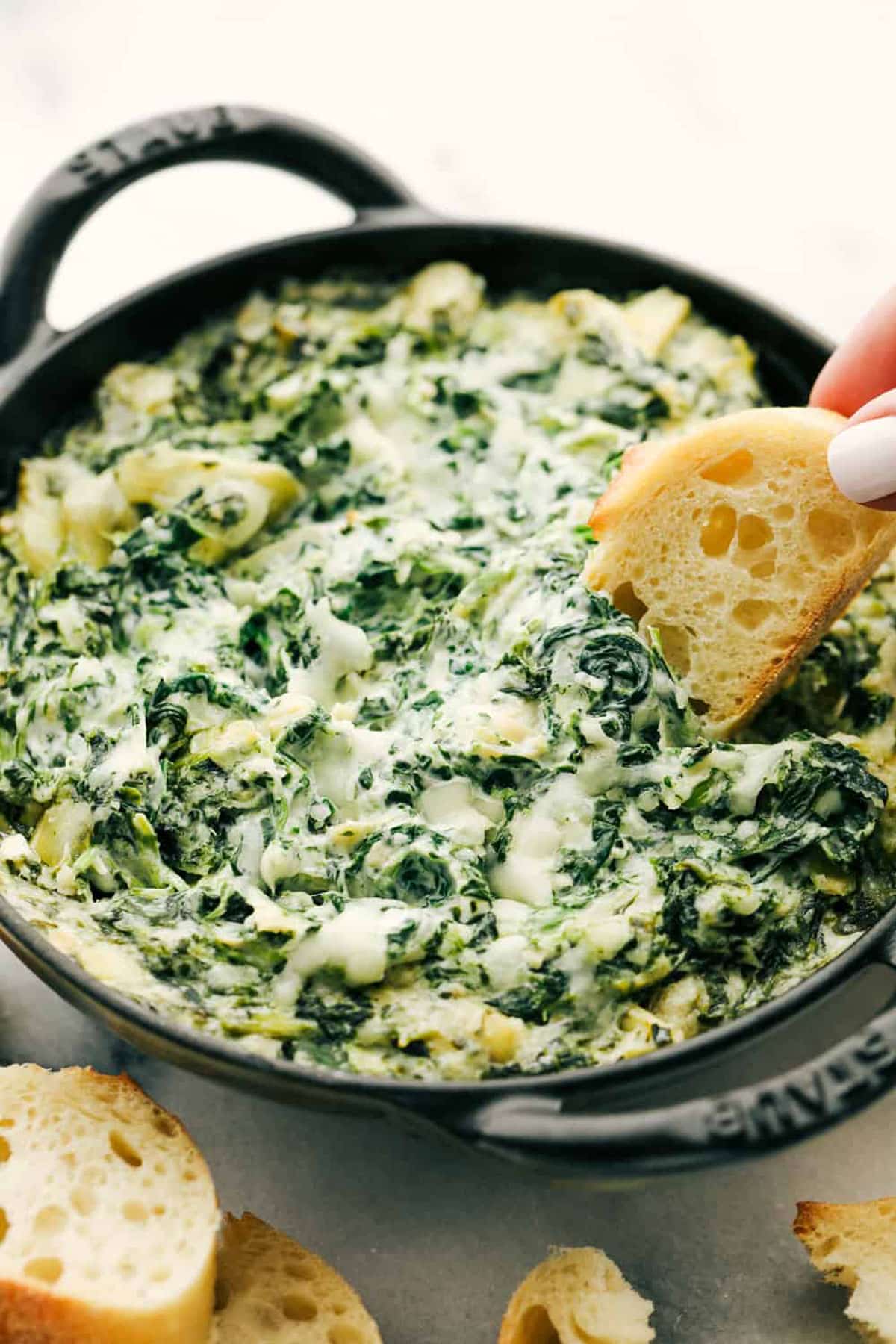 Recipe: Hot Spinach Artichoke Dip
For the love of some Macaroni and Cheese! It's just one of those foods that everyone loves. Cheesy and creamy and cheesy again, this is the ultimate comfort food. The perfect pop in your mouth snack for your Memorial Day!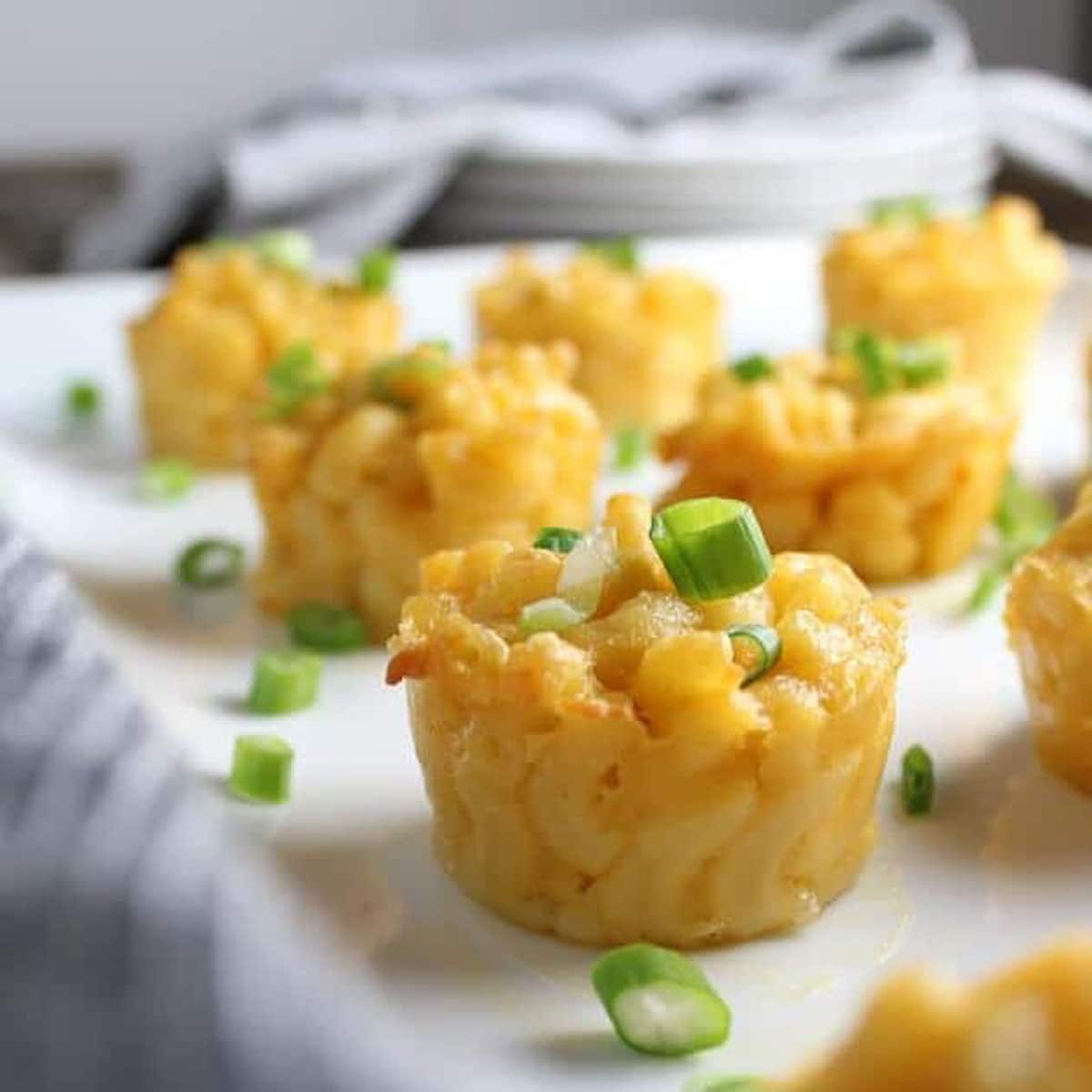 Recipe: Mac N Cheese Bites
Everyone looks forward to a Memorial Day BBQ and these main dishes are guaranteed to please! Have a variety of meats available so guests can pick and choose what they want to indulge in. Ribs, steaks, and burgers are some of the most popular recipes everyone looks forward to!
You don't have to buy a fancy, high-end cut of meat for your Memorial Day BBQ. Sometimes simple is best and that's what you get with this Herbed Skirt Steak recipe. I bet you already have all the ingredients in your pantry to make this marinade.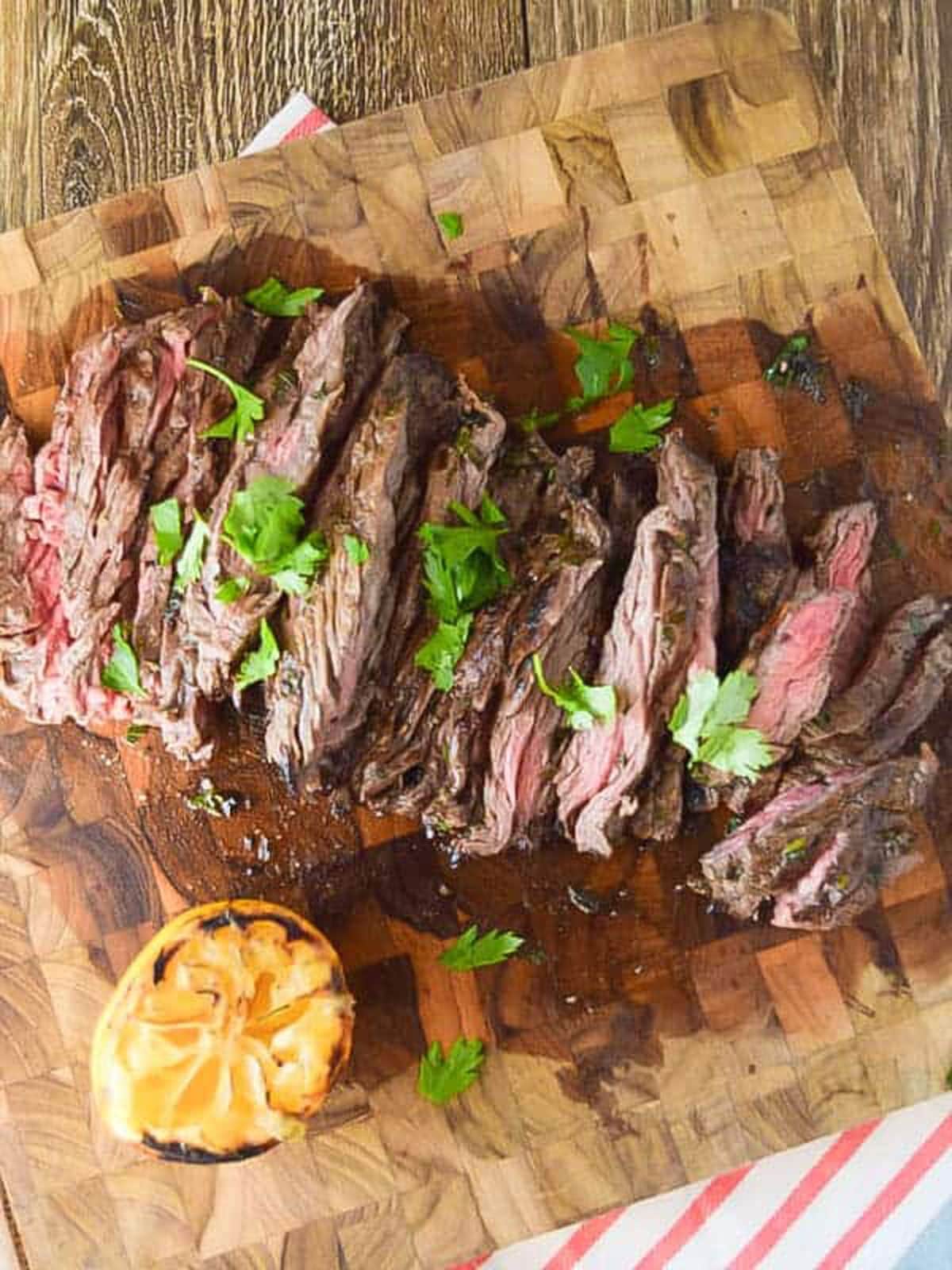 Recipe: Herbed Skirt Steak
I am SO in love with this BBQ recipe! I'm from Tennessee so I know good BBQ ribs and this recipe screams real good ribs. These are Memphis-style barbecue pork ribs lathered with a pomegranate vinegar.
Recipe: Memphis-Style Barbecue Pork Ribs
Juicy and flavorful, these burnt ends are made from a beef brisket and are packed with an intense smoke flavor. Caramelized in a tangy, sweet Kansas City-style barbecue sauce, make sure you bring these to your Memorial Day gathering!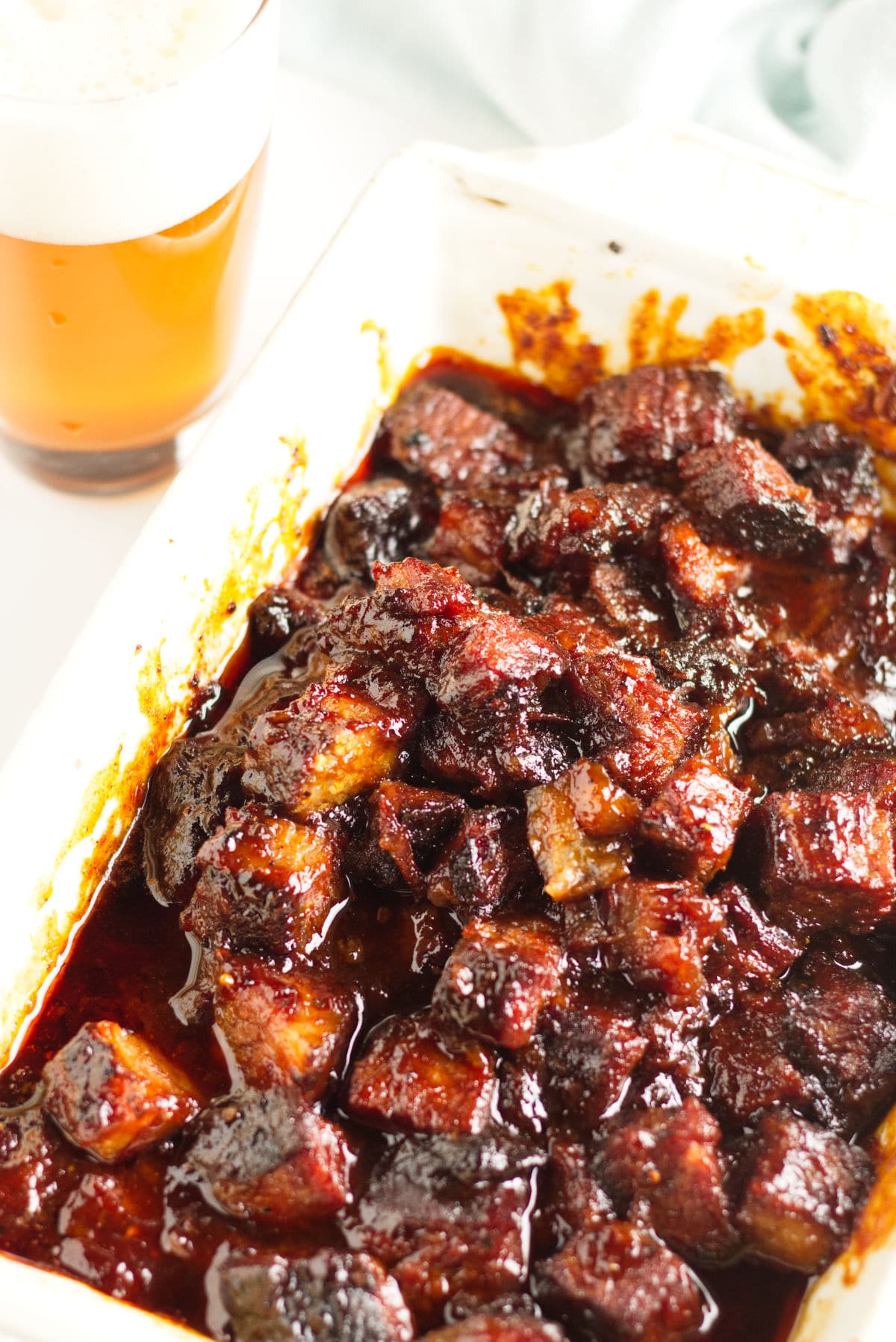 Recipe: Brisket Burnt Ends
Smoking a chicken is EASY and it's perfect for a backyard BBQ! Wow your taste buds with this melt-in-your-mouth smoked chicken! Prepped with a brown sugar, smoky paprika, and garlic based rub, it's a crowd favorite!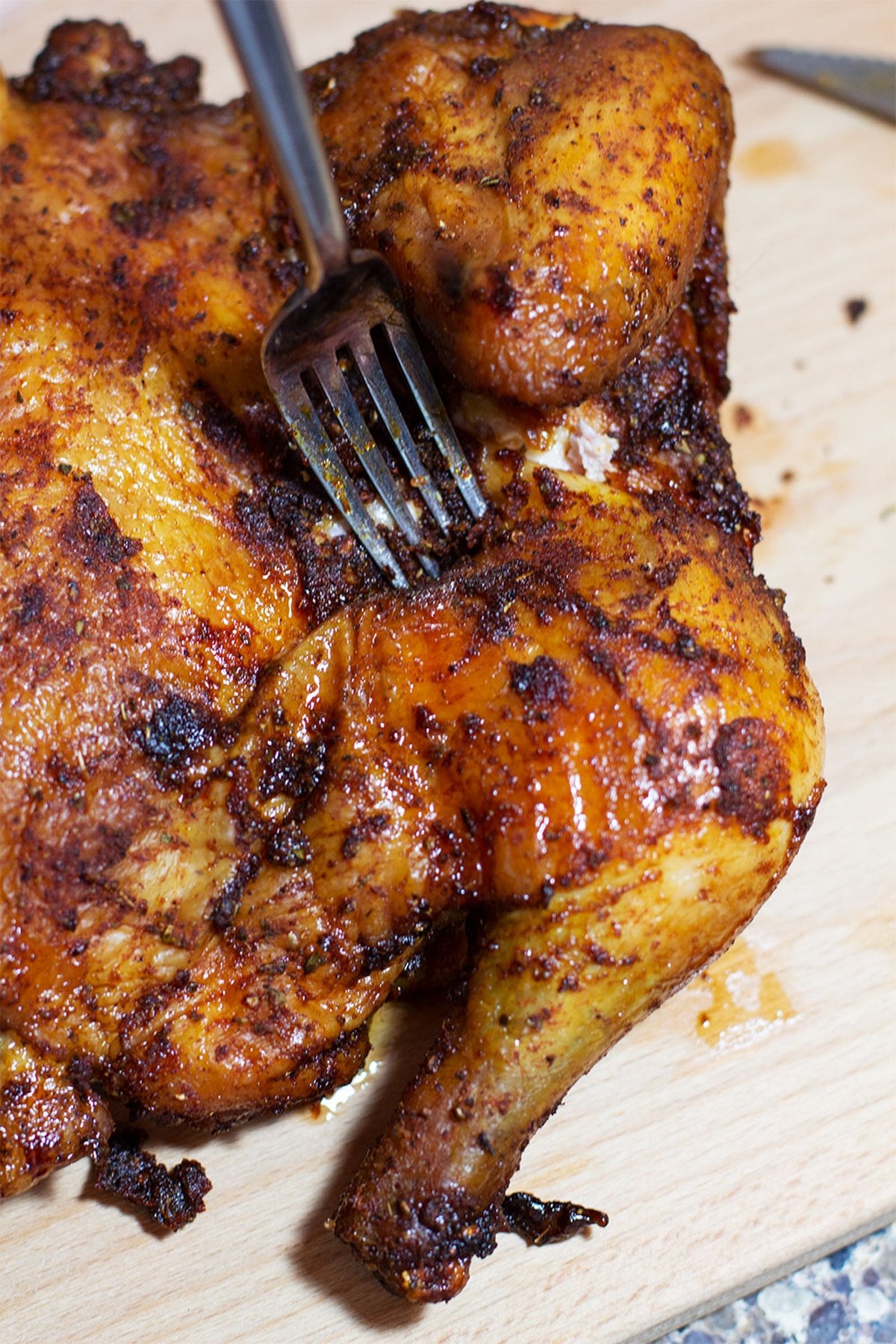 Recipe: Applewood Smoked Chicken
9. Shrimp Boil
If you need a low maintenance Memorial Day meal, look no further. You'll add shrimp, sausage, corn, and spices in the foil and cook in the oven for 20 minutes. Full of flavor and easy to make!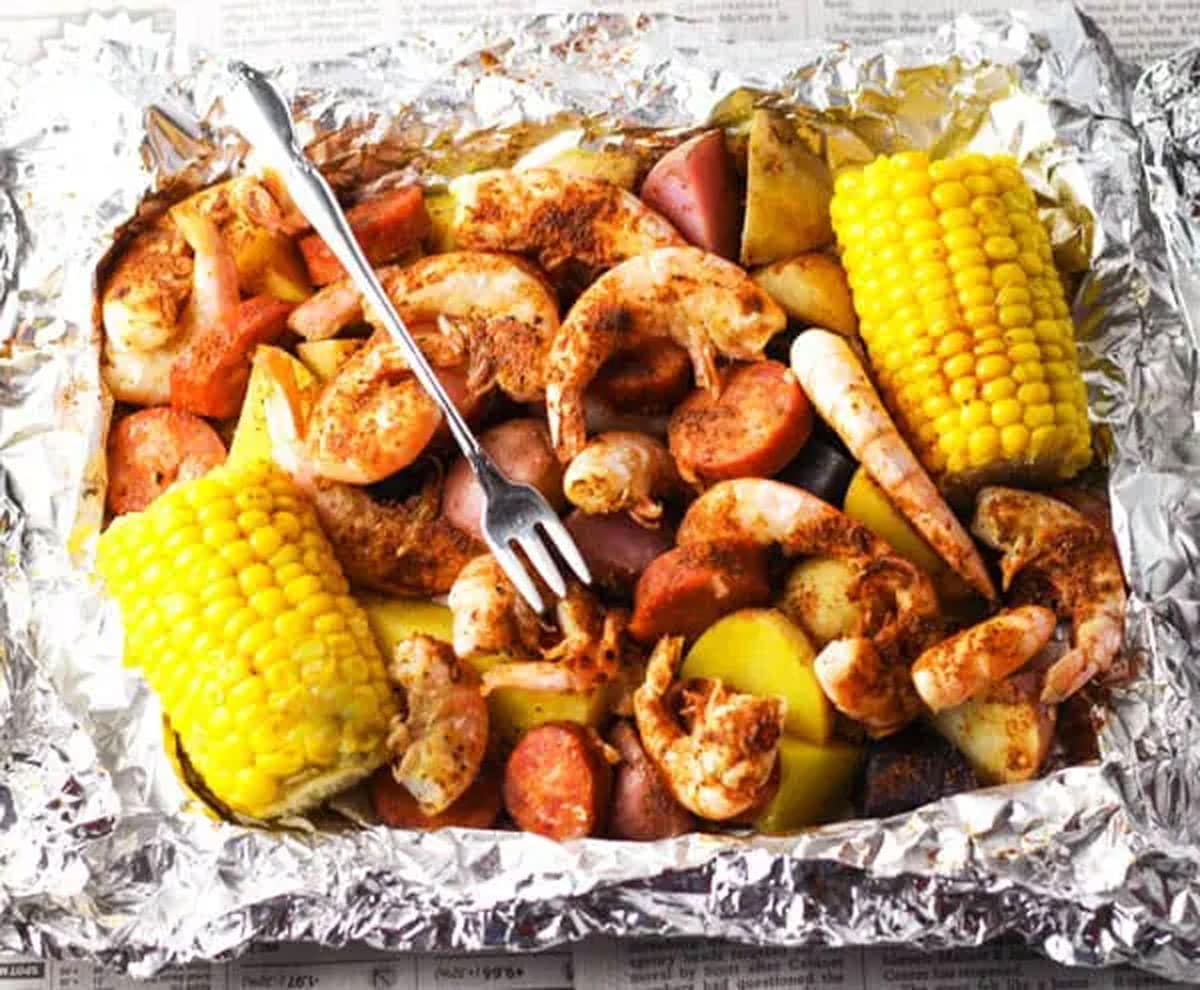 Recipe: Shrimp Boil in Foil
Prepare your taste buds for the ultimate cheeseburger experience with this Juicy Lucy Burger, which is undoubtedly the best hamburger recipe you will ever come across! This burger is not your average cheeseburger; it is a melt-in-your-mouth masterpiece!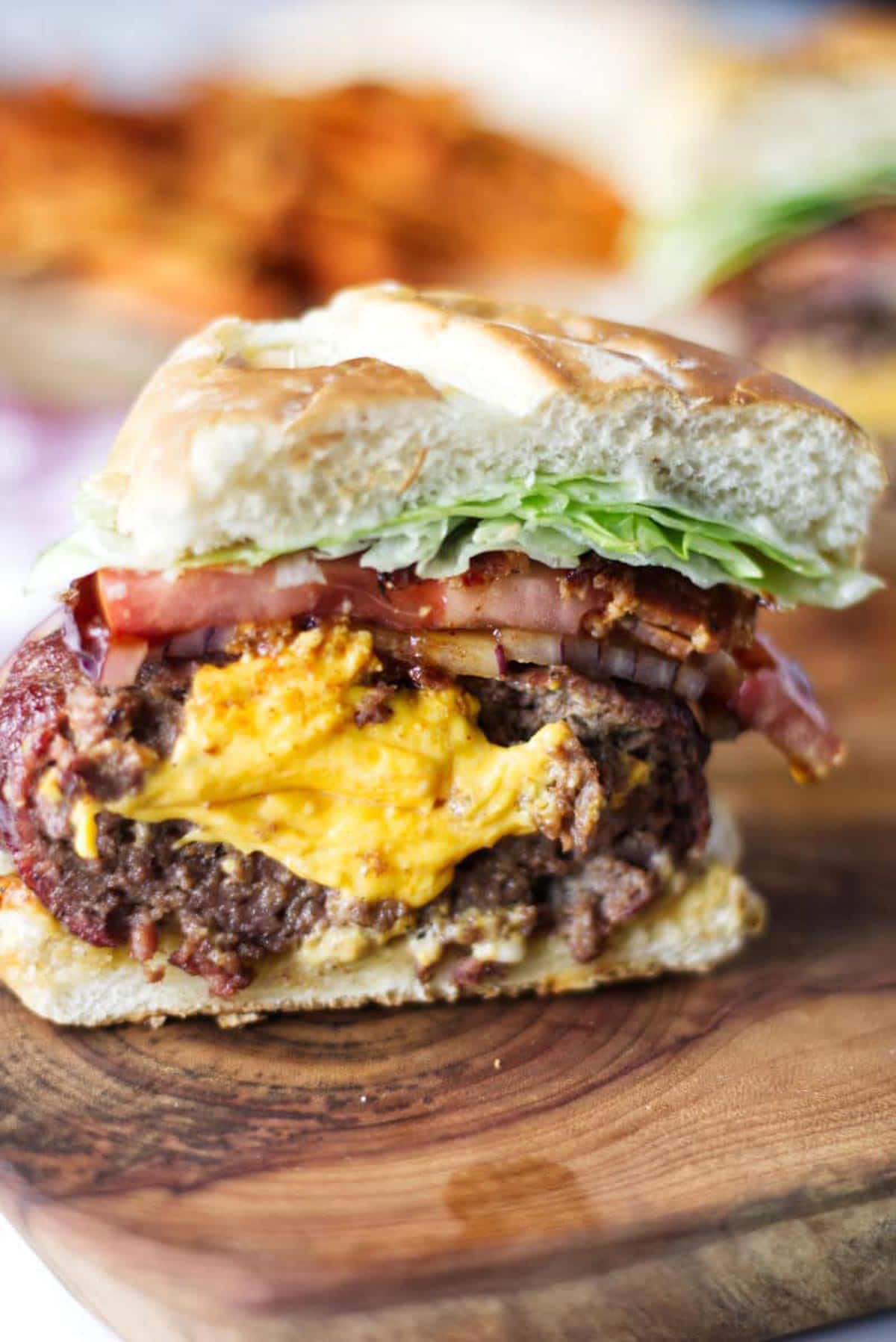 Recipe: How To Make Juicy Lucy Burgers
The perfect pairings, these side dishes are perfect for any BBQ and taste beyond amazing! And it's always a good idea to have a variety. From grilled corn to baked beans and salads galore, find the perfect sides to compliment your meal!
You just can't have a BBQ without corn on the cob. But this recipe is special because it's full of seasoning including chili powder, cayenne pepper, fresh lime, and Cotija cheese. It's a crowd favorite. Super easy and crazy delish. It's a classic BBQ recipe that everyone will enjoy!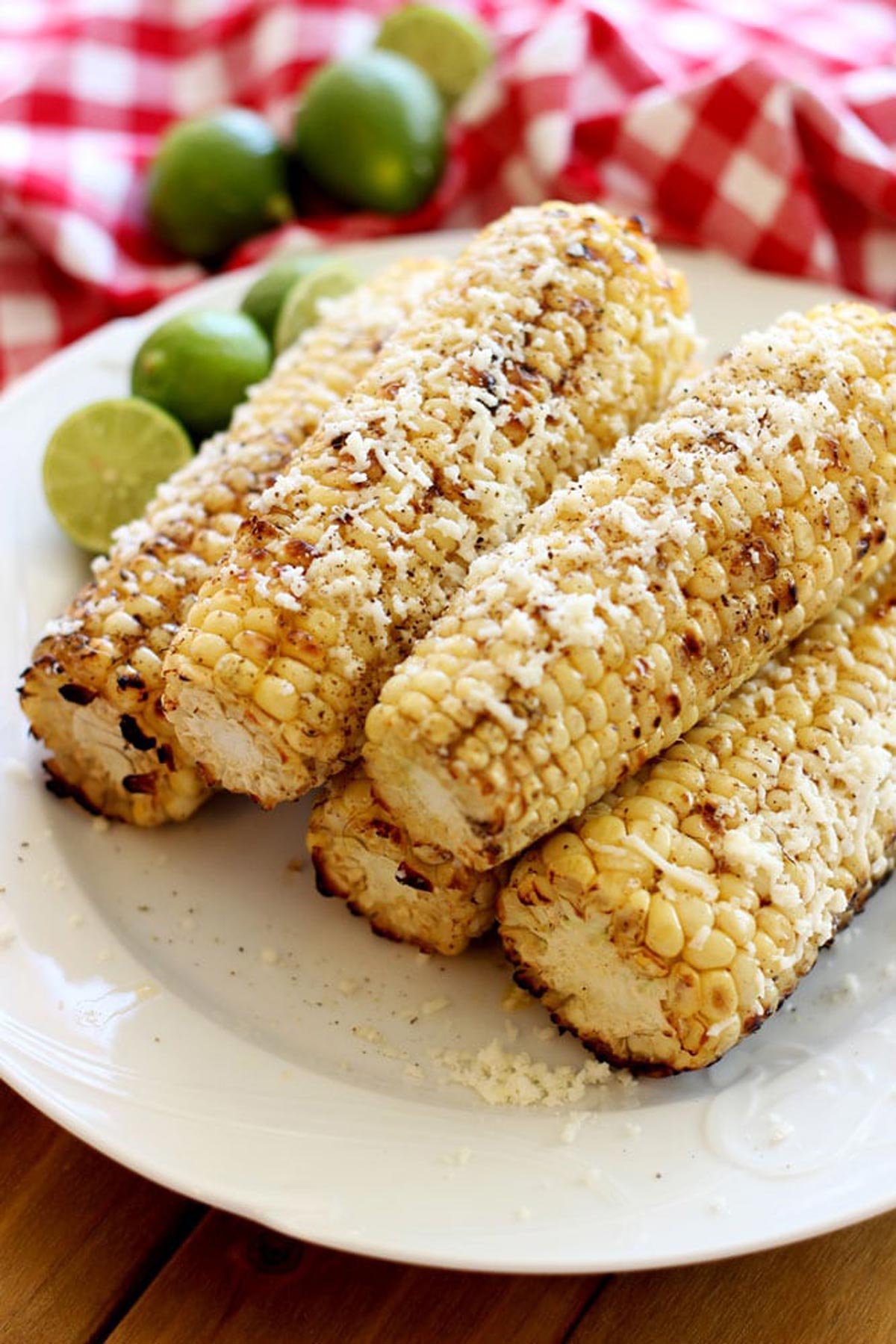 Recipe: Elote Corn (Mexican Corn)
Potato salad pairs amazingly well with a plethora of BBQ recipes and it's a must for Memorial Day. With this recipe, you'll use red potatoes. And make sure you leave the peels on. Creamy and tangy flavors, this potato salad is made with lemon, capers, and red onion.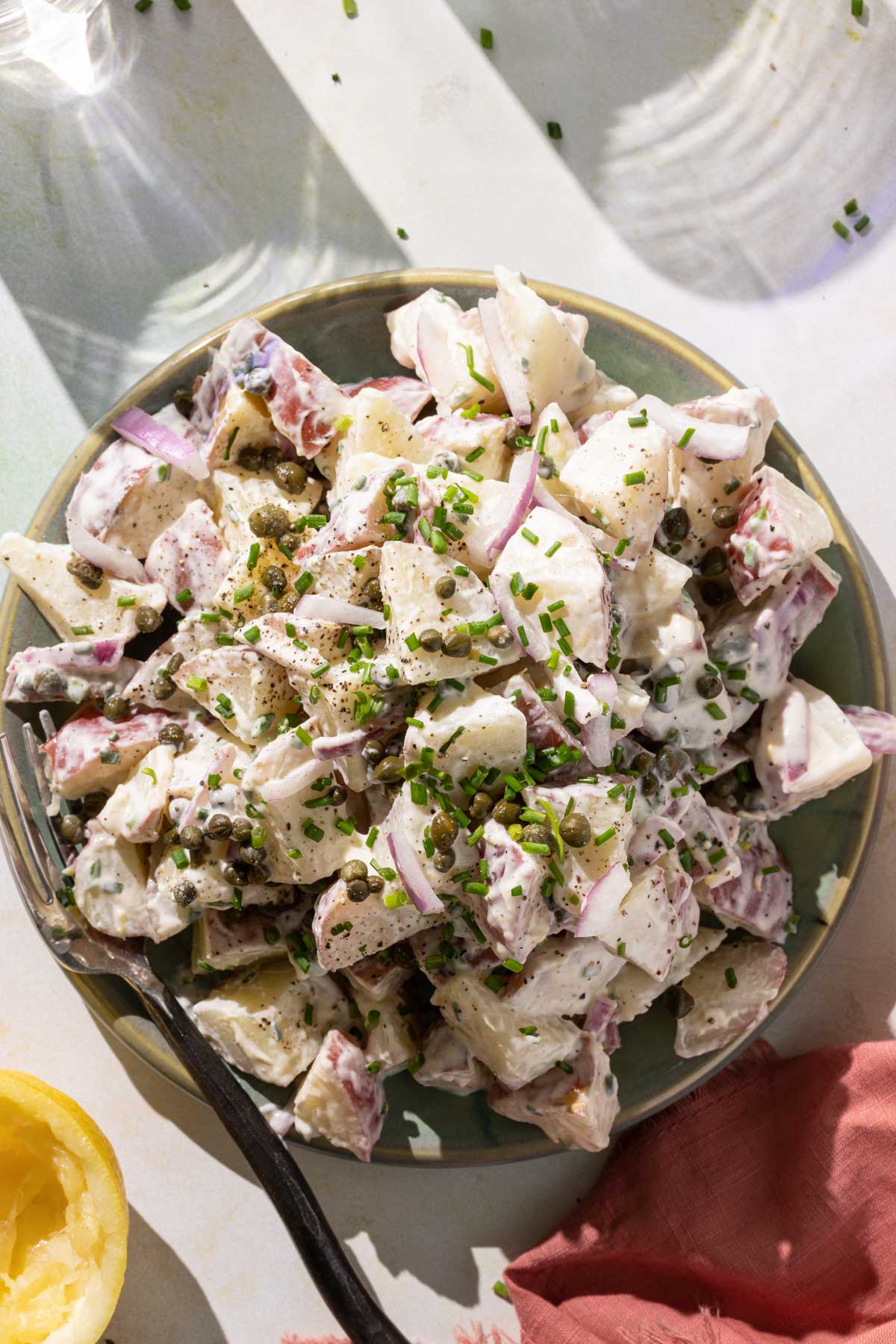 Recipe: Créme Fraîche Potato Salad Recipe
Tangy, spicy and sweet, these baked beans are fabulous! The secret is in the sauce. If you really want to impress your guest this Memorial Day weekend, this recipe is a must try!
Recipe: "Secret Sauce" BBQ Baked Beans
Another Memorial Day food idea that's great for any BBQ is Coleslaw. Coleslaw is a classic must have side dish for any BBQ on Memorial Day. Skip the mayo and season your coleslaw with lemon and pineapple juice using fresh fruits and vegetables.
Recipe: Coleslaw
Nothing screams the beginning of summer like watermelon and blackberries! Not only is it a refreshingly delicious fruit salad, it calls for only 4 simple ingredients!
Recipe: Watermelon and Blackberry Fruit Salad Recipe
Pasta salads are a must for summer and should be required at every BBQ! This mac salad is creamy and perfect for summer time! And it's a huge hit whenever I bring it to gatherings!
Recipe: Macaroni Salad
The perfect mixture of sweet and spicy, these cornbread muffins are just the carb you need with your BBQ this Memorial Day Holiday! The finely chopped jalapeños brings for the flavor in every bite.
Recipe: Jalapeños Cornbread Muffins
Finish up the day with a patriotic sweet treat! These dessert ideas are fun to make and taste amazing. Ice cream, cupcakes, and cool whip berry trifles are some fun choices for your dessert table. These tasty treats are guaranteed to please!
These are possibly the easiest desserts you can make and are the perfect combination of sweet and salty! All you need are pretzel rods, candy melts, and sprinkles!
Recipe: Patriotic Celebration Pretzels
The cutest tarts! This is a perfect dessert for Memorial Day. Can you believe these tarts are healthy? Made with blueberries, strawberries, and greek yogurt these tarts taste incredible!
Recipe: Patriotic Mini Fruit Tarts
I'm just not sure words are needed for this recipe because the picture speaks for itself. Amazing. DELICIOUS. Mouthwatering. Scrumptious! If you love cheesecake and you love ice cream, you'll love this homemade dessert. I mean seriously....who would not want to make this for their Memorial Day weekend party!
Recipe: Cheesecake Ice Cream
End your Memorial Weekend with a taste of summer! These Orange Creamsicle Cupcakes remind me so much of my favorite childhood ice cream. I've made these cupcakes many times and they are delish! Such a fun summer taste!
Recipe: Orange Creamsicle Cupcakes
Layer upon layer of angel food cake, summer berries, and a custard like filling, this fruit trifle recipe is a cold dessert that is perfect for any hot summer day!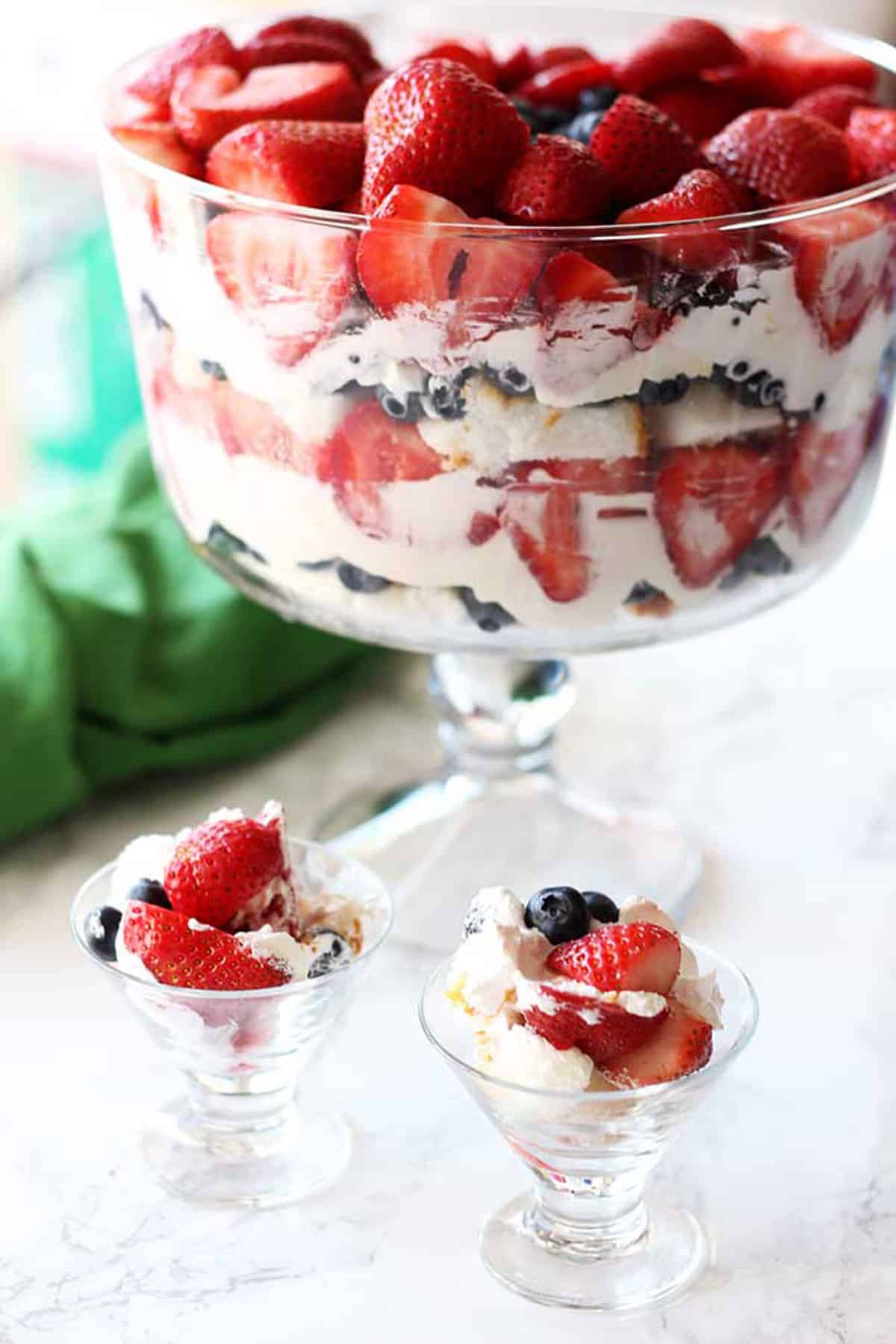 Recipe: Summer Berry Trifle Recipe
Expert Tips For The Best Memorial Day BBQ
Choose as many portable recipes as possible. You'll want dishes that can easily be moved from the kitchen counter to the backyard table without much fuss.
Stick to using disposable plates, cups, and silverware. No one wants to do dishes after a holiday get together.
Have a signature drink available! This singapore sling is a classic gin based drink has a sweet-tart taste! It's perfect for both springtime and summer!
Have multiple food stations so people can scatter and munch wherever they are hanging out.
Everyone hates flies but those flies sure do love your food. Keep your food covered with some food nets and tents. Fly traps and fly swatters are also a good idea to have around. Also, consider getting a bug repellent citronella candle to keep those pests away.
Make sure you have plenty of chairs and tables. It's relatively inexpensive to buy extra folding chairs and tables. Cover them with a disposable tablecloths for an easy cleanup!
Have lots of trash cans out and available. Put them in different areas of the house and backyard and make sure they are being emptied when they are starting to get full.
There you have it! A plethora of Memorial Day BBQ recipes and some tips and tricks that will please everyone! I can't wait to hear which recipe you try first so make sure you leave me a comment and let me know how it turns out!
---