Creamy and delicious while both sweet and savory, these mashed sweet potatoes are the perfect side dish to accompany any weeknight dinner. And they are out of this world delicious! Perfect for any holiday meal.
Mashed Sweet Potatoes
In my opinion, sweet potatoes are often neglected and I can't figure out why. They're tender, sweet, and delicious and pair perfectly with so many meals, like my Maple Roasted Chicken and these Sweet Potato and Kale Patties. They make for some amazing side dishes and can be baked, mashed, boiled, or roasted and can either be sweet, savory, or both. You're going to love this version because they are both sweet and savory.
But let's first jump into the most commonly asked questions I get about sweet potatoes:
What's the difference between yams and sweet potatoes?
How long do you boil sweet potatoes?
What's the best way to mash sweet potatoes?
Do mashed sweet potatoes freeze well?
Yams vs Sweet Potatoes
I hate to break it to you but what you see in your local grocery store aren't yams. They're sweet potatoes. I know...disappointed, right? True yams have a super bumpy texture that looks like tree bark. Yams also taste a lot like russet potatoes and are kinda hard to find in the United States unless you go to a specialty grocery store. What you're seeing at your local grocer are white sweet potatoes. They come in a variety of colors such as purple, white, and orange.
How To Make Mashed Sweet Potatoes
Let me tell you how to make this recipe taste both sweet and savory. Here's the ingredients you'll need:
Sweet Potatoes - use orange sweet potatoes.
Butter - brings forth the savory flavor. Use a salted butter to help cut the sweet a little.
Brown Sugar - added while the potatoes are boiling.
Cinnamon Stick and Ground Cinnamon - the cinnamon stick provides flavor to the potatoes while boiling. Ground cinnamon is used in the glaze.
Whole and Ground Cloves - whole cloves are added to the potatoes while boiling. Ground clove pairs with the cinnamon and butter in the glaze.
Salt - added to cut down the sweetness and adds to the savory flavor.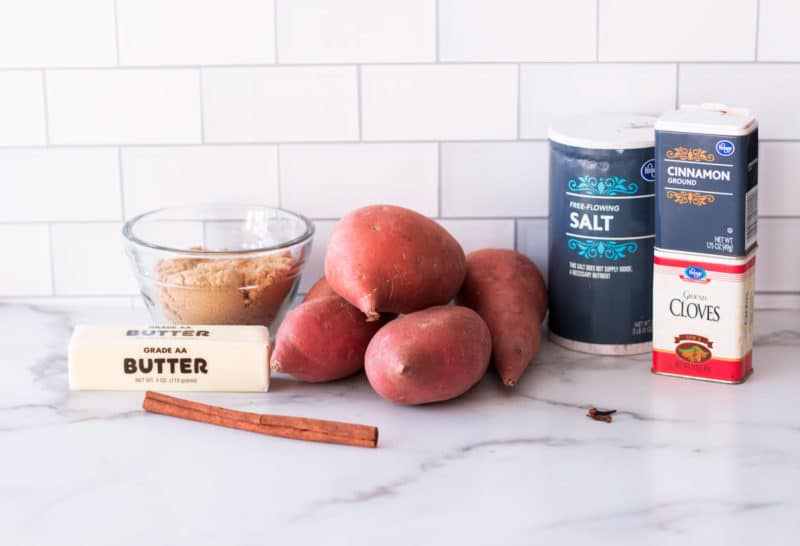 Typically when you think of someone making mashed sweet potatoes, you think of them peeling the potato, boiling them until soft, and then adding the brown sugar and spices to mash. That's not how I make my version. This recipe has such an amazing taste because of how you boil the sweet potatoes with the whole cloves and the cinnamon stick.
First, peel the sweet potatoes. I like to leave just a little bit of the peelings on for texture purposes. Also, there are a lot of nutrients in the peelings. That's my preference though. Feel free to completely peel the potato if you want.
Next, boil the potatoes in a large pot with 2 whole cloves, 1 cinnamon stick, and the brown sugar. Preparing them this way helps both the spice and sweetness really penetrate into the sweet potatoes while they boil.
The potatoes will be done after about 25 minutes of boiling. They need to be almost falling apart. Grab a colander and drain. Discard the cinnamon stick and whole cloves. Pour the potatoes into a large bowl and set aside.
Now it's time to make the spice glaze. In a small saucepan, melt the butter along with the salt, ground cinnamon, and ground clove.
Once the butter mixture is well mixed, pour over the cooked sweet potatoes and mash.
The Best Way To Mash
Lumpy - For this recipe, I like to take a hand held masher and press until slightly mashed. This method allows for some texture in each bite.
Creamy - If you want them super creamy, grab an electric or standing mixer and mix on medium speed until smooth.
Puree - For the softest and lightest consistency, grab a blender or food processor and puree.
Smashed - For a more solid form, lightly take a fork and press down.
Can You Freeze Mashed Sweet Potatoes?
Yes, you sure can! After you've mashed them and once they've cooled down, add the potatoes to a Ziplock baggie and flatten. Lay flat it the freezer and store for up to 3 months. When you're ready warm them up, place them in the refrigerator to thaw. Once completely thawed, warm them up in the microwave, oven, or on the stove top.
Toppings
Sprinkle on more brown sugar.
Add chopped pecans.
Top with more butter. This provides more savory flavor.
Add some raisins.
Spread and melt marshmallows on top.
If you're looking for Thanksgiving or Christmas side dishes, this one is perfect because it satisfies both the sweet and savory flavors. These mashed sweet potatoes are also the perfect side dish to turkey, chicken, roast, and pork.
More Potato Recipes You'll Love
Stay Updated! Get all the latest tasty goodness straight to your inbox by signing up to receive my weekly email for the latest and greatest recipes!
If you made this recipe, leave me a comment and give this recipe a star review! Also, snap a picture of your finished dish and share it with me on Instagram using the hashtag #recipesworthrepeating and tagging me @recipesworthrepeating.
Autumn Spiced Sweet Mashed Potatoes
Sugar and spice and everything nice...that's what this Autumn Spiced Sweet Mashed Potatoes recipe is made of! An easy side dish, perfect for fall!
Print
Pin
Rate
Ingredients
4

large sweet potatoes,

peeled and cut into bite-sized chunks

¾

cup

light brown sugar,

packed

2

cloves,

whole

6

Tablespoons

butter,

salted

1

teaspoon

ground cinnamon

½

teaspoon

salt

¼

teaspoon

ground clove
Instructions
Peel the sweet potatoes and cut into bite-size pieces.

Rinse well and set aside. In a large pot, combine the sweet potatoes, brown sugar, cinnamon stick, and whole cloves.

Add enough water to cover the potatoes. Bring potatoes to a boil, until they become tender (about 20 minutes).

When done, drain the potatoes and add to a large mixing bowl and set aside. Discard the cinnamon stick and the 2 whole cloves.

Melt the butter in a medium saucepan. Stir into your saucepan the ground cinnamon, salt and ground clove.

Once your butter mixture is well mixed, pour the butter mixture over your cooked sweet potatoes and mash with a hand masher until the desired consistency.

Top with your favorite toppings, such as pecans, raisins, and marshmallows.
Nutrition
Calories:
282
kcal
|
Carbohydrates:
45
g
|
Protein:
2
g
|
Fat:
11
g
|
Saturated Fat:
7
g
|
Cholesterol:
30
mg
|
Sodium:
350
mg
|
Potassium:
329
mg
|
Fiber:
3
g
|
Sugar:
30
g
|
Vitamin A:
12645
IU
|
Vitamin C:
2
mg
|
Calcium:
61
mg
|
Iron:
1
mg
Update Notes: This post was originally published in November 2017, but was re-published with updated step-by-step instructions, pictures, and tips in October 2019.