This Popcorn Snack Mix is delicious and packed full of protein! This snack mix contains protein packed popcorn, gluten free pretzels, rice chex, chocolate and more! Bursting with a sweet and salty flavor, this is a perfect snack that everyone can enjoy!
This is a sponsored post written by me on behalf of Ips All Natural. All opinions are entirely my own.
For the Giveaway details, scroll all the way to the bottom of the post!
Who doesn't love a good snack mix? Let me tell you, I love a good snack mix and guys...this one is so yummy! This Popcorn Snack Mix gives you that sweet and salty taste that so many people love. I don't know about you, but I often get that sweet and salty craving!
I'm also super excited to tell you guys about a new snack I've fallen in love with!! If you follow my recipes and blog posts, you know I'm all about macro level nutrition. Getting the right balance between daily fats, carbs and protein intake is crucial when it comes to hitting and maintaining your weight goals. Personally, I never have a problem hitting my carb intake and I do well with hitting my fat intake, but I struggle reaching my protein intake goals. When I came across ips snacks, I was blown away! Whenever I find a new food I love, I immediately go to the nutrition label and I look at the list of ingredients. I was shocked to see that ips snacks is all natural and contain a higher level of protein than other snacks I typically grab!
In looking at ips snack ingredients, I noticed they are using whey protein. I love this because whey protein has a high level of essential amino acids and that can help with weight and body fat loss. Ips snacks is also using sunflower and safflower oil, which are both good quality oils. Sunflower and Safflower oil are both polyunsaturated which help lower cholesterol levels and reduce the risk of heart disease. Ips Snacks are also gluten free, contain no MSG and the corn in their products is non-GMO. So yeah...you can now clearly see why I got so excited about ips snacks!
Because I was highly impressed with everything ips snacks stood for didn't automatically guarantee their products would taste good, so I had to come up with a new recipe to see if their snacks passed the taste test and oh my goodness they absolutely did! Well, I'll be honest...they passed my kids taste test before they passed mine and kids just don't lie when it comes to food tasting good. My son will flat out tell you if something tastes good or if it's an epic fail. Even though I'm a food blogger who creates new recipes doesn't mean I always nail it. Just last week, I made a new chicken recipe and my son hated it (honestly...it wasn't good so that's why it's not on Recipes Worth Repeating...hence the name) but he told me I should never be allowed to ever make another chicken recipe ever again in my life (he's 7)! That very next night he asked me to make my famous Lemon Butter Chicken recipe. So apparently he got over that really fast! Ok, I digress....let's get back to my kids being brutally honest about food.
I wanted to make something simple and healthy for my kiddos. Ips snacks makes 6 different snack options. They come in the following flavors:
I've had all 6 of these snack varieties but with Valentine's Day being right around the corner, I thought it would be fun to create a Popcorn Snack Mix using the White Cheddar Pop and Classic Salted Pop. The ingredients in this Snack Mix are simple. This Popcorn Snack Mix contains ips White Cheddar Pop, ips Classic Salted Pop, Gluten Free pretzels, Rice Chex, Almonds, Dried Cranberries, chocolate and mini marshmallows. Because it's so close to Valentine's Day, I found some fun chocolates that have cute little Valentine's references. How fun is this recipe going to be!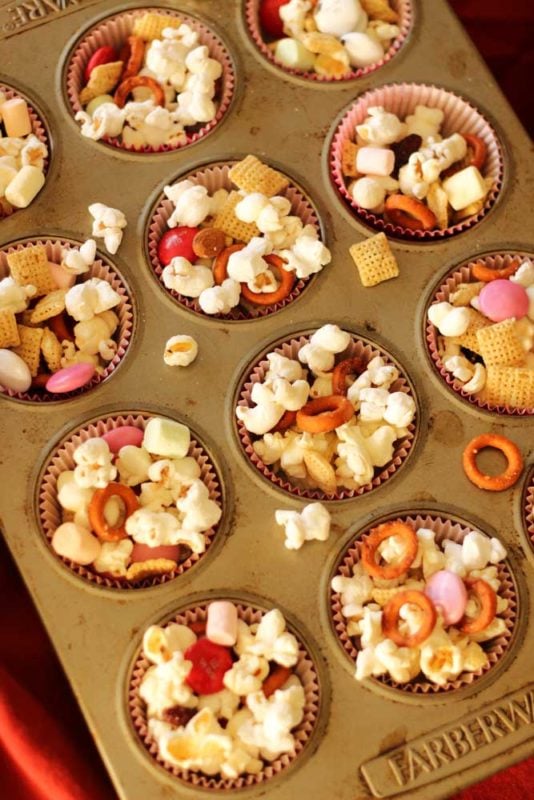 This Popcorn Snack Mix recipe takes minutes to make. You combine all the ingredients into a large bowl and lightly mix to combine. And that's it! You're ready to serve your Popcorn Snack Mix! I decided to get out my muffin tins and put the Popcorn Snack Mix into Valentine's Day cupcake holders. This is the perfect snack for my kiddos because they are in and out of the house on the weekends playing with friends. I have a ton of neighborhood kids in and out of my house all the time and I love it! And they love that I cook because I always have food out and ready for anyone to grab! You should have seen their little faces light up when I placed these Popcorn Snack Mix cups out on the counter. They were thrilled and these cups were gone in the span of about 1 hour! They couldn't keep their precious little fingers from grabbing more of the Popcorn Snack Mix!
We had a lot of fun with this recipe and it makes me feel great that the kiddos were grabbing for a healthier snack! It's really convenient to find ips snacks; you just order them on Amazon! You can buy the White Cheddar Pop here and the Classic Salted here!
More Popcorn Recipes You'll Love!
Popcorn Snack Mix
This Popcorn Snack Mix is delicious and packed full of protein! This snack mix contains protein packed popcorn, gluten free pretzels, rice chex, chocolate and more! Bursting with a sweet and salty flavor, this is a perfect snack that everyone can enjoy!
Print
Pin
Rate
Instructions
Combine all ingredients in a large bowl.

Serve in a bowl or in muffin liners. Store any leftovers in a large Ziplock baggie.
Nutrition